The first day of the rest of our lives



Official Notices



Hello everyone,

It was lovely to see so many of you at our Café Opening Celebration on Wednesday evening, the room was filled with happiness.

I trust you are all wading through your wardrobes and costume boxes in preparation for the Wild Wild West party on Saturday night. It is shaping up to be a great evening so make sure you come along and enjoy a fun night out with the convenience of not having to drive!

Volunteers BBQ: We would like to invite all of you whom give your time to the village community, activities, events etc as volunteers to a Volunteers BBQ.
Tuesday 18th June 2019 – Bar Open from 4pm. Can you please register your attendance via Reception prior to 11th June 2019.

Around the Village:

Dietary Requirements: If any of you have any specific dietary requirements for example, Gluten intolerance, please let Orit know. Once we are aware of this, we can ensure we have options available on request in our café for you.

SPARK Scams: Scams are currently in overdrive now. The most common one being that they call you on your phone and tell you something is wrong with your computer and they may mention they are from SPARK. Please take extra care and don't hesitate to just hang up if you are unsure.

I am heading away on holiday next week with my last working day being Tuesday 28th May and I will be back to the village on Monday the 10th June. Steve and I are off to Hawaii for some sunshine!

See you all when I get back. Have a lovely weekend everyone.

Kind regards,

Katie Worthy
Village Manager


GARDENING TEAM
Hi everyone By the time you receive this update, I will have had my operation and be in recovery. Currently we are down to two staff until we interview another gardener to help out in my absence. We are currently focussing on finishing the new Pool garden and general grounds maintenance.
For those of you who have requests outstanding, Jack and David will get to them as soon as possible. Your patience is welcomed through this period.
Thank you for your kind words and thoughts, until then Jack and David will do their best to keep our gardens looking great! All the best,
Your garden team Simone, David and Jack.

COMMON AREA CARPET CLEANING
From Monday 27th May, our carpet cleaning contractors will be on site for the week, steam cleaning all common area carpets of the village apartment buildings and facilities. This will create some minor disruption however we will endeavour to keep this to a minimum.
It is difficult to predict exactly which day each building will be cleaned, however, the contractors will be following the below sequence:
Seabreeze including L1 area outside Lift 1 & bar + lounge. Cliffview Waterview
Anchorage Bayview Library/lounge (Wednesday) Bayview Peninsula Harbour
Point Manukau
While your building carpets are being cleaned, please be aware of machinery and power leads that may be in your path and also possible carpet ripples whilst the floors dry. Our apologies for any inconvenience caused during the project.

SCHEDULED FIRE ALARM TESTING
Please be aware that on Thursday 23rd May from 10am the Chubb serviceman will be testing all apartment building fire alarms. This is a routine check and each building alarm will be tested for just a few seconds. We apologise for any inconvenience.
Thank you Neil Forrest Maintenance Manager

REMINDER TO RESIDENTS
To not park in mobility parks unless they have the correct permit on display.

GYMN
Just a reminder that guests are not permitted to use our gym at any time. This is a RESIDENT ONLY amenity. Guests are only allowed to use our pool if accompanied by a resident at all times. Thank you

PARKING IN FRONT OF RECEPTION
Now we have had our reception garden renovated by wonderful Pinesong residents, could we please refrain from parking on the broad white lines so that everyone coming into the village can enjoy it.
Thanks for your anticipated co-operation.

MOBILE LIBRARY
Please be advised the Mobile Library is here every Monday at the Main Gate from 9am - 10.30am

PLEASE REMIND YOUR FRIENDS AND FAMILIES THAT OUR SPEED LIMIT IS 15KPM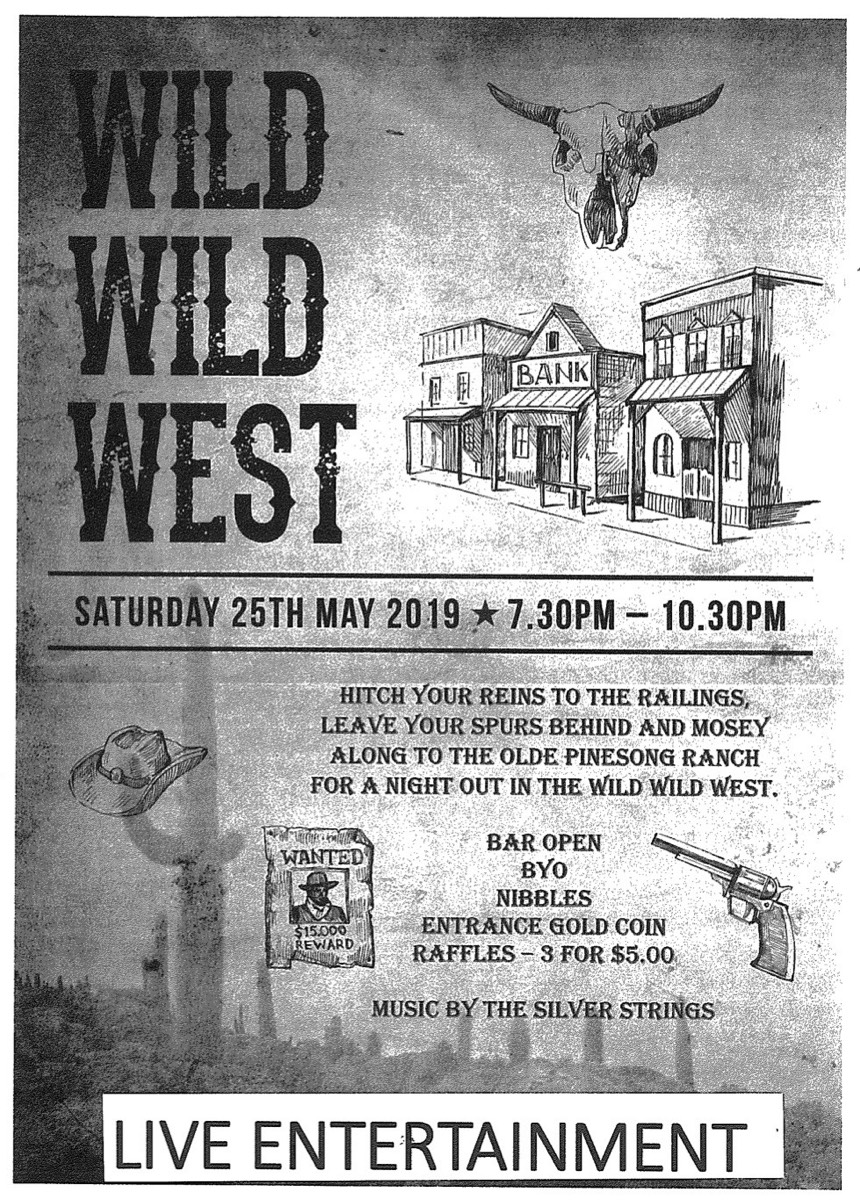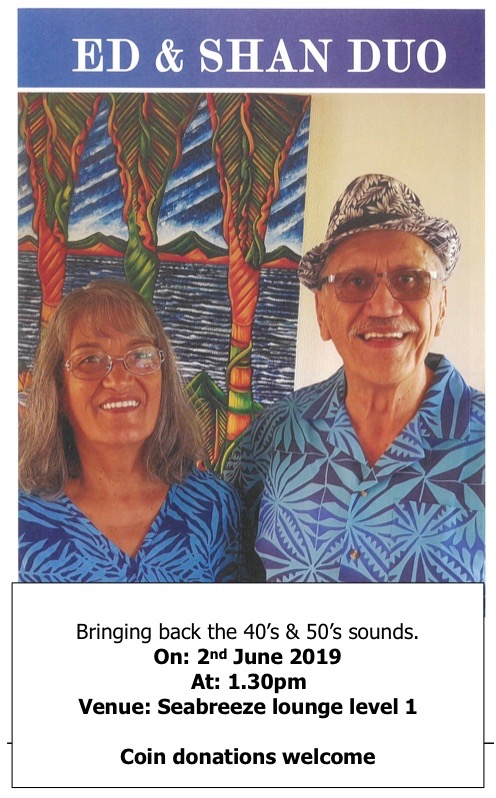 WILD WILD WEST
Social and Dance


SATURDAY, 25
TH
MAY 7.30 – 10.30PM
This is the evening you keep free to attend our Mid-Year Social and Dance in the Seabreeze Lounge.

Theme: Wild Wild West

Search the back of your wardrobe and you'll find a cowboy outfit for sure!!! Or come as you are.
We have Live Music from Silver Strings from 8pm – 10pm – novelty dances with prizes – raffles – lucky door prize. The Bar will be open or bring you own drinks and nibbles.

4 WEEKS TO GO!!! SEE YOU THERE


SUNDAY @ 3

Pinesong's Church Services
Where:
Bay View Lounge

When:
Sunday 26th May at 3.00 pm

Speaker:
Sam Martin

Soloists:-
Raylee Bradfield
Our speaker for this service is Pastor Sam Martin who is the minister of the Valley Road International Church in Mt Eden. Our soloist is Raylee Bradfield who is an accomplished singer songwriter. Both Sam and Raylee have contributed to our services on several occasions over the past years and are always a great blessing. Join us also for our much loved hymn singing followed by a good chat over Tea/Coffee and biscuits. A warm welcome to everyone.

Deryck Hunt 817-3755


FROM THE RESIDENTS' COMMITTEE
Hi Everyone,
Just an update on your COMMITTEES first month in 'Office'.
We had our first 'official' meeting, last Tuesday and found out we are a diverse mix [as you would expect].
Some have lived in the Village for 10 to 15 years, others only recent arrivals.
Our thanks to the previous Committee, who left money for us to spend. In your copy of our Meeting Minutes, you will see what has been actioned.
It's great to see our new Residents being welcomed into 'Village life'. Already, many are involving themselves and taking responsibilities in various activity groups i.e. Committee; Bar; Choir; Bowls etc. GREAT.
Fantastic effort from our Bowlers. Beat the Poynton Village [on their OWN green] bringing home the Trophy. Katie had Manager bragging rights and was a modest winner. Yeah right!
Remember Floyd the Drug Dog.....He has done it again, won the National Police Dog trials and will represent NZ Police against drug dogs, from other Agencies, at the National Trials, later in the year. WATCH THIS SPACE.
Your Committee is here for you....If you need us get in touch.

Sue Harris [Committee Chairperson]


RESIDENTS' BARBECUE

There will be no BBQ in May, 2019
But we will be back on:
26
th
JUNE 2019
So will see you then
SING A LONG
It's that time again to tune up your vocal chords and join us in the Seabreeze lounge at 3pm on Friday 31
st
May for a good old singsong.
Haven't been before? We'd love you to join us.

Judy Nicholls 111 Terrace

CRIBBAGE

We are looking for new players so please come and join us in Bayview lounge on a Monday afternoon at 2pm. Even if you have not played before you are welcome as tuition will be given.

Daphne Freeman 816 8031

ROSE LYNN FASHIONS

Will be at Pinesong on:
Tuesday 11
th
June
10.30-3pm
In the Seabreeze Lounge
QUIZ
Do you have familiarity with that situation where you see somebody and you think to yourself I know that person, but you can't recall the name or context? Then after they have gone past, or sometime in the night, it all comes back to you. It's the same at the quiz. When they hear the answers people always say, "I knew that!" However with six people in a team the chances are that someone will remember (hopefully). Experts say that it also does you good to test your memory - if you knew the answer in the first place!
Anyway it's all on again on Saturday 1 June in Bayview at 4pm. Everyone is welcome. You don't have to be organised in a team. We will find you a place. You are also invited to bring your food and eat with a group of us afterwards.

Tony and Janet Cross

PINESONG WORLD CUP GAMES
A big thank you to all those who
took part in the sports
. There were many fine "performances". Congratulations to our gold medal winners. They will be looking forward to defending their titles at our next games. We are grateful to those people who supervised the activities. Thanks also to management and the village committee for their encouragement and support. We are also grateful to Green Bay school for the use of their hoops. A special thank you to Richard Cameron of ANGEL MOBILITY for again providing mobility scooters for us to enjoy.

Alan Whimp and Peter Singh
Organisers
VILLAGE SHOP
We are looking for a volunteer to assist us by doing our weekly shop at New World. This usually consists of two shopping bags of groceries which would then need to be priced and placed on the shelves in the Village Shop. The pricing is not difficult as it is usually just copied from the New World receipt.
If you can spare approximately an hour a week to assist us this would be really appreciated.

Please phone
Joslyn Tierney
Phone 817 5799

NOSTALGIA 2019
The dates for our nostalgia shows this year are Saturday 27
th
and Sunday 28
th
of July. Because of the Rugby World cup and the availability of key personnel we have had to schedule our shows earlier than in previous years. Closer to the dates I shall put notices in the Pinesong Press when the tickets will be on sale.

Bob Helleur 4W


OPERA APPRECIATION
The next meeting of our group will be held on Friday 24
th
May at 10am in the matai room. This time we will be watching Act 3 (The Mad Scene) of Lucia di Lammermoor by Donizetti. All welcome.
Kate Methven Ph. 817 9804
TABLE TENNIS
Well done everyone, we managed our time in the Matai Room so well, even with so many places for the ball to disappear into! Now that we are back in our "home" in the Kauri Room, we will again play on Thursdays 1.30 to 3pm and Saturdays 9.30 to 11am. We still have Monday afternoons as our back-up time.
Looking forward to seeing you there!
Pam Choat ( 817 4826 ) and Ken Jarvis ( 816 8445 )
MAH-JONG
Have you ever wanted to learn Mah-jong or to pick it up again after some time?
We have 3 sessions of Mah-jong, Wednesday, Thursday and Saturday from 10 to 12 in the Matai Room.
On Thursdays one of the tables is a beginners group and I will be coaching newer and returning players who wish to re-join a group. We have a few people interested so I will working with people on Thursdays, except for the first Thursday of the month which is normally Book Club for me.
We are more social than serious so we play and then normally have lunch together in the café for those who wish to join us.
Whenever you like please come along and see how the games go. Previous experience is NOT required.
We would particularly welcome newer residents and at this early stage of the year it is quite a relaxed time.
If you have questions just call me on 8173726.

Margaret Fidow 43 Manukau
PETANQUE
Would love to see our old players plus new ones.

Come on
men
come along and give it a go also.
We now have a brand new umbrella to keep us in the shade.

We play every Monday starting at 1.50pm till around 2.50pm.

Freda MK24 817 4300

UNWANTED

Hi everyone
If anyone has any unwanted yarn, needles etc.. could you please donate it to Activities on level 2 Seabreeze.

Many regards
Skevi Kourti Activities co-codinator
MOVE with MIRA!!
Come along for a 30 minute workout with Mira. Improve your posture and balance. Build a stronger more flexible you and have fun while you do it!
(NB: Chairs will be used. Seated and standing exercise.)

Thursdays 9.15am in Seabreeze lounge.

See you there!

SCRAPBOOKING

Scrapbooking Craft day 1st Friday of the month.
Scrapbooking is putting photos into albums sorting or framing even if you do on tablet come and join
Us and if you have any other craft you are doing you are welcome to join us
Time 9.30am to 12pm longer if you wish.

Ph Tina on 817 1940
GARDEN CIRCLE
During Easter I walked around the village with my little friend Lucy, she is really Bill Wilde's dog but I pretend every now and then she is mine. Don't tell Lucy but it is also an excuse for me to get around the village and check out all your beautiful gardens. We have some wonderful gardeners amongst us and it is lovely to check them out from time to time. We are also grateful to residents who donate us plants and other items, this has helped us with many of our gardens and it is nice to have residents who might not garden anymore but still care about this beautiful village.
Our May meeting is on Wednesday 1st, at 2pm in Bayview.

Aileen Keery - 817 3399

BRIDGE
We are a nice friendly group of players but our numbers are dwindling. If anyone is interested in joining us please phone me. We play on Saturdays from 1-4pm and on quiz days till 3.45pm. We also welcome outsiders to make up our numbers. We will be starting again on Saturday 26
th
January in the Matai Room.

Althea Morley 20 Peninsula – 817-5666

CROQUET@PINESONG
It is time to get started on this year's first competition. The entry list for the Lorna Stewart Triples is up on the notice board and will be there until Friday January 25
th
. The draw will take place on Monday 28
th
when all players past and present are invited to the 'Season Opening' afternoon tea in the Fitness Centre. As usual, 3pm and bring a small plate of afternoon tea to share. Residents who intend to start playing this year are also welcome.
We would like some new players and suggest that if you are interested in joining us come down to the croquet green between 1pm and about 2.30pm on Mondays or Fridays to pick up some idea of the game. We have plenty of people willing to take you round on your own on any day of the week. We will arrange a 'Have-a-Go' session perhaps next month but don't wait for that, just feel free to come down.

Janet Cross. 4 Manukau 817 6066

INDOOR BOWLS GROUP
The indoor bowls group meet twice a week in the Seabreeze lounge to play bowls for fun and social interaction.
Wednesday 6.50pm – approx. 8.20pm
Thursday 1.50pm – approx. 2.50pm
Followed by afternoon tea (players each bring a small plate)
We are hoping to attract past and new players (instruction can be given as required).
Who would like to try this activity?
Anyone interested should contact the group convener,
Clive Coleman on 817 1971
for more information.

AQUACISE GROUP:
Our friendly group meets at 9am on Tuesday and Friday mornings for 30 minutes of gentle pool exercises and all are welcome to attend. Always look forward to greeting new faces.

Noel Clark Ph. 8154116
SENIOURNET WEST AUCKLAND
Have moved premises to the RSA, Railside Avenue Henderson; parking available. Handy to train, buses and the Mall. Help and Information days held 2nd and 4th Tuesday of the month from 10.00am to 12 noon.
If you need help with your computer/device or a refresher on something you have forgotten, don't hesitate to call in and see us.
Windows, Apple and Android systems covered.

Phone 837 7600.

KNITTERS NEWS
As I prepare to write my latest column I am reminded of the old adage - ' the only thing that is constant - is change', and, sadly, this is no exception. A little more than two weeks ago I put my feet to the floor and realised that something was very different. For thirty years now I have managed to live with a loss of hearing in my left ear. Now I have a dramatic loss in the other; not just the volume but it comes with a distortion as well. If you can imagine everything sounding 'muffled' and then add a blacksmith tending his anvil with determination in the back of your head, then you are close to understanding how this has impacted on my life. The Doctors and Specialists say "a virus" however as no remedy has as yet altered these symptoms and I must accept that it could be something that I have to learn to live with. But the show must go on and the 'little people' that we choose to help still have a need that we like to address. For the last ten years at least, I have been involved with this work and I am feeling that it is time to perhaps take a lesser role in this charity. While I can still use a crochet hook and make rugs, I will carry on. However you can appreciate that having a phone conversation is very difficult of late, so a text message or face to face conversation is much easier for me to understand.
We have a large quantity of yarns available for any of you who require it, though the storage in my small apartment has become an issue, and much of my 'stock' is at present being looked after by a kind neighbour. Those of us who are committed to the cause can keep going and perhaps delivery to the Waitakere Hospital each month could be shared. (We all know that as the years go by we are becoming more and more familiar with the layout, there.) My thanks to Mary for her offer this week to help out when she can and I feel sure that many of you would be just as willing.

I have always enjoyed a challenge, so why not this one.

Anne Clarke 021 1128523
SNOOKER AND POOL
Looking for new players of any level to join our group.

Tuesday and Thursday at 2pm
in the Snooker room next to the bar in Seabreeze lounge next to the bar.

Any further information please call

Bill Mules 827 4747

CARD MAKING GROUP
In the craft room. For 2 hours on Thursday mornings 10-12pm.
Also we have greeting cards on sale at the same time.
Come and have a look or join us and make your own, its fun.

Norma Lee


THE BLOKES SHED
This is a facility for use by all capable residents of Pinesong. Ladies this includes you, please feel free to avail yourself of a remarkable DIY area with a wide range of equipment.

To keep us safe, all users of the Blokes Shed are requested to follow our Housekeeping Rules. As displayed on the entrance door.

Only residents of Metlifecare Pinesong may use the amenities in this workshop.

Prior to using the workshop you must have signed an "Authority and Disclaimer Form". These are available at Reception.

To gain access to the "Blokes Shed" only one key is available from reception. You must have already signed an "Authority and Disclaimer Form" .

You are then required to

"personally sign in and sign ou

t

"

for the key each time you visit the shed. Individual keys will not be issued.

If you wish to donate an item, please contact Evan Rudolph (Assistant Manager) or Mark Leaf (Maintenance) in the first instance. Please do not take items directly to the Workshop.

Please be aware that any donated item will become part of the facility and may be stored, used or discarded at any time.

Please respect other users

CLEAN UP THE WORK AREA AFTER USE.
USE OF THE FITNESS CENTRE
Anyone is free to use it or course. Other users just ask you to please leave it as you find it – that means windows closed so they are not left open all night. Makes it cold for Charlie Bish and a few other early risers!

If you need help to use any equipment I am quite prepared to show you how on an "all care but no responsibility" basis! Just give me a call and we will arrange a time.

Tony Cross 817 6066

AA SENIOR DRIVING COURSE

Keep Your Freedom and Independence
Are you a member of the AA? Are you 80 plus?
Did you know that you can book a FREE in-car coaching session? A few days ago I made use of this service and was mightily impressed. An AA driving instructor came to the village, we drove in my car for a whole hour while she observed my driving style. Before we took off she checked the following: 1) vehicle check, 2) cockpit drill, then while driving, 3) communicating and signalling, 4) car control, 5) hazard identification,6.tips, hints and feedback. My correct seating position was also checked. If this is for you: Phone 0800 223 748 or go to: aa.co.nz/senior-driver and make an appointment. My instructor was Shifali Patel. The whole session was well worth the time it took. And pleasant!

Margaret Topzand, 817 3893

TITIRANGI RSA DINNERS
Our amazing dinners include a $20 buffet with roast vegetables or salad with also a Dessert included. We have a courtesy van that runs every hour on the hour on Wednesday, Thursday and Friday which goes directly to your door to pick up anyone willing to join us here at the RSA. They also get dropped back when they are ready to go home. To book for this just make a phone call and let us know how many and what time 817-6415.
We have regular exciting entertainment, comedy nights, open mic nights and fundraisers. Every second Friday we have live music, for example Shane and the Shazam! band Is performing Tomorrow from 8.00pm which is $10 a ticket, and coming up we have a Dire straits tribute band in June. The RSA puts on entertaining Quiz Nights every second Tuesday of the month from 7.30pm and the last Thursday of the month we have a lunchtime quiz at 1.30pm which is always a good laugh. We have many activities available such as a golf, pool, snooker, darts and fishing. Every couple of months The fishing and golf sections go out on day or over night trips, which they all enjoy. We also have 500 club where they meet every Tuesday around 1.00pm.

For pictures of upcoming events you can check out our facebook page
https://www.facebook.com/titirangirsa/?ref=bookmarks
Laura Richardson


WHAT'S HAPPENING AT OUR LOCAL LIBRARIES?

In September Glen Eden and Titirangi Libraries will be part of the
Going West Festival
celebrating language and literature.
Elspeth Sandys is a prizewinning author and Officer of the NZ Order of Merit for her services to literature. She writes fiction and short stories as well as for stage. Her talk is entitled
Fact and Fiction: A Disputed Border.

Glen Eden Library: Tuesday 11
th
September 6.30pm
or
Titirangi Library: Thursday 13
th
September 11am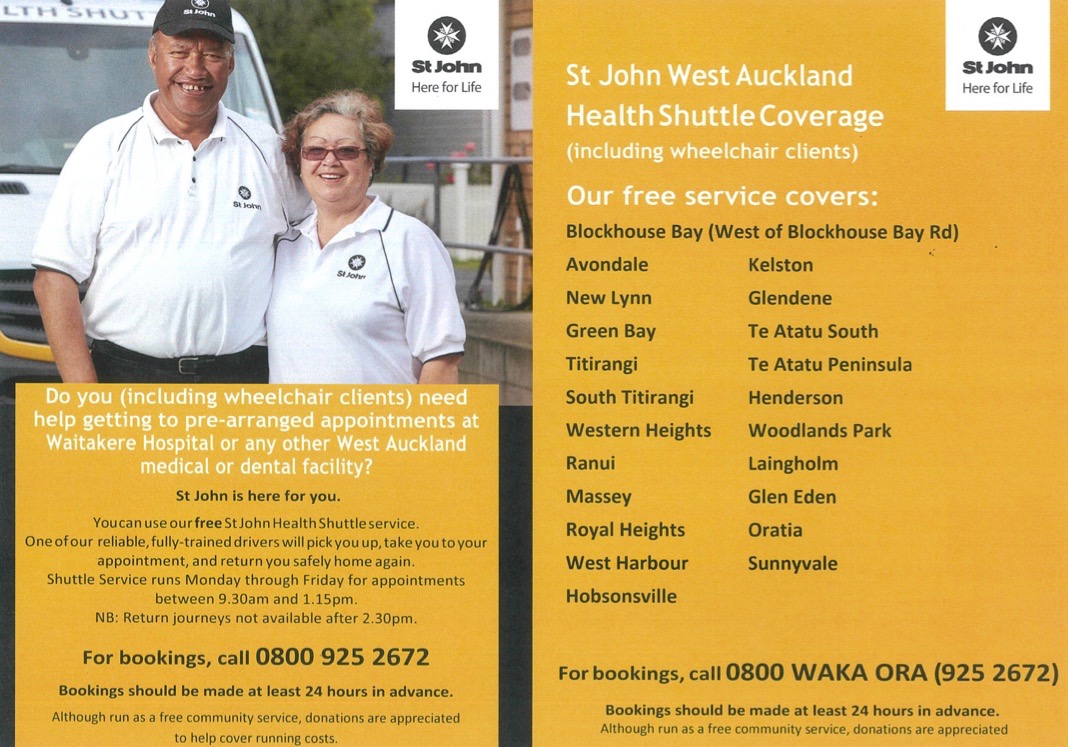 Village Care Centre Clinic



COMPLIMENTARY NURSE CLINIC
We have a complimentary nurse clinic on a Tuesday and Friday morning from 10.30am – 11.30am to check your blood pressure and talk through any concerns you may have. We can also provide other services at the clinic such as wound care and injections and a fee is on-charged to cover materials. If your wound is covered by ACC the charge for the dressing is free of charge. If you visit the nurse outside of the clinic hours a registered nurse consult fee will apply, plus cost of materials.
If you have any questions about service costs please ask. Seabreeze Level 2.
Linda

ECARE
Sonja from Ecare is visiting
Monday 3rd June at 10am
on Level 2
Ecare is a self-monitoring of weight and blood pressure. If you'd like to know how to do it please come along.

PODIATRIST CLINIC
The 3rd Tuesday of every month.
The next Podiatry visit is 18th June 2019.
This will be in the Beauty therapy room ground floor.
Please contact reception for an appointment.

PARKINSONS MEETING
Please be advised the next Parkinsons meeting is on
Wednesday 26th June
in the Kauri room at 1pm.

PINESONG BEAUTY
Please note that my afterhours phone number is now 0272 898338
Thanks Kimberley

HOSPITAL SHUTTLES
St. Johns hospital Shuttle for:

Waitakere
Book 3 days ahead of appointment.
0800 000 606
$10 return

Greenlane hospital
Auckland hospital
North Shore hospital:
Book 3 days in advance.
0800 809 342
9.30-4pm
$6.00 each way

DO YOU WANT TO IMPROVE YOUR BALANCE AND PREVENT FALLS?
Hi everyone, we are looking for 8 people to take part in a strength and balance trail using a electronic device (provided) featuring 6 exercises that have been taught to thousands of people across the Auckland region. Quintin Derham the Tai Chi teacher at Pinesong has developed a programme that is easy to follow and can be practised each day at your home.

A group of people have already used the device and found it really useful for improving balance and easy to follow.

Next Tuesday (21st November) at 9.50am after the Tai Chi class in the main hall Quintin will be meeting people to discuss the programme and get you started.

If you want to improve your balance and stability then here is a wonderful opportunity to get started. If you are interested please contact Quintin on 021 536768 or email quintinderham@gmail.com

PHYSIO – Advanced Rehab
Please note Rachael Andrews has left Advanced Rehab and there will no longer be a physio clinic here at Pinesong on Tuesday or Thursday in our Wellness Clinic.
For an appointment, please contact Shivani who will continue to provide a clinic on Monday, Wednesday and Friday 9am to 3.30pm.
Reception

CHIROPRACTOR
Tim Archer, a registered Chiropractor, has seen me regarding his chiropractor services. Tim is able to come into the village to see residents. Tim uses an activator adjustment instrument to deliver chiropractor adjustments, making it very gentle and comfortable for patients. If you are interested in seeing Tim could you please call me on 817 0653, as I would like to have an idea of resident numbers before we proceed any further.
Leanne MacDonald, Care Services Manager


REFLEXOLOGY
Raewyn Coburn who did her placement at Pinesong last year for her refloxology training is now offering reflexology service for the village residents every Tuesday and Thursdays on level 2 of Seabreeze. Anyone wanting an appointment please contact her directly. Her email address raewyn.auckland@gmail.com, mobile: 0211710807 or home number 8176089.


LABTESTS CLINIC AT PINESONG
Please note Labtests have advised that for all future blood tests every resident must have their doctor; nurse or medical practice ring, fax or email Labtests first to book an appointment if wanting a bloodtest done here at the village.
This is regardless of whether it is done at reception on our clinic days Mon/Wed/Fri at 2.30pm or a home visit, this will be the procedure going forward, sorry no exceptions!


Cafe' 66


Restaurant Notice




KITCHEN CROCKERY
Can residents please check to see if you have any dishes that can be returned to the Café. Thank you.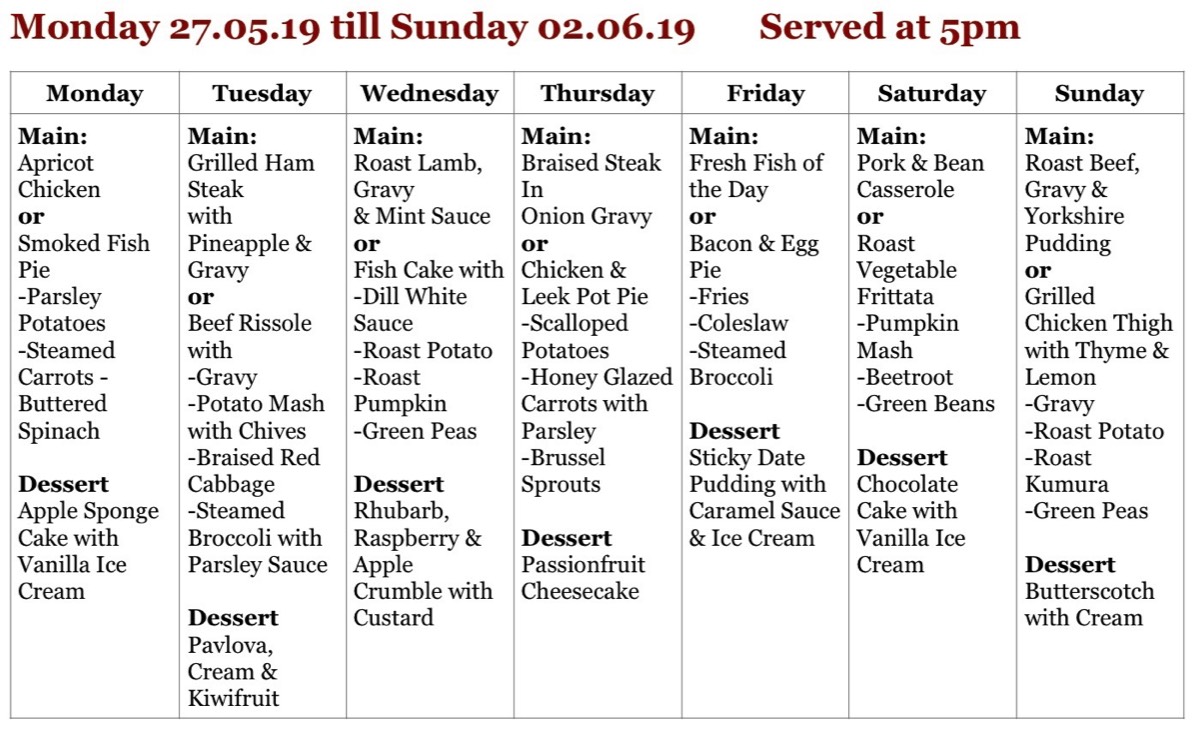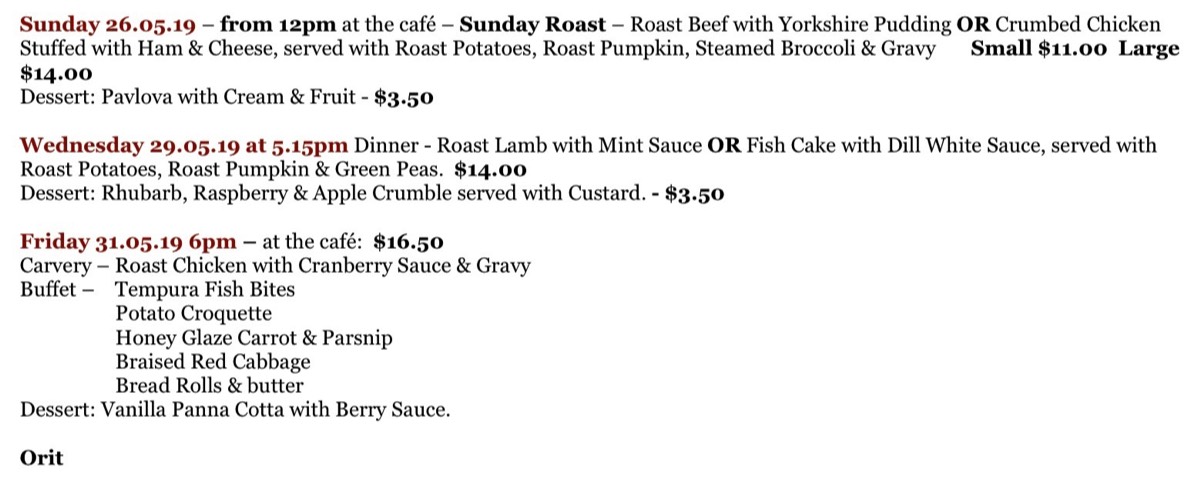 MEAL DELIVERY SERVICE


Ordering a meal: Bookings are essential for Wednesday Dinners at 5.15pm and Friday Dinners at 6.15pm.
Meals should be booked at Reception before 1pm the day it is required. Meals outside of bookings are at the Kitchen Manager's discretion.
Please order through Cafe for delivery or collection for the 5pm meals. Pick-up $12, dessert $3.50; delivery $2. Residents may collect these takeaway meals at 5pm from the Cafe.
Wednesday, Friday and Sunday dinners served seated in the Restaurant as usual.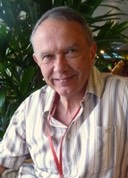 Hi,

As the creator and manager of this website I have endeavored to portray the everyday life and activities of our village from the
residents' perspective.

Your comments and contributions are welcome and to this end I invite you to use the
'Contact Us' page
.

Deryck Hunt