The first day of the rest of our lives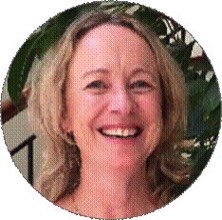 Moving into a new year of hope

Happy New Year
Pinesong residents
and a big welcome to our new residents,

What a wonderful summer time we are all experiencing – the glorious weather and the freedom to enjoy it, so much sweeter after the past 10 months. My New Year
was spent with friends and family at Snells Beach which ended with watch- ing the sunrise over Kawau Island. A beautiful start to the year and one that I hope reflects the year to come.

I hope you all had the best New Year's possible and that 2021 shapes up to be a better year for us all.

I heard through the grapevine that the Pinesong Social and Dance Committee put on a wonderful night for New Year's – we are so lucky to have such a talented and motivated group of people organis- ing this event. Thank you to every- one who contributed to the night and I hope those that attended remembered to reset their clocks by 30 minutes!

Congratulations to the Rainbow Rockers for yet another stellar per- formance in December. I heard the show was amazing and that the group are in demand from outside of the village – I was disappointed that I missed such a wonderful event and look forward to you booking in another here in the vil- lage very soon.

I wanted to make a very special mention and congratulations on behalf of Pinesong, to our very own Arch Jelly, for being made a Companion of the New Zealand Order of Merit (CNZM). Arch was a former Athletics New Zealand president who coached Olympic gold medallist Sir John Walker, received this honour for services to athletics and bridge. Congratulations Arch.


Around the Village
Billiards Room

It was very disappointing to see the unrepairable damage to our very newly covered billiard table, prior to Christmas. On two separate occa- sions there has been tears and holes made to the table top and also darts found on the floor and sitting on top of the table. I will be working with the Resident Commit- tee and players to work through a new set of rules as a result of this damage however in the meantime I
ask that only Pinesong residents utilise this facility.


Staffing

It is wonderful to have Pauline Southgate our new Care Services manager commence with Pine- song. There is so much to learn about life here at Pinesong so Pauline has been spending time with Norman as part of her hand over and will be visiting other vil- lages as part of her orientation. I know she is very excited to be here and is looking forward to meeting you all.

Our gardening team will be back up to full capacity at the end of Janu- ary which is very exciting – Rowan will be a very valuable addition to the team coming with a wealth of experience and talent.


COVID

There is a lot of noise and understandable concern in our media around the new strains of COVID and you can only look to the USA and the UK to see the impact that these new strains are having on them. The new strains spread very quickly, so I thought it timely to remind us all that we must remain vigilant with our hand washing, have a COVID test and isolate if experiencing COVID like symptoms and remember to use the COVID app when out in the community. I have instructed village staff to increase cleaning around the village and reintroduce hand sanitisation stations. I ask all residents that if you return from overseas and experience any symptoms post your stay in quarantine, that you immediately contact Healthline, isolate and advise Village management.

Over the next few weeks we will start to see quite a bit of scaffolding being erected as we commence various painting programmes on Anchorage, Peninsula and Harbour. More information will be circulated to residents in the next week or so.

It was great to see our new chairs and tables finally arrive just before Christmas, we took delivery of 25 new outdoor chairs and 2 tables for the pool, bowling and croquet areas.

The girls and I had a wonderful time up in Matauri Bay – swimming, fishing, kayaking, eating crayfish and snapper (sorry I just had to put that in) and I even managed to read 2 books. I am so fortunate to have such wonderful staff who ensured that my holiday was free of work and worry so now it's time for me to return this favour - Fred has taken a very short break (too short really) this past week and Neil taking a very well de- served break from next Friday.

A special thank you to John Addis for managing this week's Press – you are an amazing – thank you. The Press is your newsletter so please let us know what you think.

Have a great week everyone,

Angela King
Village Manager

Contacting Reception

Happy New Year to all of you and hope that many of you had a good break, enjoying the wonderful sunshine.
Just a few reminders to make a good start to the New Year:
In case you need to contact the Reception between 7am and 7pm, please call the Reception and not the Security mobile phone so that we can attend to your requests asap.

Please continue hand washing and use the NZ Tracer App whenever you are shopping or visiting various places.

All going well, our Friday Carvery will start on the 29th Jan. More details to follow next week.

Remember to segregate the heavy soil and plastic containers from the organic waste. If you need help with , this please con- tact our friendly gardening staff.

Once again, a gentle reminder to refrain from feeding birds as this might only encourage more of them in our village. Many birds also carry various diseases, so we need to be mindful of this.

Finally, please do not exceed the speed limit of 15k in our village. It would be nice if you could remind one another as well as your visitors.

Obrigado,
Fred Quadros,
Assistant Village Manager

DECEMBER STATEMENTS
– January Payments – Annual Leave

Merry Christmas everyone! The Christmas season brings with it two short working weeks, so Support Office has extended month close-off into January. I hope to have December statements ready to send on Wednesday 6
th
January (7
th
at the latest). Payments will also be due later than usual, on Monday 18
th
January.
I will be on annual leave from Thursday 7
th
January, returning Monday 18
th
. If you have any queries about your statement, please phone Pinesong Reception who will be able to direct your call to the AR Officer covering my role. Alternatively, you can email
psg.ar@metlifecare.co.nz
where an AR Officer will pick up the enquiry.

Linda Johns AR Officer
MERRY CHRISTMAS AND A HAPPY NEW YEAR

From the Sales Office
We would like to take the opportunity to wish you all a wonderful Christmas and New Year.
To all our new residents who will be spending their first Christmas in the village, enjoy the festivities with friends and family.
The Sales Office will be closed from Tuesday 22
nd
December and reopen Tuesday 5
th
January 2021, when Allan will be back on board full of enthusiasm after a well-deserved break.
Be safe out there these holidays – we look forward to an exciting 2021!


PINESONG SALON
Pinesong Salon will close from Thursday 24th December and reopen on Wednesday 6th January 2021, with limited bookings available through to February 2021 when we are all back.
May your Christmas sparkle with moments of love, laughter and goodwill. And may the year ahead be full of contentment and joy, we certainly all deserve it.
Wishing you all a very Merry Christmas with virus-free hugs and good health.

Dianne Debbie Sheridan

PINESONG COMPLIMENTARY HERALDS
Please just a reminder that when reading one of Pinesong's complimentary Heralds, to please leave them where they are and not take them away as other residents look forward to reading it as well. We have been getting complaints that Heralds are not in their designated areas.


REMINDERS:
Organics collection Monday - Wednesday - Friday (long weekends will be collected the following day) Please keep organic waste to the size of a 42 litre container supplied, and have your waste out by 3.00pm on these days.
If you manage your own garden and need specialised gardening assistance or help with planting/weeding we are very happy to assist you however please note that there will be a maintenance/garden
fee of $35.50 per 30 minutes.
Please keep this in mind when filling out a request.
Wishing you all well through these cold winter days, keep warm, keep safe.

Your Garden team.

REMINDER TO RESIDENTS
To not park in mobility parks unless they have the correct permit on display.


GYMN
Just a reminder that guests are not permitted to use our gym at any time.
This is a
RESIDENT ONLY
amenity. Guests are only allowed to use our pool if accompanied by a resident at all times. Thank you


PARKING IN FRONT OF RECEPTION
Now we have had our reception garden renovated by wonderful Pinesong residents, could we please refrain from parking on the broad white lines so that everyone coming into the village can enjoy it. Thanks for your anticipated co-operation.


MOBILE LIBRARY
Please be advised the Mobile Library is here every Monday at the Main Gate from 9am - 10.30am


PLEASE REMIND YOUR FRIENDS AND FAMILIES THAT OUR SPEED LIMIT IS 15KPM

A very warm welcome to our new staff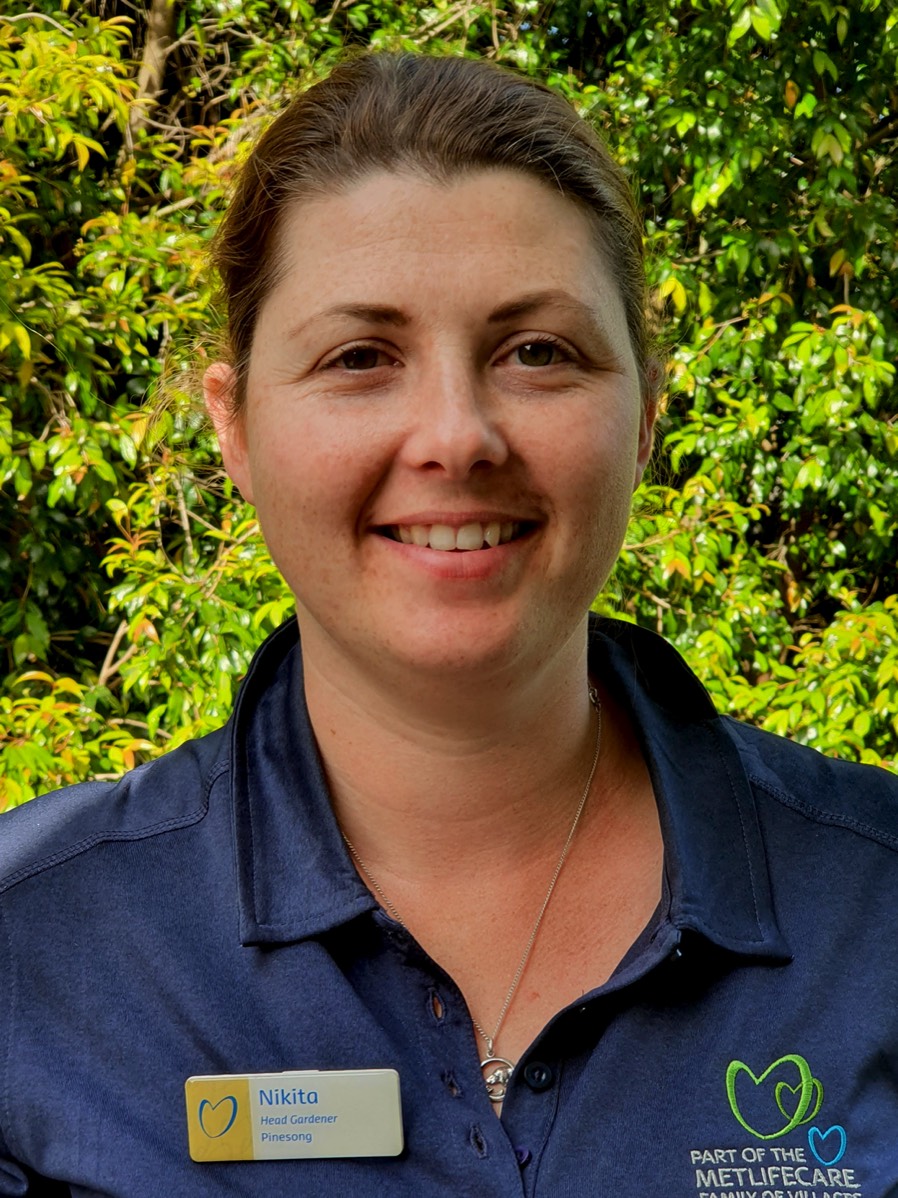 Nikita Engels – Head Gardener

Nikita Engels joined us as Head Gardener about 3 weeks ago. Nikita has been a professional gardener for over 8 years having worked at Auckland Botanic Gardens and Head Gardener at Eden Garden for 5 years. She has a National Certificate in Horticulture Level 4 Advanced and MSc in Botany from the University of Otago. In her own words, Nikita is a self- con- fessed plant geek with a passion for native plants.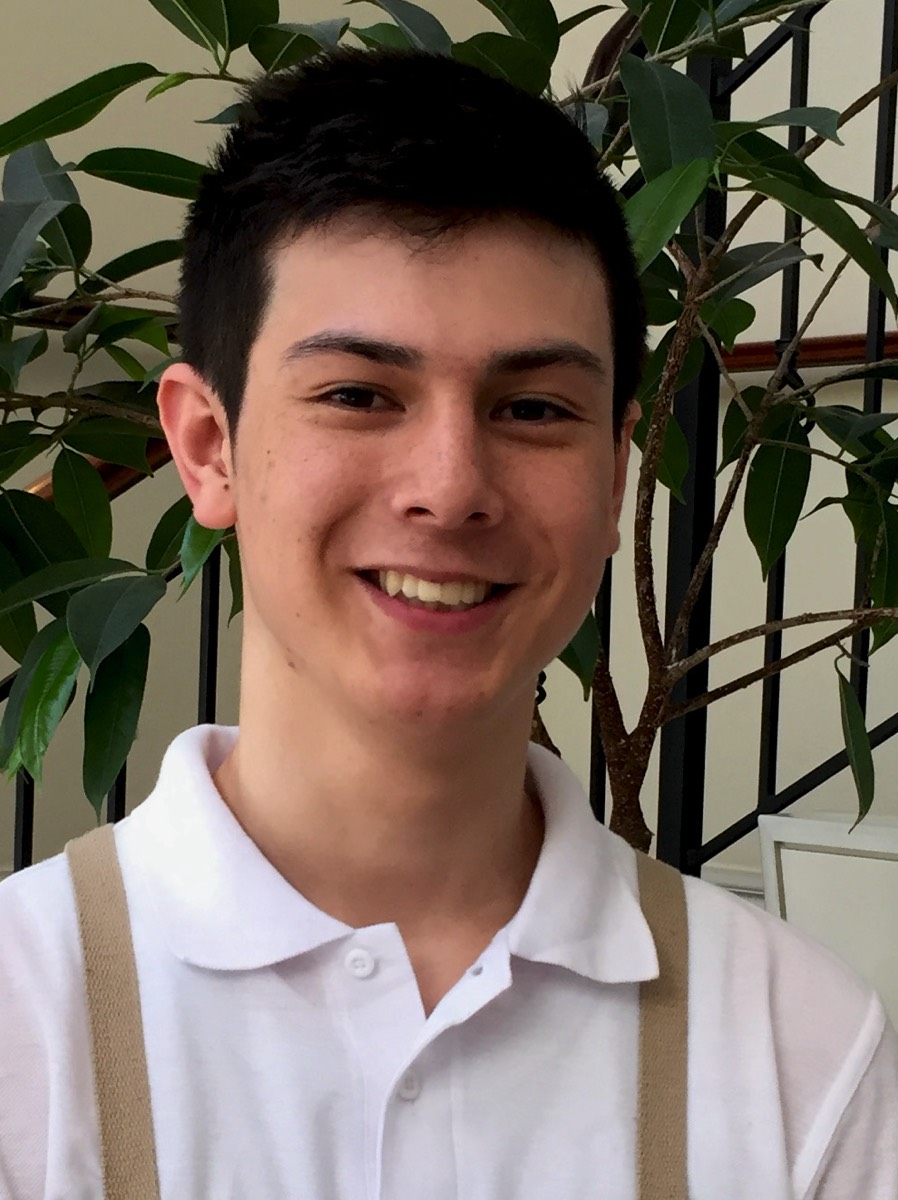 Noah Bogdanowicz – Café Assistant

Noah - our young new recruit at the café loves Netflix and investments. He has joined our team as Café Assistant.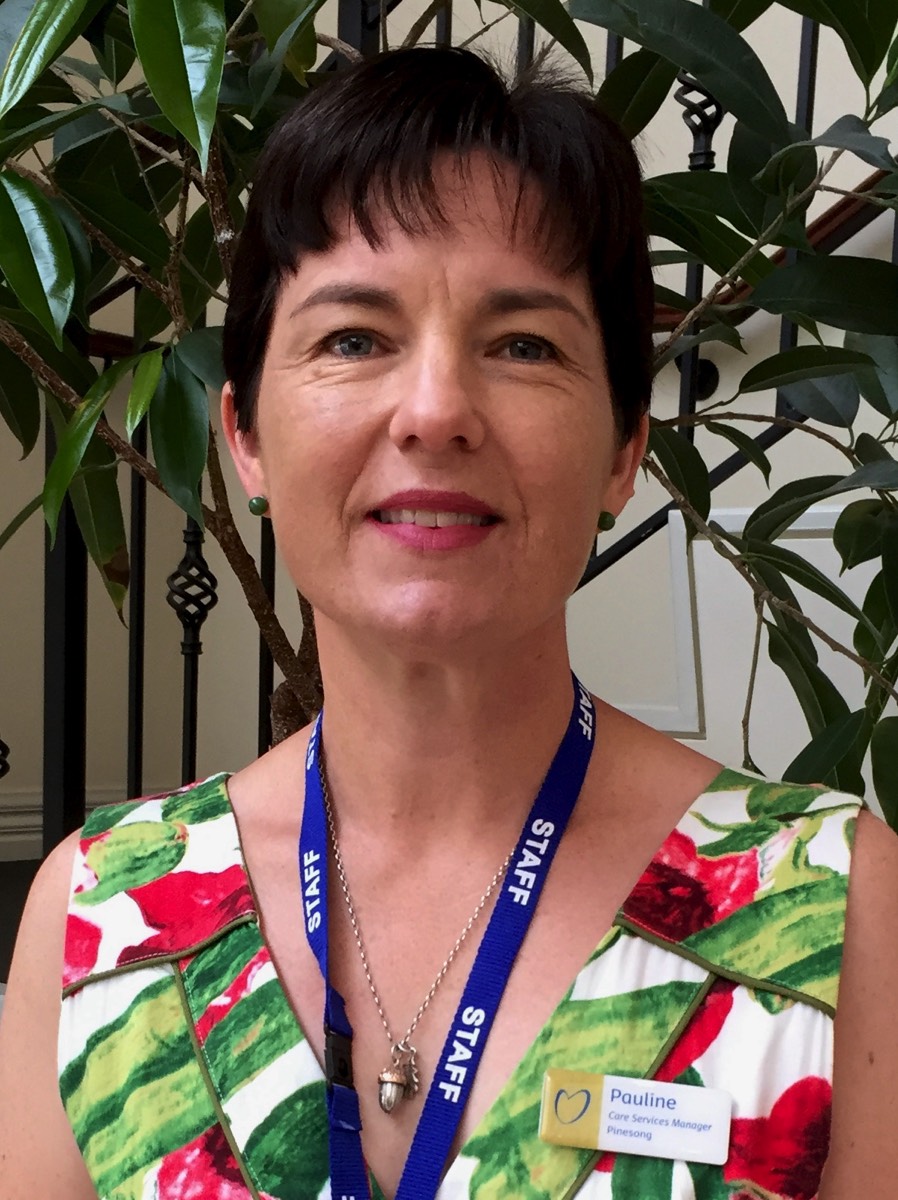 Pauline Southgate – Care Services Manager

Pauline Southgate is our new "Care Services Man- ager". She has lived locally for over 20 years and lives with her husband, two teenagers and three pets. Being a trained and qualified nurse Pauline has been a Hospice nurse for over 8 years. Pauline enjoys outdoor activities including tennis , bush- walking , reading and listening to music.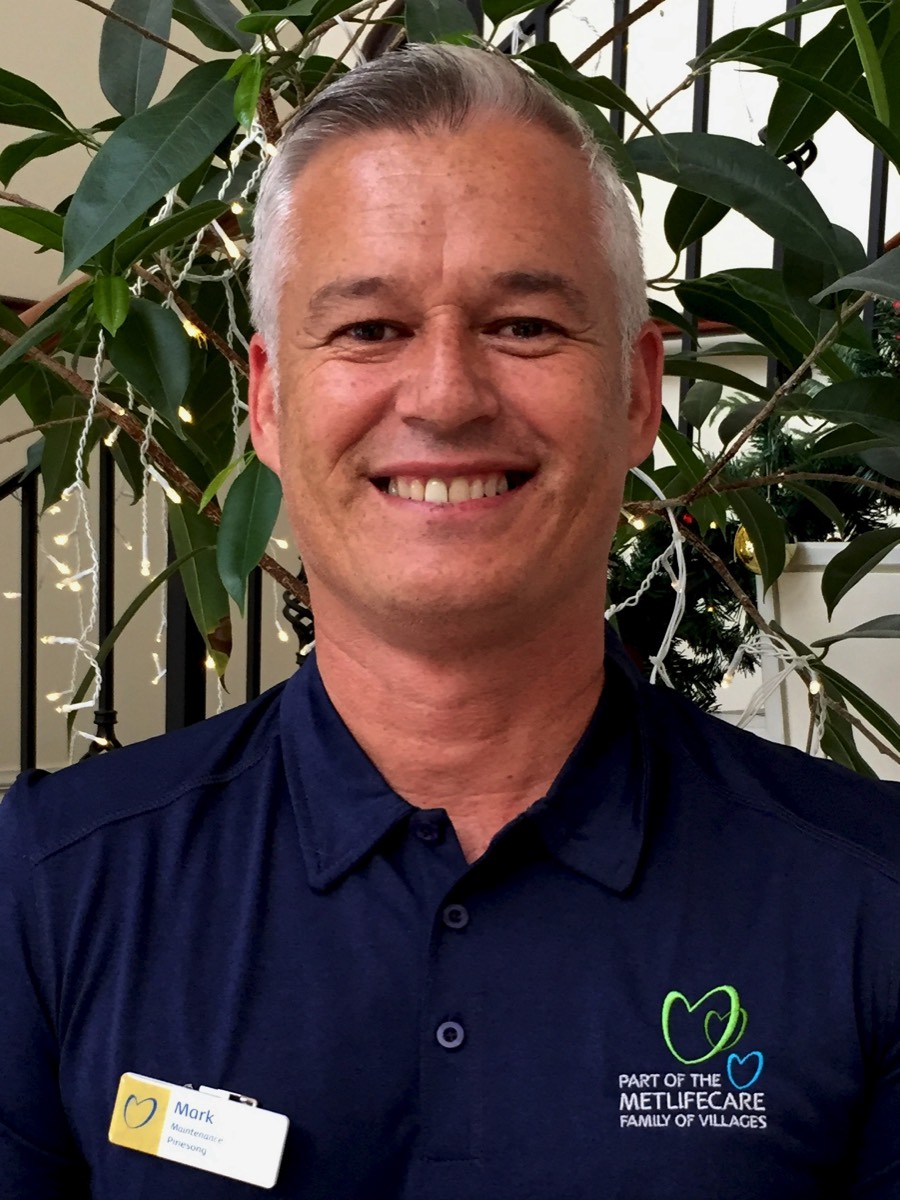 Mark Anderson - Maintenance Dept

Mark Anderson- has joined us as a "Handy Person" in the Maintenance Department and loves customer service, problem solving and cars. He has a passion for fixing things and hence is a natural fit to our team. Prior to joining us Mark worked as a cabin crew for Ansett NZ and Air NZ for about 25 years.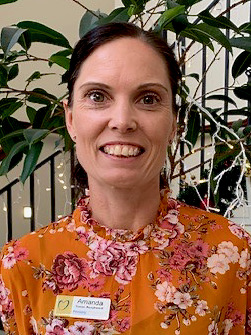 Amanda Godinet - Receptionist

Amanda Godinet, our newest Receptionist, worked for Air New Zealand as a flight attendant (long & short haul) besides as a PA/ Administration/Reception for Safety/Emergency/ Security departments with Air NZ. Amanda is married and lives with her husband, two sons and Denzel - mini schnauzer. She loves running marathons and preparing for the next event.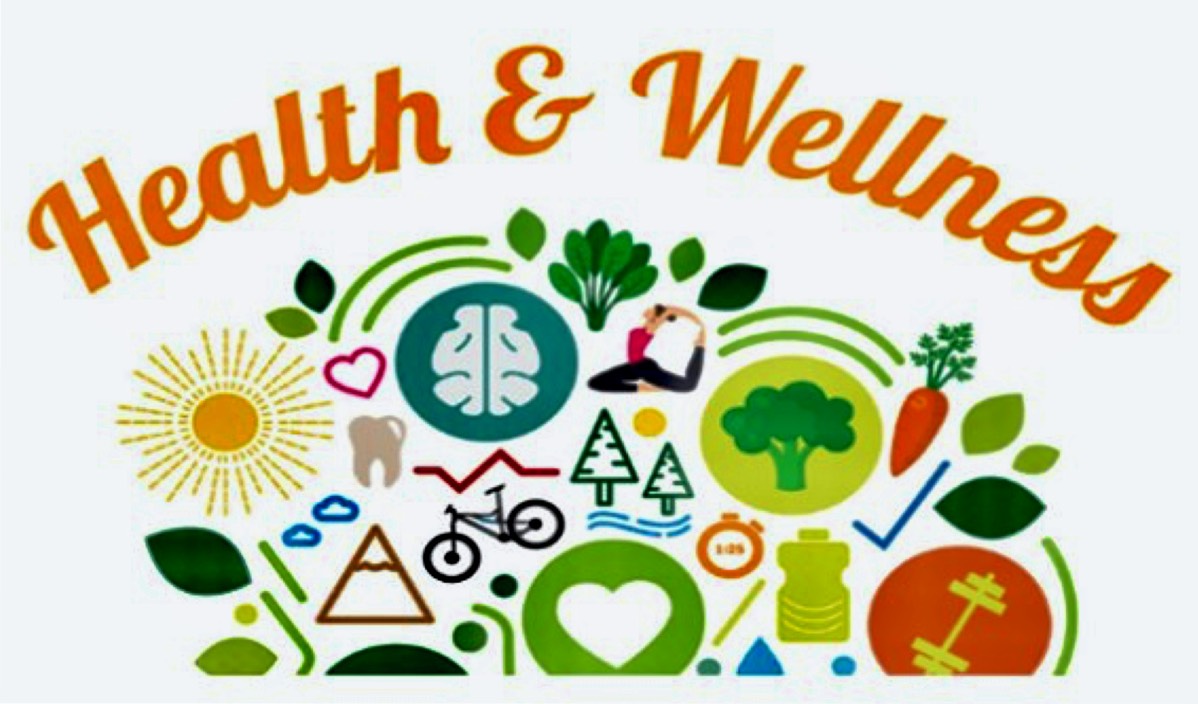 Village Care Centre Clinic

Well, this is my last contribution to the Pinesong Press and it is with a mixture of sadness and excitement that I complete my last week at the village. I have really enjoyed my time here over the past 21⁄2 years, and it has been a pleasure to get to know you all and, hopefully, meet any needs that you have had. I am pleased to let you know that Rebecca Ou Yang, our Nurse Educator, will be taking over Nurse Manager for the Care Home, from next Tuesday 27th October. She can be contacted on 027 646 1694. Also, Sonia, our
The new RN will be with us on November 5 .
At the moment, recruiting is in progress for a Care Services Manager for the village services. However, in the meantime, I am happy to inform you that we have Alisha Tamepo-Pehi covering as Village Nurse. Alisha will be available Monday – Friday 9am – 3pm for any queries or issues that you may have. She will also be running the Wellness Clinic on Level 2, Monday, Wednesday, and Friday, 10.30am – 11.30am, no appointment necessary. Alisha will also be commencing on Tuesday 27th October.

Ecare – this is available on Level 2 for you to keep a check on your weight and blood pressure, and is free of charge. However, if you require assistance from the staff, there will be a charge

Monthly Talks
All will take place on a Tuesday, at 11am in the Seabreeze lounge
October 27th - Paula from Arthritis New Zealand November 24th - Gaye from Macular Degeneration
New Zealand January 26th - Lucy from Bay Law
February 23rd - Richard from Independent Living Services

Extra Care Services
Are your voiles in need of a clean? We were recently asked to do just that for a resident and this is what she had to say about it 'My curtains and windows are now sparkling and bright'
Does your pantry need a good sort out? We can do that for you. Remember that we are very flexible with what we can do and how often.
Please speak to Angela or Fred to discuss your needs.

Safe guarding your future
Are you finding things just that little bit more difficult? Do you want a bit more security?
Why not consider moving to a serviced apartment? We currently have a choice of Level 1 or 2. Please note that there are no transfer costs, and we do offer
flexible packages. 2 of our residents moved from their village units into serviced apartments recently, and are glad that they did so when it was out of choice and not necessity. Both are really happy with their apartments and enjoy the company at mealtimes. Whilst neither attend the daily activities, they love being able to attend village wide events without having to leave the main building.
Also, if the need arises later on, all our apartments are certified for rest home level of care.
Please speak to Allan ( 021343414 ) for more details.

Incidents and accidents
Just a gentle reminder to let us know if you do have an incident or accident so that we can check on your wellbeing.
I am sure that I will hear about future happenings in the village, and be prepared, there may be a guest appearance at the next Nostalgia!!!!!!
Stay safe,
Linda

PODIATRIST CLINIC PRICE CHANGE NOW $40 The 3rd Tuesday of every month. The next Podiatry visit is 19th January 2021. This will be in the Beauty Therapy room ground floor. Please contact reception for an appointment.

PINESONG BEAUTY
Season's Greetings
Gift vouchers available.
Limited appointments available before Xmas. Please phone, txt or email.
Closed from 24th Dec. 2020 Re-open 13th Jan. 2021.
Karen Brooking C.I.B.T.A.C 817 0649/021 870 323 brooking36@gmail.com

EXERCISE WITH SHIVANI
Avoid falls and get fit (or fitter). Exercise class is back on in Seabreeze lounge at 9.15am with Shivani (senior consultant Physiotherapist). We can have a total of 3 groups of 10 each keeping 2mts apart. See you all there! Shavani

AUDIKA Green Bay
The now Audika Green Bay are offering a FREE clinic to check and clean hearing aids.
This service will be the 3rd Monday of the month in the Rata room, Ground floor Seabreeze 10.30am – 11.30am.

PLEASE NOTE IT WILL NOW BE THE 3RD MONDAY OF EVERY MONTH

ST JOHN AMBULANCE
St John Ambulance free shuttle service starts from Monday 18th April.
Please phone 0800 925 2672

Waitakere
Book 3 days ahead of appointment.
0800 000 606
$10 return

Greenlane hospital
Auckland hospital
North Shore hospital:
Book 3 days in advance.
0800 809 342
9.30-4pm
$6.00 each way

LABTESTS CLINIC AT PINESONG
Please note Labtests have advised that for all future blood tests every resident must have their doctor; nurse or medical practice ring, fax or email Labtests first to book an appointment if wanting a bloodtest done here at the village.
This is regardless of whether it is done at reception on our clinic days Mon/Wed/Fri at 2.30pm or a home visit, this will be the procedure going forward, sorry no exceptions!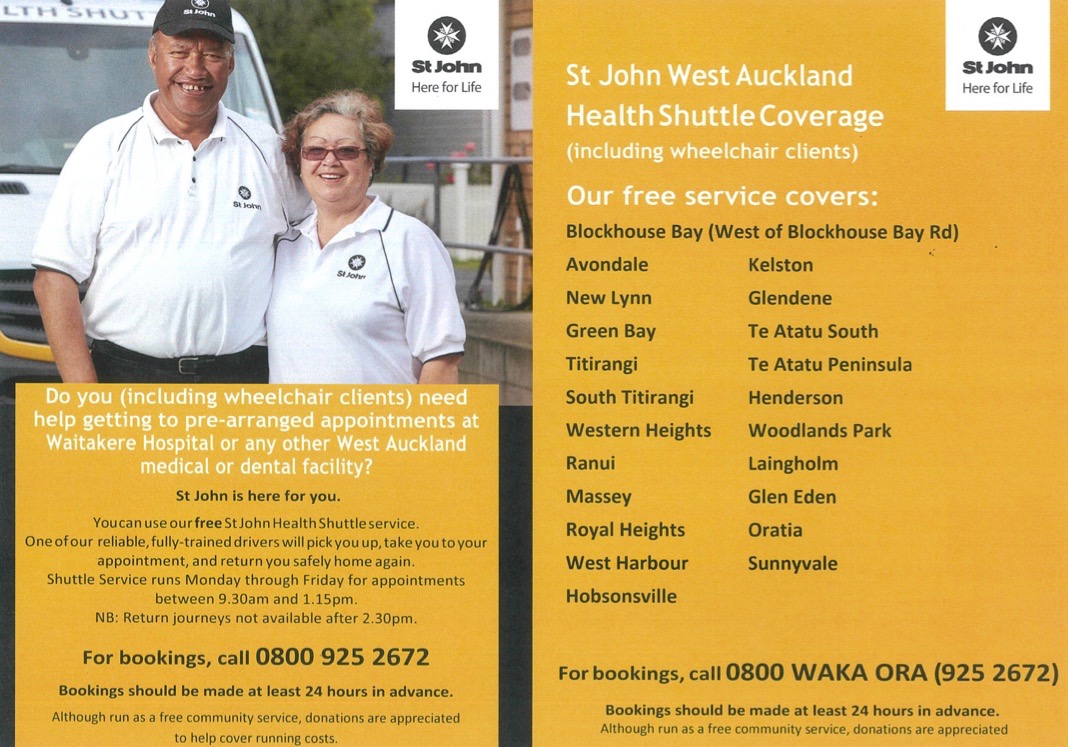 NEW YEAR PARTY
We had a great night on 31 December in the Sea- breeze Lounge even though an outrageous act by the MC meant that "Auld Lang Syne" was sung half an hour early and Robert Campbell piped in the New Year at 11.30!! People stayed on in spite of it though.

The music and dancing was non-stop and if you weren't there, you missed a good show (even if muscles and voices were a bit strained the next morning). Thanks to the bar workers for making it possible for everyone to shed their inhibitions and dance the night away (and for clearing up afterwards).
Thanks also to the Social and Dance Committee, especially Margaret Kemp for organising the decorations, and Anna Long for her long service on the Committee. Thanks also to Mark and Jay from Maintenance for helping decorate (and undecorate) the room and Mathew the night porter, for tidying up afterwards.

Having said that, the Committee would love to have some new members. At least three are giving up. If you feel you could contribute give Mary Lovelock the Convenor a call. She'd love to hear from you. Social and Dance Committee

CALLING ALL PINESONGSTERS
Choir practices resume on Tuesday 2 February 2021 in the Matai Room. It will be great to get back into a regular routine once more, to meet up with old friends, to make some new ones and especially to make music together.

New members are especially welcome. If you have just recently arrived at Pinesong or it you have been thinking about joining a happy choral group, come along to this first practice for the year and see what we do. There's no audition and you don't need to be able to read music!

Music in some form has been part of life since earliest times. Its beneficial effects have long been recognised. During the past 25 years more and more research has been given to studying the beneficial effects of making music with other people. It is shown that choral singing improves mood, focuses attention, enables deep breathing, provides social support, assists cognitive stimulation and makes for regular commitment; some in depth studies also point to significant slowing of certain degenerative conditions such as dementia and Parkinson disease. Most important – it's fun!

A "make-it-yourself" luncheon will be held in the Bayview Lounge on Saturday 30 January 11.30am – 2.00 pm; we supply the food – you make your rolls. More details next week.
Doug Lilly, 8172199

TAI CHI
Tai Chi for Strength and Balance classes resume for 2021 on Tuesday 19th January at 9.15am. I am really looking forward to spending time with you all as we stretch, breathe and enjoy engaging our minds in our exercise for another year!
Cost $8 or $70 for 10 class card. All current cards are still valid. Thank you!
Rachel Derham

OUTDOOR BOWLS
Bowlers welcome to an- other year of Pinesong Bowls. Reminder we are holding our meeting this Saturday 16th at 9.15am to be followed by normal rollup. Agenda has been posted on the Bowls Notice Board.
A good attendance would be appreciated to set the bowls rolling for a happy successful year. John Horder and I have kept things running through the testing 2020 Covid year.
David Annan Ph 817 9154
Email davidannan86@gmail.com

ZUMBA WITH VAL
Zumba will be back on Friday 22nd
January at 9.30 a.m. in the Sea- breeze Lounge. Come and join us for a friendly, lively dance/exercise class to great music.
EVERYBODY WELCOME!

SCRAPBOOKING HOBBY CLASS
Will be starting back Friday 5th
February 9.30 to 12noon
Classes are held first Friday of the month. Scrapbooking is putting photos in album or sorting or framing or scrapbooking.
Anything you want if you have another hobby you need to catch up on/or would like company you welcome to join us.
Meeting place Craft Room, Sea- breeze by Hair Salon. Classes: 5th February
5th March 9th April due to Easter 7th May 4th June 2nd July 6th August 3rd September 1st October 5th November 3rd December last class for year.
Any enquirers ph Tina on 8171920

RESIDENT HONOURED
Congratulations to Arch Jelly for being awarded the Companion of the New Zealand Order of Merit in the New Year's Honours in recognition for his contribution to sport and bridge. Among his many achievements are the New Zealand Athletic Coaches' Hall of Fame, OBE for Services to Sport in 1981 and a distinguished war service in World War II.

RESIDENTS' BBQ
WEDNESDAY January 27th 2021 6.15PM in the CAFÉ
Please do not enter the café until 6.15pm.
This allows the serviced apartment diners to finish their meal and the tables to be cleared. COST $7 Tickets will be on sale in SEABREEZE LOUNGE on Tuesday, 19th January 2021 from 10.30am to 12-noon or until sold out.

CHARITY KNITTING
The friendly group of ladies who knit, crochet and sew for charity are now meeting for 2021 every Thursday in the Fireplace corner of the Seabreeze Lounge from 10am to 12 noon.
Anyone is welcome to join us for a chat and morning tea. We ask a small donation of $2.00 towards the purchase of yarn.
We are always wanting donations of yarn which all gets used.
Diane 817 2239 or Jean 817 5754

BINGO
A new year is upon us and we will be starting back to play Bingo on Monday, 11th January, in the Matai Room. We like to have people arrive from 6.30pm onwards so we can have a prompt start at 6.45pm. The cost is $5 for ten games. New residents are al- ways welcome and if you need a hand to start just ask and we will help you get settled in. It is great fun and usually ends just before 8pm. Come along and see for your- self.
Fay Heywood

PINESONG WALKERS
We will be walking again soon. Put your walking shoes on and Give it a Go. Tuesday: Ladies only Tuesday January
12th. Meet behind Kitchen by
back door of Seabreeze at 8-45am.
Thursday: Mixed Walkers
Meet at Swimming pool at 8-30am every Thursday . We walk quite quickly so you need to be reasonably fit. If you would like to try, please phone
Jocelyn Cartwright 816 8312
HAPPY NEW YEAR

TABLE TENNIS
We are going to introduce a Ladder system this year and want input from our players, especially when making up a set of rules. If you are interested in helping develop this format, we will have a quick sharing of ideas before play on Monday 18th and Thursday 21st of January at the usual time of 1.30pm. We want a system that encourages competition but still retains the fun and friendliness of our club. Thanks to Bob and others for their input already.
Looking forward to your ideas,
Pam (8174826) and Ken

POYNTON VISIT
The competitors from the Poynton
are returning on Monday 8 March to resume combat with Pinesong. We will have the same sports and games as we did when we travelled there, but in discussion with Angela we were thinking of adding another one - SWIMMING!! I thought heats of four and two lengths of the pool. We could have freestyle and breaststroke races.
Now I know your immediate reac- tion will be, "Mate, you must be dreaming!" Give me a call if you are interested though, and if we have enough interest I will contact the Poynton to see if they can provide competi- tion.
More on the day later.
Tony Cross 4 Manukau 817 6066

THE BLOKES SHED
Keeping us safe
It has taken a number of years to improve the condition of the beach road and make it safer for those residents enjoying our private access to the Manukau Harbour.
Over the last five weeks the work has intensified with Asphalt on the road surface and drains cleared. Would residents who wish to help kindly not place unwanted vegetation in the middle of the road as this is a danger we are trying to avoid. We will at some point in time organise a truck to pick up this unwanted vegetation and with this in mind could this material be placed to the side of the road but not in the drain or the bush. Thanks again from the Blokes

GARDEN CIRCLE
On behalf of the Garden Circle and Pinesong residents I would like to welcome Nikita to the village we have met her and she is full of positivity and is looking on her work as a real challenge, lets all support her as much as possible while she gets to know the village and us.
I also wanted to let you know if you are needing MINT for your roast lamb dinners and BAY leaves, we have those down in the bottom Herb Box by the Croquet court just help yourself. The boxes are looking a bit sorry as not having water has been a problem we will look into replacing the herbs when it is better planting time.
Some of you will have noticed I have been walking LUCY a bit more as Bill has an infected leg, she wants to wish you a really happy Christmas and so do I. LOVE AND HUGS FROM US TO YOU ALL.
Aileen Keery - 817 3399

FIRST QUIZ OF 2021
By popular request there will be a quiz on the first Saturday in January - that will be Saturday the 2nd in Bayview, as usual at 4pm.
Come along and break up that long time since Xmas with nothing on. Don't forget, bring your evening meal and join a group of us who meet afterwards, usually with a glass of wine, but that's not compulsory.
A question from the last quiz - A town in Perthshire in Scotland is named 'Dull'. It is twinned with a town with an equally uninspiring name in Oregon USA. Have a guess at its name. Ask someone who was there if they can remember the answer.
Tony and Janet Cross

WESTVIEW MEDICAL
Christmas Hours 2020
24/12/20: 8—4pm
25/12/20—28/12/20: CLOSED
29/12/20: 8 - 5pm
30/12/20 : 8—5pm
31/12/20: 8—4pm 1/1/21—4/1/21: CLOSED
5/1/21: Normal Hours

SENIOURNET WEST AUCKLAND
Have moved premises to the RSA, Railside Avenue Henderson; parking available. Handy to train, buses and the Mall. Help and Information days held 2nd and 4th Tuesday of the month from 10.00am to 12 noon.
If you need help with your computer/device or a refresher on something you have forgotten, don't hesitate to call in and see us.
Windows, Apple and Android systems covered.
Phone 837 7600.

EDEN COMPUTERS
Grant Stevens
Expert technician, has operated on the most difficult Systems. References from Pinesong residents on request. Mobile: 027 939 017 - Phone: 638 8188 Email: grant@edencomputers.co.nz

AA SENIOR DRIVING COURSE
Keep Your Freedom and Independence
Are you a member of the AA? Are you 80 plus?
Did you know that you can book a FREE in-car coaching session? A few days ago I made use of this service and was mightily impressed. An AA driving instructor came to the village, we drove in my car for a whole hour while she observed my driving style. Before we took off she checked the following: 1) vehicle check, 2) cockpit drill, then while driving, 3) communicating and signalling, 4) car control, 5) hazard identification,6.tips, hints and feedback. My correct seating position was also checked. If this is for you: Phone 0800 223 748 or go to: aa.co.nz/senior-driver and make an appointment. My instructor was Shifali Patel. The whole session was well worth the time it took. And pleasant!
Margaret Topzand, 817 3893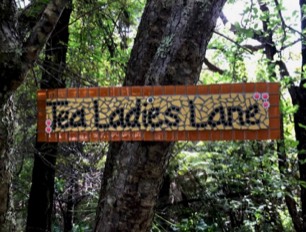 GARDEN CIRCLE
The photo below is Pam's latest art mosaic showing where to find the Ladies Taking Tea which of course is the new area we are developing. This has been made possible due to a couple of residents donating us money to buy plants, Wally doing the hard digging and of course volunteers planting. I also would like to thank Jocelyn for her hard work down at the end of the lake, this is a very difficult area to work in and she is doing a great job, so thanks to all who help us and care about our village. Keep using the bins available in the bush for any weeds you might remove as this works well and is another way of everybody helping. Our next Garden Circle meeting is in the Matai room, Wednesday 4th November at 2pm. All are welcome.

Aileen Keery - 817 3399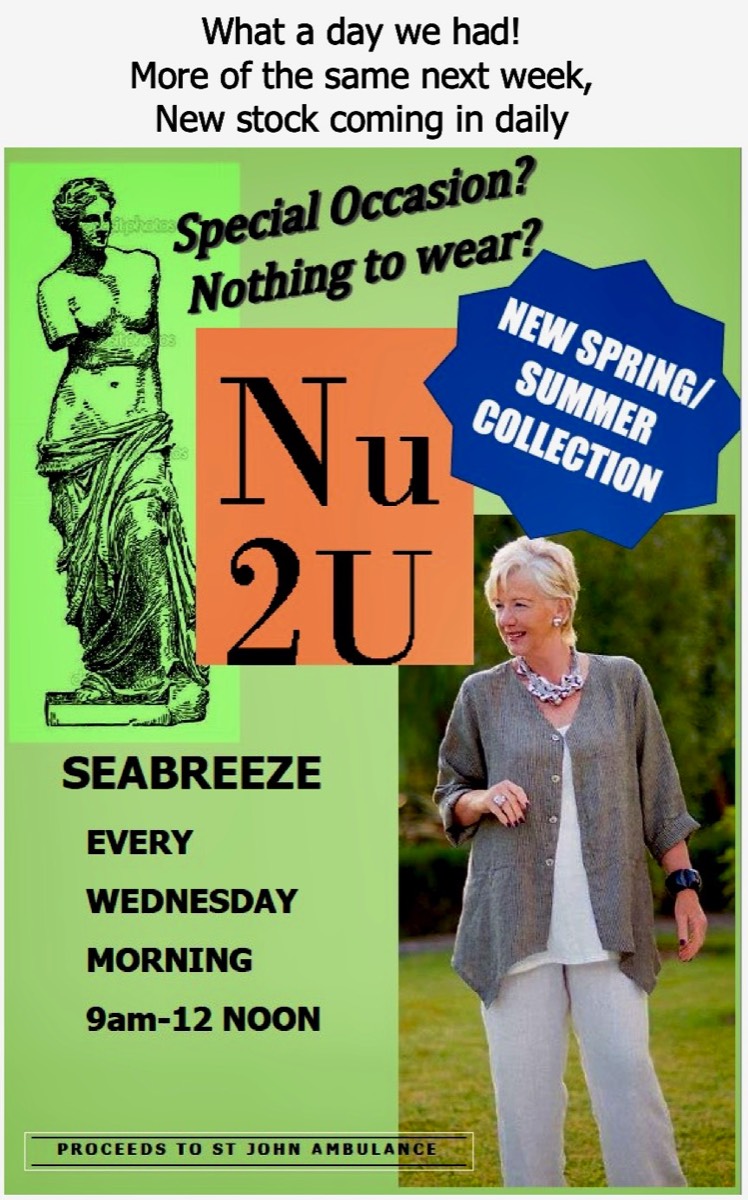 Congratulations to Marianne McRae Nainoma Bars
Base:
4oz butter 1/4 cup sugar 3 Tbsp cocoa 1 egg beaten 1 tsp vanilla 2 cups crushed malt biscuits 1 cup coconut
Melt butter, sugar & cocoa over low heat. Remove from heat, cool slightly before adding beaten egg, then vanilla essence, crumbs and coconut. Line a 12'' x 8" pan with baking paper. Pack with mixture firmly, and place in fridge for 30 mins.
Custard Mixture:
2 oz butter 2 cups icing sugar 2 Tbsp custard powder 2 Tbsp hot water
Cream butter, icing sugar, custard powder and hot water. (Electric handbeater) Spread mixture over base mixture and replace in fridge.
Top: 2 oz cooking chocolate 1 Tbsp butter
Melt chocolate and butter over hot water and spread over custard mixture. After 1 hour take out and cut into neat small squares. Stored in fridge, it will keep for weeks if well hidden! Makes 4 dozen.
Nainoma Bar has been a staple in my fridge for over 60 years. My children grew up with Naimona Bar as their favourite treat and they still request it today. My grandchildren (every one of them) always go to the fridge for their Nainoma Bar treat and still request it today.
Now my great grandchildren go straight to the fridge for their Nainoma Bar fix.
Nainoma is a city in British Colombia, a recipe contest was held and this was the winning recipe and they claimed it as their own.


CONGRATULATIONS TO Barbara Wiggs
LEMON SLICE

1 1/2 cups flour 1 tsp baking powder 3 Tbsp icing sugar 150gm butter
1 1/2 cups sugar 3 eggs Fold in
3 Tbsp flour 3/4 tsp baking powder pinch salt 4 1/2 Tbsp lemon juice
Heat oven 170° Blend all ingredients press into greased & line roll tin. Bake 15mins
Beat well
Pour over base Cook 20-30mins
Cut while warm
170° Sprinkle with icing sugar when cold.


CONGRATULATIONS TO ALTHEA MORLEY
WONDER CAKE
1 Breakfast cup flour 3/4 cup sugar 2 ozs butter 2 eggs
2 teaspoons baking powder Milk Flavourings
Mix flour and sugar. Put butter in breakfast cup standing in hot water. Leave till melted. Add eggs unbeaten and fill cup to top with milk. Turn into flour mixture and beat till thick (about 5 minutes).
Sprinkle in baking powder, pinch of salt and flavourings. Mix well. Cook in loaf tin about 25 mins 350 degrees.
Like Madeira cake but can be changed to anything. I add passionfruit flavour and ice with passionfruit icing.

CONGRATULATIONS TO AILEEN KEERY

TUNA & POTATO PATTIES

Mashed Potatoes 1 tin Tuna or Salmon (whatever you have) 1 Egg Spring onions (or finely chopped onion) Garlic (or garlic paste to taste) Half a cup of Breadcrumbs or bread to help bind. You can add peas, leftover veges, Herbs.
Mix all together and roll, flatten into patties. Heat oil in a large frying pan and cook until golden and crisp. Drain on absorbent paper.
These patties can be adjusted to whatever you have and are easy to do.


CONGRATULATIONS TO:

June Keatley
APPLE CAKE
125 grams Butter 2.3 Peeled apples 3/4 Cup boiling water 1 Egg 1 cup sugar 1 Cup chopped dates 1 1/2 Cups flour 1 tsp Baking soda Cream butter & sugar. Add egg, beat well. Dissolve soda in boiling water, add to apple & dates. Add flour to creamed mixture & fold together. Bake at 180 for 35mins.
In a pot melt 50g butter 1/2 Cup brown sugar 2 Tablespoons milk 1 Cup slivered almonds Pour on cake & bake another 10mins.

June Keatley Villa 113 The Terrace
ZALI AND RUBY'S RECIPE OF THE WEEK - LOCKDOWN LOAF
Kindly donated by top NZ chef Chelsea Winter
– "This beer bread recipe is sooo easy and so delicious, and only requires a few pantry staples. Since we're all in lockdown here in NZ, I've coined the term 'Lockdown Loaf' – and it really is perfect in that sense. Stir the beer bread it up in one bowl – no kneading, no proving, no yeast need- ed. And if you need a gluten-free bread option, I've included that below the recipe.

Tips
This bread isn't light and fluffy like a bakery loaf – it's dense and moist. And that's how it's meant to be.
For a reason I cannot understand, some people using Corona beer have produced a doughy, undercooked loaf. Go figure? In any case, don't get too fancy here. Use the crappiest beer you have on hand – that awkward, long- forgotten bottle lurking forlornly the back of the fridge, probably leftover from some BYO you had 18 months ago, the one that could be expired and certainly no one will touch, that's the beer you want.
Check the expiry date on your baking powder. This beer bread is safe for kids and pregnant women and non-drinkers, as the alcohol evaporates in the oven.
If you can't find beer, cider or plain soda water works – or a dry, not-too-sweet ginger beer or kombucha (omit the sugar if using these as they are already sweet). Lemonade would be too sweet. The yeast in the beer doesn't do anything, it's there for the bubbles and the flavour. If high grade flour is all you have, that will work.
People have had success with using half wholemeal flour in their beer bread, too.
Once it's cooled down, it's amazing toasted – we have it with peanut butter, Marmite or vegemite, avocado and tomato, hummus and basil – the list goes on! It's highly addictive, I'll warn you now.
Get an oven thermometer and check your oven isn't running cool if your loaf is undercooked.
Don't forget to share your creations with me on Facebook and Instagram, it brings me so much joy to see my recipes popping up in kitchens all over the place.

Ingredients
Bread
3 cups plain flour (or use self-raising and omit the baking powder) 3 tsp baking powder 2 tsp sugar 1 tsp salt
375ml beer (or make up the extra with water) UPDATE: Weirdly enough, Corona doesn't seem to work.

Toppings
Finely chopped onion or red onion Grated cheese or dairy-free cheese Sprinkle of paprika and/or oregano Salt and pepper
Extra virgin olive oil, for drizzling

Some other ideas (not all together, though!): olives, capers, Parmesan, chopped sun-dried tomatoes, sunflower seeds, pumpkin seeds, sesame seeds, poppy seeds, cumin seeds, coriander seed
Method
Preheat the oven to 180c regular bake and line a small/medium loaf tin with baking paper. Add the flour, baking powder, sugar and salt to a large mixing bowl. Stir to combine.

Pour in the beer/water and stir again to combine into a sticky dough. Scrape in to the prepared tin with a spatula and smooth out.

Sprinkle with the toppings you like and drizzle with olive oil.
Bake in the oven for 40 minutes – it will have risen and puffed up and be all golden and delicious looking.

Serve hot or warm with any toppings you like – it's awesome plain with butter, and

I like Vegemite and Marmite too!

Once it's cooled down it's amaaazing toasted. Keep at room temperature in a bag or container. It's not gonna last long, though, I warn you now!
For gluten-free beer bread

Naturally, you'll need to use a gluten-free flour mix without raising agent added.
For best results, I like to also add either 2 tbsp of either psyllium husk powder, or ground chia seeds. Adding one of these helps give the loaf that chewier, springier, bread-like texture that's normally missing with gluten-free bread (which can be quite chalky.) This isn't essential, though.

But if you are using one of these, you'll need to add an extra 3 tbsp of water.

Then after mixing the dough, it's helpful to let it rest for 10 minutes in the tin before it goes into to oven, to let the chia or husks swell up do their thing.

You'll also need to use a GF beer. If you can't find one, soda water works – or a dry, not-too-sweet ginger beer or kombucha (omit the sugar if using these as they are already sweet). Lemonade would be too sweet.

You can get psyllium husk powder at the supermarket – well, usually anyway! It's very high in fibre so drink an extra glass of water when you enjoy a slice of the bread to be kind to your tummy.

If you have whole chia seeds at home, you can grind them in a mortar and pestle, coffee grinder, high speed blender or bullet to make a powder.


For a sweet loaf

You can use lemonade for a sweet loaf – it's lovely smeared with butter or dairy-free spread or unflavoured coco- nut oil – topped with jam or honey!



Cafe' 66


Restaurant Notices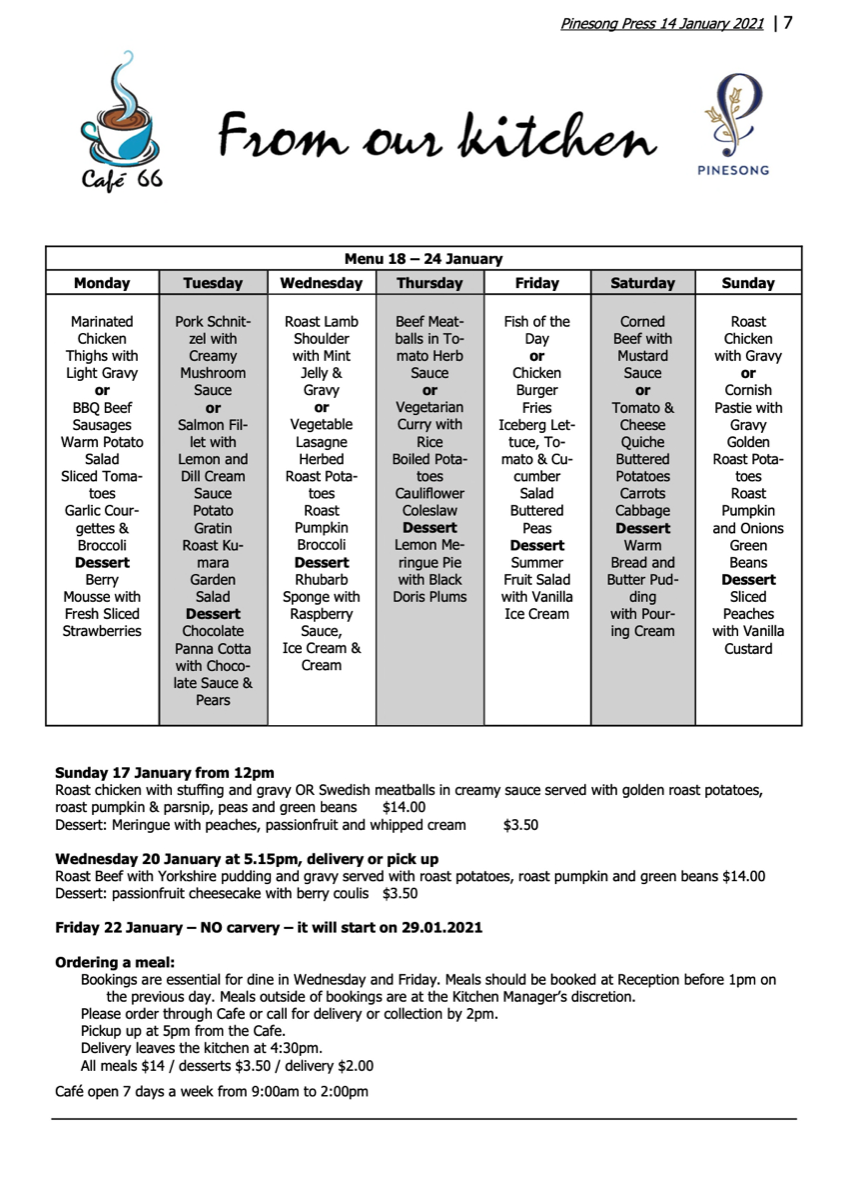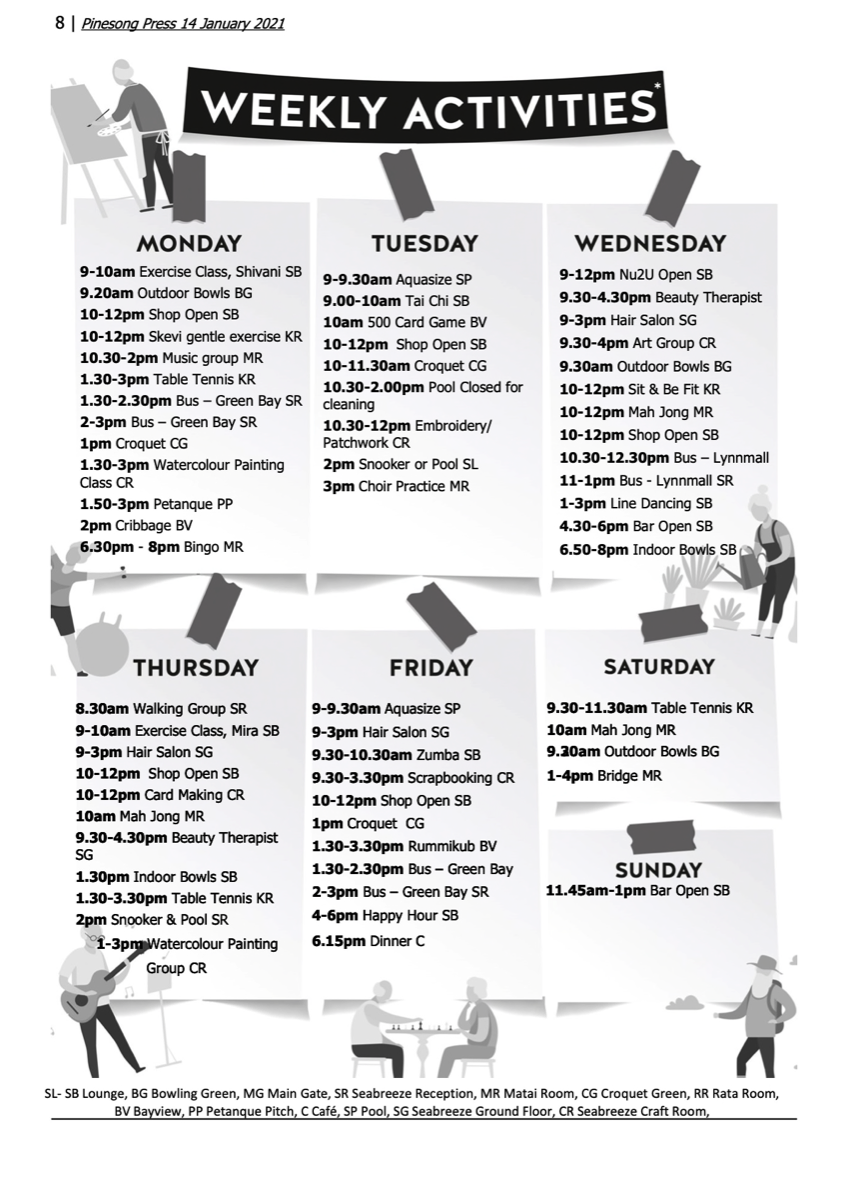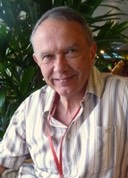 Hi,

As the creator and manager of this website I have endeavored to portray the everyday life and activities of our village from the
residents' perspective.

Your comments and contributions are welcome and to this end I invite you to use the
'Contact Us' page
.

Deryck Hunt