The first day of the rest of our lives

Dear all,

This week we are certainly starting to experience winter weather and I feel like it is just the tip of the iceberg with colder temperatures on their way.

Earlier this week I had the pleasure of learning about the Residents Birthday Afternoon teas which are held monthly and coordinated by Joan Gasparich and run by her and a group volunteers. Joan has been overseeing this activity here at Pinesong for an amazing 8 years and has made the decision to step down after the July event. It would be wonderful for someone in the village to pick up this role and Joan is very keen to provide all the guidance and support needed. If you would like to find out more about the role, please contact either Joan or myself to discuss. It would be a shame to see this lovely monthly event cease so I hope that there is someone keen to help out. I want to take this opportunity to thank Joan for her incredible efforts and energy over the past 8 years – I think you have done an incredible job.

Around the village:
Anchorage Scaffolding:
I want to thank everybody, especially the affected residents of Anchorage for your continued patience as we work with our Contractors to finish this painting project. My understanding is that the scaffolding will be removed next week and that when the summer months are upon us again we will continue with the last two elevations. COVID certainly has impacted this work programme as it was our intention that this would have been all finished by now. I am talking daily with the contractors to move this along as quickly as I can and will be in touch with resident's tomorrow with further updates.


Resident Afternoon Teas:
Fred and I have re-commenced the catch ups with the various resident groups around the village. This week we had a very positive meeting with the Cliffview residents and it was so lovely to hear their constructive and positive feedback. Thank you, Cliffview residents, for your valuable input.

School holidays are upon us, so I am going to take a short break from Wednesday 9
th
July returning Wednesday 15th.
The girls and I are off to Rotorua, to
cycle around the Redwoods and soak reinvigorating hot pools after using muscles that haven't seen the light of day for a while.
Have a lovely weekend everyone,

Angela King
Village Manager


Hello Everyone,

It was nice to see the rains back last weekend and apparently the well levels have gone up but not as per expectations. I believe more rain is expected in the coming weeks with a drop in temperature.

Some important notes that I wish to share with you all.
* The staff from Titirangi library will be here on Friday 10
th
July from 10.30 am to 11.30am at Matai Room. They will be teaching, how to download eBooks and eAudiobooks from Auckland libraries onto whatever device you plan to use (tablet, laptop or phone). You need to BYO device as well as your library membership card. Seating is limited on a first come first serve basis (maximum 12). Please enrol at the Reception as soon as possible.

* Be aware of scam callers who could be calling posing as internet providers, IRD etc. We have received a few complaints, so watch out.

* A repeat reminder to residents/ visitors to keep to the speed limit as well as be patient at the gates/ garages while driving in/out.

* We are trying to encourage sustainability with regards to use of paper/printing and shortly you might see a new look, reduced size 'Pinesong Press'. If there are any residents who would like to add to the list of residents who receive the Press by email, please contact Reception to enrol.

* A non-slip exterior carpet will be fitted at entrance of Bayview on Monday- 6
th
July. The entrance to the Bayview will be closed for about 2 to 3 hours. A request to use the first floor land bridge or the stairs next to Manukau building to access the library / lounge or your apartments, whilst the work is going on.

* Once again a gentle reminder to report all accidents happening in your apartments/ villas, even though you are not hurt, to the Reception at the earliest. We take H & S seriously.

Enjoy the rest of the week.

Adios,
Fred Quadros
Assistant Manager


OPEN HOME PREVIEW TOUR
We currently have a couple of beautiful staged apartments available, which may suit someone you know!

We would like to invite you along on one of my

"Resident" Open Home Tours
, where we can show you a couple of gorgeous
brand new apartments and a serviced apartment which you may think suitable for a friend.

There will also be little surprises along the way (nibbles and bubbles) and of course a prize draw!

As you are aware we currently have a wonderful referral incentive of $2000 for both you and the friend or family member you refer, if they settle before the end of September 2020. Plus if you refer someone and they come in and have a look around, then you will both receive a $50 Prezzy Voucher!

We will need to limit numbers so please give me a call on one of the numbers below to secure your spot!

Tuesday July 14
th
11am to 12pm
Thursday July 16
th
1.30pm to 2.30pm


We look forward to seeing you soon,


Allan Phone: 817-0464 or 021 343-414
GARDENING TEAM
Hi all, just a quick note from the gardening team to update you all on what's happening around our village.
Firstly, I want to thank those of you who have helped out in the gardens whilst we were in lockdown, much appreciated!!
We have managed to complete a few refurbed gardens and tidy up some of our common areas. We are in the process of downsizing the large garden at Manukau, between Seabreeze, and making it look better with a solid garden that is low maintenance.
We have just completed planting around the transformer box by Manukau which will eventually hide the box, with keeping in mind the above view looking down we will endeavour to plant out inside the box enclosure so its more attractive.
With the water restrictions planting is at a minimum, however we will continue to do our best. We are currently continuing to maintain our common areas and with the painting almost complete at Anchorage, we will be returning the pot plants to the rightful owners. However if there are any pot plants you wish to dispose of before they are returned, please let David (Gardener) know.
Treescape will be here over the next few weeks to do some trimming.


REMINDERS:
Organics collection Monday - Wednesday - Friday (long weekends will be collected the following day) Please keep organic waste to the size of a 42 litre container supplied, and have your waste out by 3.00pm on these days.
If you manage your own garden and need specialised gardening assistance or help with planting/weeding we are very happy to assist you however please note that there will be a maintenance/garden
fee of $35.50 per 30 minutes.
Please keep this in mind when filling out a request.
Wishing you all well through these cold winter days, keep warm, keep safe.

Your Garden team Simone, David and Jack
REMINDER TO RESIDENTS
To not park in mobility parks unless they have the correct permit on display.

GYMN
Just a reminder that guests are not permitted to use our gym at any time.
This is a
RESIDENT ONLY
amenity. Guests are only allowed to use our pool if accompanied by a resident at all times. Thank you


PARKING IN FRONT OF RECEPTION
Now we have had our reception garden renovated by wonderful Pinesong residents, could we please refrain from parking on the broad white lines so that everyone coming into the village can enjoy it. Thanks for your anticipated co-operation.


MOBILE LIBRARY
Please be advised the Mobile Library is here every Monday at the Main Gate from 9am - 10.30am


PLEASE REMIND YOUR FRIENDS AND FAMILIES THAT OUR SPEED LIMIT IS 15KPM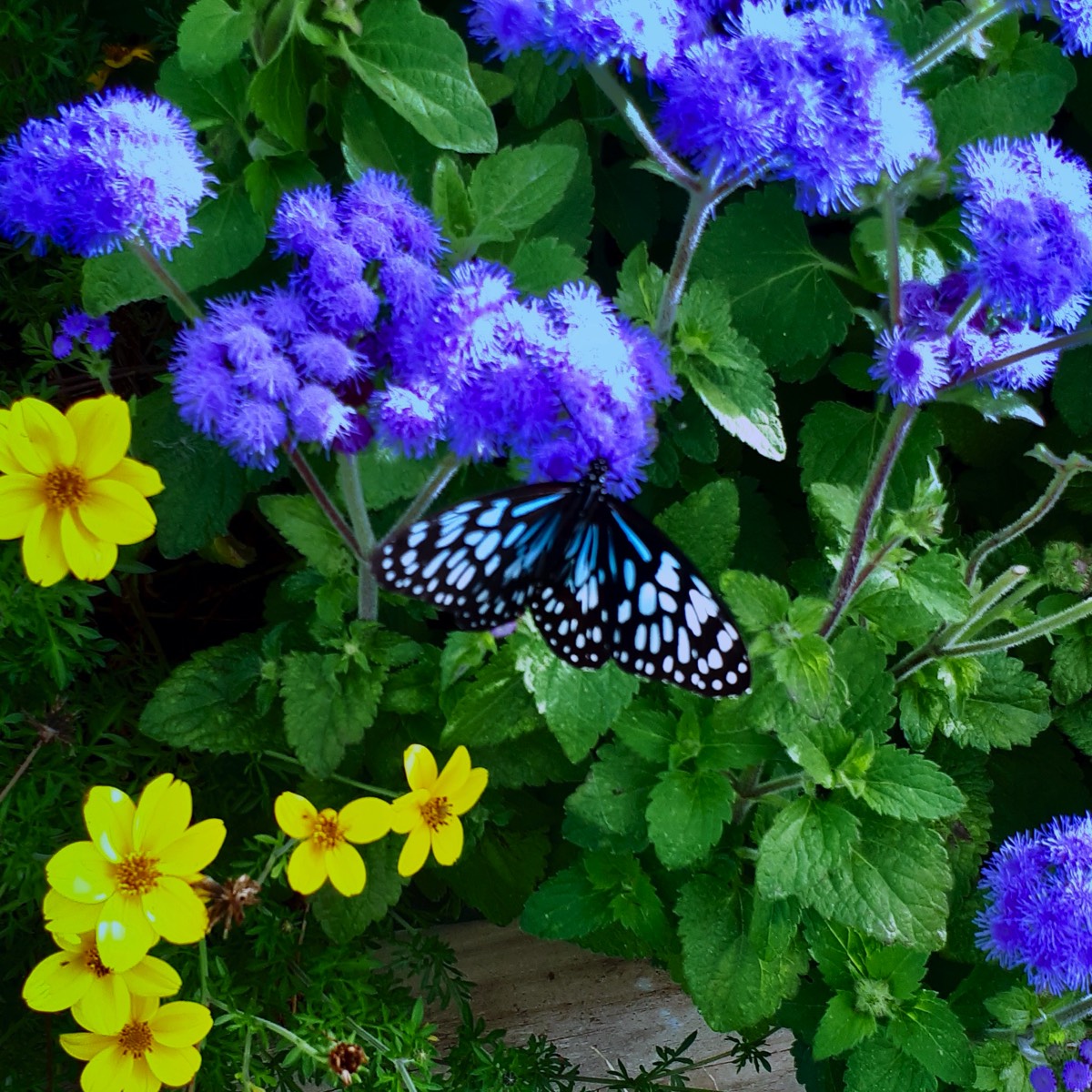 UNIQUE VISITOR TO PINESONG

This stunning butterfly turned up at Pinesong this week. As it fed on the flowers of an ageratum plant, I actually thought it was a trick of the light or even my own sensory distortion. I took the photo and headed back to my villa to consult Dr Google and see what I could find out about this exotic visitor. After a few searches of my own together with some help from my team of eager googling aids I have discovered the following.

Our visitor is a member of the Monarch family and has his roots in South Asia. Plexippus Plexippus, Tirumala Limniace and Blue Monarch or Blue Tiger are his most used names. He is more rare than his cousin the Common Tiger or Monarch we are used to seeing in New Zealand. The Blue Tiger is being seen now more and more in New Zealand and is even more prevalent in Australia. There is even a world wide initiative to increase the population of these and other beautiful butterfly species called the Blue Monarch Project. The organisation are busy promoting, through garden centres, a range of plants like the Ageratum and other Daisy family members to help increase their population.

With the warmer temperatures we are now experiencing a number of visitors to our country that 40 years ago were never able to make the trip let alone survive when they got here! Fish like wahoo, spearfish and mahimahi come to mind. Seems the insect world also has its elite and celebrity like performers who may now start to show up and brighten our world with their intense and radiating colours.

When so much of our digested news and concerns today are about making our society more isolated and insular, we get this guy turn up with his glorious spread of teal and electric blue. A symbol of beauty and wonder has occurred as a direct consequence of some of those environmental changes that are normally cues for arguments and blame.

Today I think Im going take his visit as a Blue Tiger moment - from change and adversity can come beauty and wonder.

Marianne McRae

FROM THE RESIDENTS' COMMITTEE

"PINESONG RESIDENTS ASSN MEETING"
The next general meeting of the Pinesong Residents Assn will be on Friday 17th July at 10.30am, held in the Seabreeze Lounge with morning tea provided. Would residents please forward any agenda items in writing to:

Carole Fausett, Secretary Residents Committee, C/- Apartment 44 Manukau. Items to be submitted by Friday 10th July 2020.


VACANCY
Carole Fausett is stepping down from the position of Secretary for the Residents Committee at the General Meeting on the 17
th
July. We are calling for nominations for this position to be in the hands of the Residents Committee for their meeting on the 14
th
July, so that they can be considered prior to the 17
th
.
If you feel that you could take up this role, please contact John Nicholls or Carole Fausett as soon as possible.

John Nicholls 816 9177


HYMN-SING TIME AGAIN!!
Next Wednesday evening [8/7] we will be gathering in Bayview Lounge at 7pm for our monthly singsong.
It was wonderful to have some new residents join us last month. So, if you enjoy singing the old hymns that we grew up with ..... come along!

JUDY NICHOLLS
Villa 111 The Terrace

CALLING ALL PINESONGSTERS
Regular choir practice will recommence in the Matai Room on TUESDAY 7 JULY, AT 3.15PM.
We are all looking forward to catching up with our musical mates and moving into a regular routine once more. We will start work on an end of year programme which will include some of the old Christmas favourites (let me know if you have anything special that you would like included!)
We hope to welcome a number of new members to the choir. This is a great time to join the Pinesongsters. If you are in any way interested in being part of a group that enjoys making music together come along and check out what we do.
As a postscript, some of you may have read a piece in the NZ Herald (Tuesday June 23) headed "Senior Moments Caused By Not Using Our Brains". Buried in the text the author states "brain function will benefit when people do things outside the box................join a choir – something that is new and challenging".

Doug Lilly 817 2199


KIDS CAN

To the residents of Pinesong Retirement Village,
Thank you so much for the generous donation you made to KidsCan on 12/6/2020. We understand that these are difficult and unprecedented times with Covid 19 having such a huge impact, and we are so grateful for your kind and generous support at this time. It is thanks to caring people like yourselves that we are able to continue our work, providing kiwi kids living in hardship with essentials they need to help reach their full potential. We will ensure your contribution helps as many children as possible. Thank you for choosing to be part of our mission! It truly is appreciated. Stay safe and well,
Kind regards,

Jenna Spyve (Supporter Services)


PINESONG BAR NEWS July 2020
Welcome back to the bar after the long lock down! On Friday 3rd July we will restart the $50 raffle. The Host or Hostess will issue tickets for the Friday free drinks draw.. To our new Residents a
big
welcome & we hope you will join us on Wednesdays 4.30pm to 6.00pm & Friday's 4pm to 6.00pm.


AS A NEW RESIDENT YOUR FIRST DRINK IS ON US!

To all our Residents please feel welcome to bring along your family & friends. We also sell non alcoholic drinks i.e Coke a Cola, Lemon Lime & Bitters & OJ.
Prices are very competitive. Beers from $2.50 Wine from $2.50 a glass Spirits from $3.50 a nip Non Alcoholic drinks from $1.00 - $2.50
If you have any thoughts, suggestions or, even a complaint, please feel free to talk to one of the duty bar team. Finally it would be very helpful if all used glasses were returned to the bar at the end of the evening.
Many thanks

Kind regards from the Bar team
SNOOKER

Just a reminder we play snooker every Tuesday at 2pm. We would like to welcome new members and previous players to our snooker room next to the bar in Seabreeze lounge. No skills needed. Come socialize and have a game and enjoy.
Phone Bill 827 4747
GARDEN CIRCLE
Its just a little cold as I write this and I am soon going to watch TV snuggled on the sofa, too chilly for any gardening today. I know I am a bit of a sook in the winter, more designed to be a summer girl me, I hope you are all snuggled up nice and warm too. It's so good life is beginning to get back to near normal, but of course we still have "To Wash Our Hands". We are having our July Garden Circle meeting on Wednesday 2pm 1st July in the Matai room. Please come along for a chat and catchup with what is happening in our village gardens. See you there.

Aileen Keery - 817 3399


BLUE MONARCH OR BLUE TIGER BUTTERFLY

A beautiful Morris & James plaque can be viewed on the delightful bush walk that leads through to the Crescent. It commemorates the visit to Pinesong on the 18th May 2020 of the very rare Blue Monarch or Blur Tiger butterfly. Only the 5th seen in New Zealand since 1995.


VILLAGE SHOP
BIG PRICE REDUCTION!! All greeting cards are now only $4 each!! These beautiful cards, birthday, anniversary, sympathy etc. are all hand crafted by our own talented Pinesong residents. As well as cards your shop also sells a variety of other handmade goods such as -

* Knitted woollen slippers, toddler to adult sizes and only $4 to $7 per pair.
* Beautiful floral arrangements only $15 to $28
* Pretty covered coathangers $5
* Cosy knitted blankets
* A variety of knitted baby and childrens' clothes, eg bootees, hats, cardigans
* Knitted dog jackets * Knitted dolls * Knitted dish clothes * Beautifully sewn aprons and bags * Heat packs and also several novelty items.
We, also of course, sell a variety of non perishable grocery items as well, and if we haven't got what you want, we are happy to buy it in for you in our next weekly shopping trip. For your convenience, we are now open every day from Monday through to Friday from 10am to midday.
We look forward to welcoming you all.

Joslyn Tierney
Phone 817 4799
LINE DANCING

Hi Everyone
Just to let you all know that the Line Dancing Classes are re-starting on Wednesday 1st July 1pm to 3pm in the Seabreeze Lounge
See you all there

Gillian Wright
Line Dance Instructor Phone 0272817564
PETANQUE
Hi to old and new players, we would love you to come and see our new wind shelters. We still play on Mondays. Report time 1.30pm and games start at 1.50pm.
New players this is a very easy go lucky game to play.
Freda MK24 817 4300
TRUDY

Come and see Affordable Fashion Jewellery prices from $10-$25 each Eftpos available.

Date:
Friday 24
th
July


Where:
Pinesong Village


Time:
9.30am see you then!

JULY QUIZ
Yes Virginia! There will be a quiz in JULY. Saturday the 4th to be precise, in Bayview as always, and starting at 4pm. You don't need to be part of an organised team - we can make up groups of six easily. Just bring your $2 and something to make notes on.
By the way, the introduction to this came from a saying that has entered Xmas folklore in the USA - "Yes Virginia, there is a Santa Claus" - do you know where and why it was first written though? Questions, questions.

Tony and Janet Cross
MATERIALS FOR HOSPICE

I sew for the West Auckland Hospice shops with material they supply, which is very little at the moment, I am hoping someone in the village could find me some so I can continue to sew.
Thanks

Joan Gascoigne
426 The Crescent
817 0492
OUTDOOR BOWLS GROUP Are now in full swing!
Organized roll-ups are held at 9.20am on Mondays, Wednesdays, and Saturdays.
You need to report by
9.20am for 9.30am start.

We would welcome new members to the group particularly new residents and existing ones interested in joining us.
Some coaching could be arranged at a convenient time for all.
It would be good to see some of our existing players back on the scene.
Any enquiries please ring either -
John Horder 8171050 or Dave Annan 817 9154

NU2U

We are one year old on Wednesday!
Lets Celebrate!
BARGAINS Buy one garment, get one free
See You There Jean & Team
BARGAINS
BARGAINS
FUN DAY TRIPS
SATURDAY THE 11th OF JULY A TRIP TO THAMES
Starting our morning at 8.30am we make our way to Thames where I will make you morning tea at a scenic part of the Thames coast. After morning tea, we visit Thames county market. Next, we will do some sightseeing. Lunch is at Taste Buds café that has neat arts & crafts.
After lunch we stop at Totara Vineyards for free tasting of their version of Baileys. You can also sample port & sherry. There will also be an ice cream stop on the way home. The trip costs $32 dollars.
For bookings phone Brent 826 4008
"ON THE BUSES, TRAINS AND FERRY"

The fiasco at our border last week shows that this is no time for complacency. We must take care of ourselves and do nothing that would place other Pinesong residents and staff at risk. Therefore On The Buses trips will be suspended for the time being.
Some of you may be disappointed but this is the only prudent course to take in such uncertain times.
The situation will be kept under review but it could be some time before trips are resumed.

TERRY DEBENHAM Apt 9W Ph 8170509 or 021 0887 8802
CURLING: Come and Try
Ever watched curling at the Winter Olympics and wanted to give it a go?
Played bowls on the Pinesong rink and wondered what it would be like on ice?
Want to know what all the sweeping is about?
Come along to Paradice, Lansford Cres (just off Wolverton St), this Sunday 24th June, 4:30-7pm and find out what all the excitement is about.

Pre-booking is essential
, so for more information, contact Earl on 021 047 8077 or
earl.irving@xtra.co.nz
Earl Irving, Bayview 4.
MOVE with MIRA!!
Come along for a 30 minute workout with Mira.
Dance to music. Improve your posture and balance. Build a stronger more flexible you and have fun while you do it!
(NB: Chairs will be used. Seated and standing exercise.)

COME GIVE IT A GO! Thursdays 9.15am in Seabreeze lounge.
See you there!


EMBROIDERY
The Embroidery ladies are back together again too.
To all new residents, do you stitch, knit, crochet or tat? Come and join us.
We meet each Tuesday morning in the Craft Room (next to the Hairdressers) between 10.30am and noon weekly. We are small friendly group who love our craft and the company of like-minded residents.
If you would like to learn a new skill come along and have a chat. Convenor Lurline Annan, 817 9154 or Email
davidannan86@gmail.com
TABLE TENNIS
We are looking forward to making a gradual start this week. The Kauri Room has been booked now for:

Thursday's 1.30pm - 3.30pm and
Saturday's 9.30am -11.30am.


We will open using the protocols developed for Alert Level 2. These will be displayed just inside the door with hand sanitiser, cleaning spray, paper towels and rubbish bags available for your use. At this stage only singles games can be played, with a maximum of 10 people allowed in the room at any given time, and maintaining social distancing.

Those of you for whom we have contact details, will have had an information sheet outlining these procedures in your letterbox earlier in the week. We look forward to meeting up soon.

Pam Choat 8174826
Ken Jarvis 8168445
ZUMBA

ZUMBA IS BACK! Come and join us in the Seabreeze Lounge on Friday 5th June at 9.30am for fun dance and exercise to great music. Everybody welcome.

Any questions: call Hilary Chamberlain 817 6555 or Janet Trainer 021 252 1471
CROQUET@PINESONG
It is time to start our competitions again. First up is the Triples Trophy, everybody's favourite! The entry list is up on the notice board at the shed so please get signing NOW. Enter before Friday June 12
th
please.
We welcome new players. Group play is 1-3pm on Mondays and Fridays and possibly Tuesday 10- 11.30am. This morning play will be reviewed as winter numbers drop. If you are a new resident and have played before please come to challenge us. If you would like to learn the game come down to watch and there are plenty of people will- ing to teach you. We are slightly competitive but enjoy getting together for enjoyable afternoons. The equipment in the shed is for everybody's use at any time but please follow Covid-19 protocols up on the notice board.

Janet Cross. 4 Manukau 817 6066
TAI CHI
Tai Chi is underway once more after our enforced break due to Covid-19. What a better way to dispel those 'lockdown blues' and get the blood flowing than some gentle exercise.
Great for balance, stress etc. Join the group in the Seabreeze Lounge on Tuesdays at 9.15am.
Quintin Derham, qualified New Zealand and Internationally, has been leading classes here at Pinesong for 19 years. We are very fortunate to have had him share his experience.
Rachel, Quintin's wife, will, for the most part, be taking classes in the future. Quintin will teach occasionally as his time permits.
For the first time ever, class cost will rise to $7 per session. Ten week concession cards can be purchased for $70, which can save that scramble for cash each week.
New members are always welcome and your first class is free. Come along and have a look, join in if you wish.

Vel. Fleming.
Ph 816-8384
WOOL DONATIONS WANTED
Any oddments/leftover wool, any colour; ply; acrylic or wool for charity knitting would be greatly appreciated.

Please deliver to Corrina Admin Office or Ph. 845 1778 - Thank you
OUTDOOR BOWLS GROUP Are now in full swing!
Organized roll-ups are held at 9.20am on Mondays, Wednesdays, and Saturdays.
You need to report by
9.20am for 9.30am start.

We would welcome new members to the group par- ticularly new residents and existing ones interested in joining us.
Some coaching could be arranged at a convenient time for all.
It would be good to see some of our existing players back on the scene.
Any enquiries please ring either - John Horder 8171050 or Dave Annan 817 9154


THURSDAY WALKERS
We are happily walking locally at the moment. A long walk to Sister Rene Shadbolt Park and Craigavon Park the first Thursday we were allowed to mix at 10 in a group. last week to Wood Bay and the usual local streets. We will be pleased when we can get the Pinesong bus back again with the usual seating and travel further afield. It is great to be back to our usual activities. Walking around the village and local areas is not the same but, it did keep us busy while we were in lockdown. Some of us are finishing off with refreshments at Cafe 66, this helps us to meet up with our old
friends.

Jocelyn Cartwright 816 8312
AQUASIZE
All welcome, come and join us for some gentle friendly exercise on Tuesday and Friday morning 9am to 9-30am

Ph Carol 0211739457
CLEANING
Are all those little things getting a bit too much? We can come in on a 'one off' basis to help you sort out cupboards, pantry, drawers etc.
Just phone
Linda on 027 646 1694
to discuss and she will arrange for one of our wonderful Metlifecare staff to come and assist you.

PINESONG RESIDENTS WATER COLOUR LESSONS 2020

No cost for tuition fee. I have a 20% discount arranged with the FRENCH ART SHOP If paint, paper, bushes are required (It is great when the group is using the same appropriate materials) A visit is made to the FRENCH ART SHOP prior to lessons commencing, very interesting to see a dedicated art shop. Lessons Monday afternoons 1pm - 3pm Classes last six weeks. Only 4 people.

First class 2020

Start Mon. 10th Feb.
Finish Mon.16th Mar. Numbers filled...Lynette Haldane, Tina Irwin, Teresa McLaughlin, Margaret Topzand.

Second class 2020

Start Mon. 20th April. Finish Mon. 25th May

Third class 2020

Start Mon. 7th Sept Finish Mon. 12th Oct.
A booking on Thursday afternoons has been made for an independent watercolour group to get together to continue their interest in Watercolour Painting. Same time as classes 1pm - 3pm.
Residents interested in attending the second or third classes please contact

Robin Mansfield, Peninsula P/12, Telephone 817 2212

TABLE TENNIS
Our 2019 "season" has ended with the final of the Doubles Competition being played on Monday afternoon. We have had lots of close games this year and plenty of support during matches.
Wally Martin and Pam Choat came out the winners after a close contest against Patricia Carr and Jeff Prior. The presentation will probably take place before play on Thursday.
Many thanks to everyone who has been part of our table tennis group in 2019. It has been great to see all three available days being used and the fun and companionship this game produces in the Kauri Room is so special.
For those not going away on holiday, table tennis will continue, with probably a quiet period between Christmas and New Year. Grandchildren are very welcome to join you for some fun!
Merry Christmas and a Happy New Year to all.
Pam Choat (8174826) & Ken Jarvis (8168445)
AUDIKA Green Bay

The now Audika Green Bay are offering a
FREE
clinic to check and clean hearing aids.
This service will be the 3
rd
Monday of the month in the Rata room, Ground floor Seabreeze
10.30am – 11.30am.

PLEASE NOTE IT WILL NOW BE THE 3
RD
MONDAY OF EVERY MONTH
GIVE A KID A BLANKET

This charity is asking for bedding again I collected about 60 last year but maybe there are more available. All gratefully received.

Trish Richards 8173758 The Point.

SENIOURNET WEST AUCKLAND
Have moved premises to the RSA, Railside Avenue Henderson; parking available. Handy to train, buses and the Mall. Help and Information days held 2nd and 4th Tuesday of the month from 10.00am to 12 noon.
If you need help with your computer/device or a refresher on something you have forgotten, don't hesitate to call in and see us.
Windows, Apple and Android systems covered.

Phone 837 7600.

KNITTERS NEWS
A wonderful mixture of rugs, jumpers, cardigans, hats and slippers is to be delivered by the time this issue of the 'Press' goes to print. All items being most useful in this cooler weather we are now experiencing.
But there is a big BUT this time. A few weeks ago I attempted to 'pull back' from what I have now done for the past ten years, but it's just not working for me so I have chosen to relinquish my position as 'the wool lady'.
Those of you who may wish to continue knitting can still deliver your donations to the Maternity Ward Reception at Waitakere Hospital and they will pass garments on to where they would be most appreciated, should that be necessary.
Any remaining wools I have, will be donated to the local Hospice as they have their own busy knitting groups who can make good use of any yarns available.

I thank all the willing workers most sincerely for the hard work as well as the quality of the garments you have made for our most worthy cause. Your dedication has been memorable.
Thanks again,

Anne Clarke 021 1128523
USE OF THE FITNESS CENTRE
Anyone is free to use it or course. Other users just ask you to please leave it as you find it – that means windows closed so they are not left open all night. Makes it cold for Charlie Bish and a few other early risers!

If you need help to use any equipment I am quite prepared to show you how on an "all care but no responsibility" basis! Just give me a call and we will arrange a time.

Tony Cross 817 6066

AA SENIOR DRIVING COURSE

Keep Your Freedom and Independence
Are you a member of the AA? Are you 80 plus?
Did you know that you can book a FREE in-car coaching session? A few days ago I made use of this service and was mightily impressed. An AA driving instructor came to the village, we drove in my car for a whole hour while she observed my driving style. Before we took off she checked the following: 1) vehicle check, 2) cockpit drill, then while driving, 3) communicating and signalling, 4) car control, 5) hazard identification,6.tips, hints and feedback. My correct seating position was also checked. If this is for you: Phone 0800 223 748 or go to: aa.co.nz/senior-driver and make an appointment. My instructor was Shifali Patel. The whole session was well worth the time it took. And pleasant!

Margaret Topzand, 817 3893

Congratulations to Marianne McRae Nainoma Bars
Base:
4oz butter 1/4 cup sugar 3 Tbsp cocoa 1 egg beaten 1 tsp vanilla 2 cups crushed malt biscuits 1 cup coconut
Melt butter, sugar & cocoa over low heat. Remove from heat, cool slightly before adding beaten egg, then vanilla essence, crumbs and coconut. Line a 12'' x 8" pan with baking paper. Pack with mixture firmly, and place in fridge for 30 mins.
Custard Mixture:
2 oz butter 2 cups icing sugar 2 Tbsp custard powder 2 Tbsp hot water
Cream butter, icing sugar, custard powder and hot water. (Electric handbeater) Spread mixture over base mixture and replace in fridge.
Top: 2 oz cooking chocolate 1 Tbsp butter
Melt chocolate and butter over hot water and spread over custard mixture. After 1 hour take out and cut into neat small squares. Stored in fridge, it will keep for weeks if well hidden! Makes 4 dozen.
Nainoma Bar has been a staple in my fridge for over 60 years. My children grew up with Naimona Bar as their favourite treat and they still request it today. My grandchildren (every one of them) always go to the fridge for their Nainoma Bar treat and still request it today.
Now my great grandchildren go straight to the fridge for their Nainoma Bar fix.
Nainoma is a city in British Colombia, a recipe contest was held and this was the winning recipe and they claimed it as their own.


CONGRATULATIONS TO Barbara Wiggs
LEMON SLICE

1 1/2 cups flour 1 tsp baking powder 3 Tbsp icing sugar 150gm butter
1 1/2 cups sugar 3 eggs Fold in
3 Tbsp flour 3/4 tsp baking powder pinch salt 4 1/2 Tbsp lemon juice
Heat oven 170° Blend all ingredients press into greased & line roll tin. Bake 15mins
Beat well
Pour over base Cook 20-30mins
Cut while warm
170° Sprinkle with icing sugar when cold.


CONGRATULATIONS TO ALTHEA MORLEY
WONDER CAKE
1 Breakfast cup flour 3/4 cup sugar 2 ozs butter 2 eggs
2 teaspoons baking powder Milk Flavourings
Mix flour and sugar. Put butter in breakfast cup standing in hot water. Leave till melted. Add eggs unbeaten and fill cup to top with milk. Turn into flour mixture and beat till thick (about 5 minutes).
Sprinkle in baking powder, pinch of salt and flavourings. Mix well. Cook in loaf tin about 25 mins 350 degrees.
Like Madeira cake but can be changed to anything. I add passionfruit flavour and ice with passionfruit icing.

CONGRATULATIONS TO AILEEN KEERY

TUNA & POTATO PATTIES

Mashed Potatoes 1 tin Tuna or Salmon (whatever you have) 1 Egg Spring onions (or finely chopped onion) Garlic (or garlic paste to taste) Half a cup of Breadcrumbs or bread to help bind. You can add peas, leftover veges, Herbs.
Mix all together and roll, flatten into patties. Heat oil in a large frying pan and cook until golden and crisp. Drain on absorbent paper.
These patties can be adjusted to whatever you have and are easy to do.


CONGRATULATIONS TO:

June Keatley
APPLE CAKE
125 grams Butter 2.3 Peeled apples 3/4 Cup boiling water 1 Egg 1 cup sugar 1 Cup chopped dates 1 1/2 Cups flour 1 tsp Baking soda Cream butter & sugar. Add egg, beat well. Dissolve soda in boiling water, add to apple & dates. Add flour to creamed mixture & fold together. Bake at 180 for 35mins.
In a pot melt 50g butter 1/2 Cup brown sugar 2 Tablespoons milk 1 Cup slivered almonds Pour on cake & bake another 10mins.

June Keatley Villa 113 The Terrace
ZALI AND RUBY'S RECIPE OF THE WEEK - LOCKDOWN LOAF
Kindly donated by top NZ chef Chelsea Winter
– "This beer bread recipe is sooo easy and so delicious, and only requires a few pantry staples. Since we're all in lockdown here in NZ, I've coined the term 'Lockdown Loaf' – and it really is perfect in that sense. Stir the beer bread it up in one bowl – no kneading, no proving, no yeast need- ed. And if you need a gluten-free bread option, I've included that below the recipe.

Tips
This bread isn't light and fluffy like a bakery loaf – it's dense and moist. And that's how it's meant to be.
For a reason I cannot understand, some people using Corona beer have produced a doughy, undercooked loaf. Go figure? In any case, don't get too fancy here. Use the crappiest beer you have on hand – that awkward, long- forgotten bottle lurking forlornly the back of the fridge, probably leftover from some BYO you had 18 months ago, the one that could be expired and certainly no one will touch, that's the beer you want.
Check the expiry date on your baking powder. This beer bread is safe for kids and pregnant women and non-drinkers, as the alcohol evaporates in the oven.
If you can't find beer, cider or plain soda water works – or a dry, not-too-sweet ginger beer or kombucha (omit the sugar if using these as they are already sweet). Lemonade would be too sweet. The yeast in the beer doesn't do anything, it's there for the bubbles and the flavour. If high grade flour is all you have, that will work.
People have had success with using half wholemeal flour in their beer bread, too.
Once it's cooled down, it's amazing toasted – we have it with peanut butter, Marmite or vegemite, avocado and tomato, hummus and basil – the list goes on! It's highly addictive, I'll warn you now.
Get an oven thermometer and check your oven isn't running cool if your loaf is undercooked.
Don't forget to share your creations with me on Facebook and Instagram, it brings me so much joy to see my recipes popping up in kitchens all over the place.

Ingredients
Bread
3 cups plain flour (or use self-raising and omit the baking powder) 3 tsp baking powder 2 tsp sugar 1 tsp salt
375ml beer (or make up the extra with water) UPDATE: Weirdly enough, Corona doesn't seem to work.

Toppings
Finely chopped onion or red onion Grated cheese or dairy-free cheese Sprinkle of paprika and/or oregano Salt and pepper
Extra virgin olive oil, for drizzling

Some other ideas (not all together, though!): olives, capers, Parmesan, chopped sun-dried tomatoes, sunflower seeds, pumpkin seeds, sesame seeds, poppy seeds, cumin seeds, coriander seed
Method
Preheat the oven to 180c regular bake and line a small/medium loaf tin with baking paper. Add the flour, baking powder, sugar and salt to a large mixing bowl. Stir to combine.

Pour in the beer/water and stir again to combine into a sticky dough. Scrape in to the prepared tin with a spatula and smooth out.

Sprinkle with the toppings you like and drizzle with olive oil.
Bake in the oven for 40 minutes – it will have risen and puffed up and be all golden and delicious looking.

Serve hot or warm with any toppings you like – it's awesome plain with butter, and

I like Vegemite and Marmite too!

Once it's cooled down it's amaaazing toasted. Keep at room temperature in a bag or container. It's not gonna last long, though, I warn you now!
For gluten-free beer bread

Naturally, you'll need to use a gluten-free flour mix without raising agent added.
For best results, I like to also add either 2 tbsp of either psyllium husk powder, or ground chia seeds. Adding one of these helps give the loaf that chewier, springier, bread-like texture that's normally missing with gluten-free bread (which can be quite chalky.) This isn't essential, though.

But if you are using one of these, you'll need to add an extra 3 tbsp of water.

Then after mixing the dough, it's helpful to let it rest for 10 minutes in the tin before it goes into to oven, to let the chia or husks swell up do their thing.

You'll also need to use a GF beer. If you can't find one, soda water works – or a dry, not-too-sweet ginger beer or kombucha (omit the sugar if using these as they are already sweet). Lemonade would be too sweet.

You can get psyllium husk powder at the supermarket – well, usually anyway! It's very high in fibre so drink an extra glass of water when you enjoy a slice of the bread to be kind to your tummy.

If you have whole chia seeds at home, you can grind them in a mortar and pestle, coffee grinder, high speed blender or bullet to make a powder.


For a sweet loaf

You can use lemonade for a sweet loaf – it's lovely smeared with butter or dairy-free spread or unflavoured coco- nut oil – topped with jam or honey!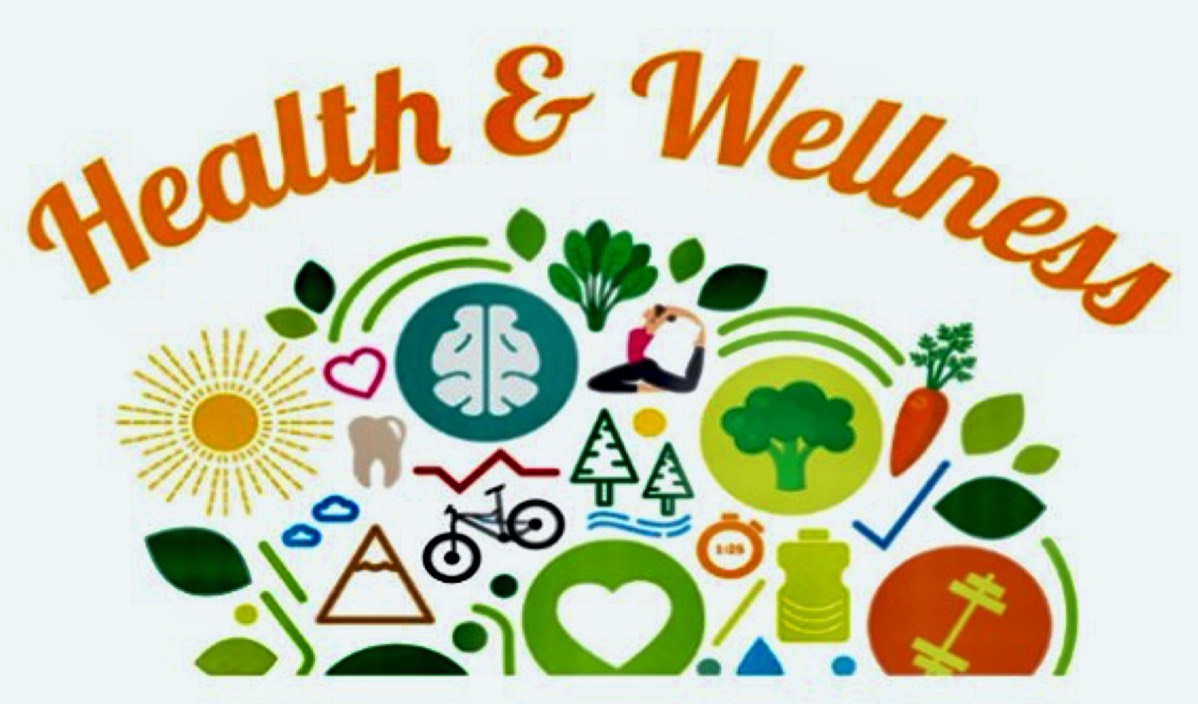 Village Care Centre Clinic



Monthly Talks
These started again last week at the later time of 11am in the Sea Breeze lounge. Please watch out for details of forthcoming ones, and contact Linda or Angela should you wish a specific topic to be covered.
Forthcoming talks include Age Concern, Independent Living Services, Macular Degeneration and legal matters.

Extra Care Services
Remember that we are here to help in any way that we can, be it household management or personal. We can help with decluttering, spring cleaning, or assisting if moving within the village.
Please see Angela, Fred or Linda to discuss your needs.

Incidents and accidents
All our staff are first aid trained, and our nurses ACC accredited. If you have a fall or other accident, even if no injury is apparent at the time, we can complete an ACC claim should you require assistance such as physio, at a later date.
Our Wellness Clinic has returned 'home' to Level 2 and is open Monday, Wednesday, Friday, 1030 – 1130, no appointment necessary.
Keep safe, Linda

PODIATRIST CLINIC PRICE CHANGE NOW $40
The 3rd Tuesday of every month.
The next Podiatry visit is 21st July 2020.
This will be in the Beauty therapy room ground floor.
Please contact reception for an appointment.

ECARE
Sonja from Ecare is visiting
At the new time on Monday 20th July at 9.45am on Level 2
Ecare is a self-monitoring of weight and blood pressure. If you'd like to know how to do it please come along.

ADVANCED REHAB
Good news!!! Physio is back on with very sharp needles!
Clinics are open Monday to Thursday (9-3pm) only after an appointment is made (call 09-6279560)
At your appointment time please knock and sit near the entrance.
Cant wait to see you all,
Shivani Ahuja (Physiotherapist)
NZRP

PINESONG BEAUTY
I am enjoying getting to know you all and looking after your needs. Please leave your name and number on the answerphone and I will return your call.
Karen Brooking 817 0649 or 021870323 Email: brooking36@gmail.com Hours Wednesday - Thursday 10am - 5pm.
Kind regards
Karen

ST JOHN AMBULANCE
St John Ambulance free shuttle service starts from Monday 18th April.
Please phone 0800 925 2672

Waitakere
Book 3 days ahead of appointment.
0800 000 606
$10 return

Greenlane hospital
Auckland hospital
North Shore hospital:
Book 3 days in advance.
0800 809 342
9.30-4pm
$6.00 each way

LABTESTS CLINIC AT PINESONG
Please note Labtests have advised that for all future blood tests every resident must have their doctor; nurse or medical practice ring, fax or email Labtests first to book an appointment if wanting a bloodtest done here at the village.
This is regardless of whether it is done at reception on our clinic days Mon/Wed/Fri at 2.30pm or a home visit, this will be the procedure going forward, sorry no exceptions!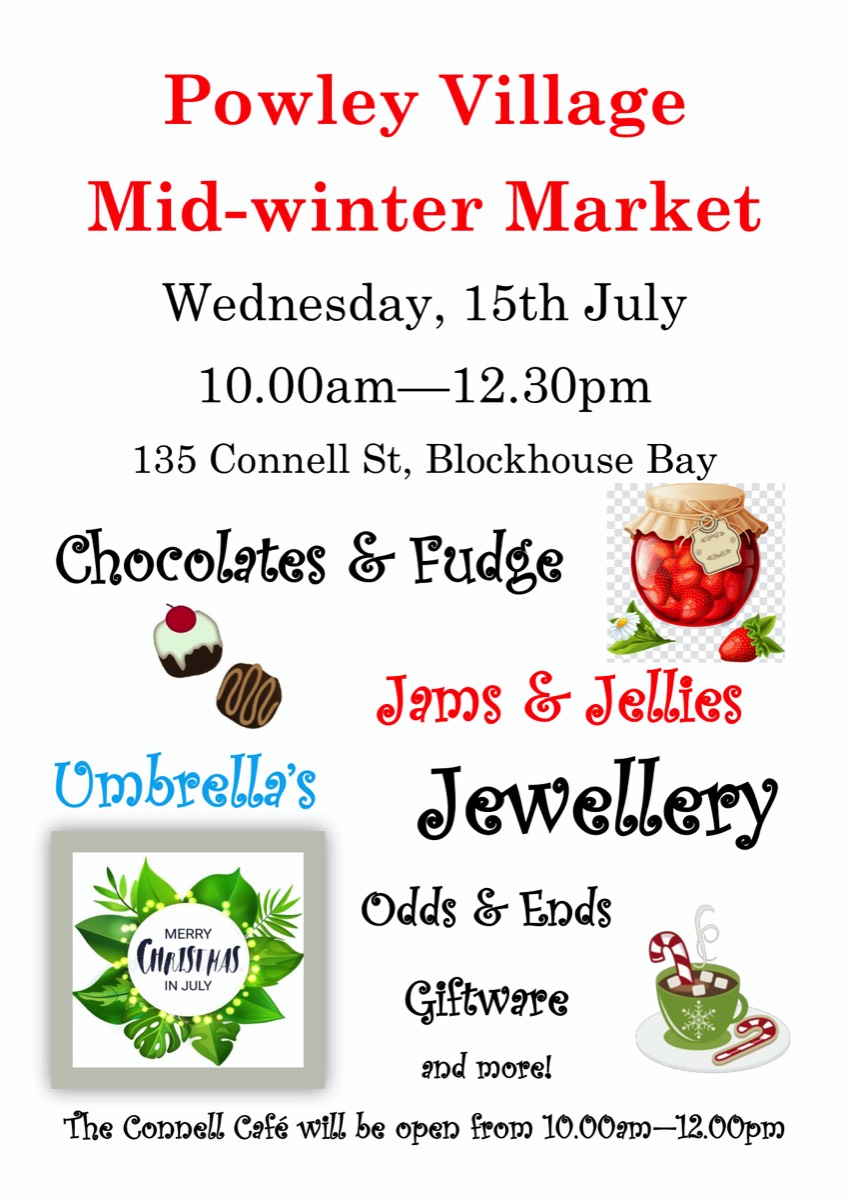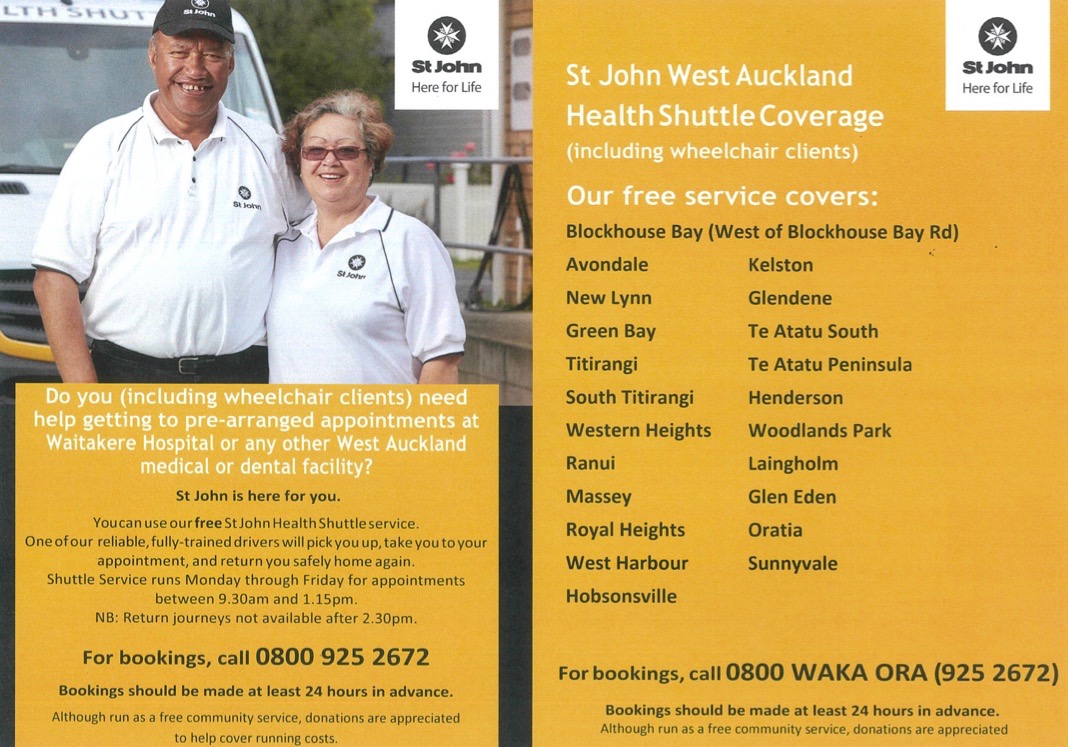 Looking after your mental health and wellbeing during COVID-19
COVID-19 is changing our daily lives so it's important to look after our wellbeing and the wellbeing of one another as we get through this – together.
The number one message we want to share is that: we will get through this and what will make it easier is if we work together. Connecting with people who make you feel safe and loved is the most important thing you can do to look after your mental health and the mental health of people around you. Self-isolation or staying at home makes this difficult, but not impossible. We're going to have to get creative. We also know that things are tough right now for some people who live with mental illness, so we have borrowed some "Top tips to get through", from the Mental Health Foundation.
You may know of
someone who is struggling and needs to talk, free call or text
1737
to have a chat with a trained counsellor. They're available for free, day and night. Or the below telephone numbers are other groups that you can also connect with.

The Depression Helpline (0800 111 757)
Healthline (0800 611 116) Lifeline (0800 543 354) Samaritans (0800 726 666)
Alcohol Drug Helpline (0800 787 797)



Cafe' 66


Restaurant Notice



Winter is coming warm up with our homemade soup:

Sunday 05.07.20 from 12pm at the café – Sunday Roast Pork Shoulder with Apple Sauce and Gravy OR Fish Cake with Dill Sauce all served with Roast Potatoes, Roast Kumara and Braised Cabbage with Onions and Sultanas. $14.00
Dessert – Stick Date Pudding with Butterscotch Sauce and Ice Cream. $3.50
Wednesday 08.07.20 Roast Chicken – as poster attached.
Friday Carvery 10.07.20 at 6pm at the café: Roast Turkey with Cranberry Sauce and Gravy
$21.00
Buffet: Beef Meatballs in B.B.Q Sauce Potato Croquettes
Roast Pumpkin Creamy Spinach
Fresh Salad
Bread Rolls and Butter Dessert – Apple Strudel with Custard
Orit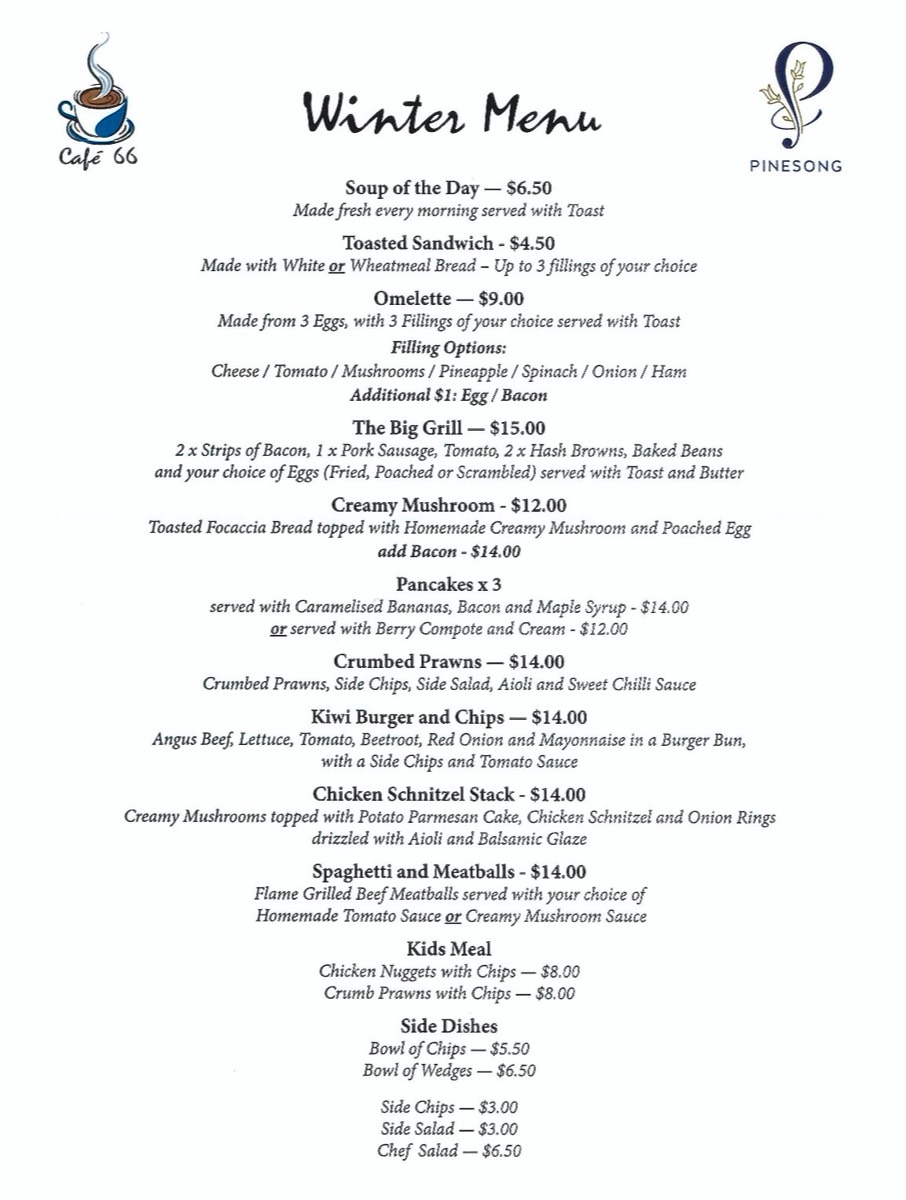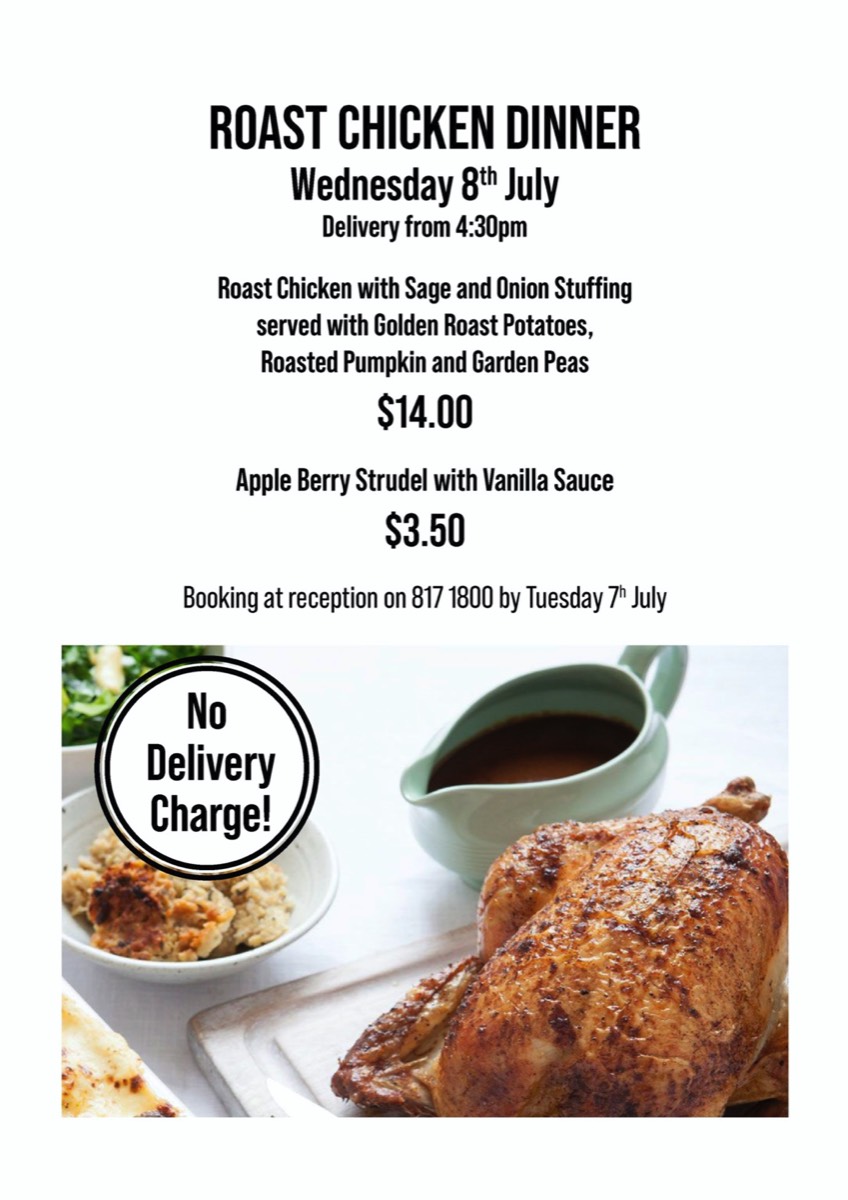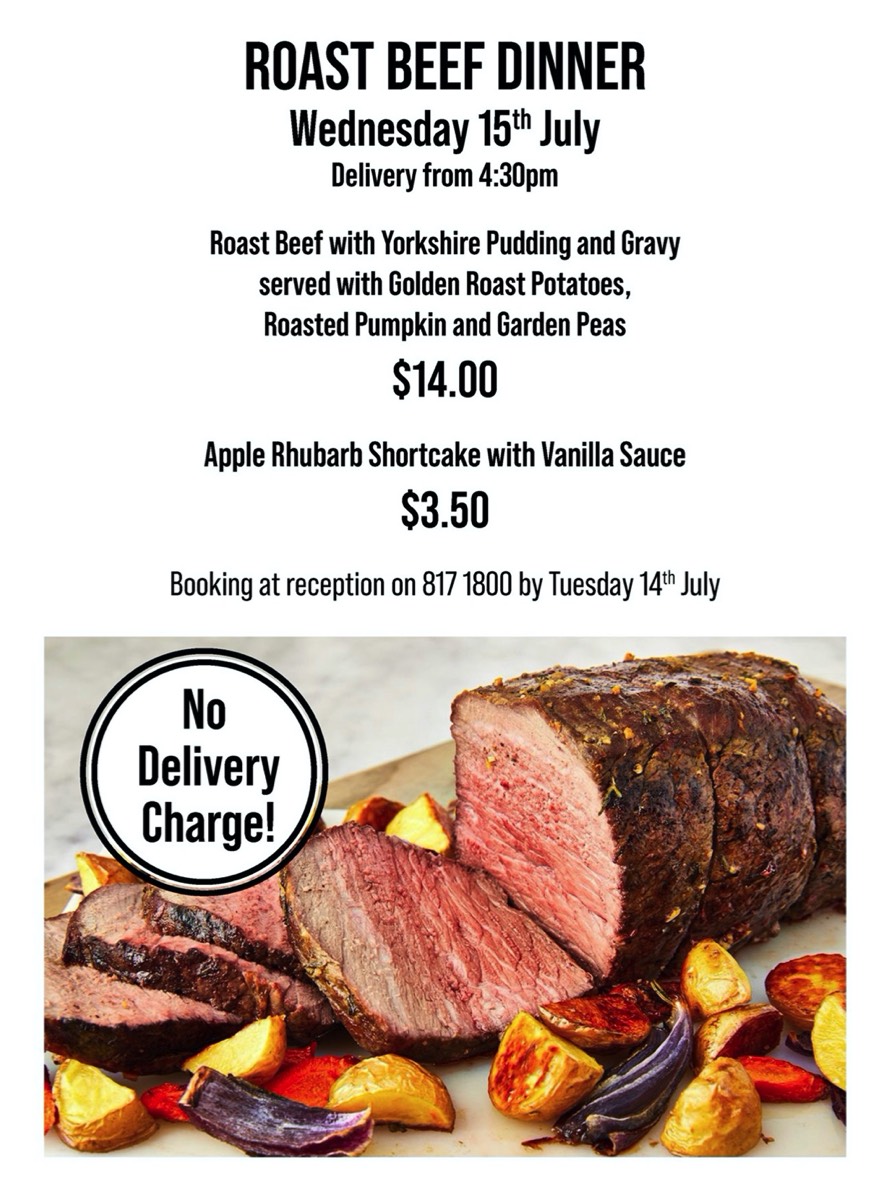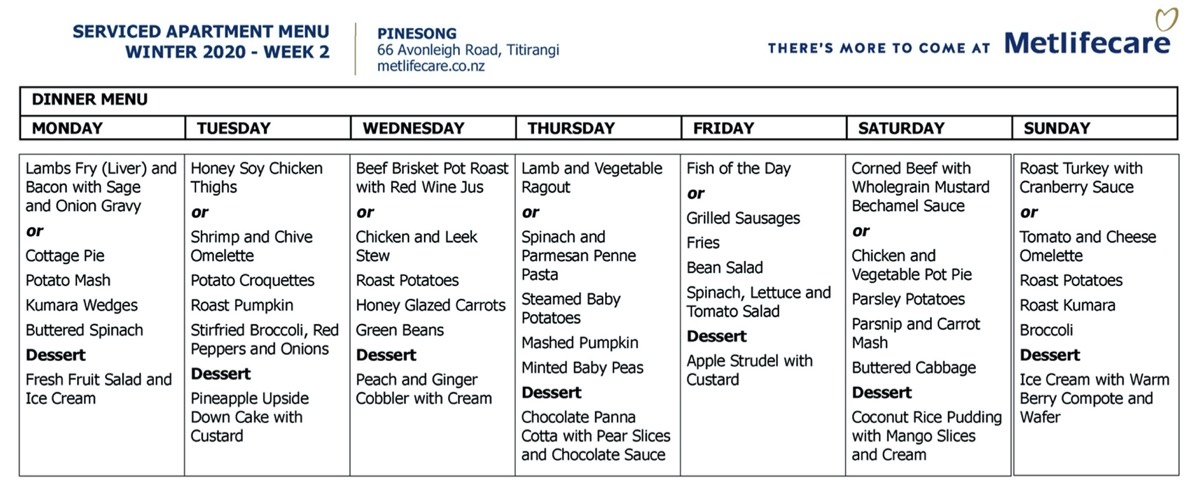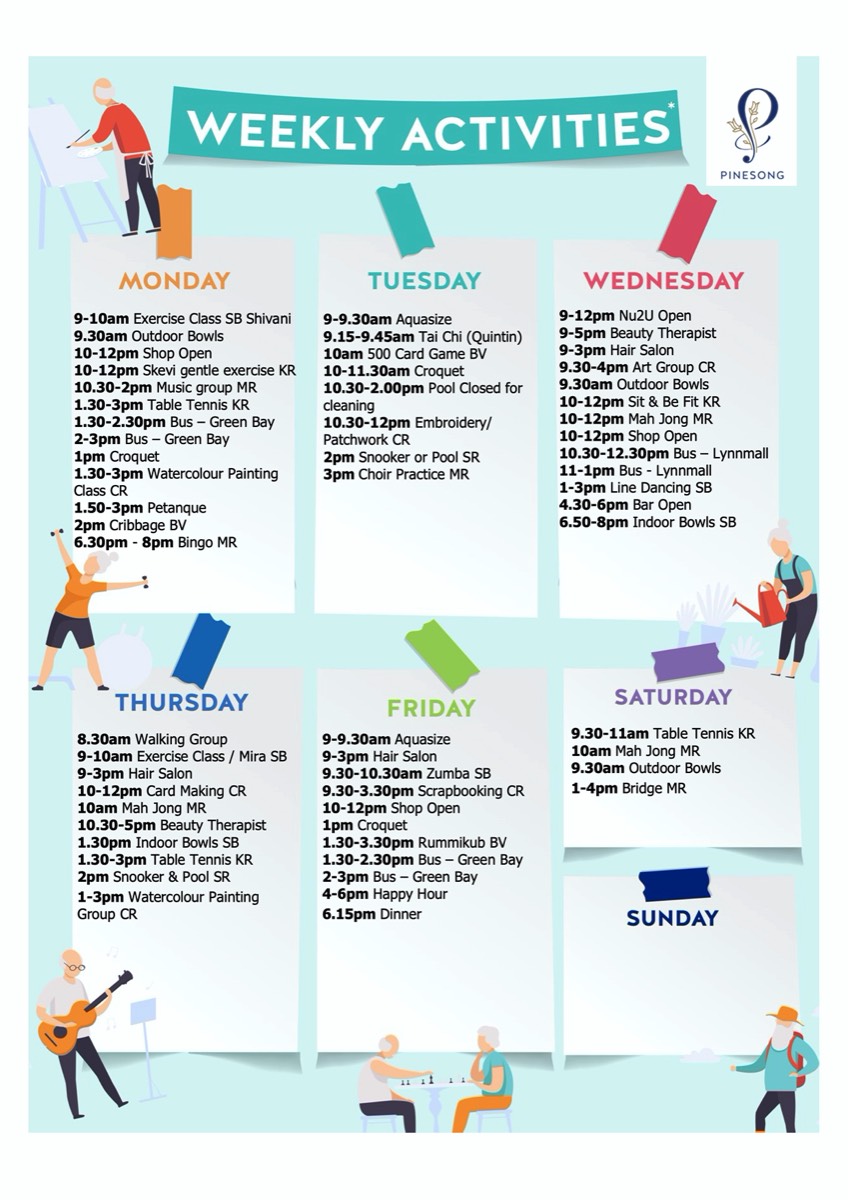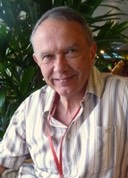 Hi,

As the creator and manager of this website I have endeavored to portray the everyday life and activities of our village from the
residents' perspective.

Your comments and contributions are welcome and to this end I invite you to use the
'Contact Us' page
.

Deryck Hunt