The first day of the rest of our lives



Pinesong World Games 2019

The sun did shine on Wednesday 20th March
As Pinesong held its World Games

The opening ceremony was held on the area outside Seabreeze lounge at 1.00pm and was opened by Sue Harris.

Led by Alan Whimp and Peter Singh, the games took off with great exuberance. Apart from all the fun it gave our residents an opportunity to try activities that the village offers in some cases for the first time. A most enjoyable afternoon, followed by prize giving and a BBQ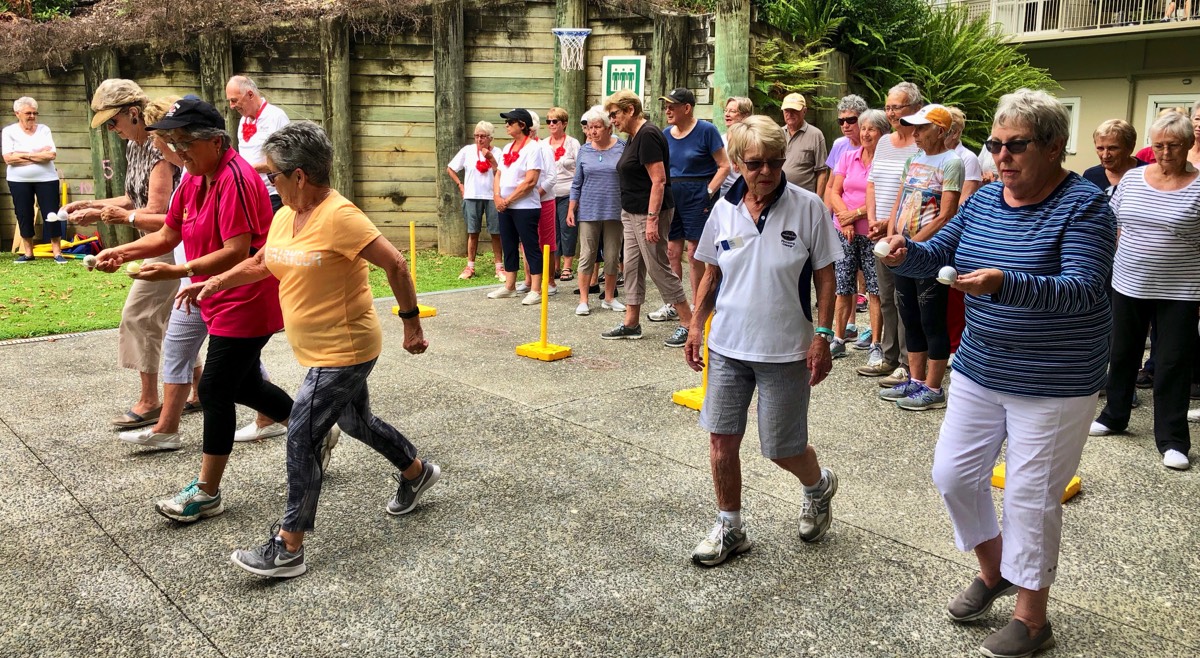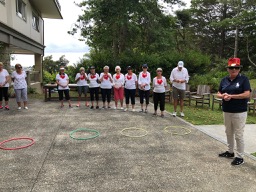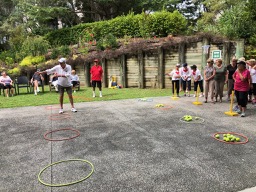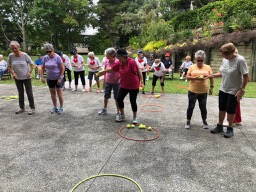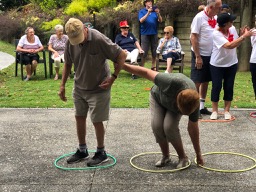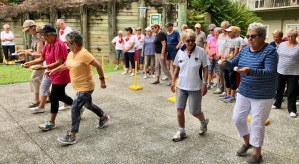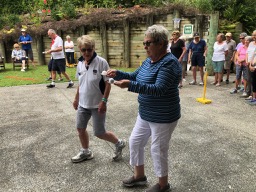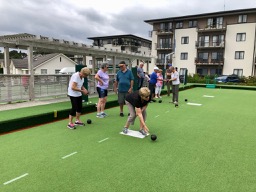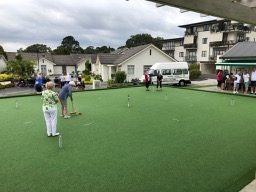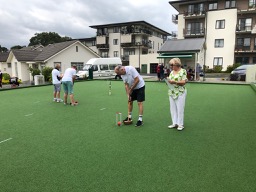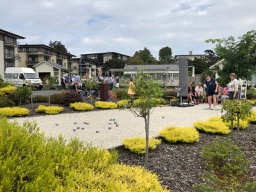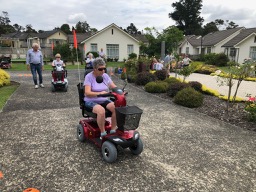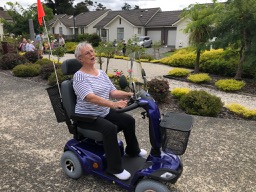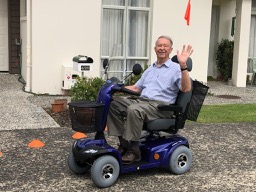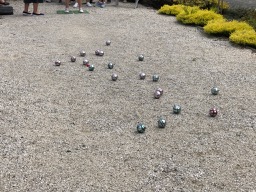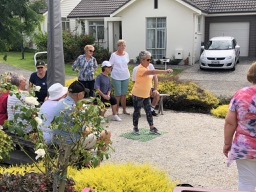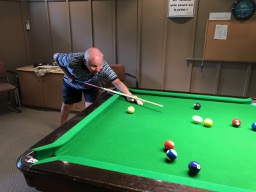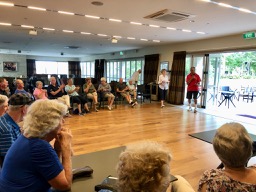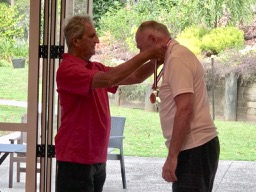 An audience with
Shaun Wallace


"WOW what a buzz Shaun Wallace has created around the village! I was confident we made the right decision when we said 'yes' to the opportunity to host Shaun, but I certainly didn't anticipate the positive impact his visit would have on our village community.

Shaun Wallace Book Orders: Should you wish to order one of his books through us, please register your full name via Reception and payment of $40.00 no later than Wednesday 27th February 2019. We will then place this order for you. Please note these will not be autographed. "

Katie Worthy
Village Manager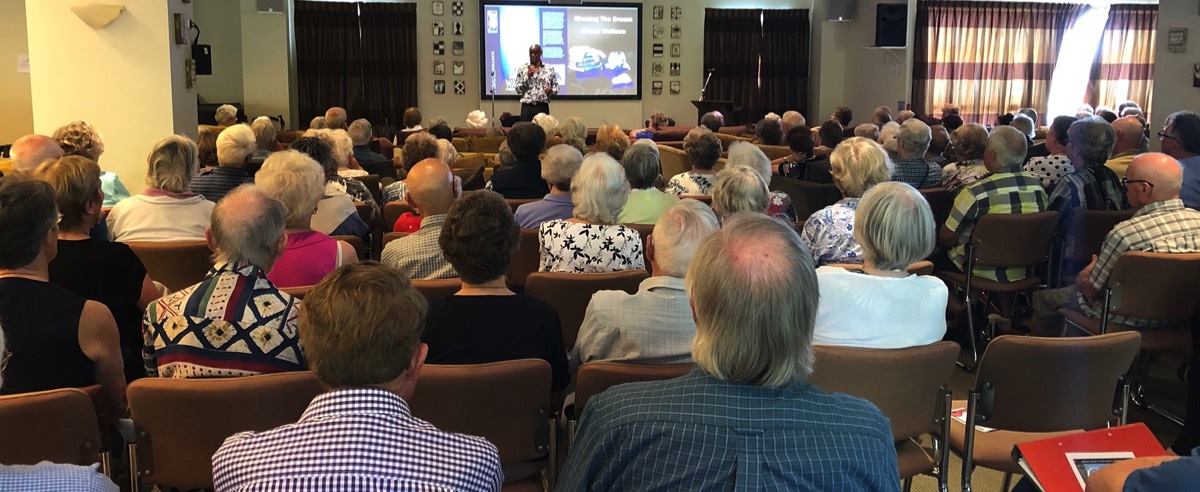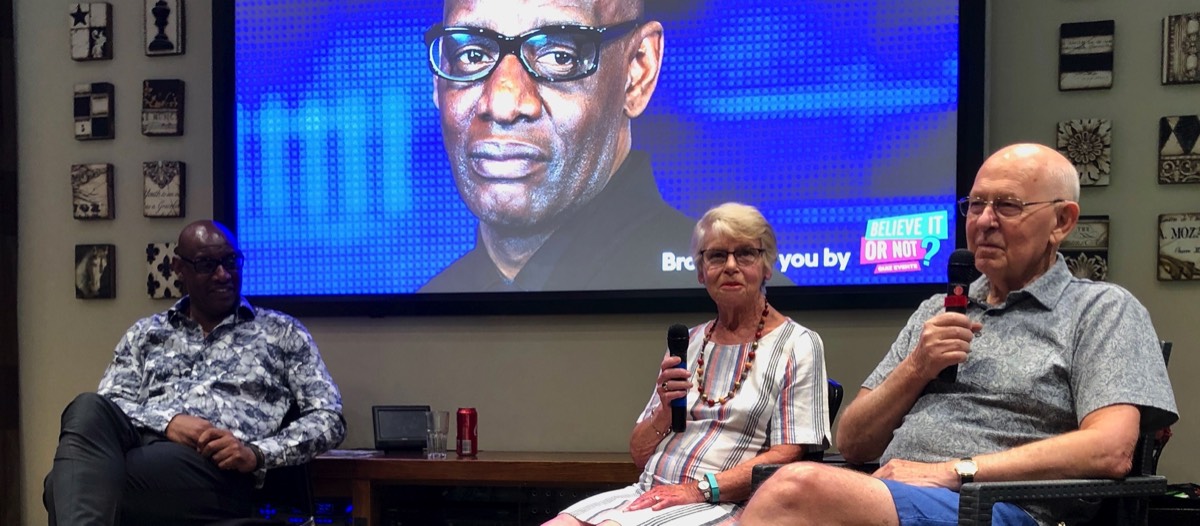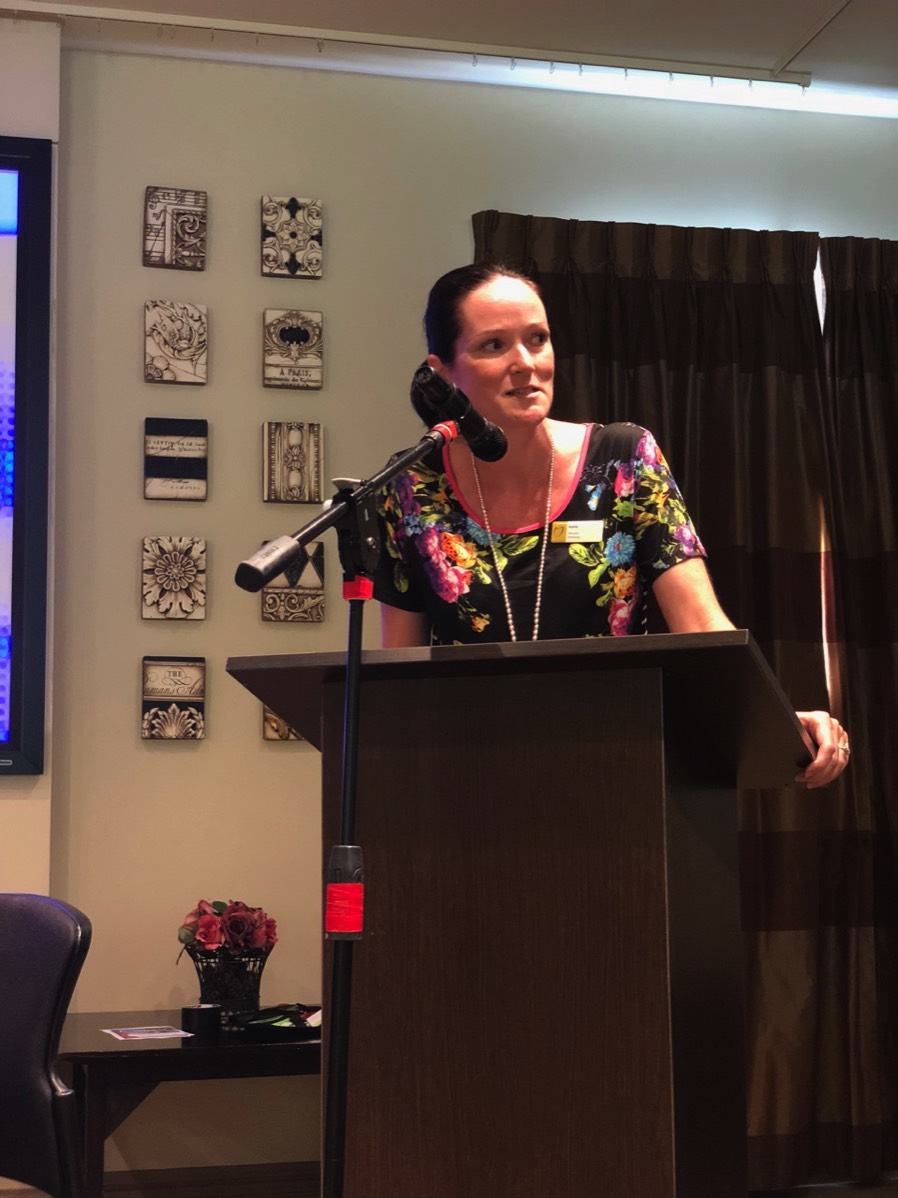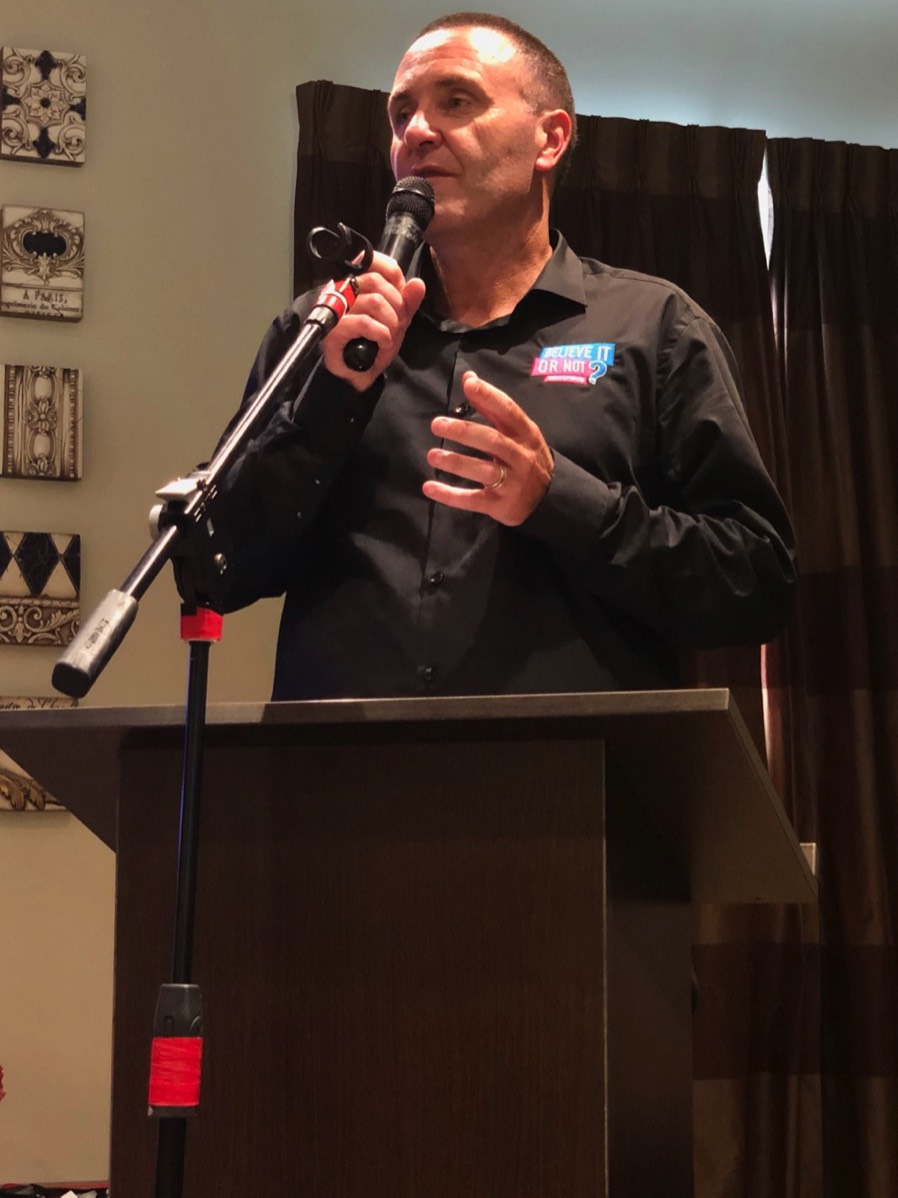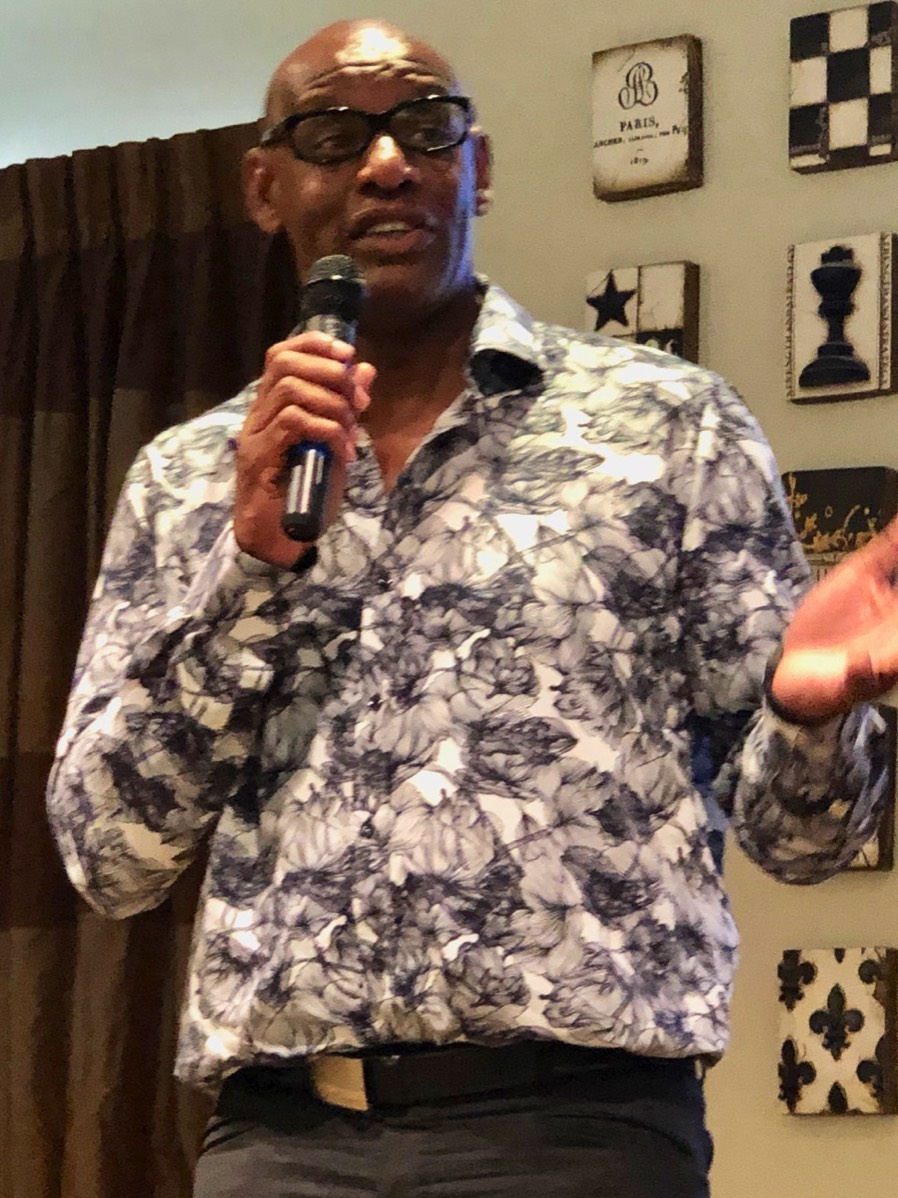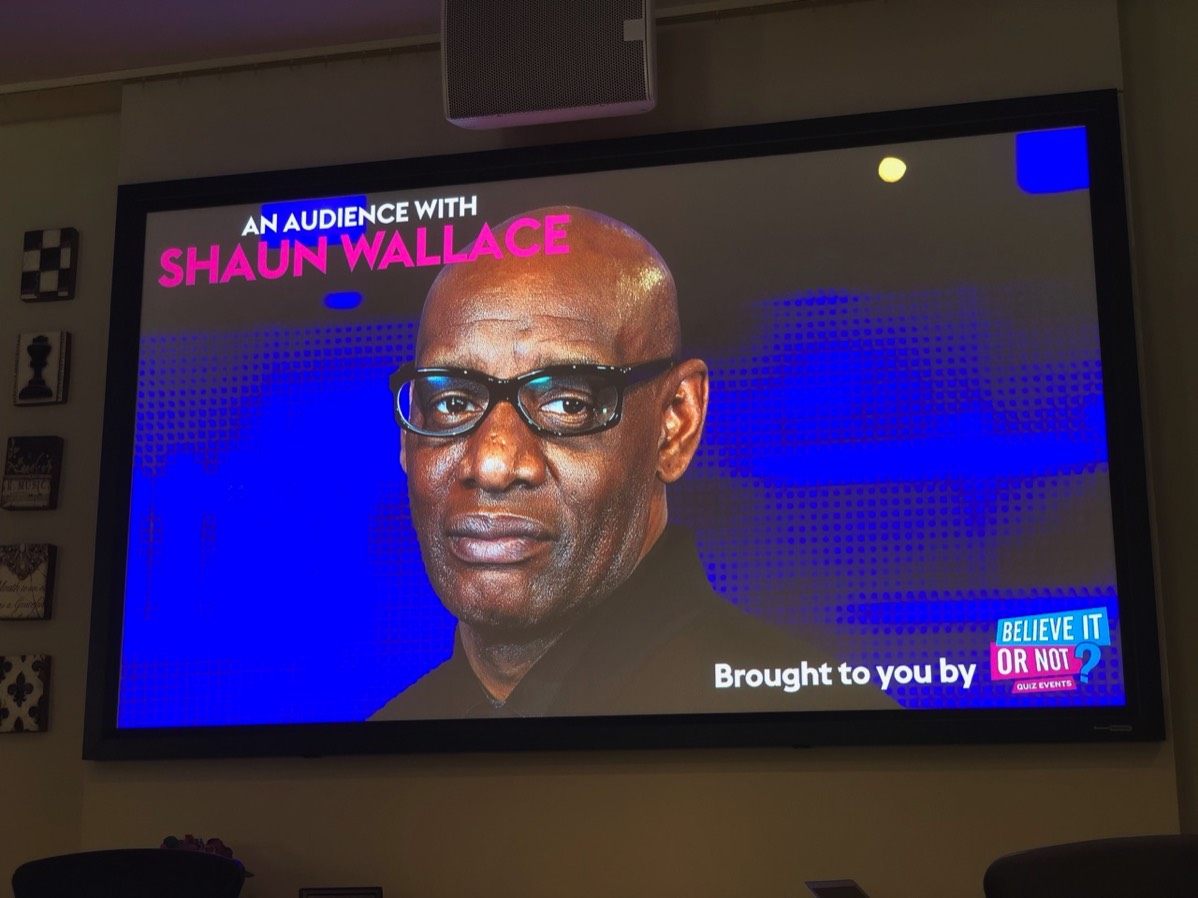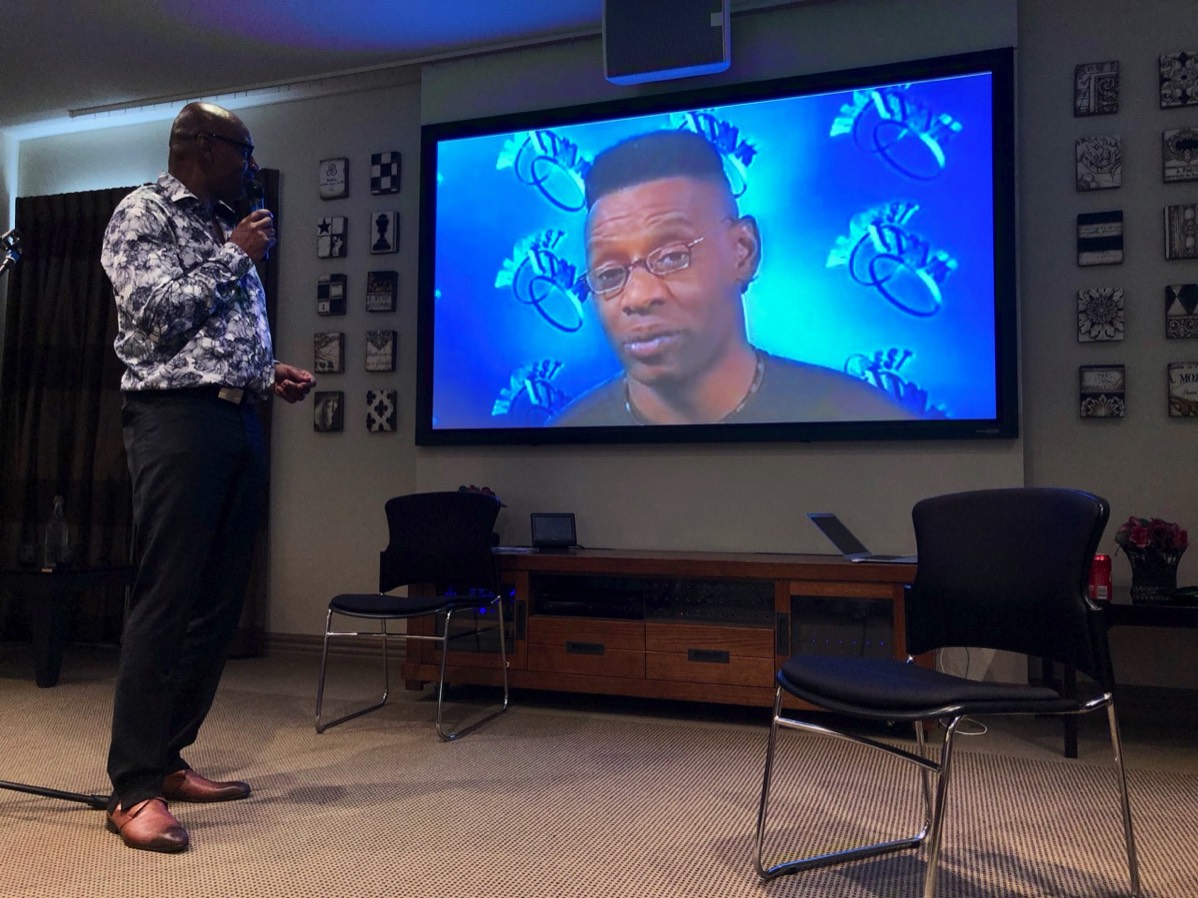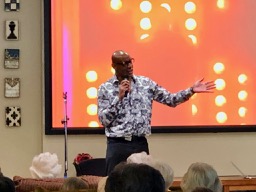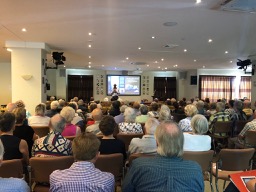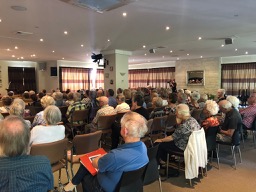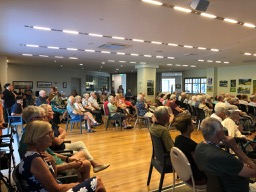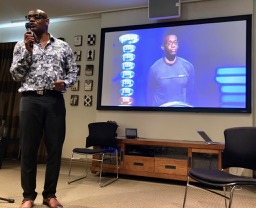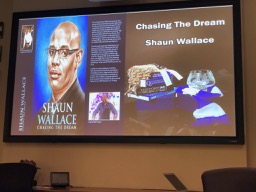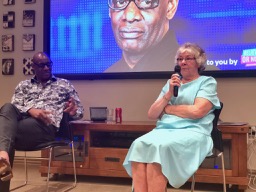 New Year's Eve

A night of Hollywood Glamour


What a great way to celebrate New Year's Eve. Jim Joll led us in a night of excellent entertainment and dancing, loads of Hollywood glamour and good fun. As for that supper, oh my, what a treat! A huge thank you to Jean, Margaret, Judy, Mary and Anna and all their helpers for making this such a memorable occasion.

HAPPY NEW YEAR
What a brilliant way to start 2019!
Our "Hollywood" evening was amazing – lively non stop music, wonderful attempts by everyone to dress as glamourous movie stars, beautiful supper food, a fascinating power point presentation (thank you Katie), and a stunning transformation of Seabreeze Lounge. To the hard working social committee and their noble helpers, to Deryck for once again being our sound man, to Barbara for recording us all with her professional photography, and to Robert for playing the bagpipes so magnificently, many thanks.
Margaret and Alan – 405 Seabreeze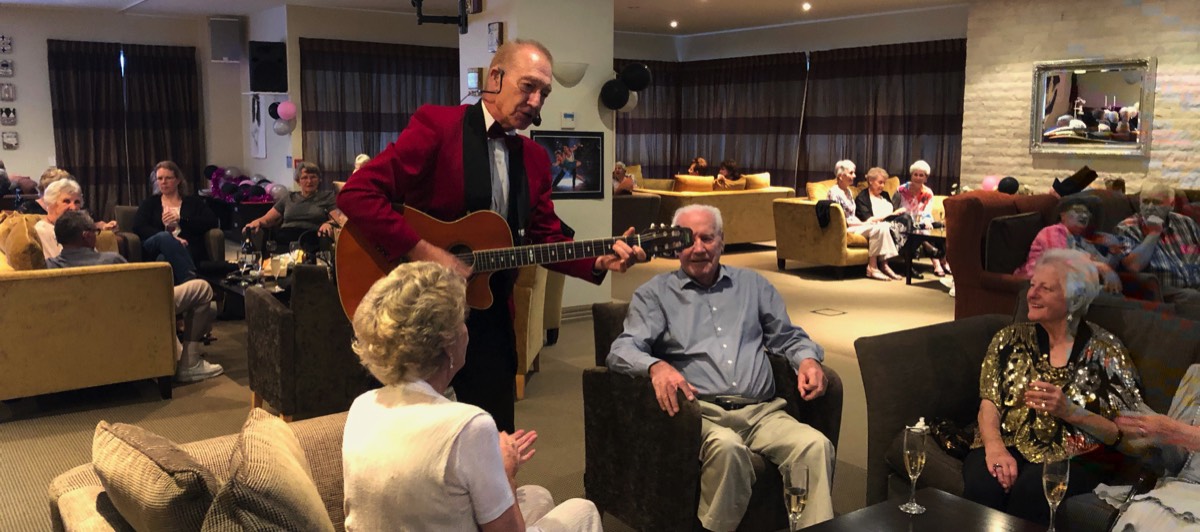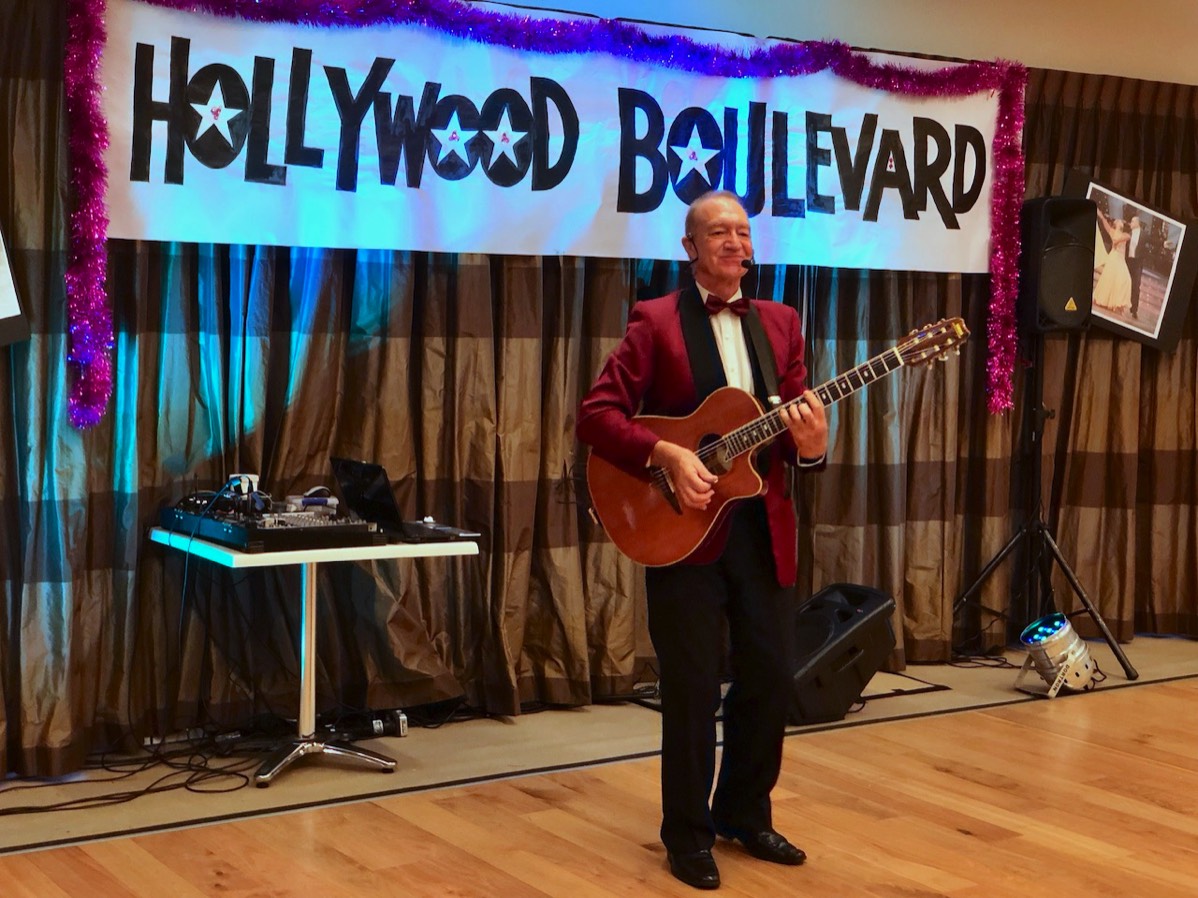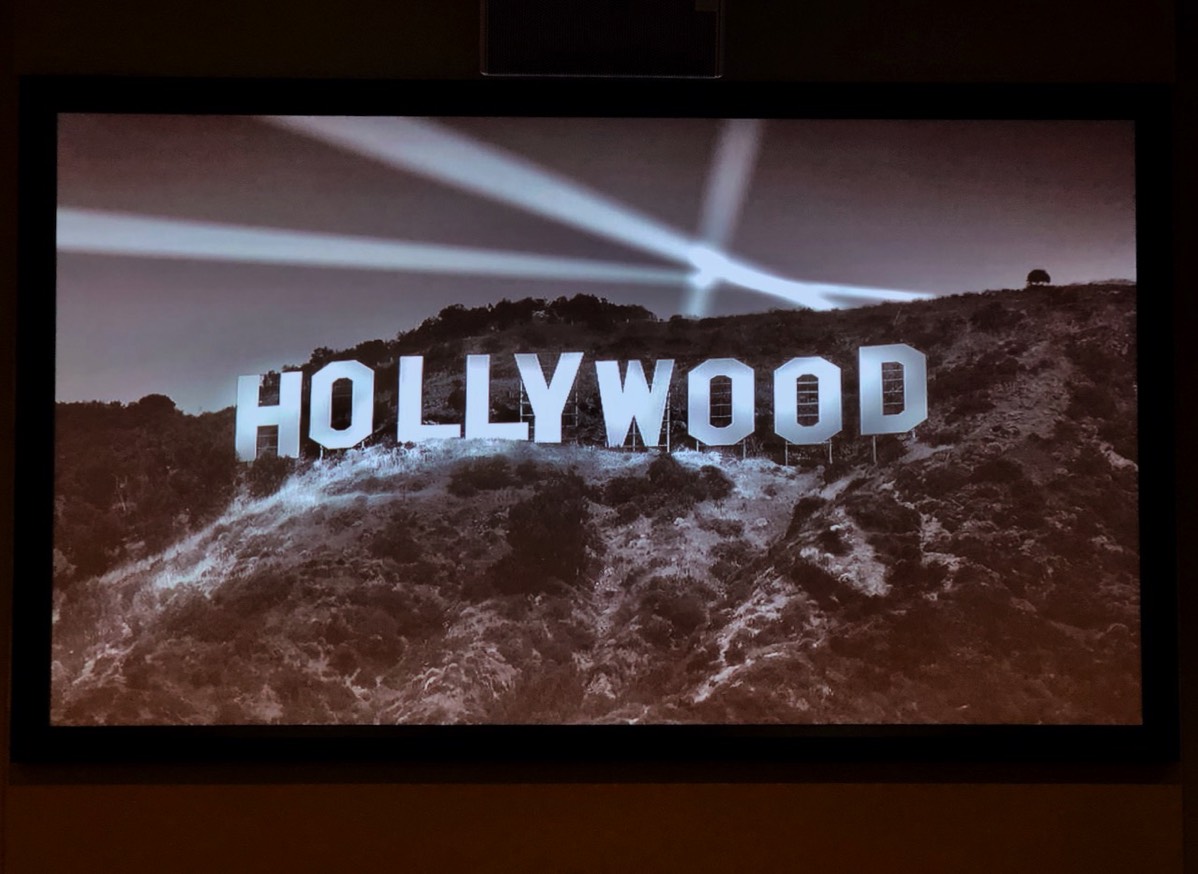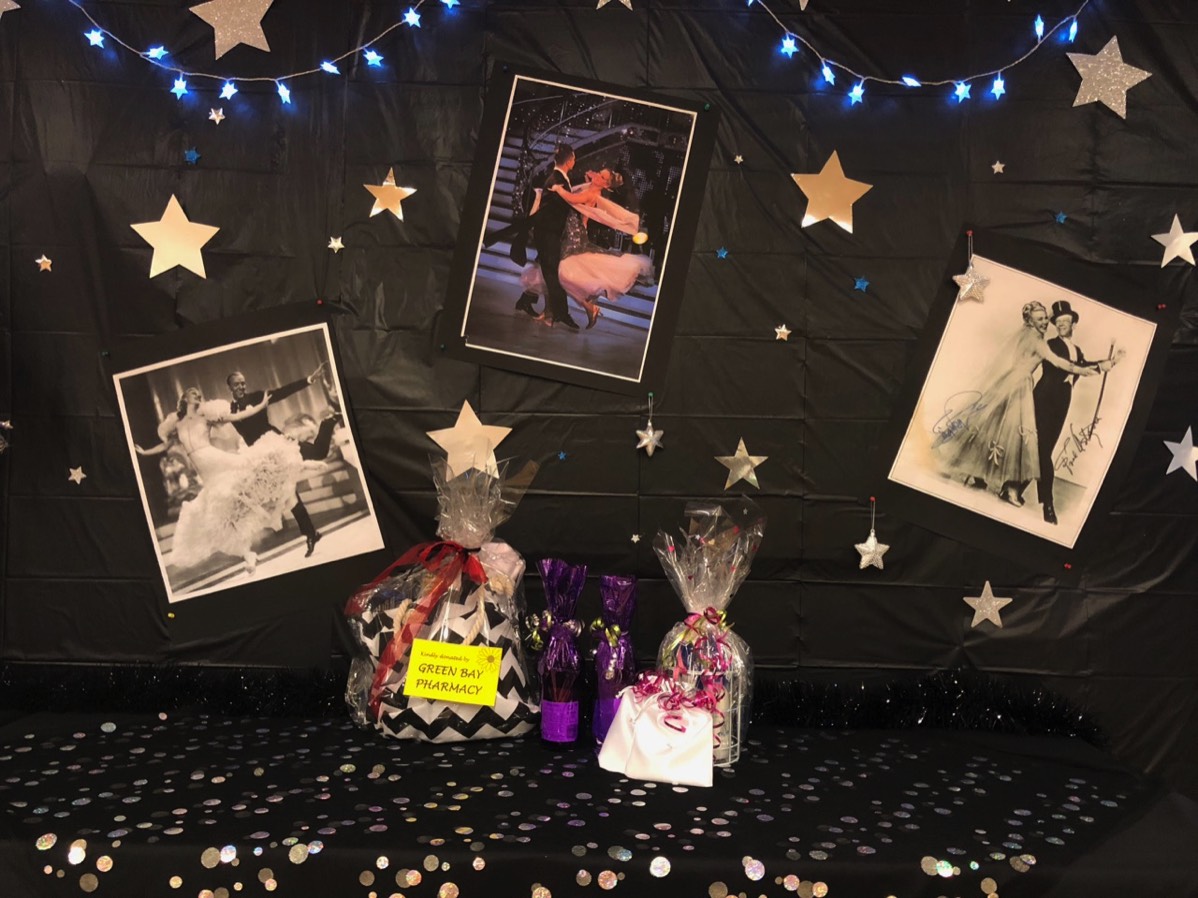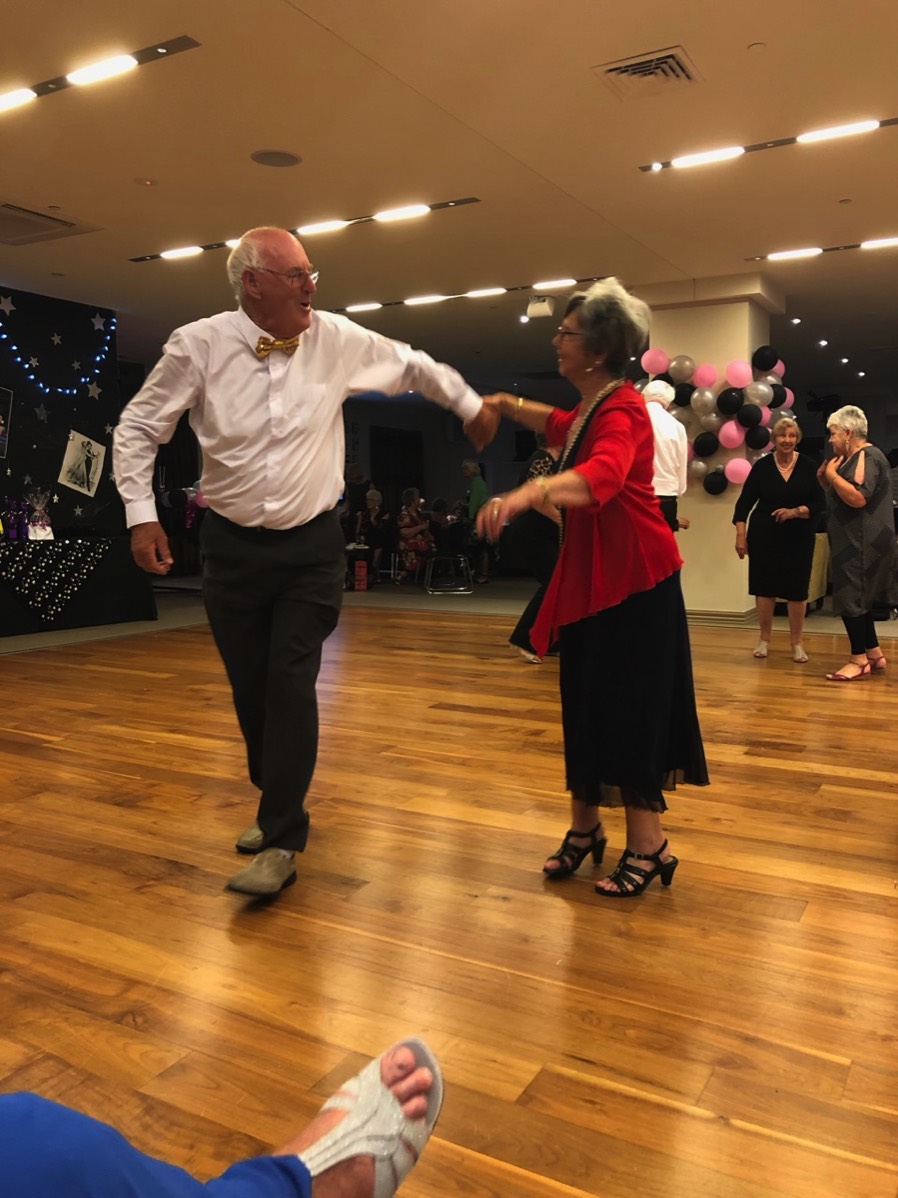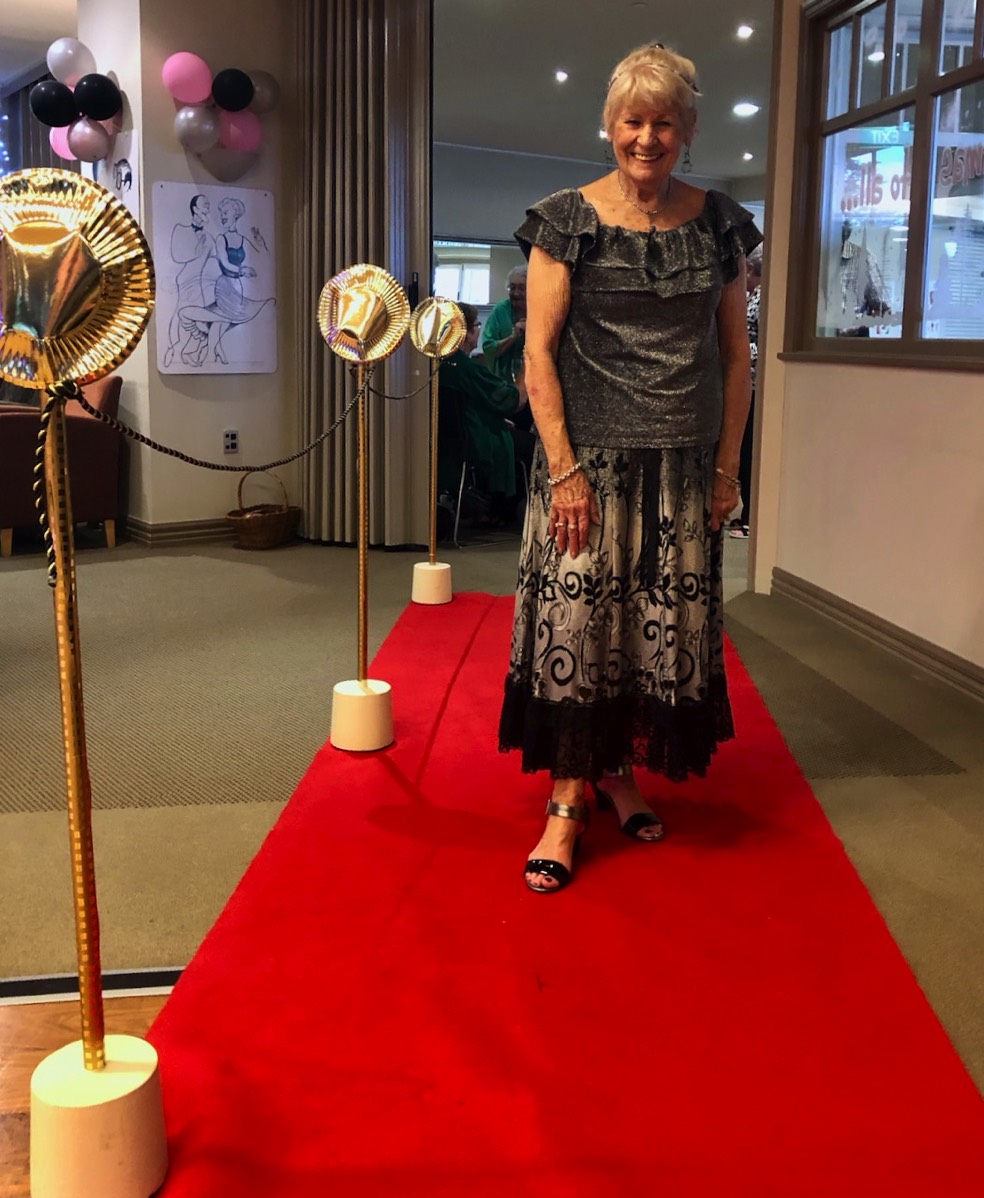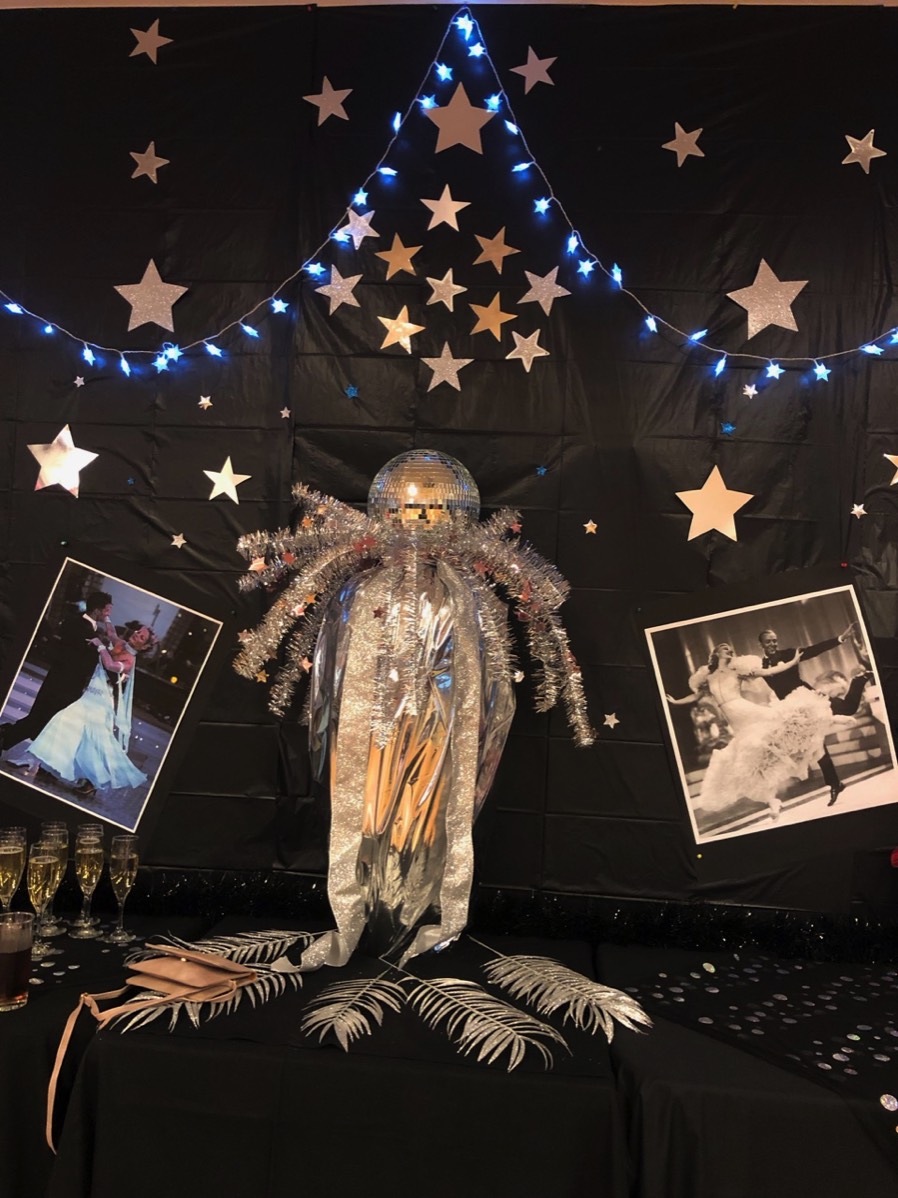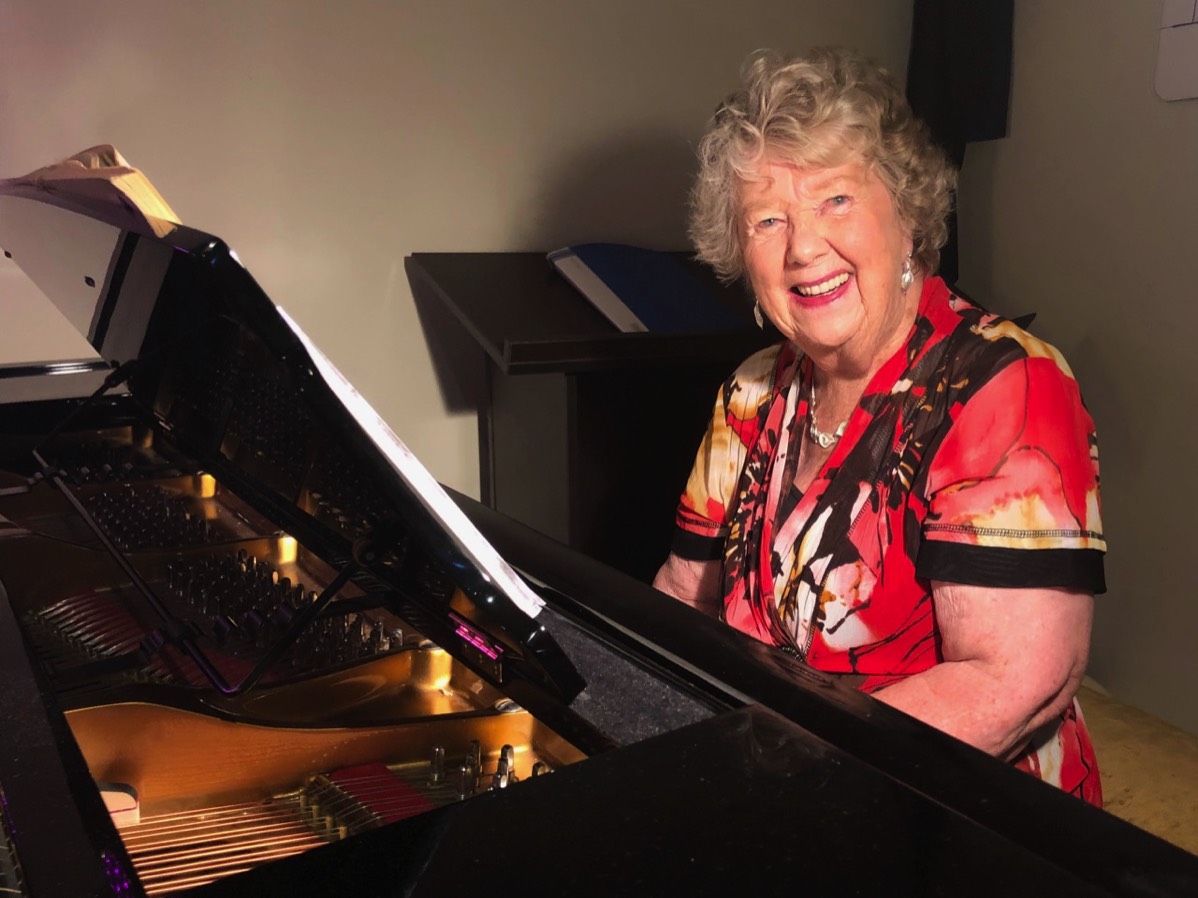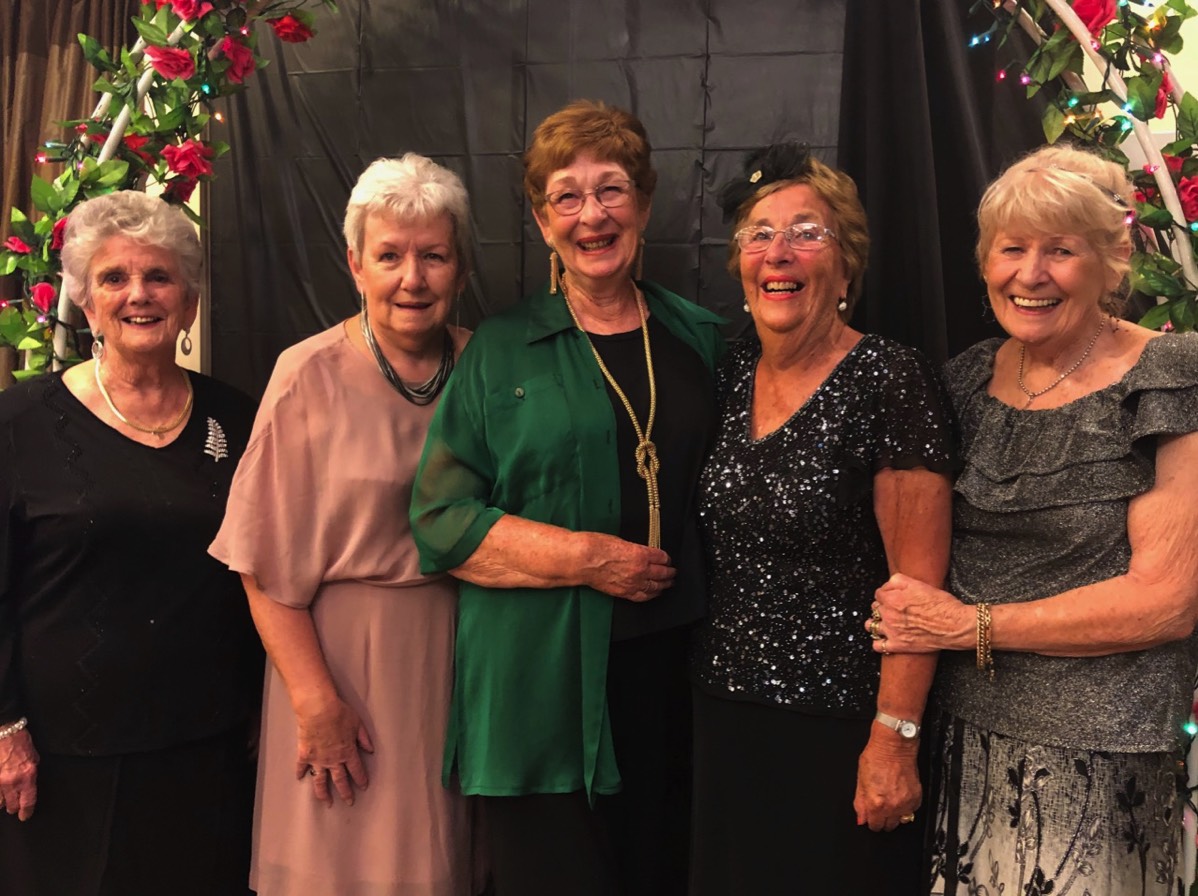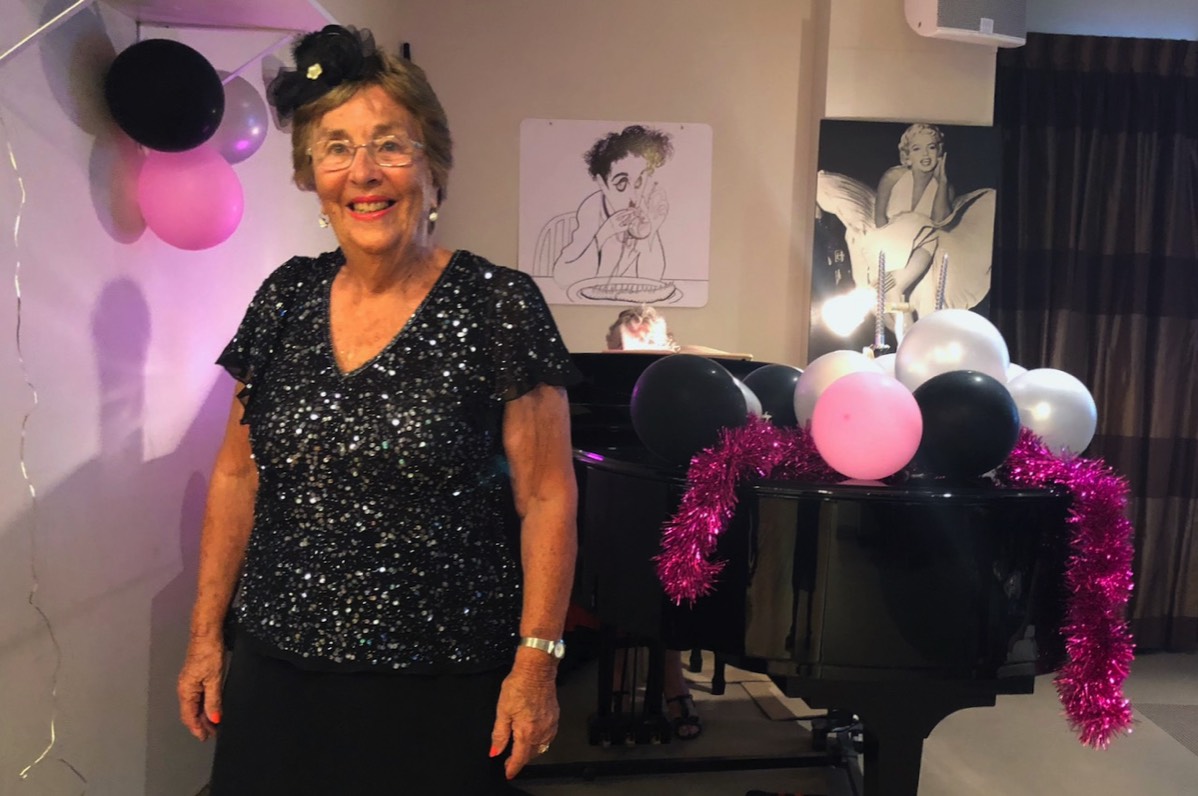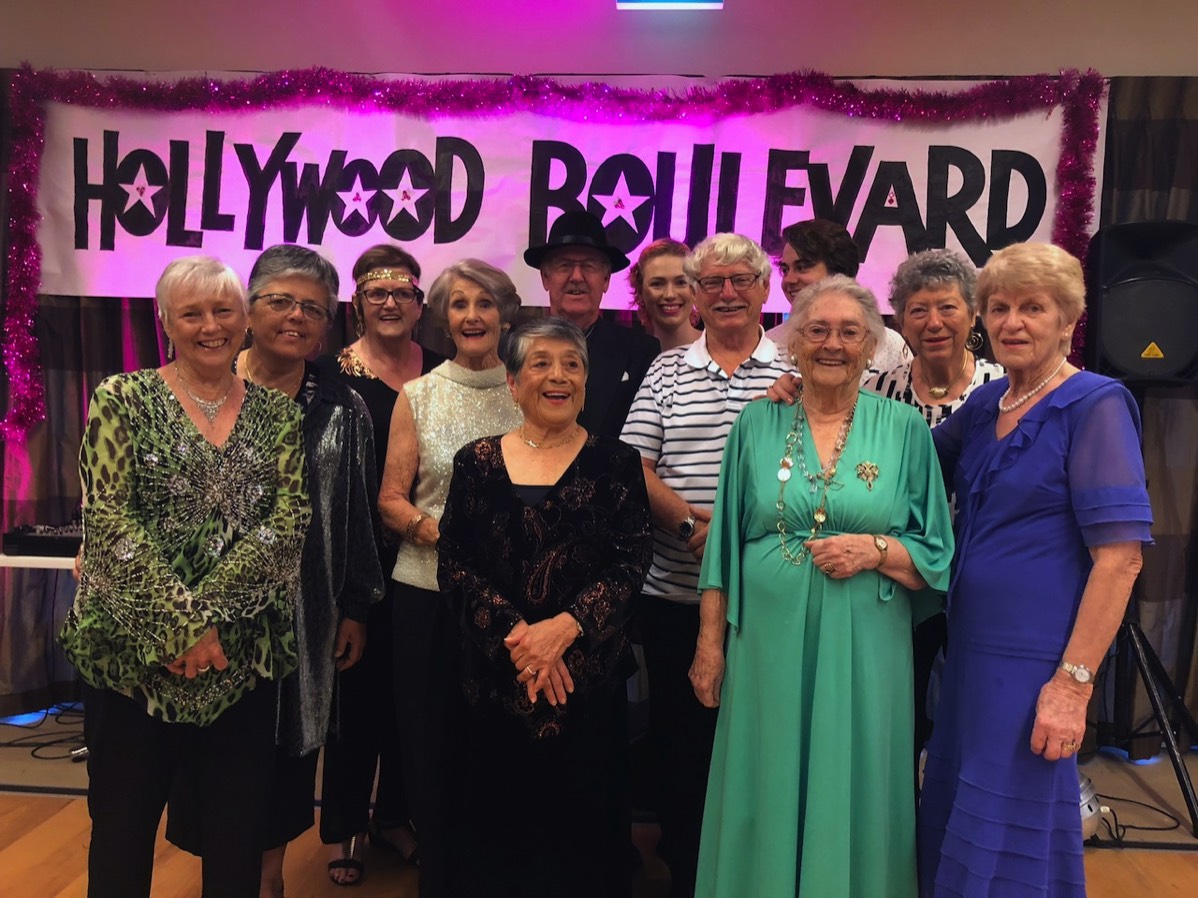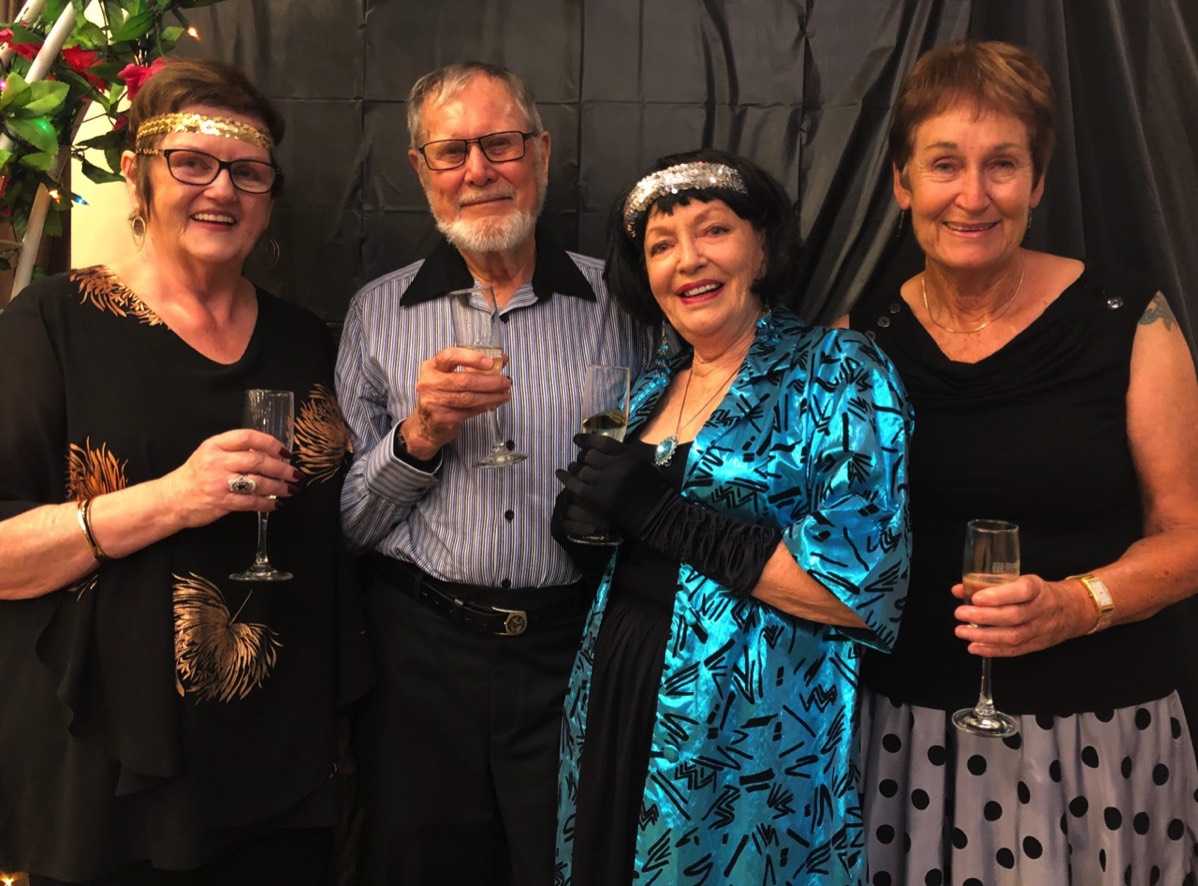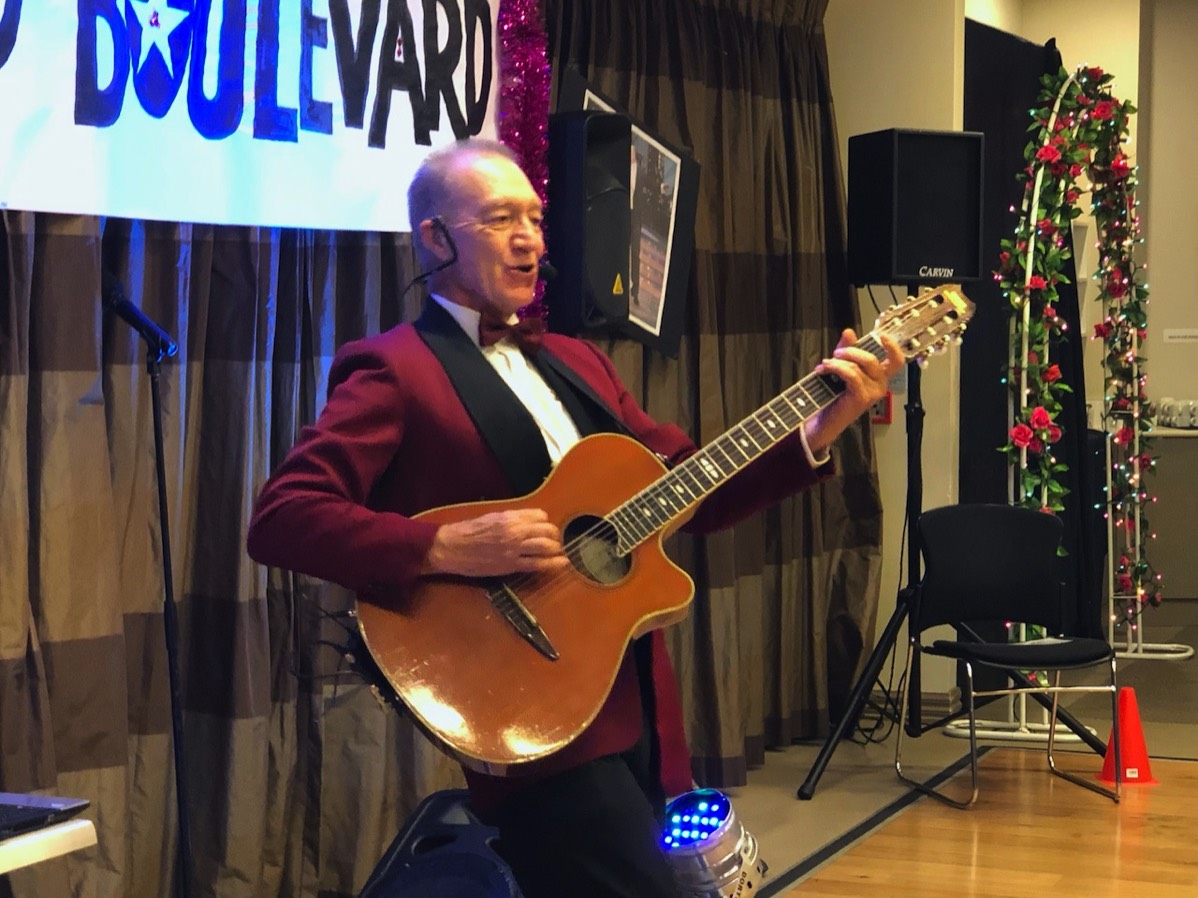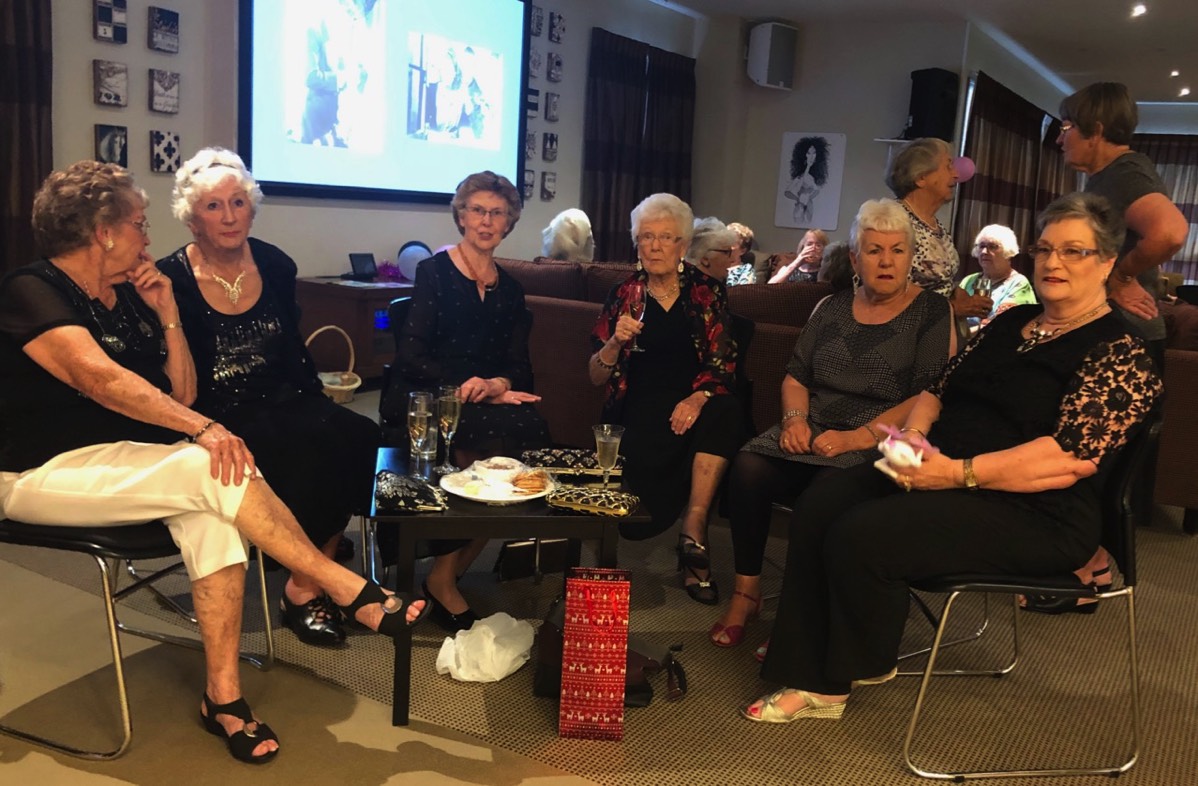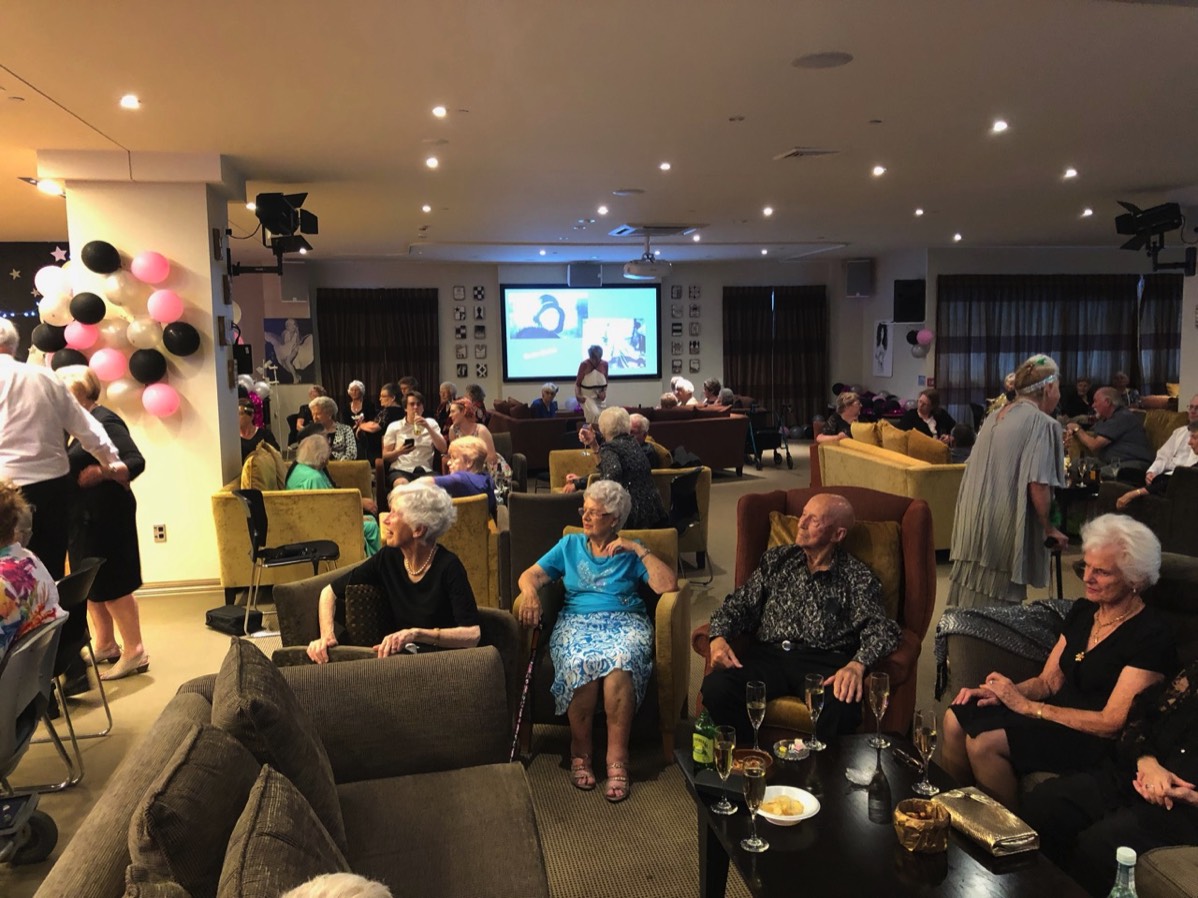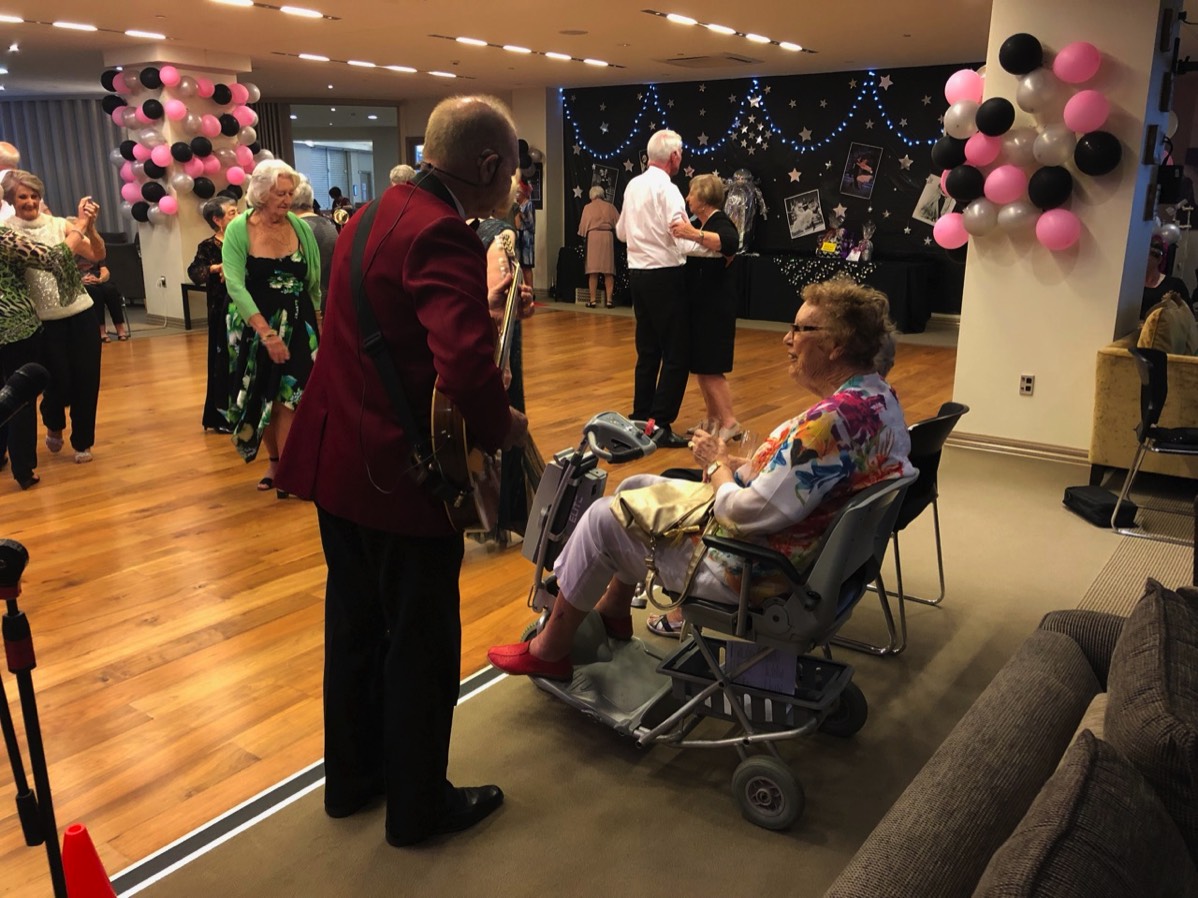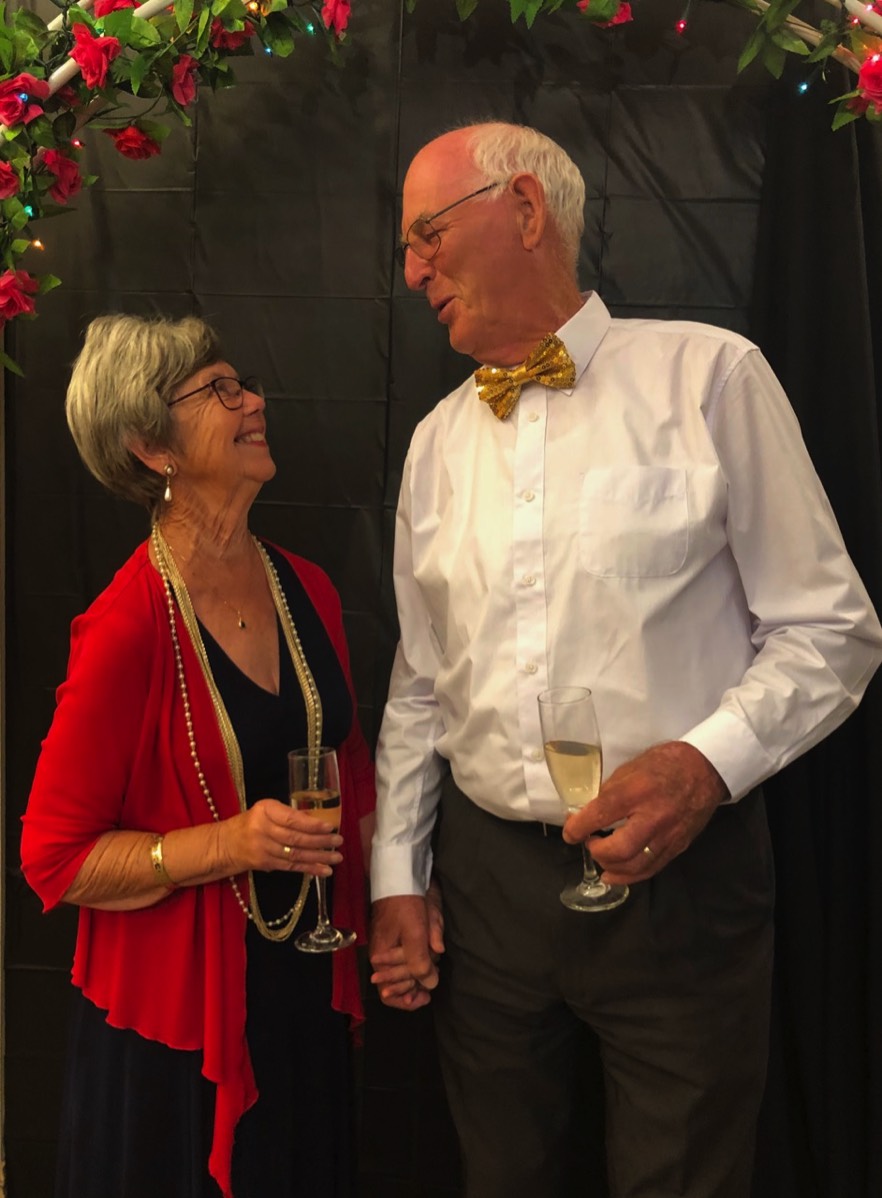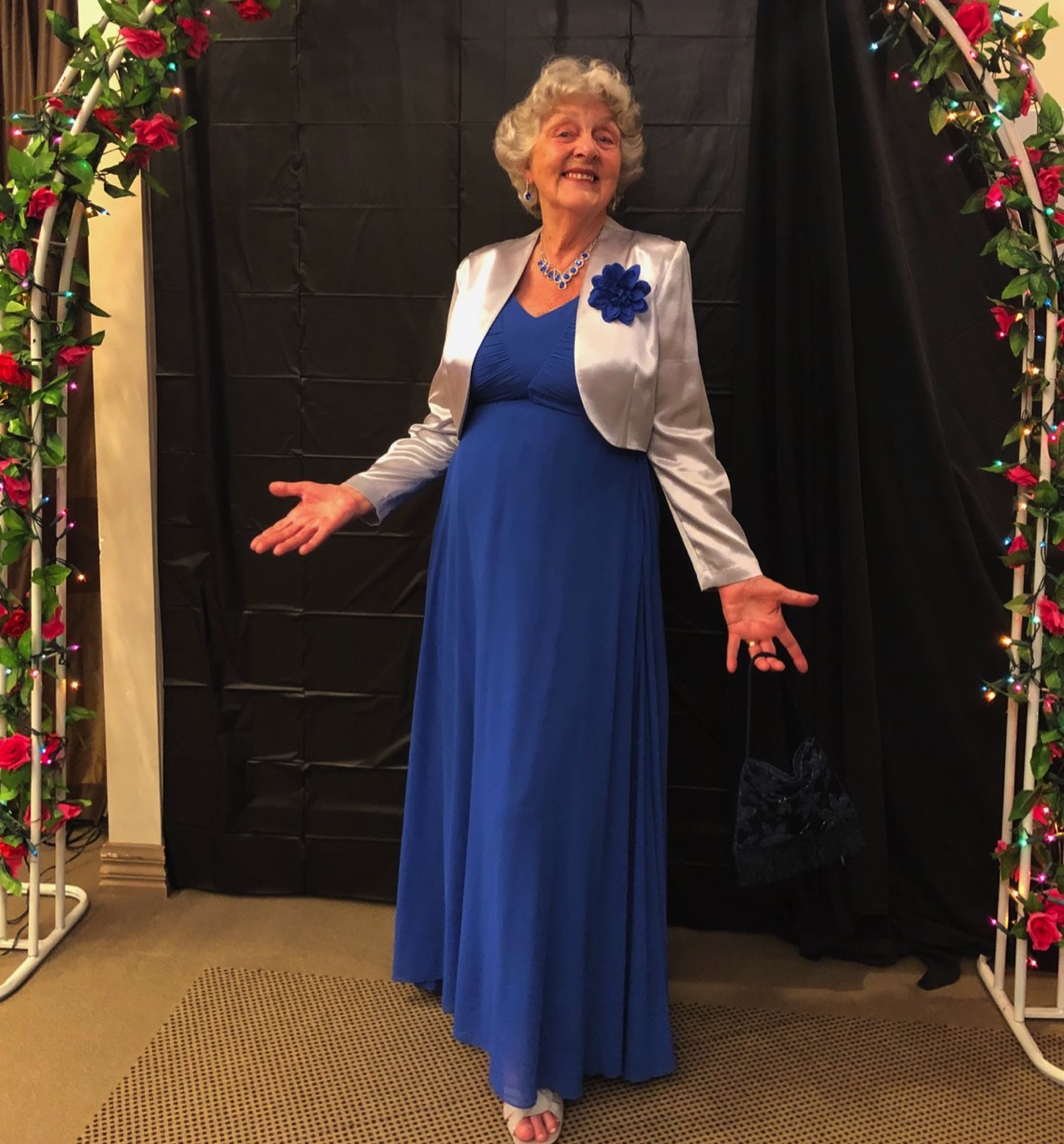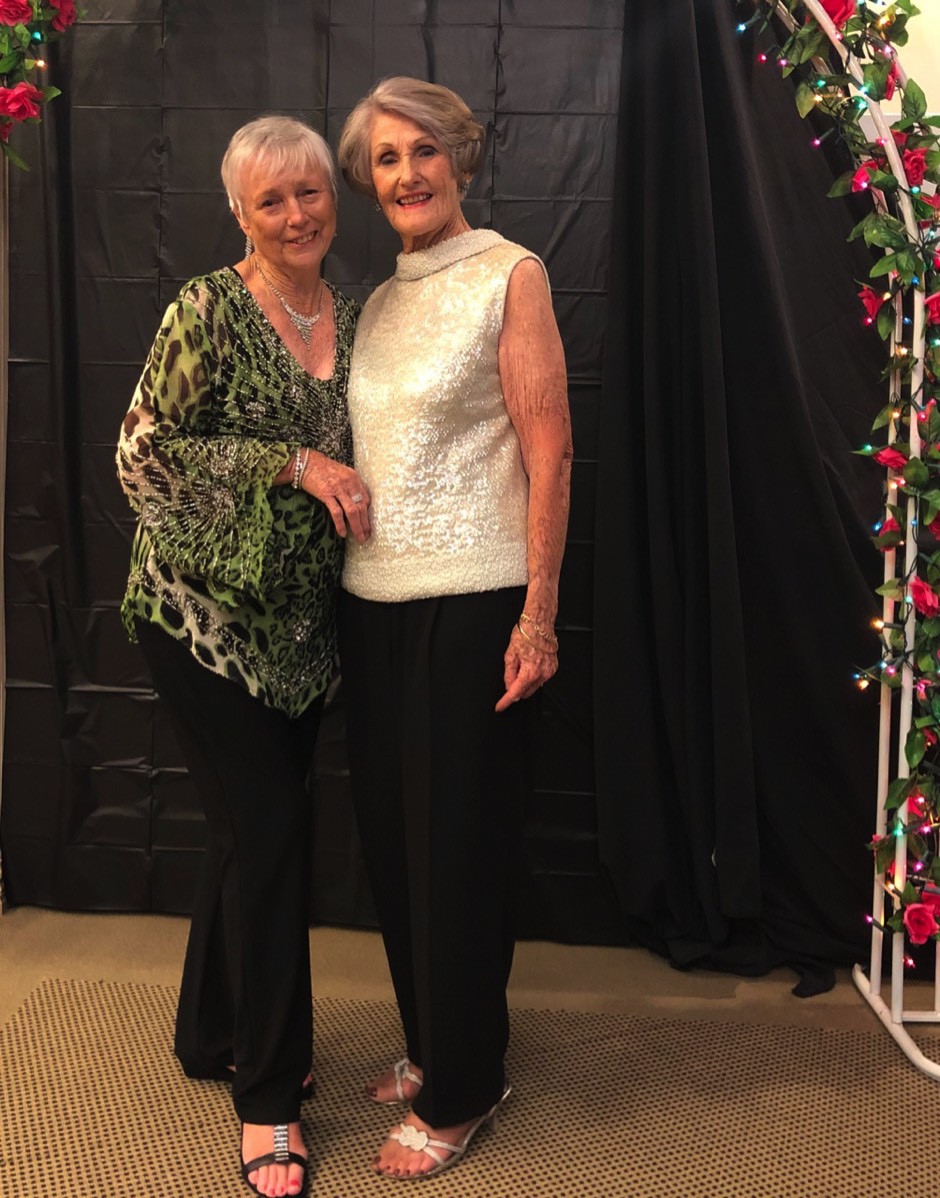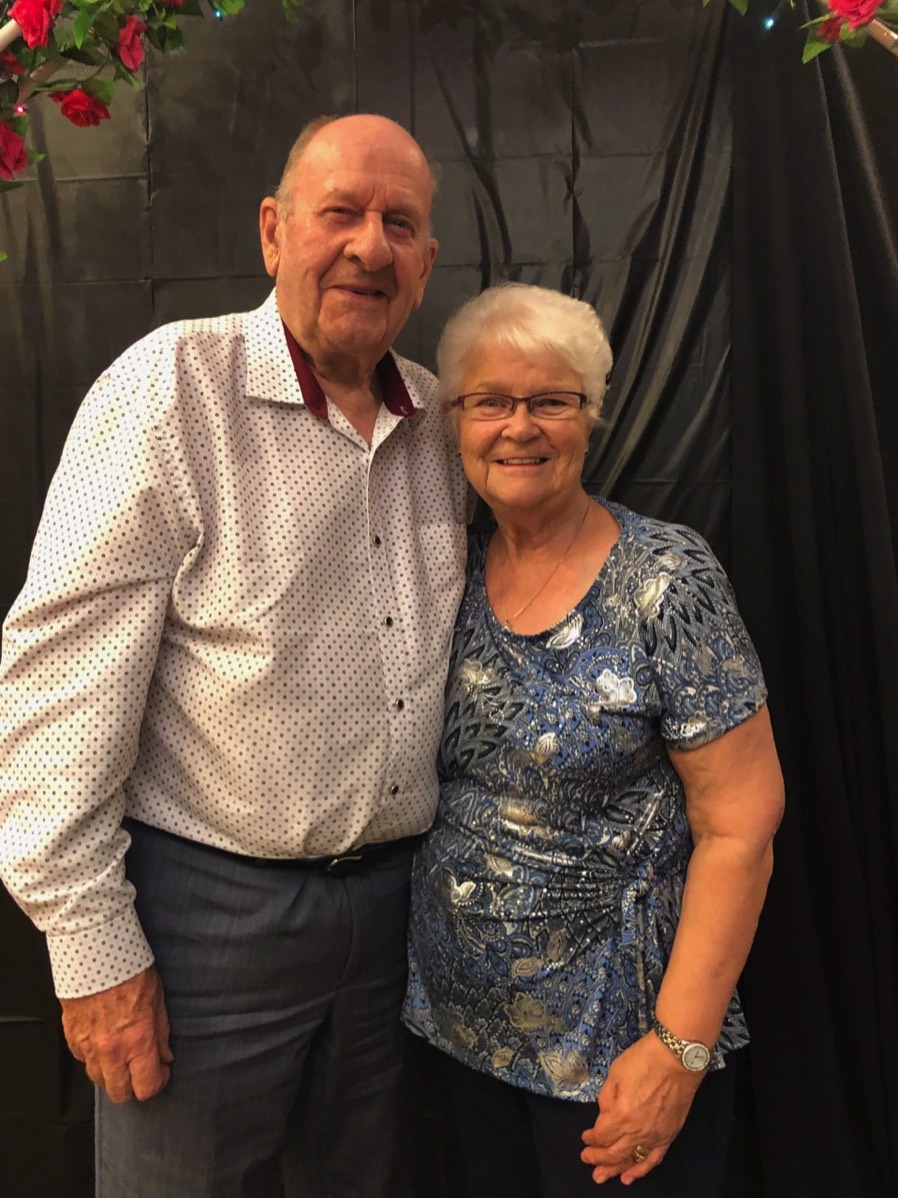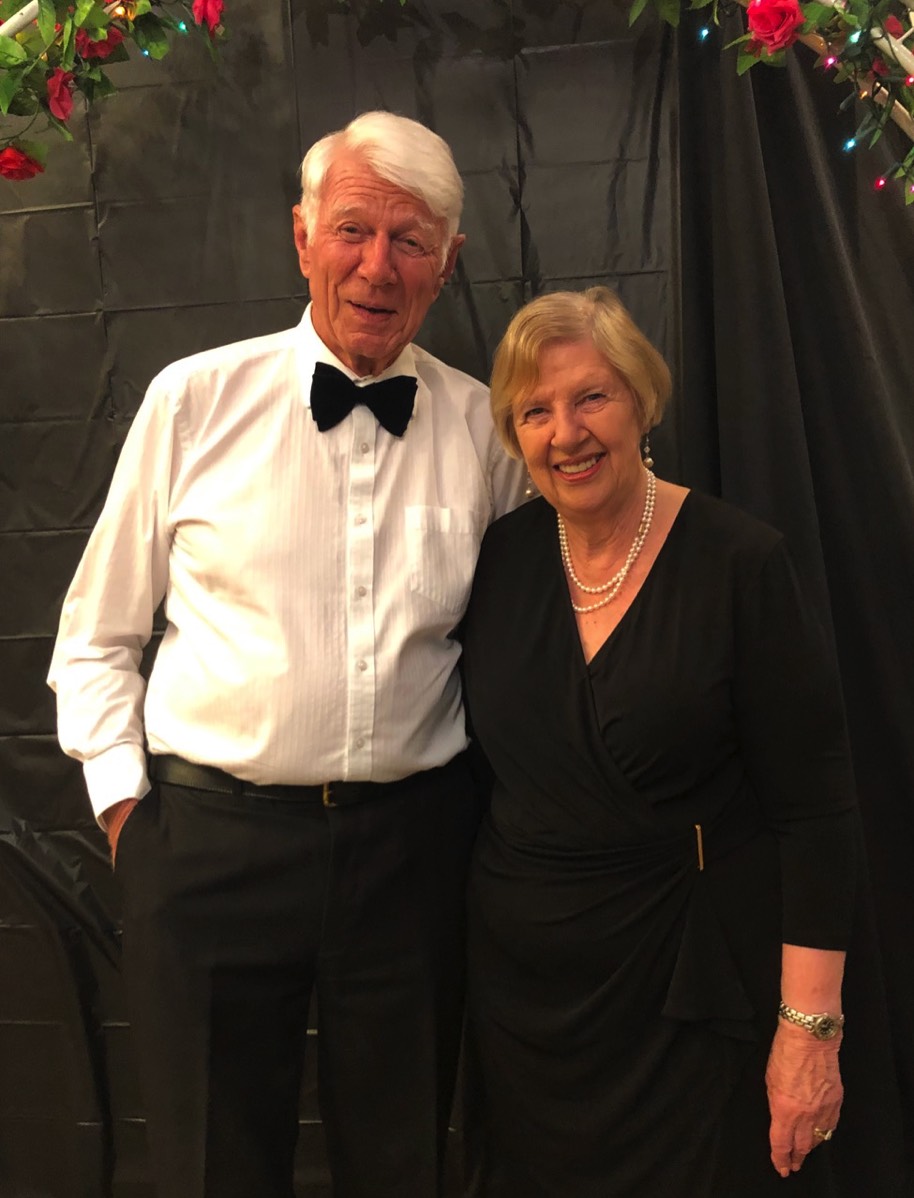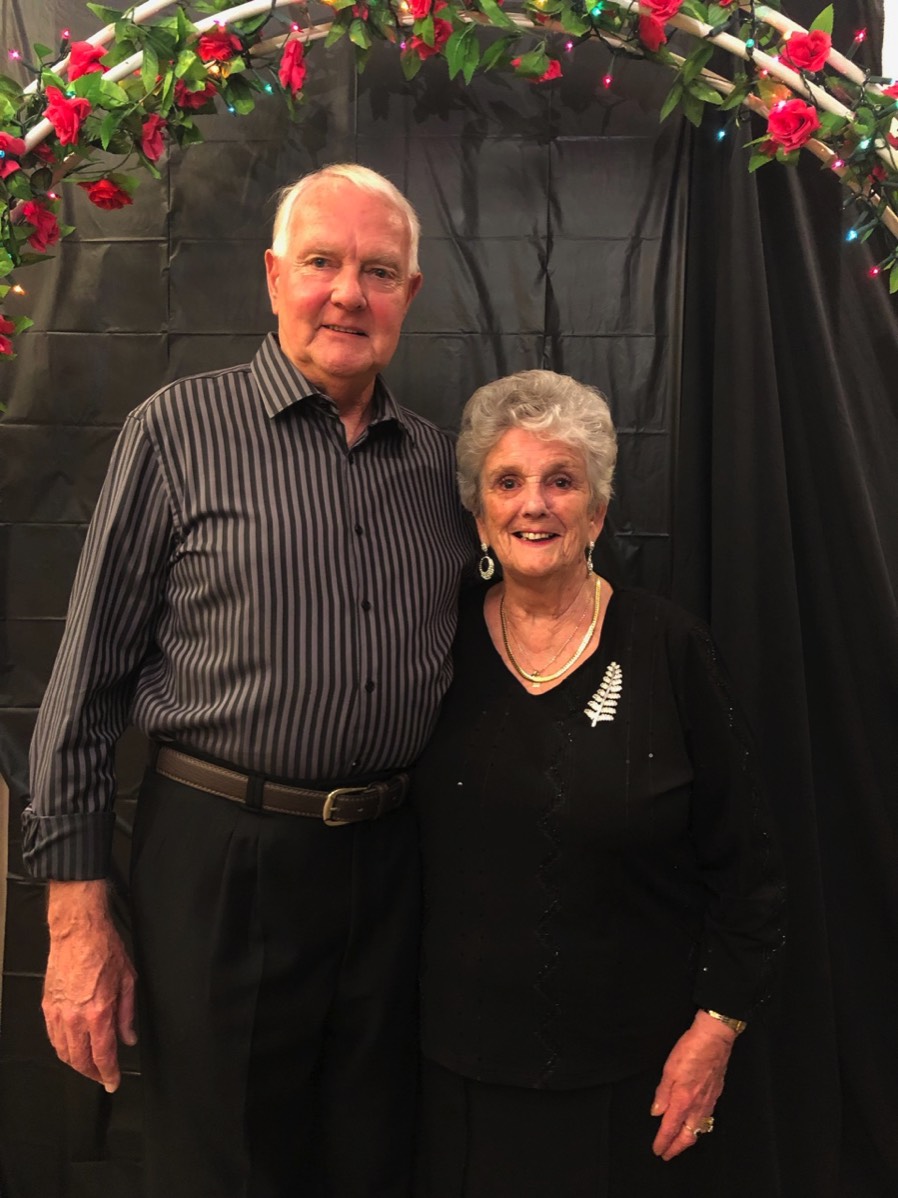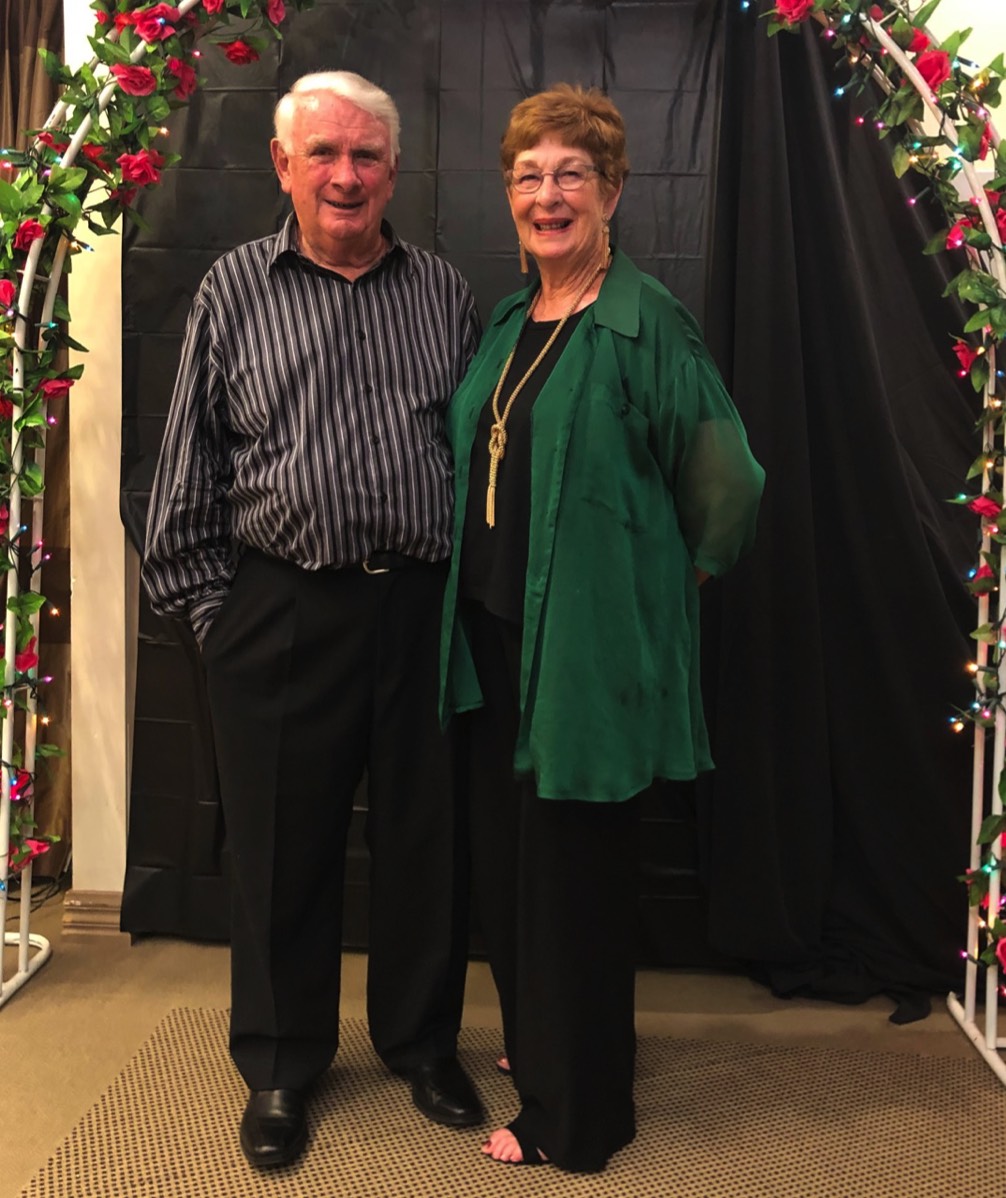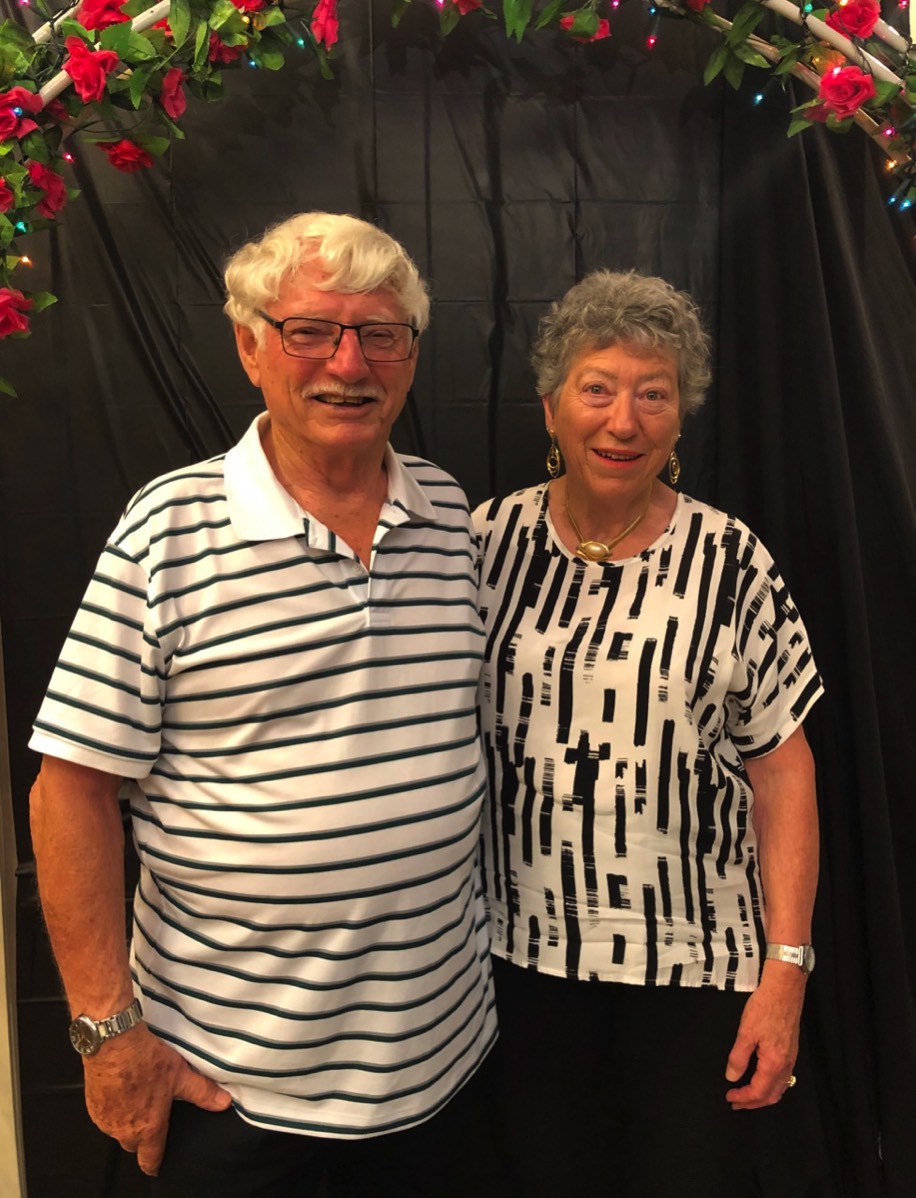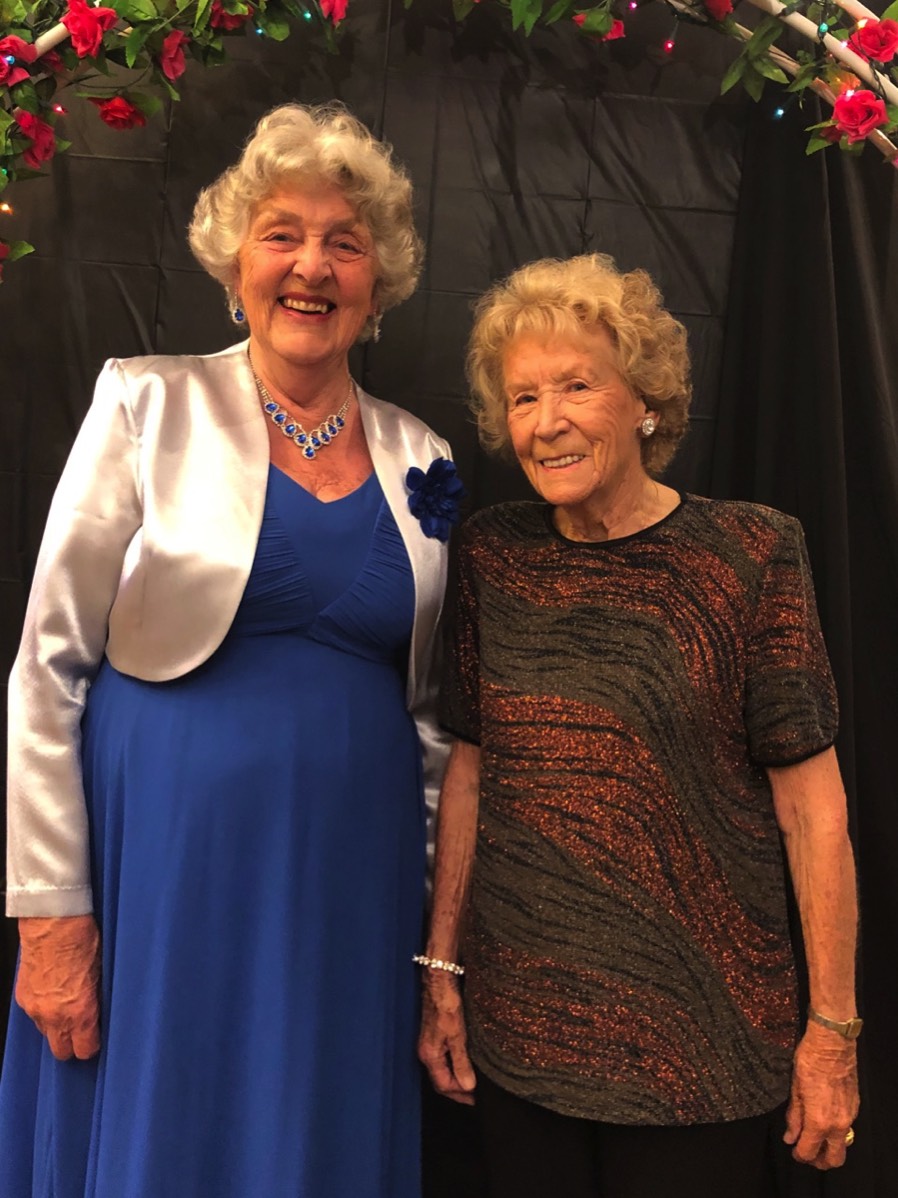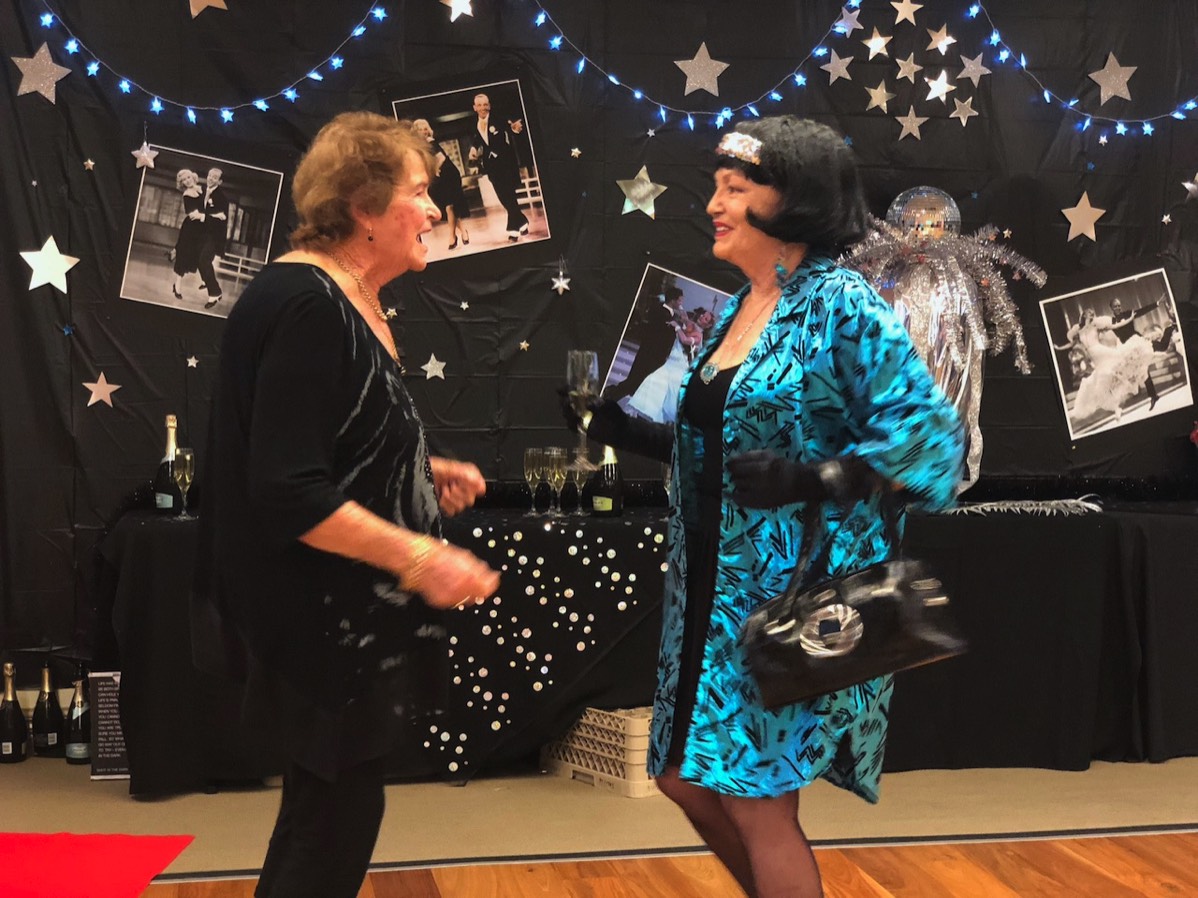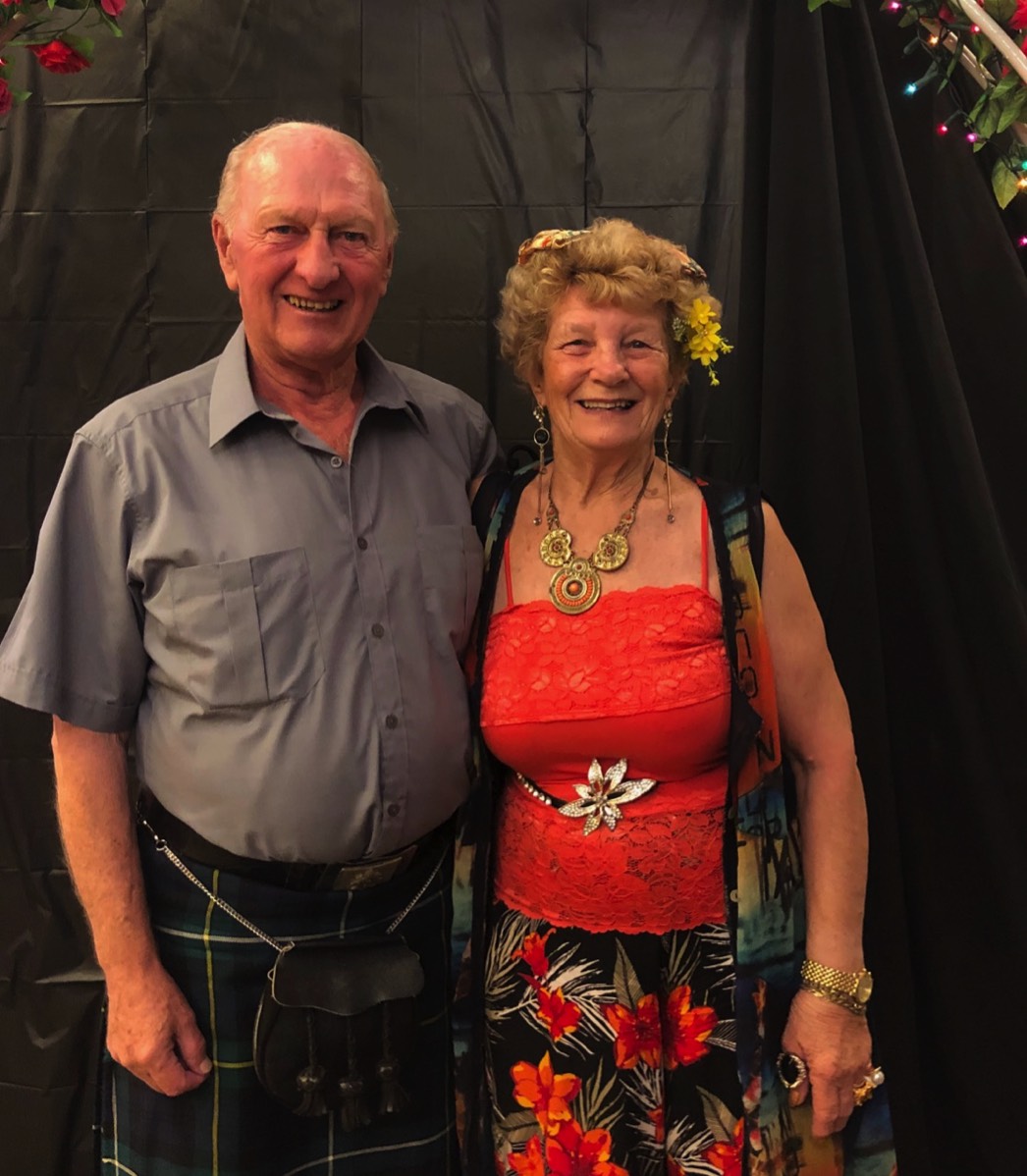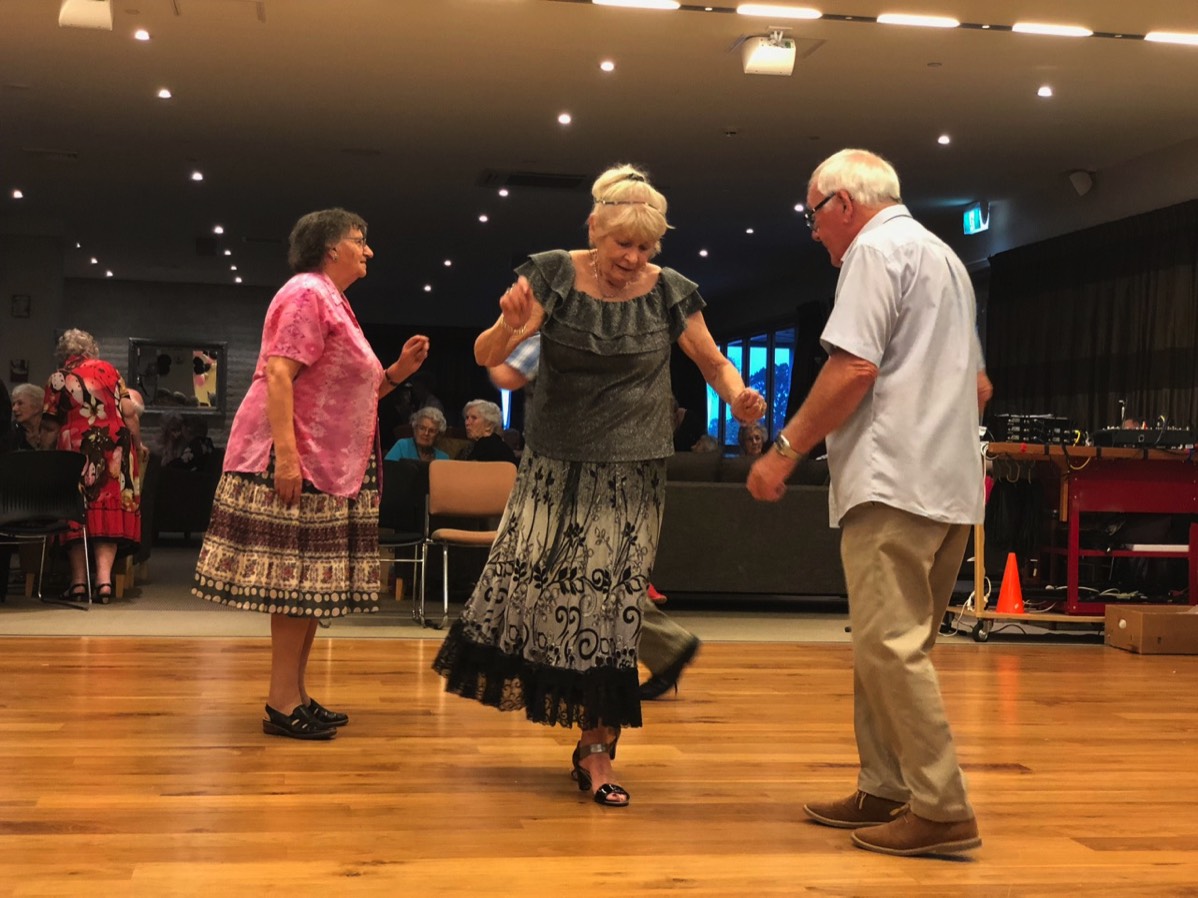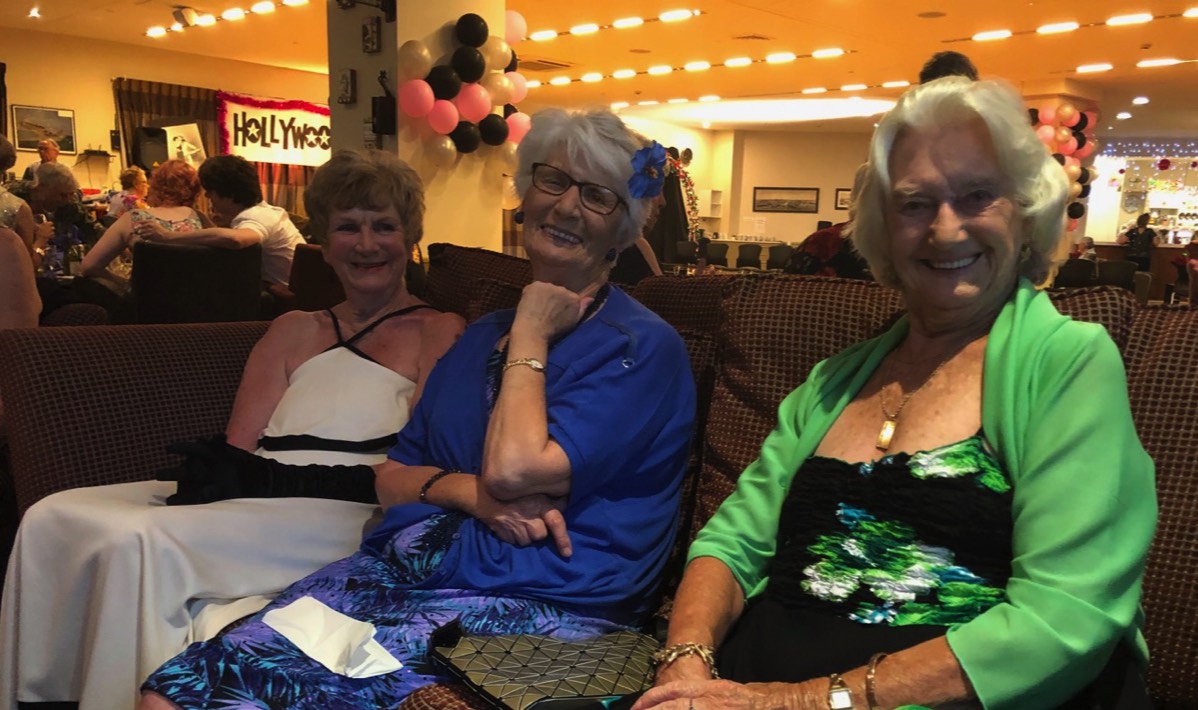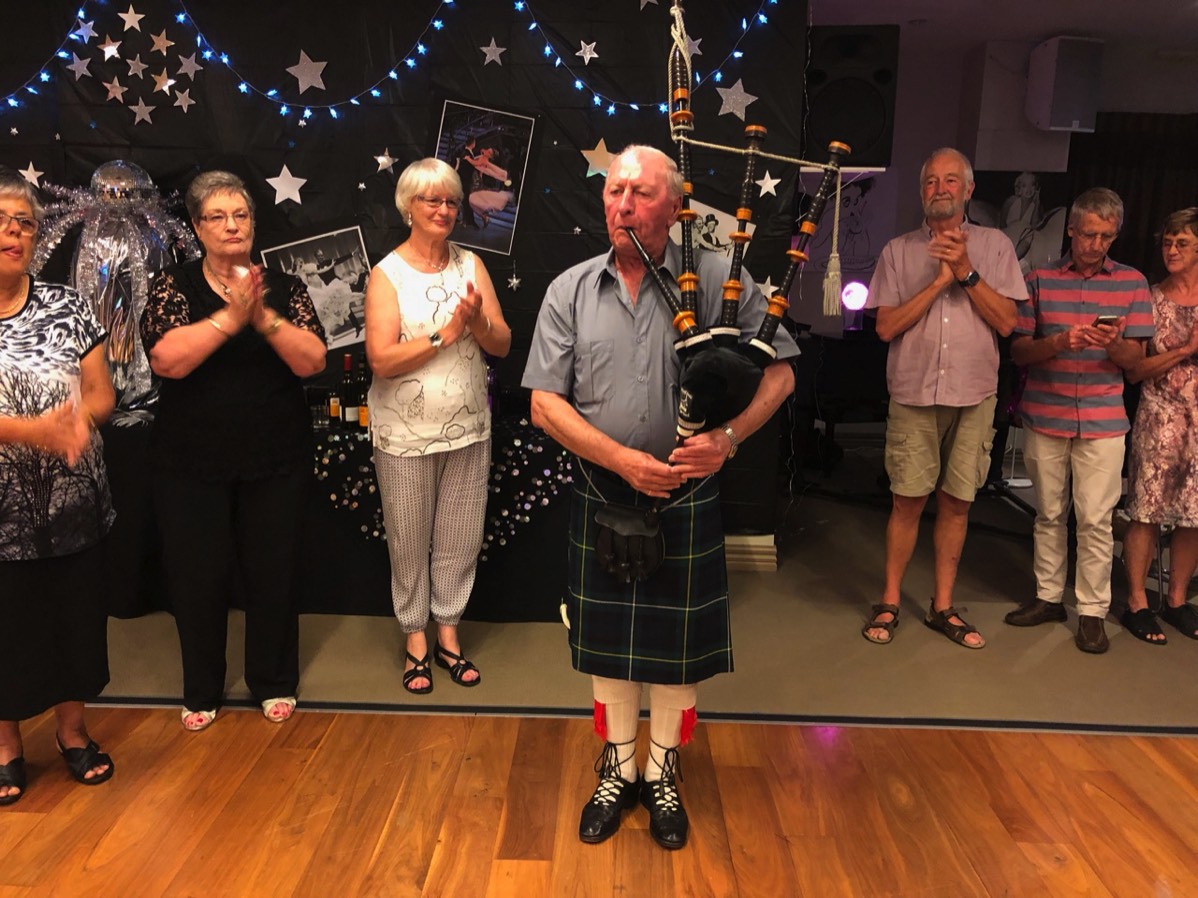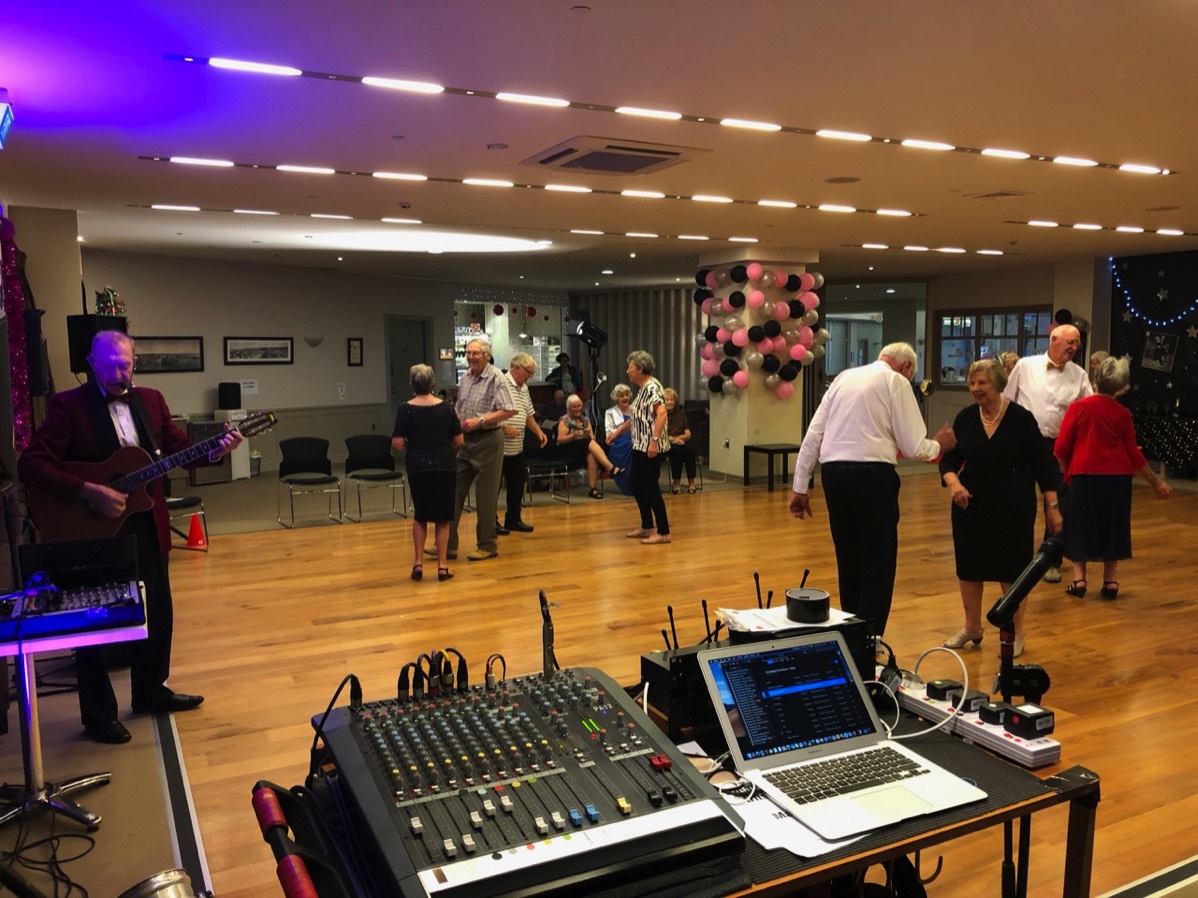 Salvation Army Auckland Citadel Band
Visits Pinesong for our Christmas Carol Service


T'was time for the Salvation Army Band to visit us at Pinesong again for about the tenth year of doing so! What a great time we had singing the Christmas Carols that we never tire of to the tune of the rich, warm, mellow and bright tones of this Brass Band made up of young and not so young!! Thank you to all the members of the band and all the helpers that made this event so special. The gold coin collection in support of the social services of the Salvation Army truly surpassed itself. A lot more than gold coins - we are thrilled to announce that $980 was given, which I am sure will bring Christmas Cheer to many.
We wish a very merry Christmas to everyone. Deryck Hunt v229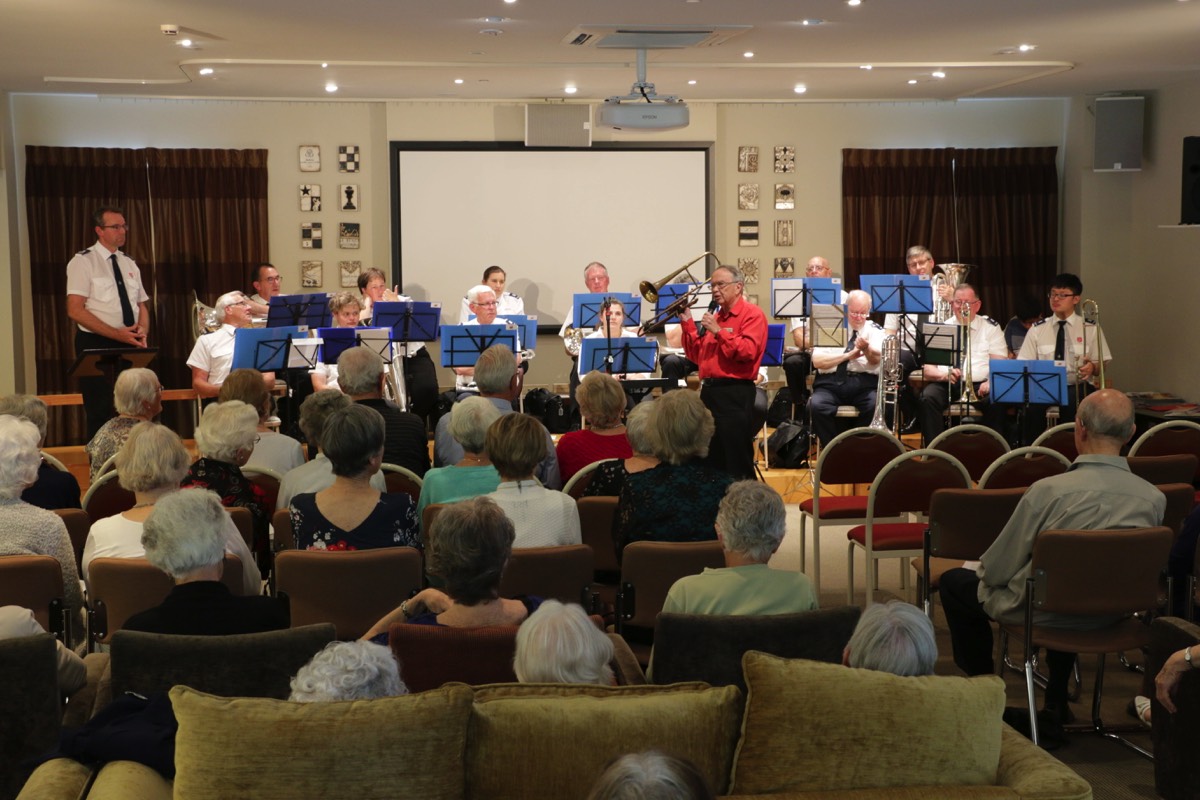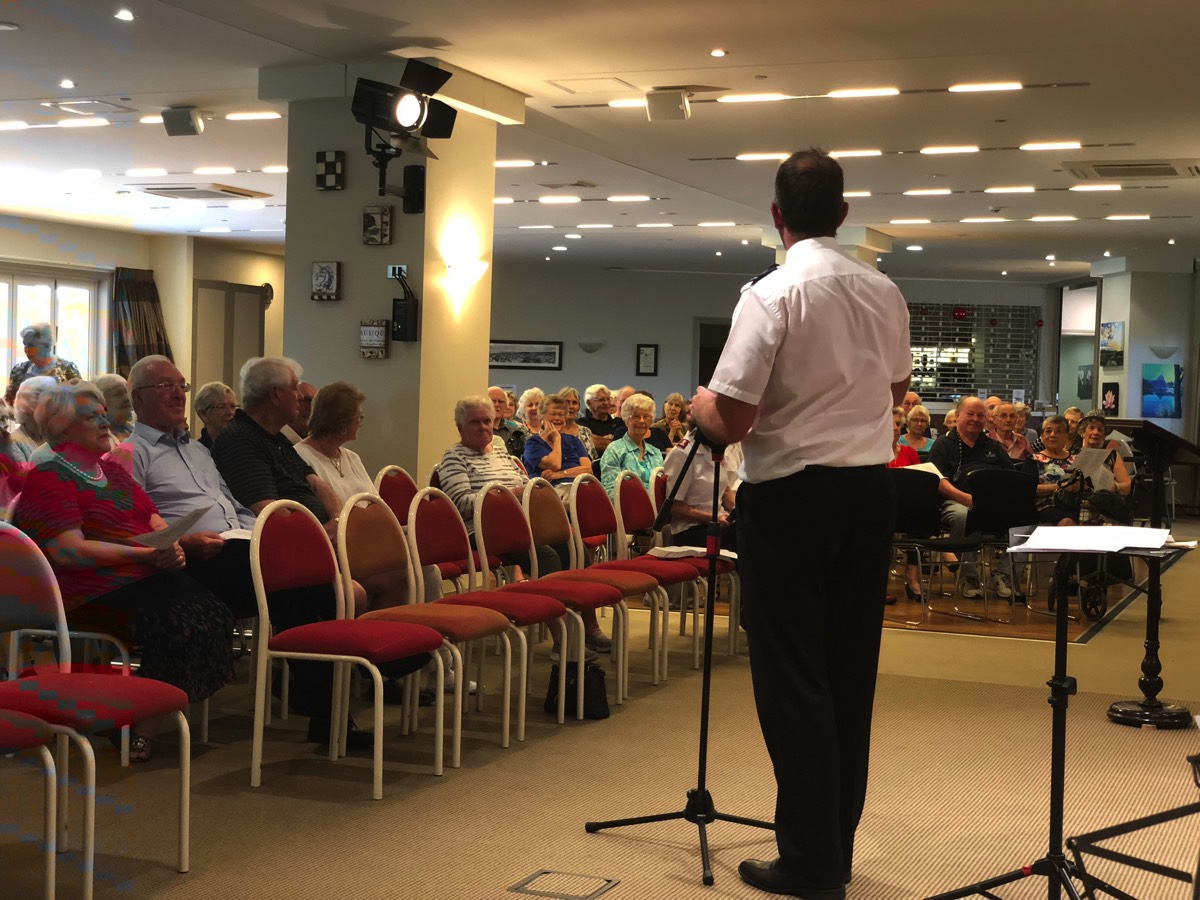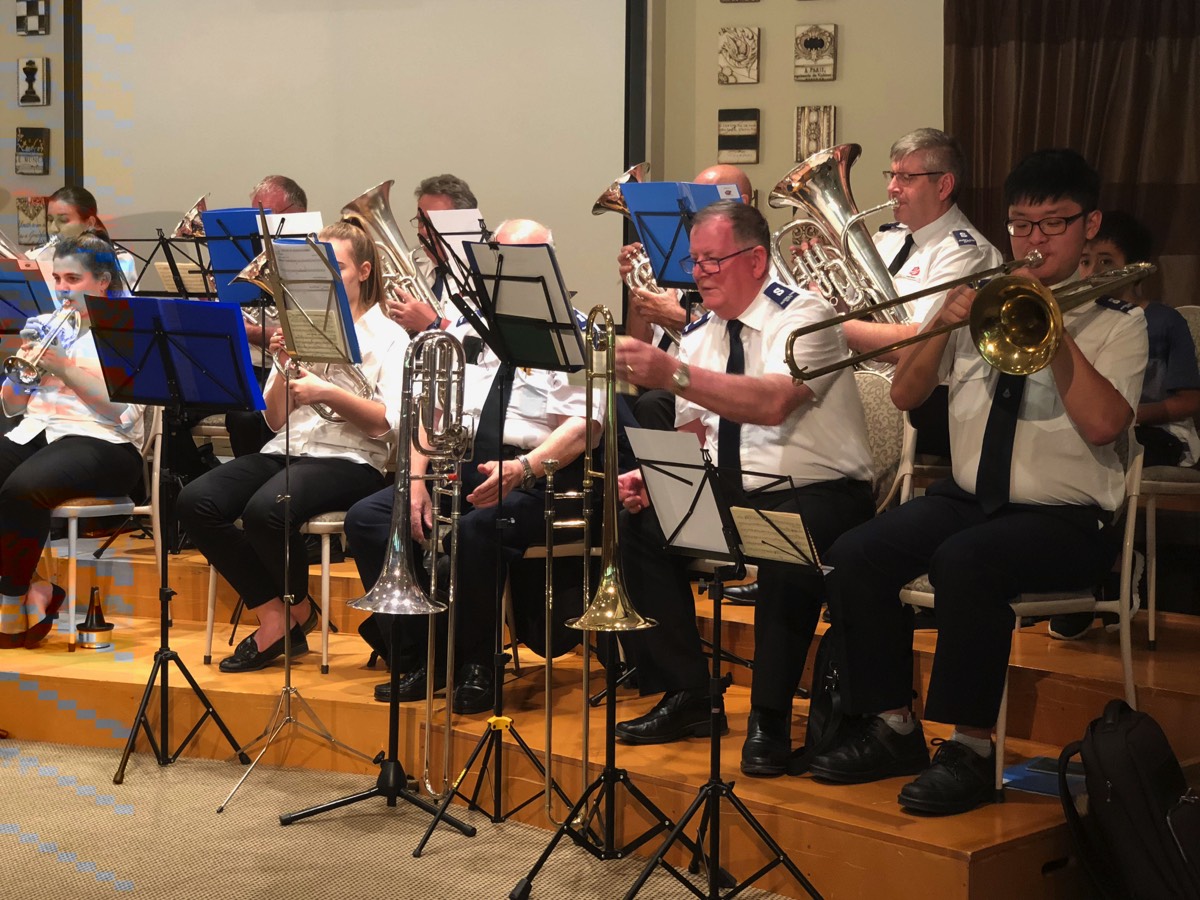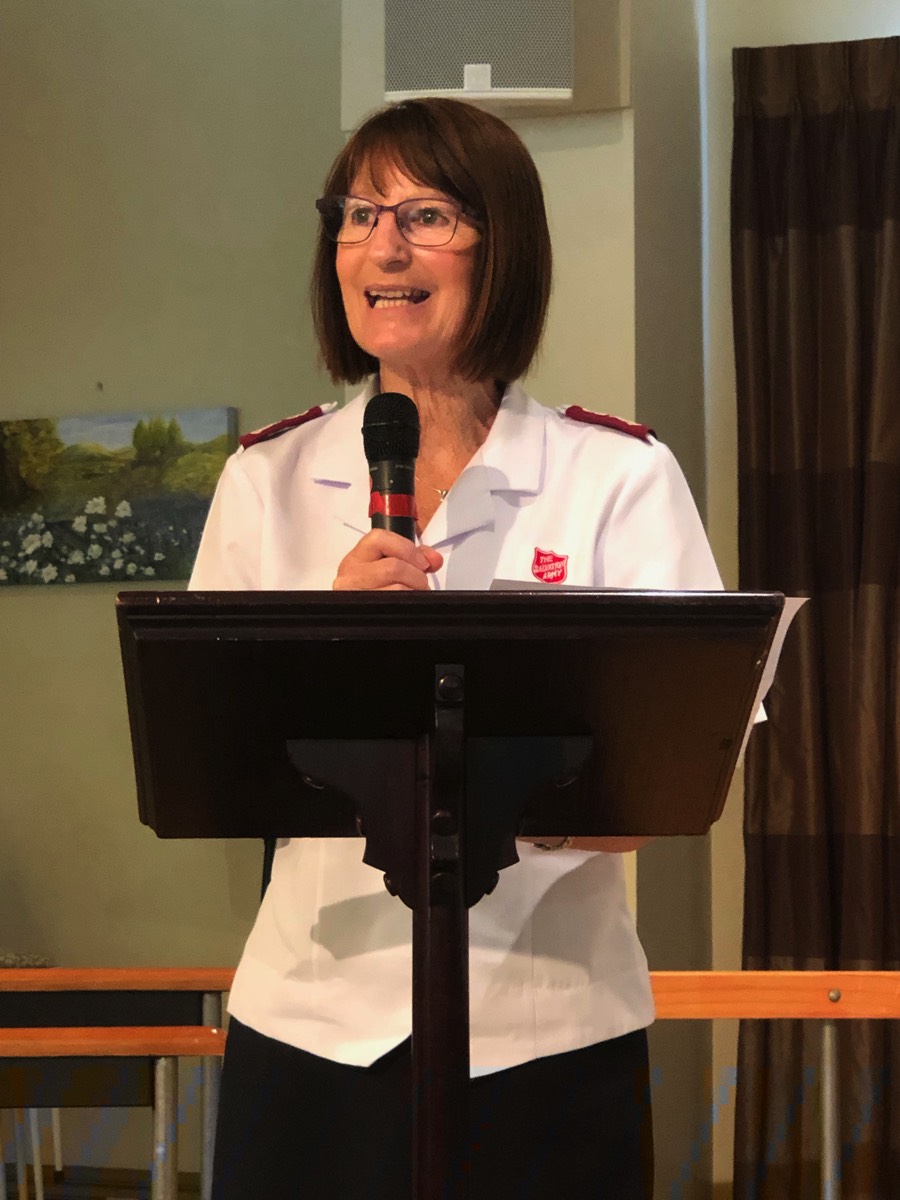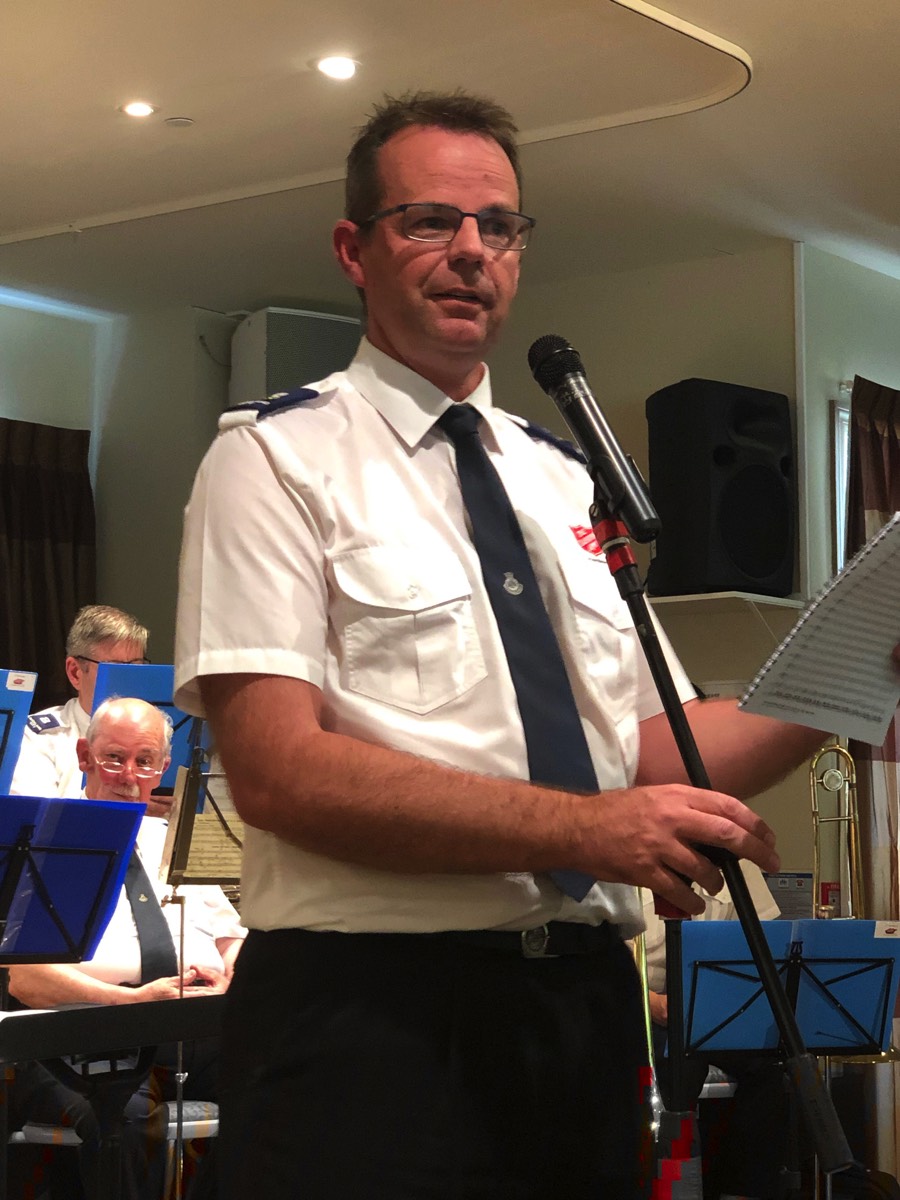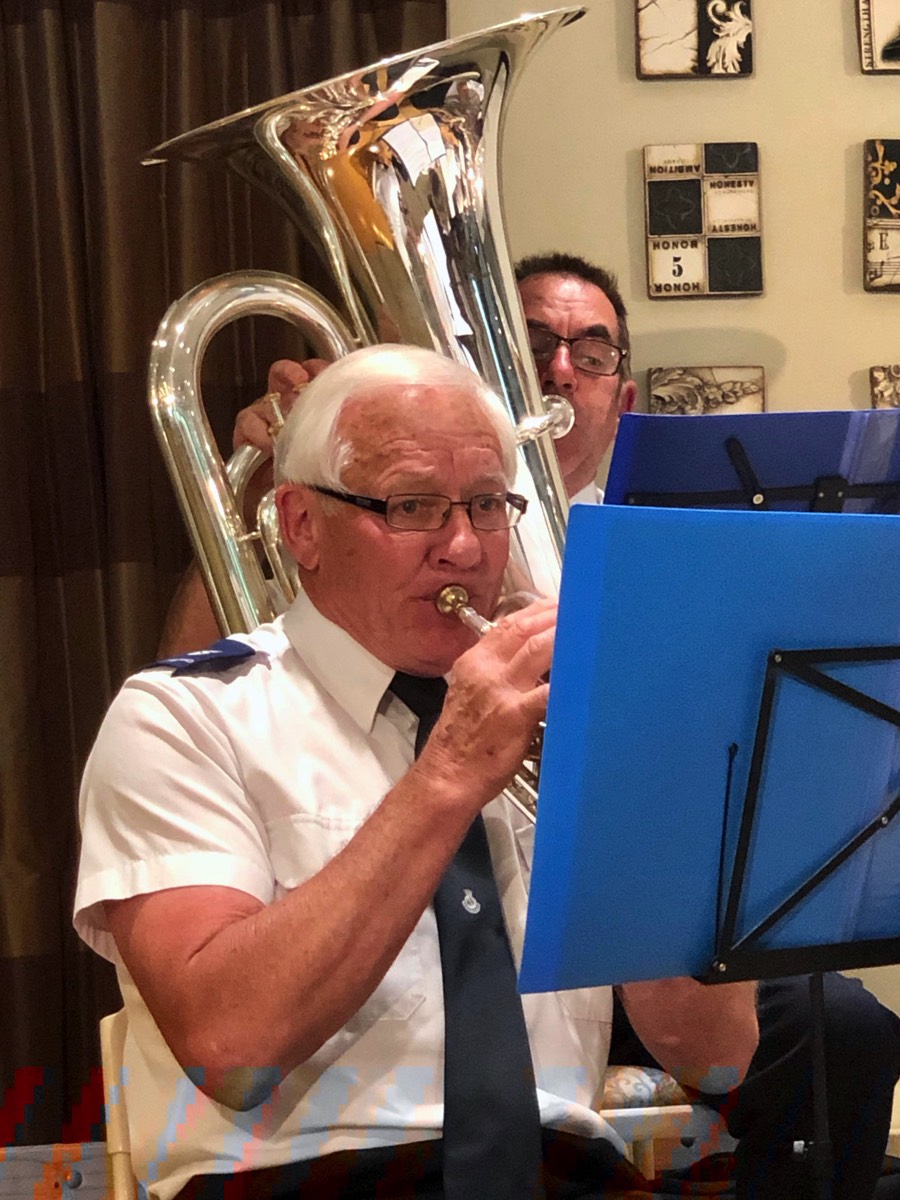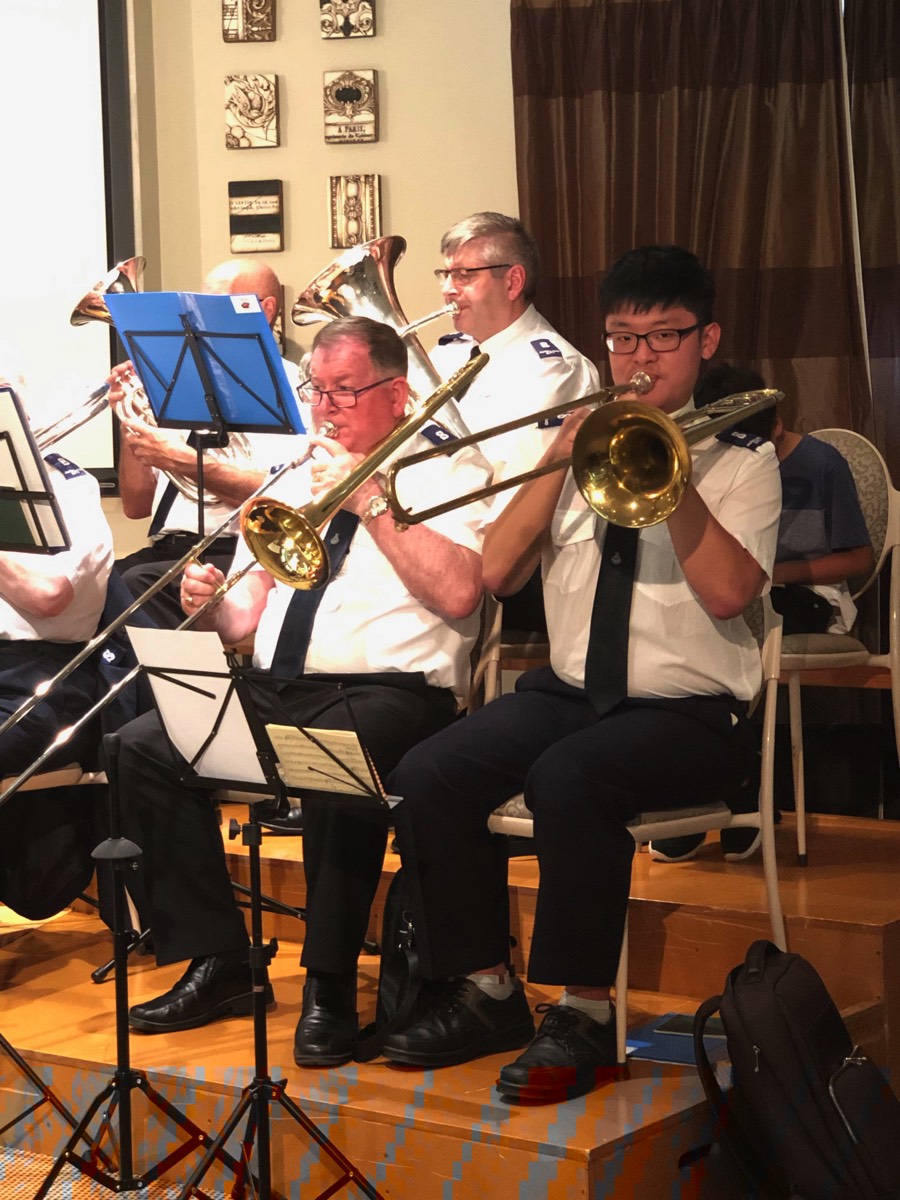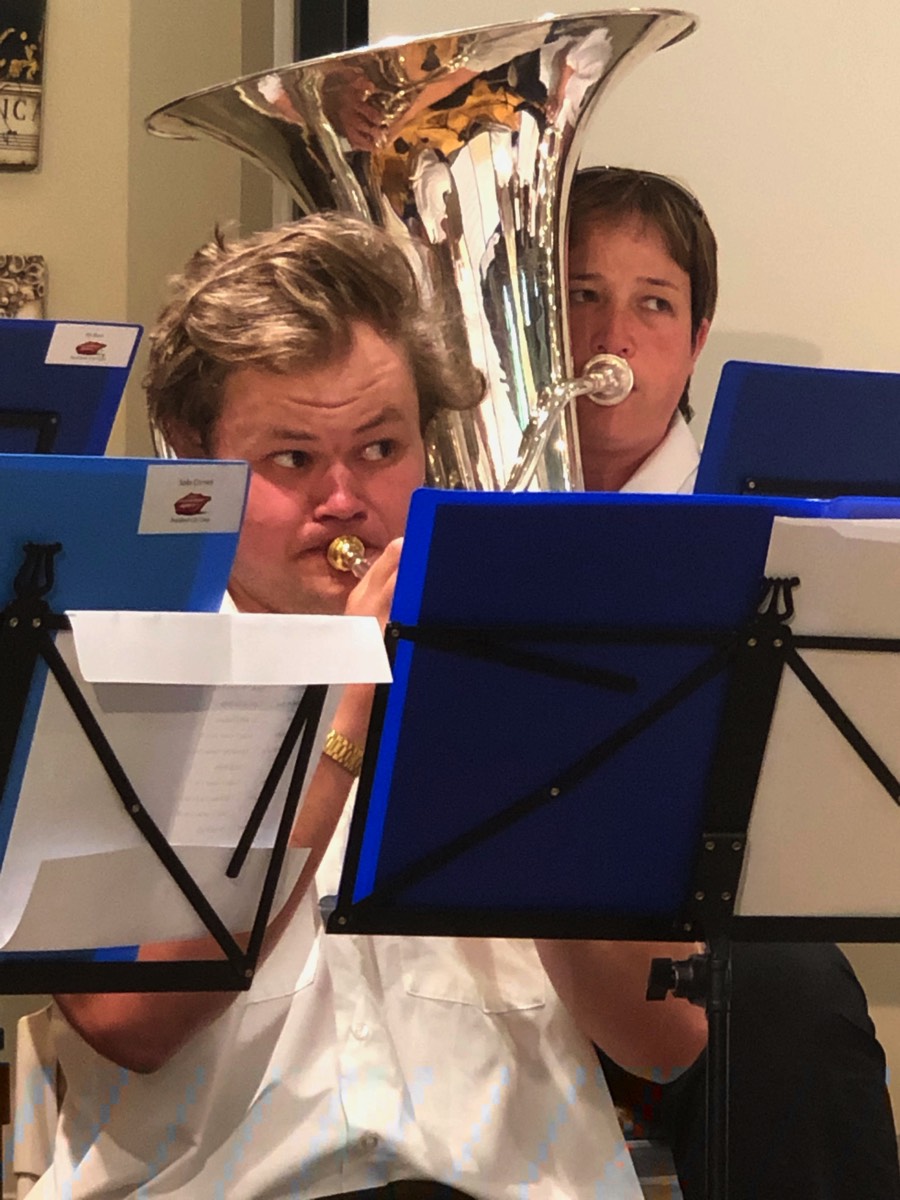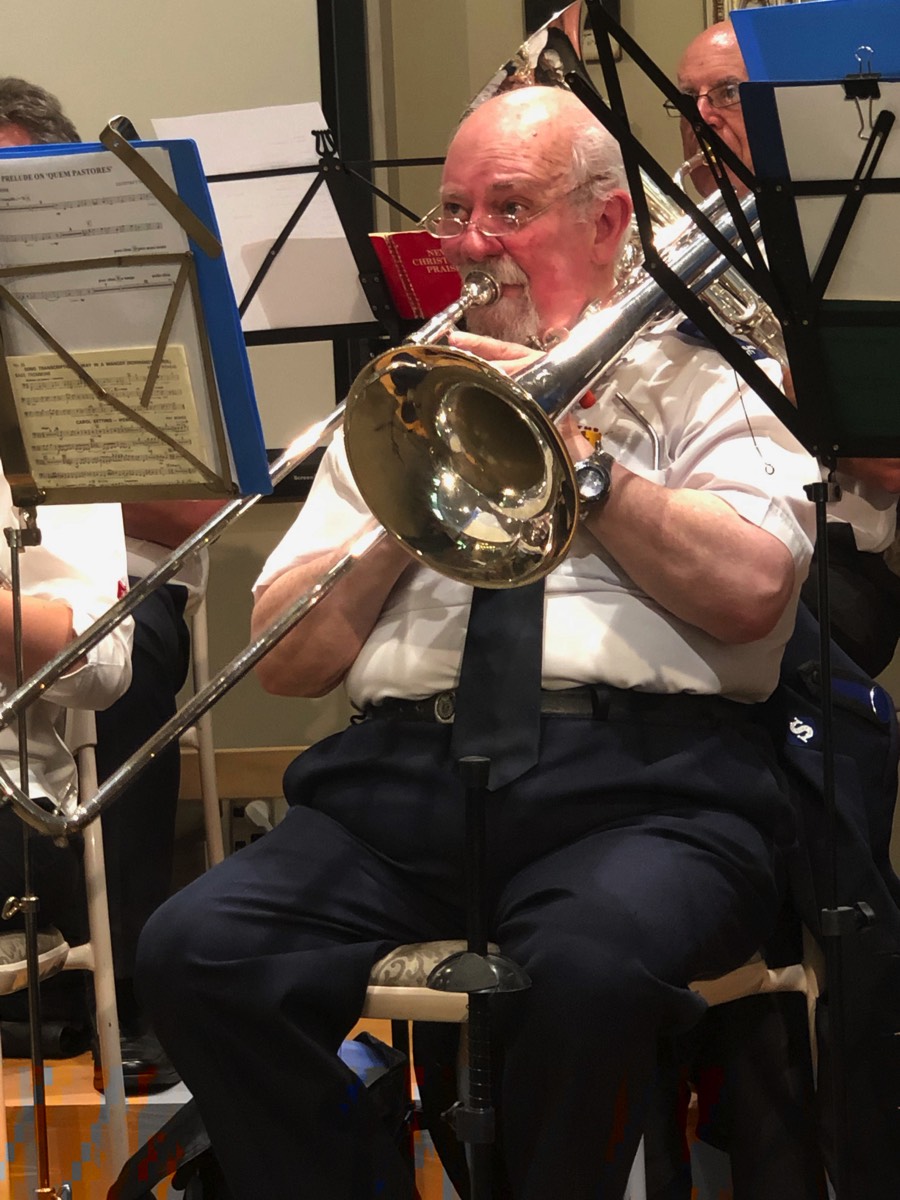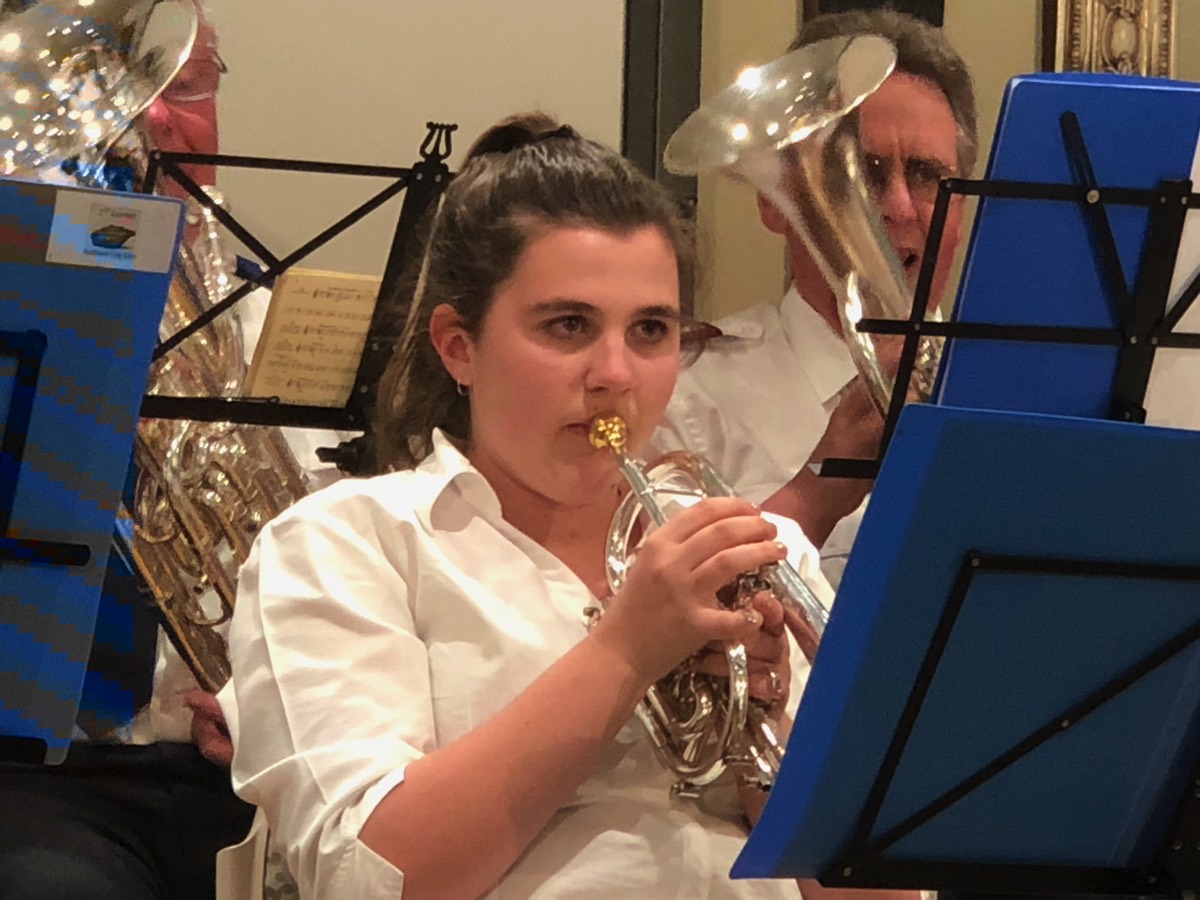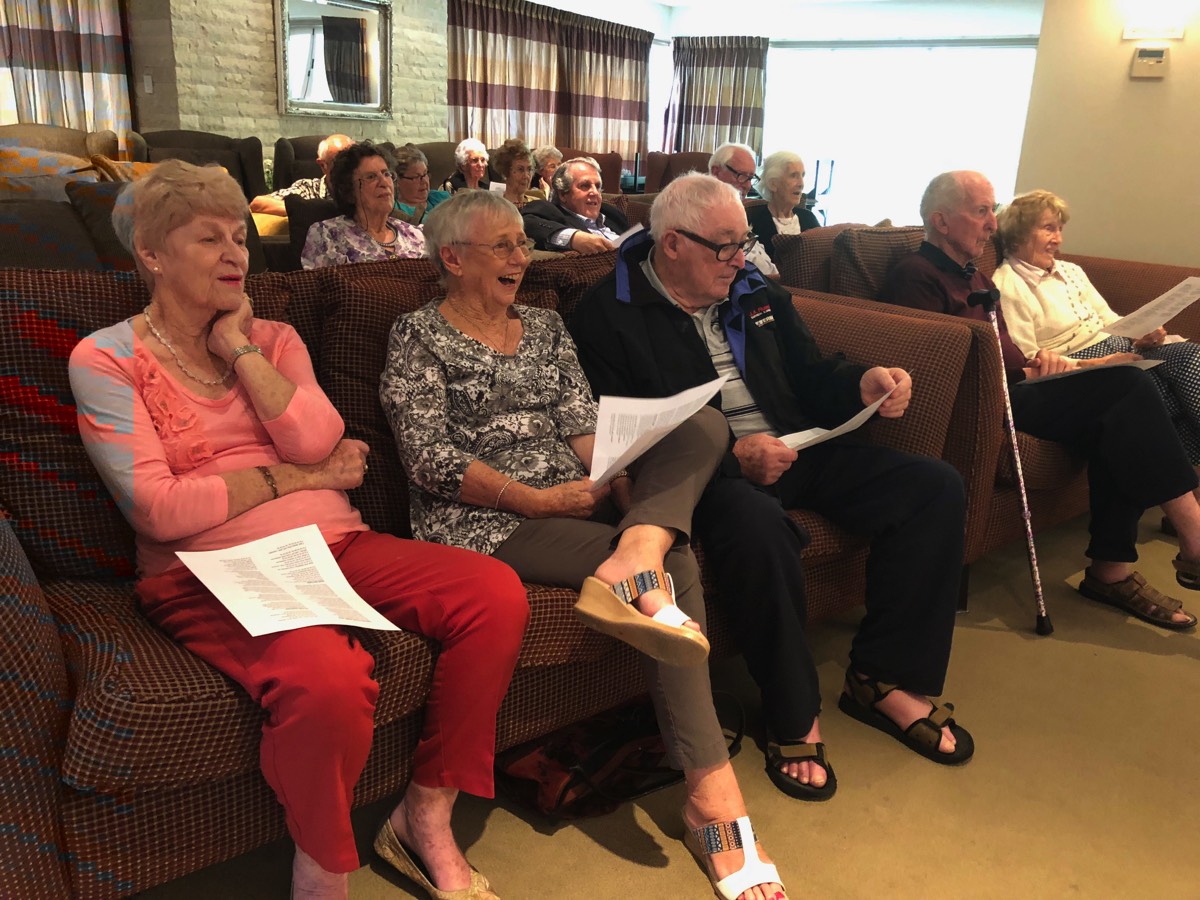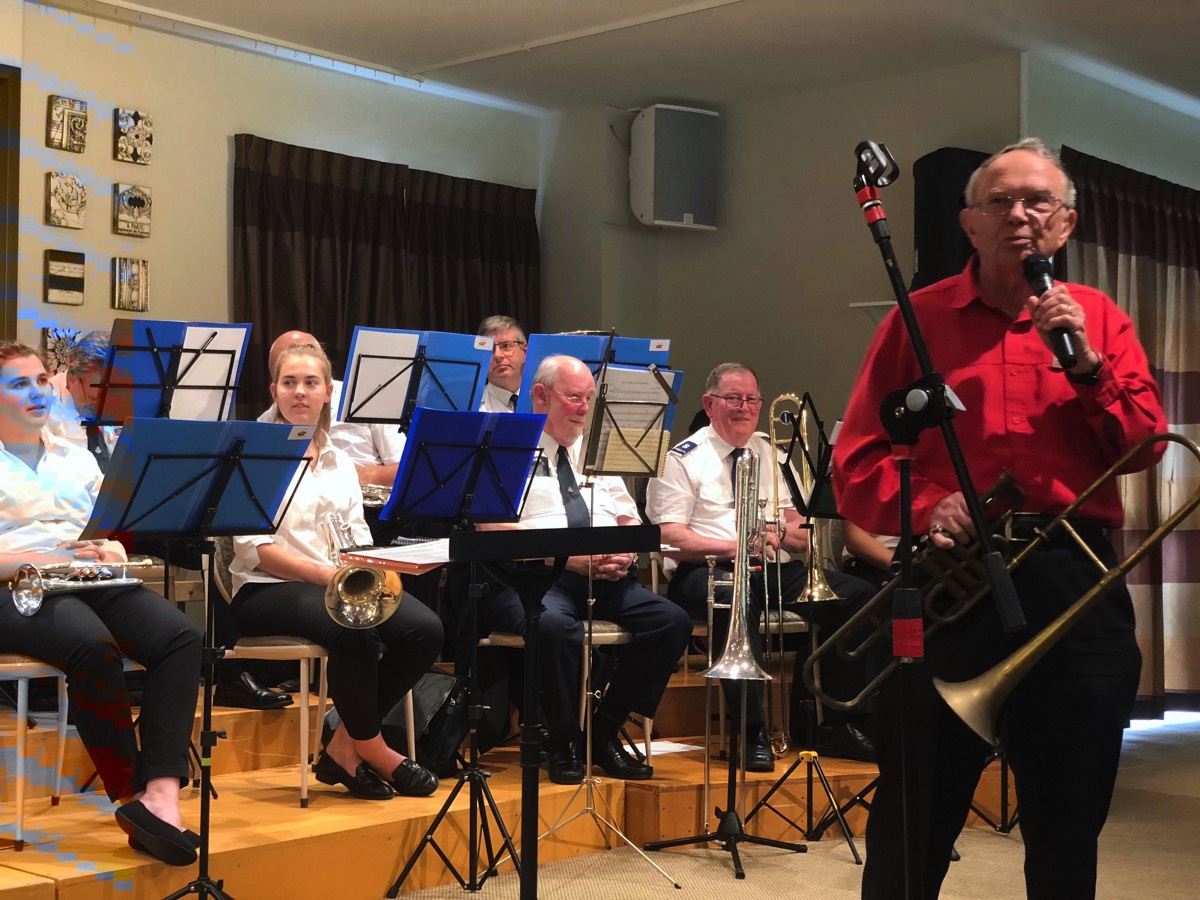 Pinesongsters 2018 Christmas Concert

We all enjoyed two performances by our Pinesongsters on Saturday night and Sunday afternoon. The Theme was 'Christmas Cheer'. The programme included many of the favourite carols we have come to love and also a number of modern carols from famous English and American composers. Special thanks to our choirmaster Doug Lilly, accompanist Kathryn Mansell and their tireless organiser John White.
The soloists were June Hooper and Noel Rogers who led us all in one of the carols. Following the Sunday afternoon concert we all enjoyed afternoon tea in the Cafe'.

To view more photographs from the performances, go to the page 'Pinesongsters Choir Performances'





Art Group Exhibition


There is so much talent seen in our residents and this was displayed to perfection at the Art Groups's display over Saturday and Sunday in our Seabreeze Lounge. Beautiful work displayed from our artists Colin Blomfield, Tina Irwin, Robin Mansfield, Steve Irwin and Margaret Kemp. Thanks to all involved who put on this excellent exhibition.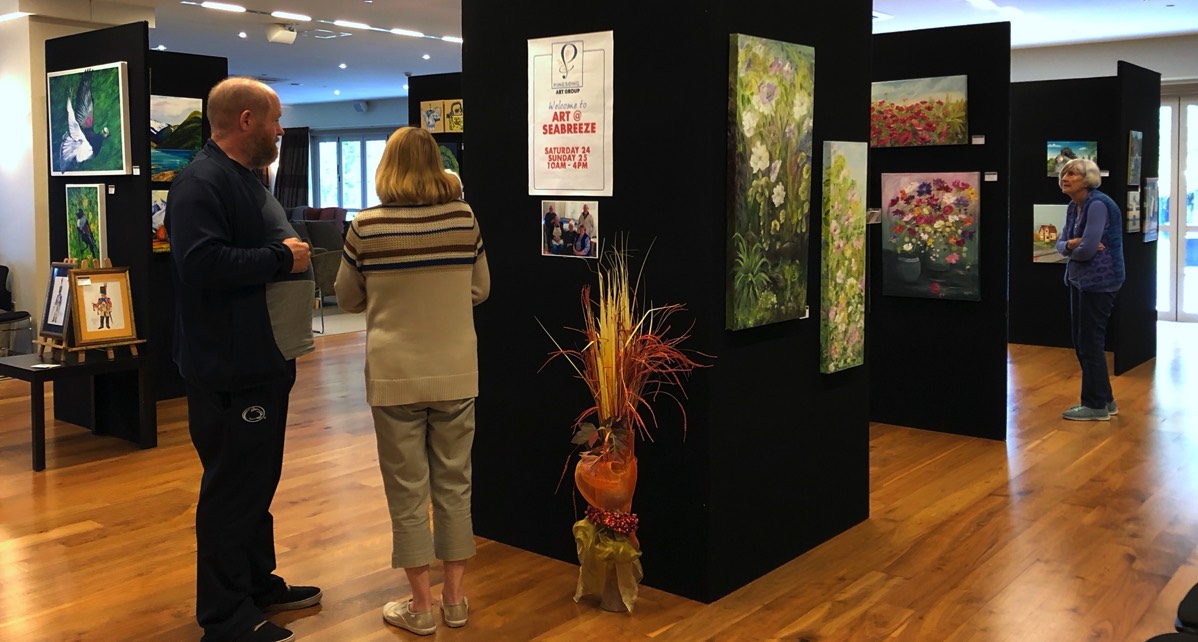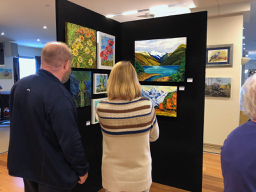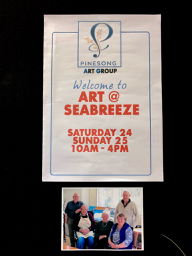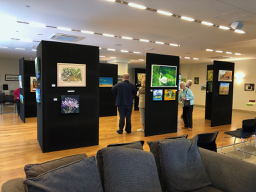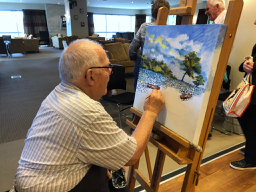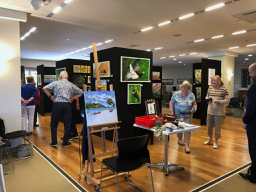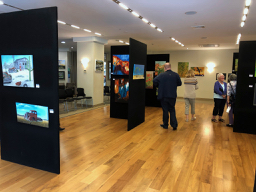 Westside Sounds Orchestra


We enjoyed a most enjoyable performance by the Westside Sounds Orchestra on Sunday afternoon. Not only did they play beautifully but they also provided us with afternoon tea. Many thanks Pauline and to all the members of your orchestra.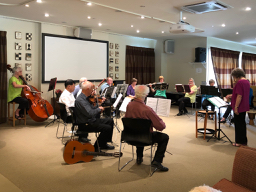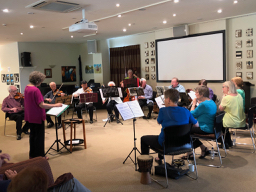 Melbourne Cup Day at Pinesong
Fashion Parade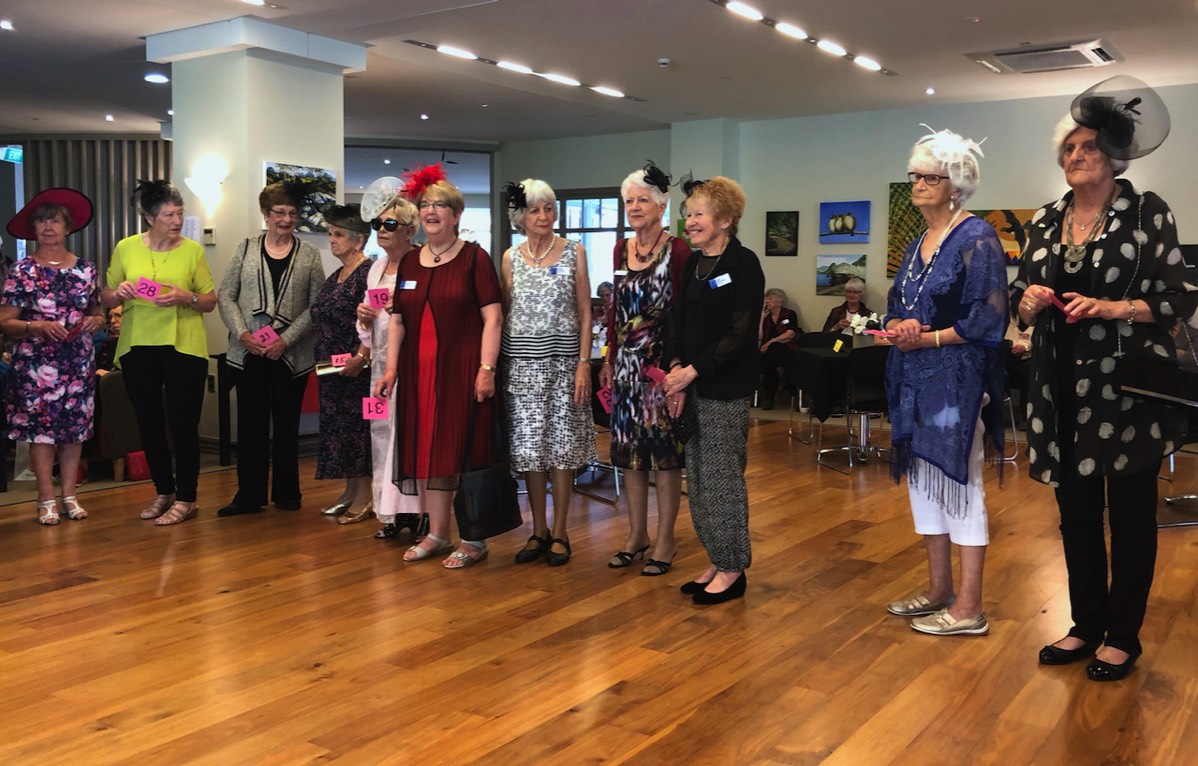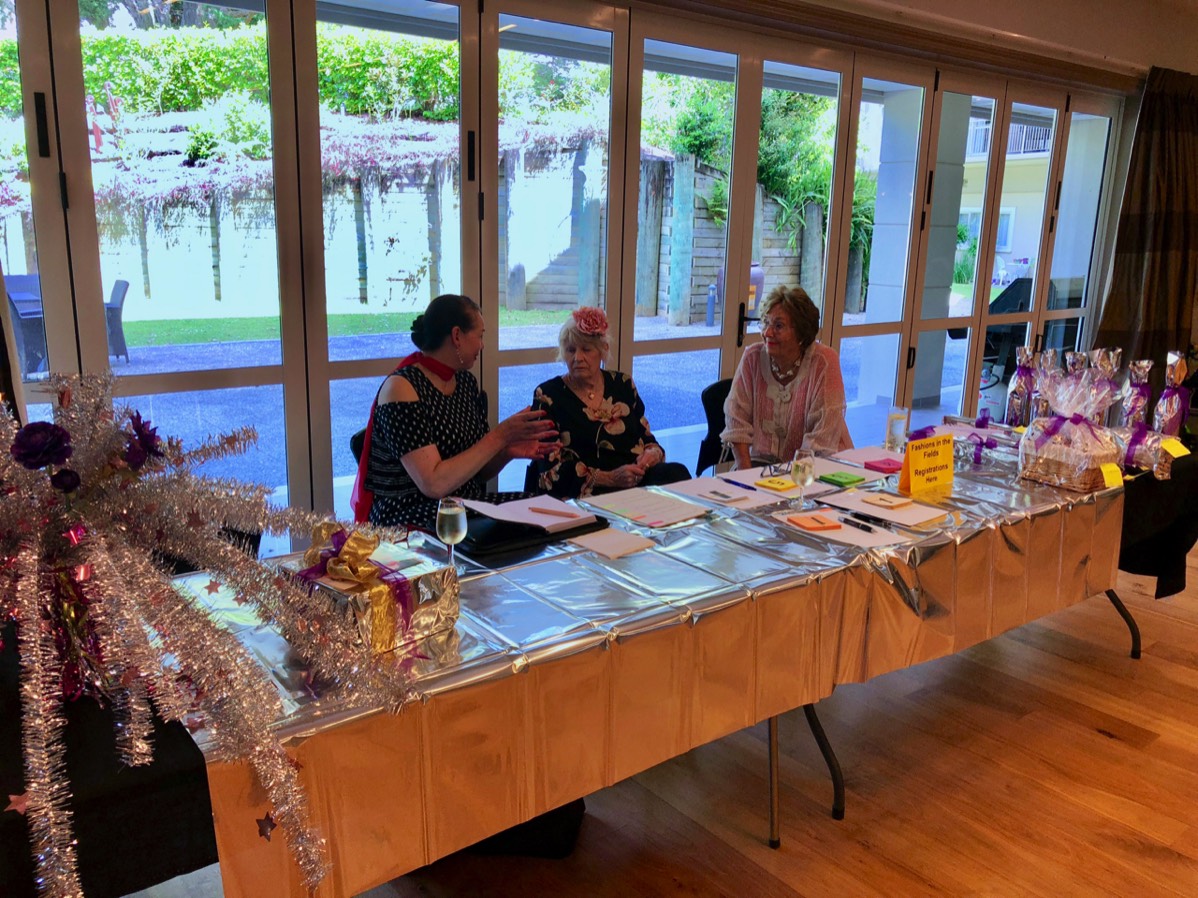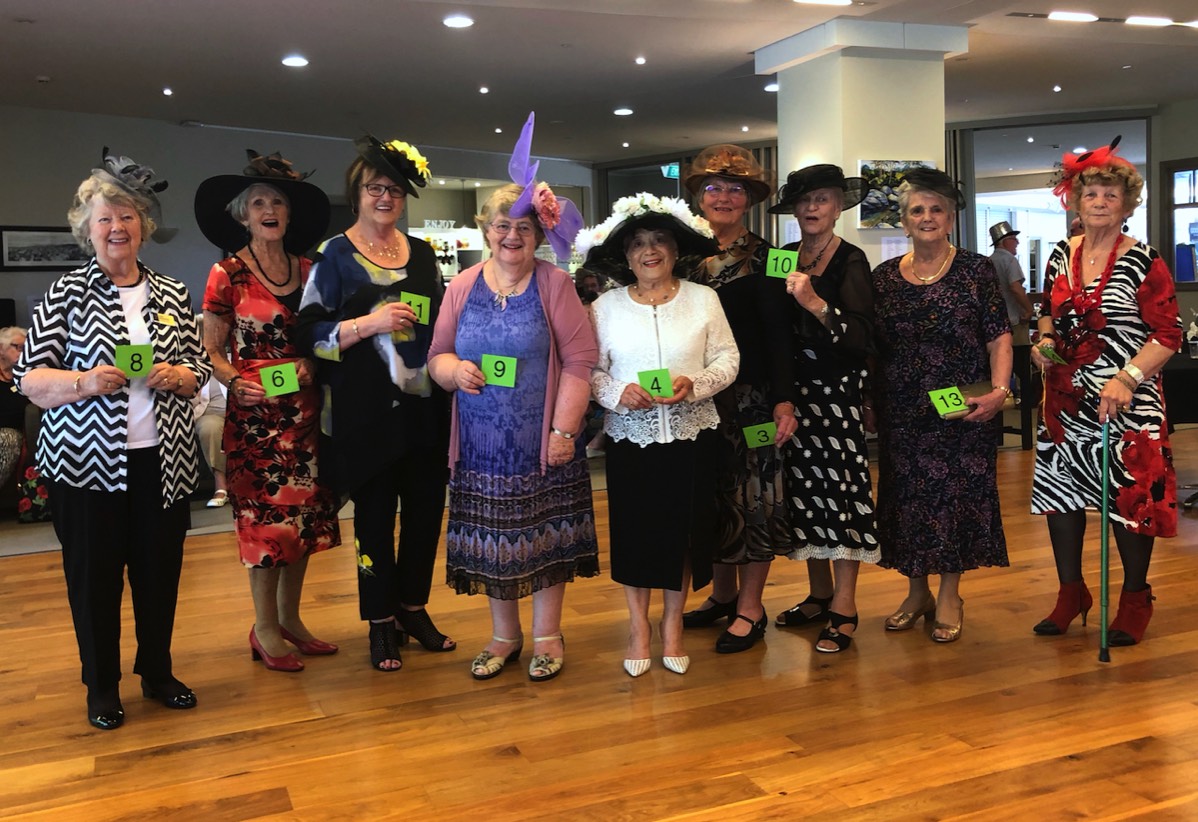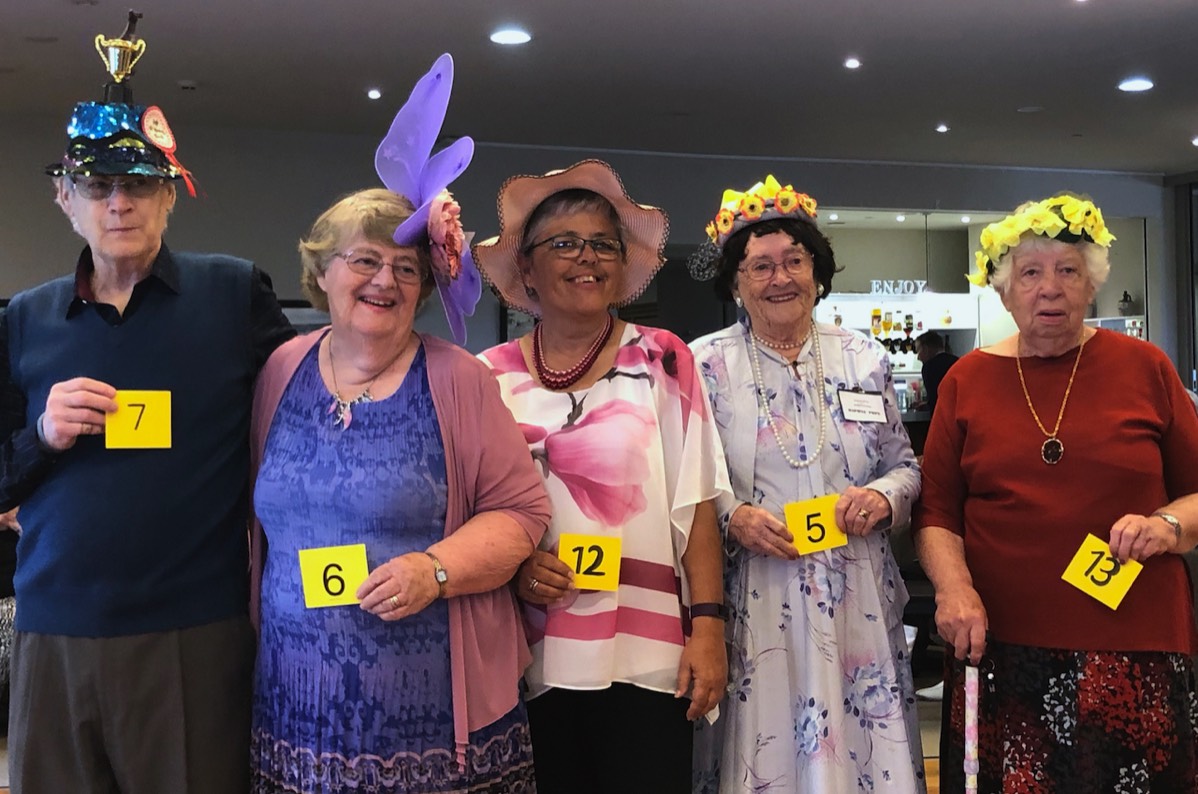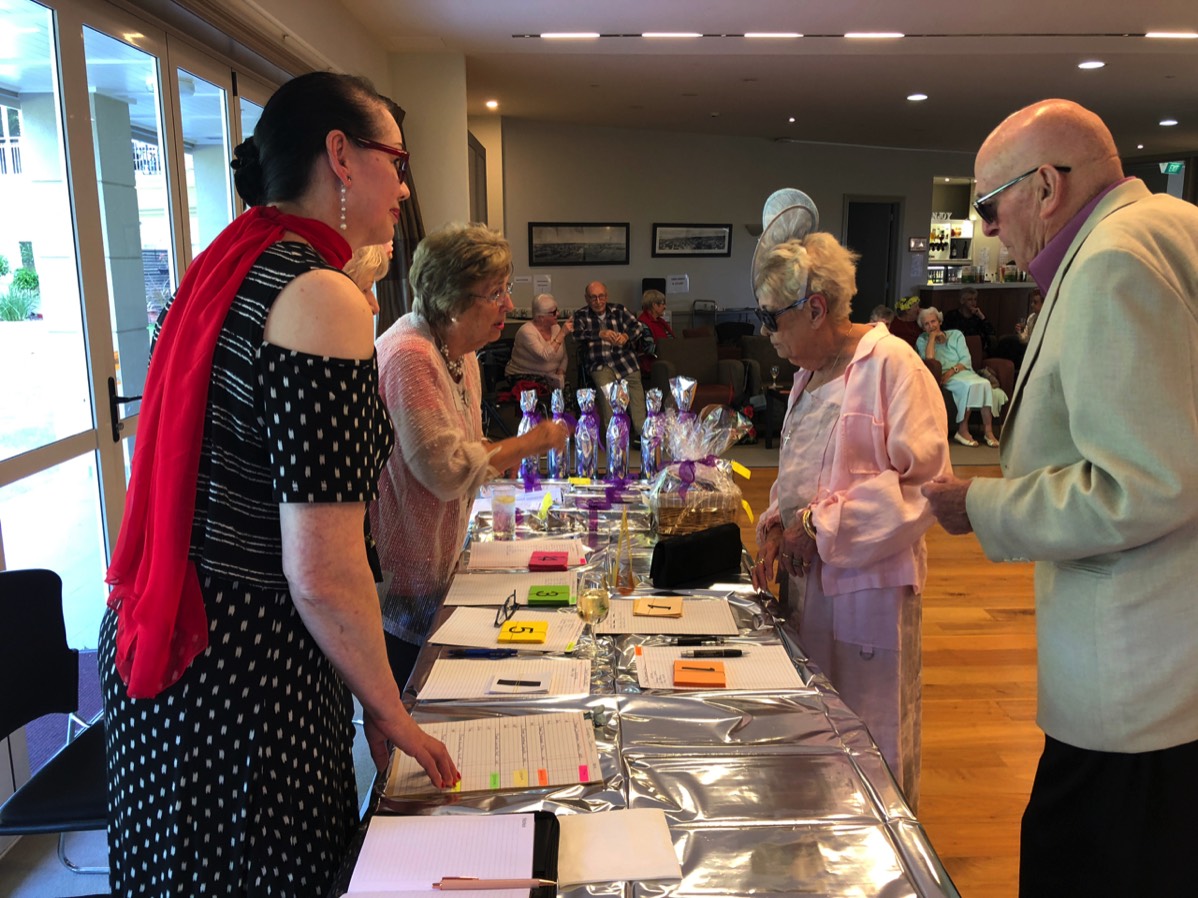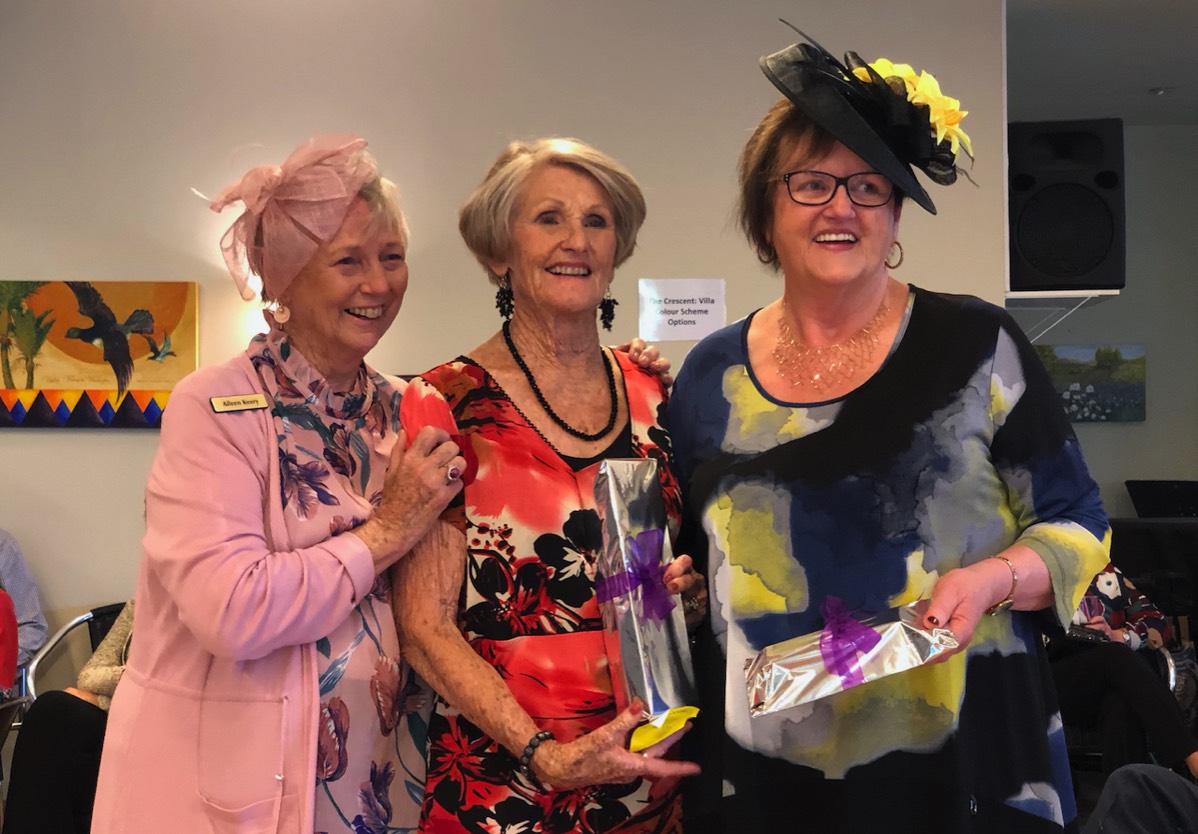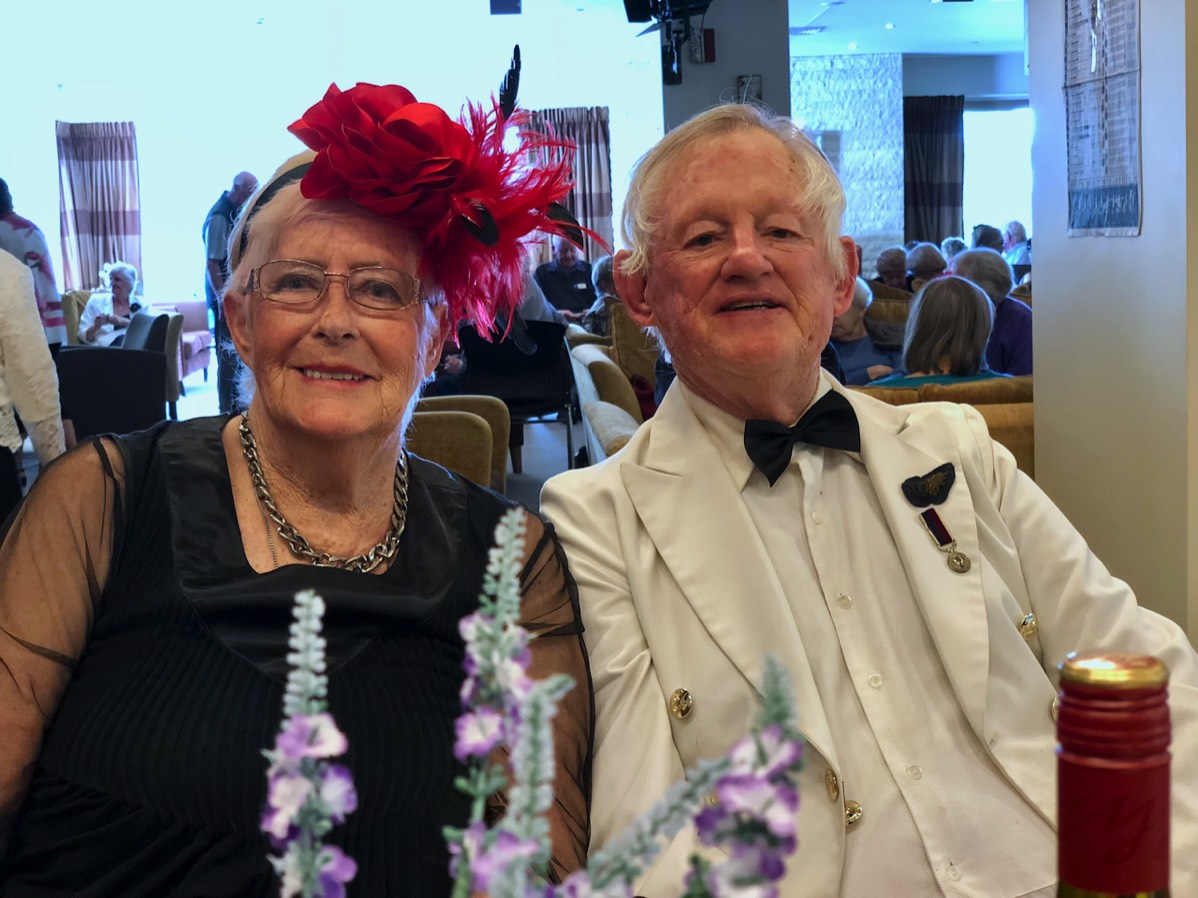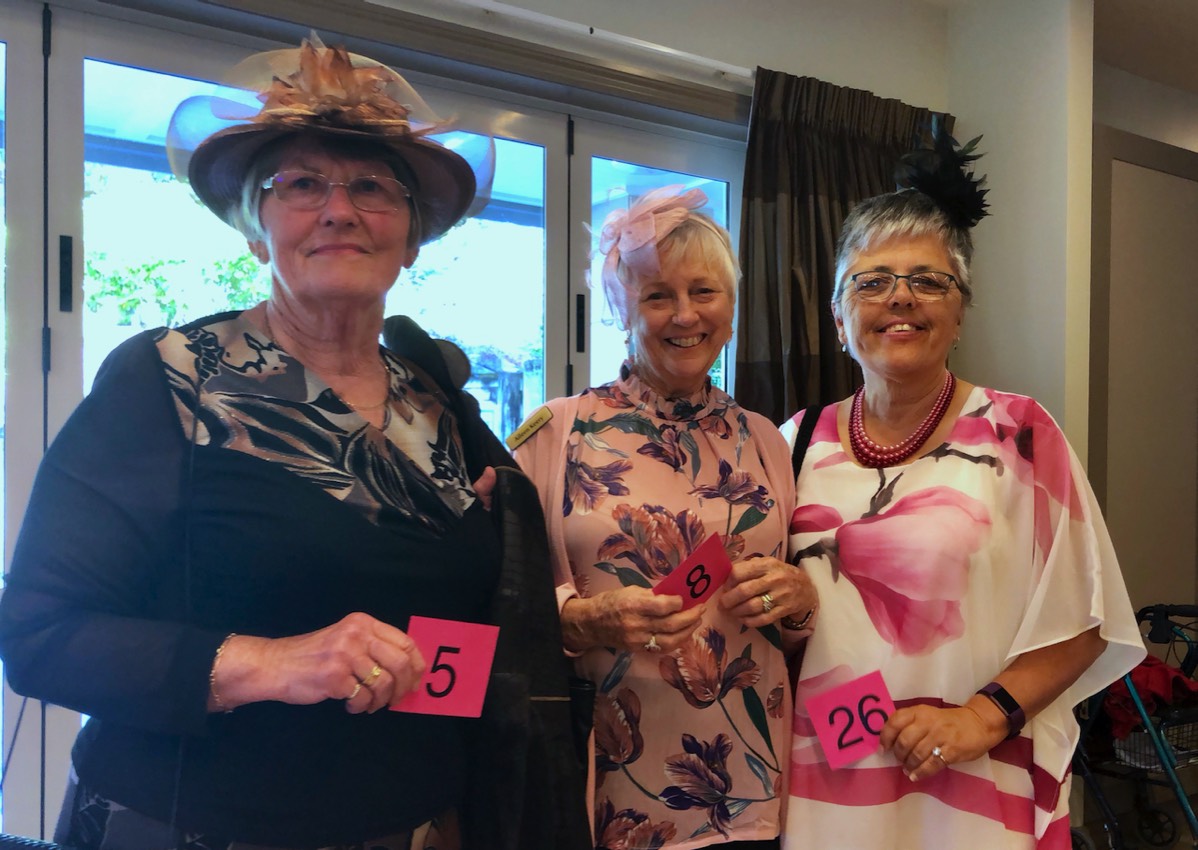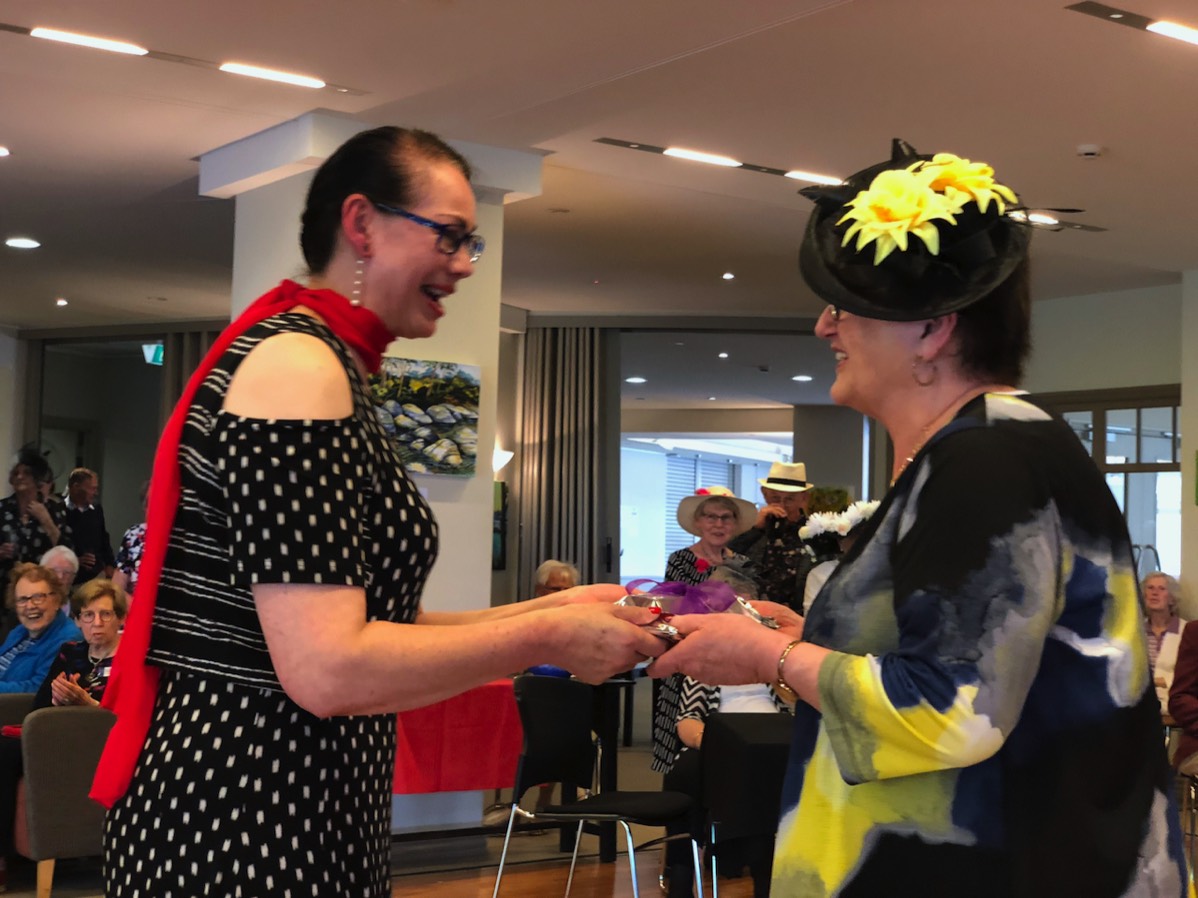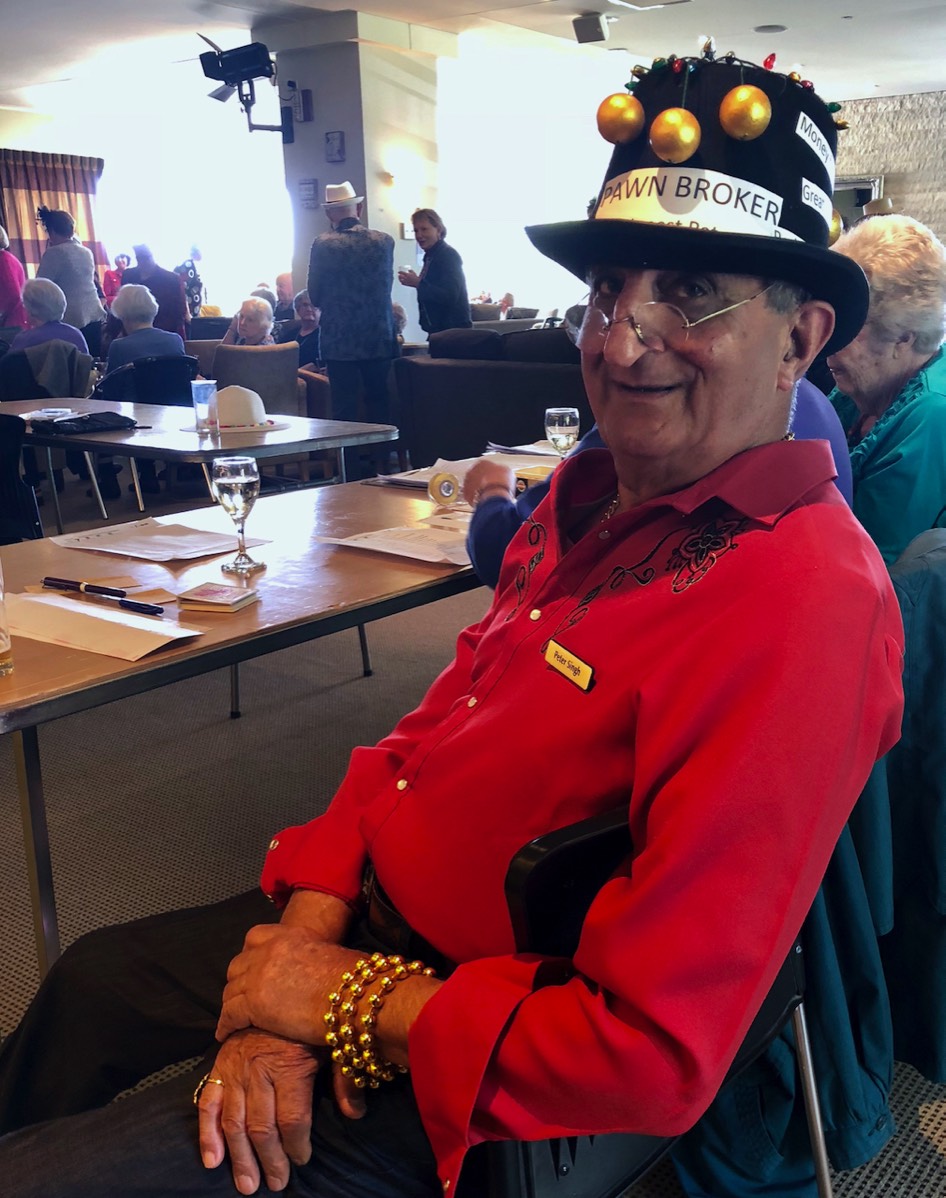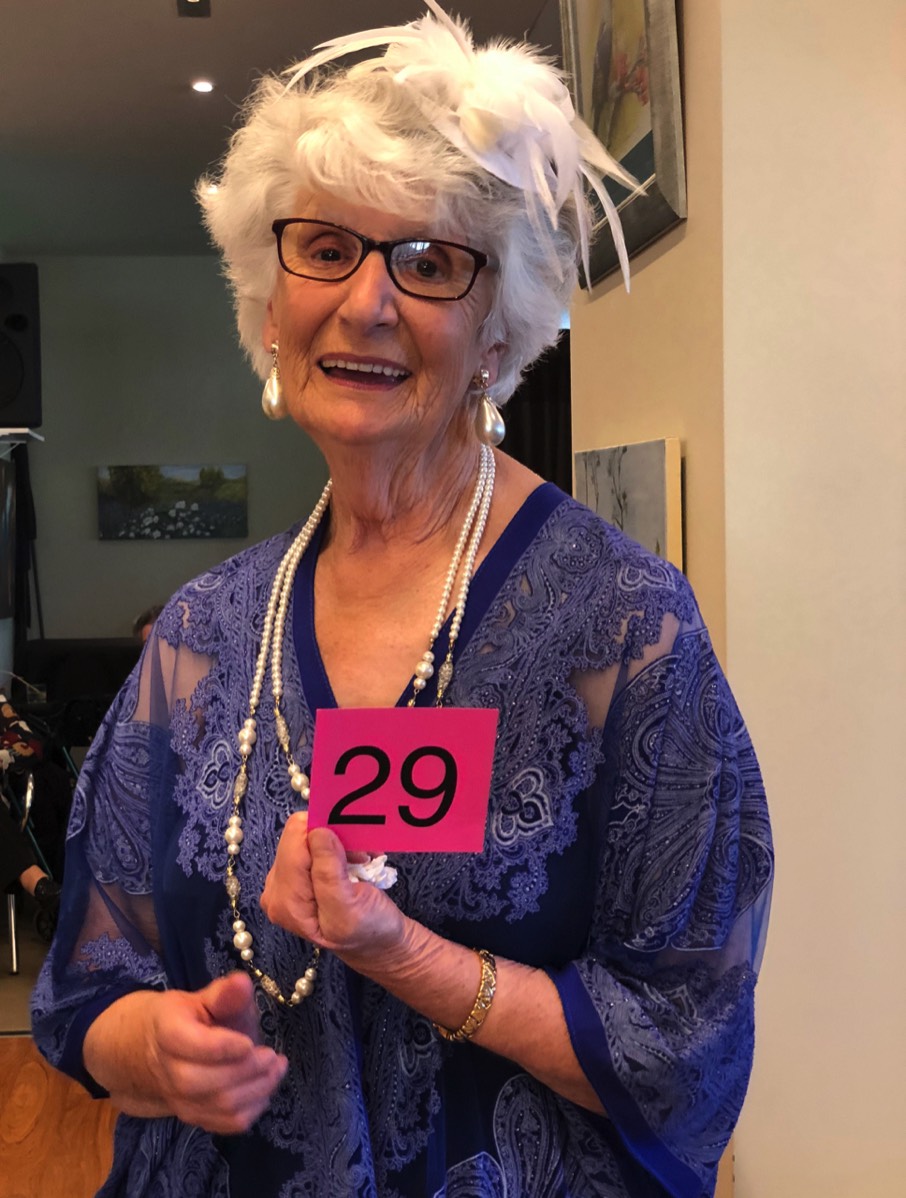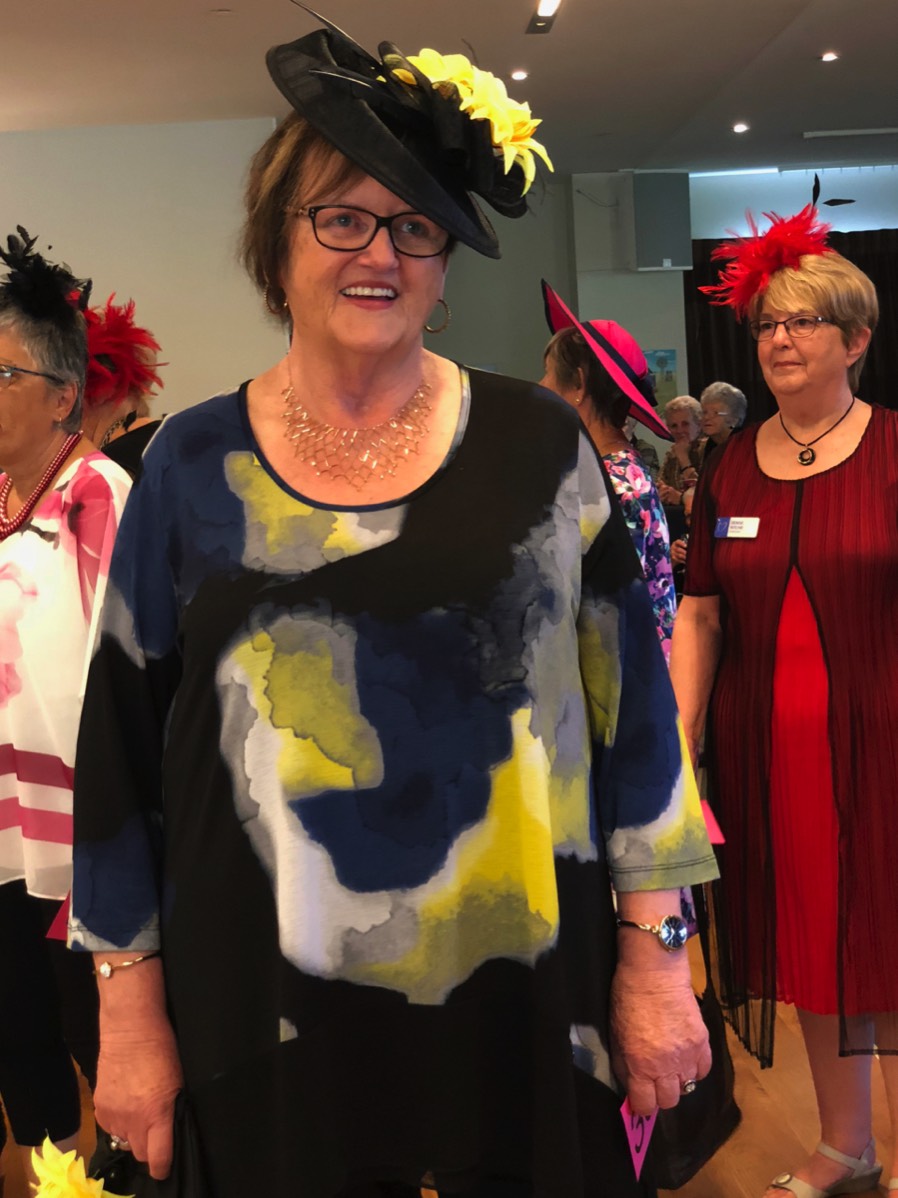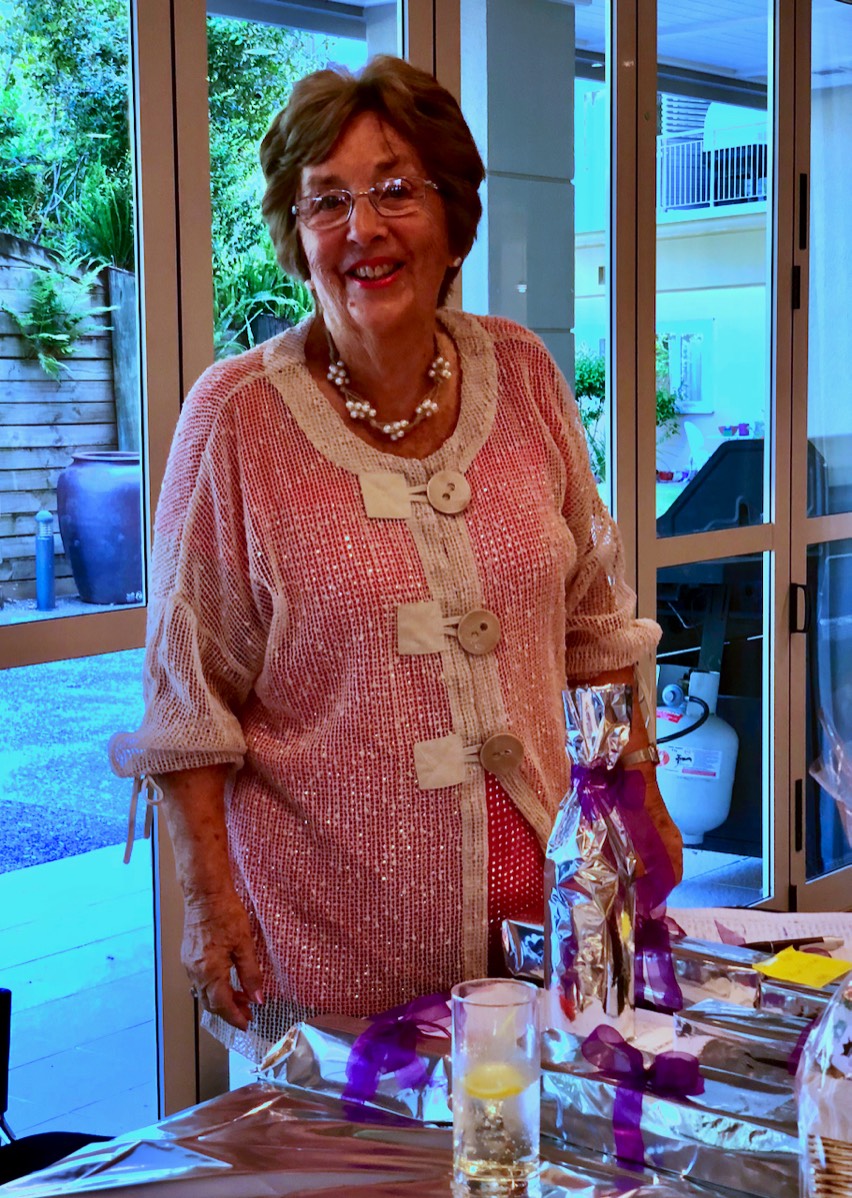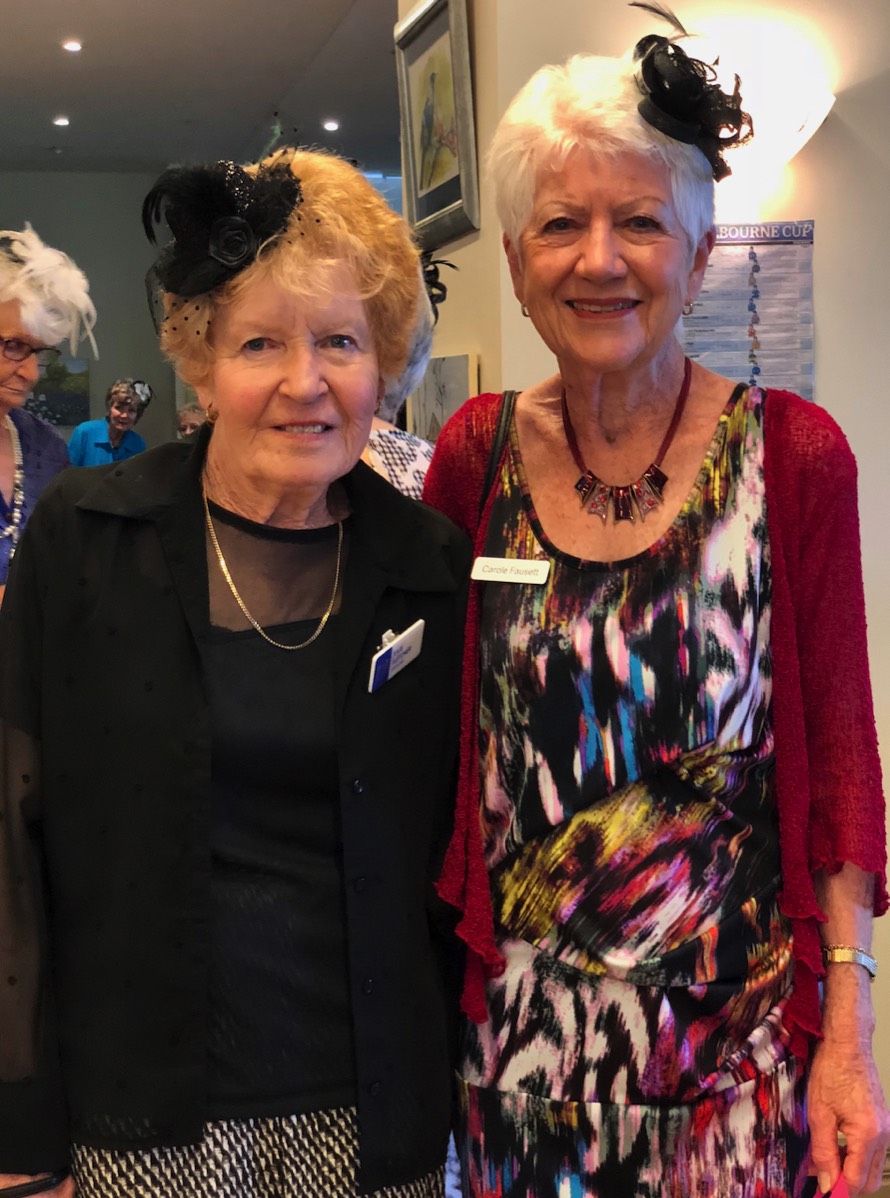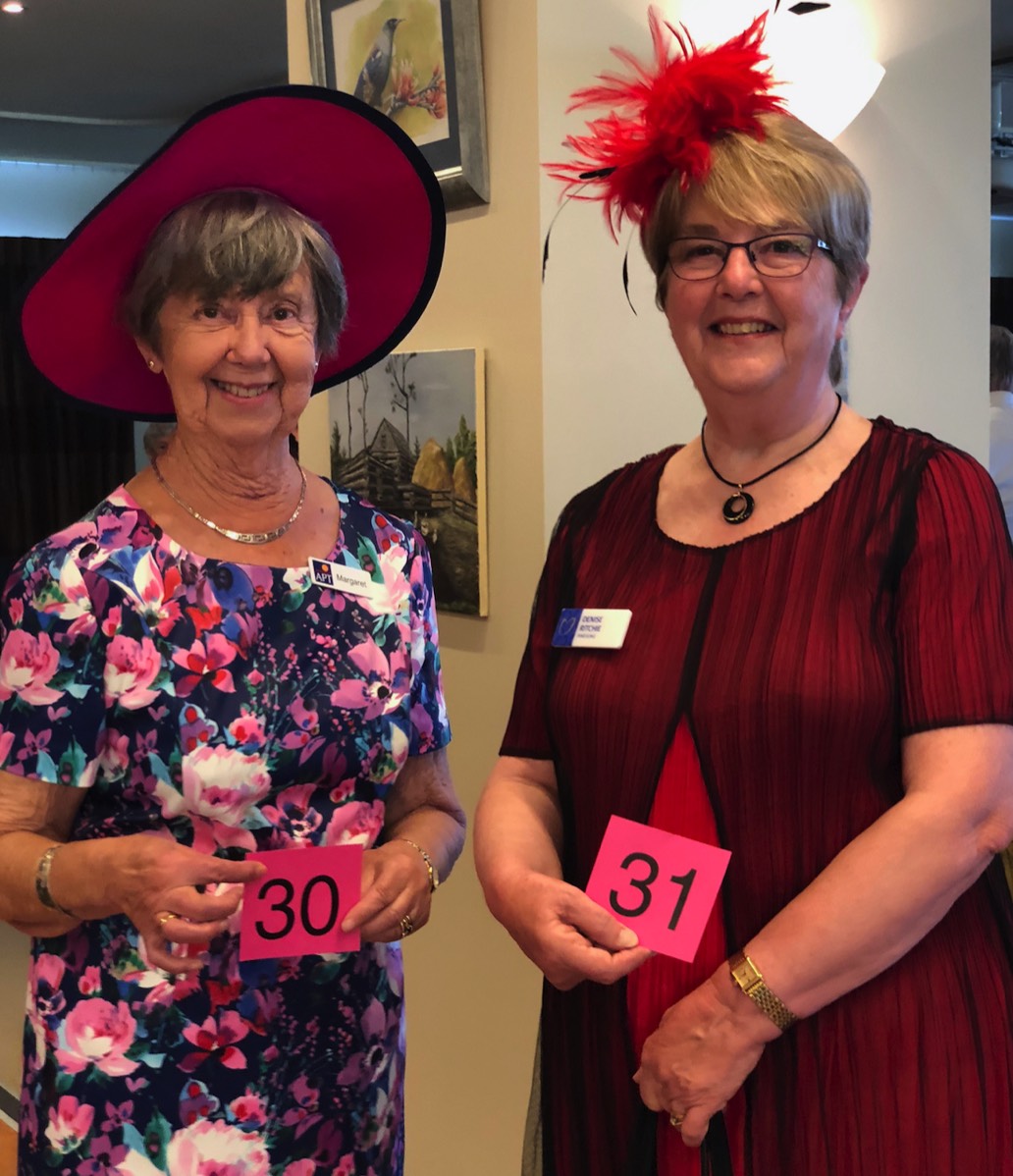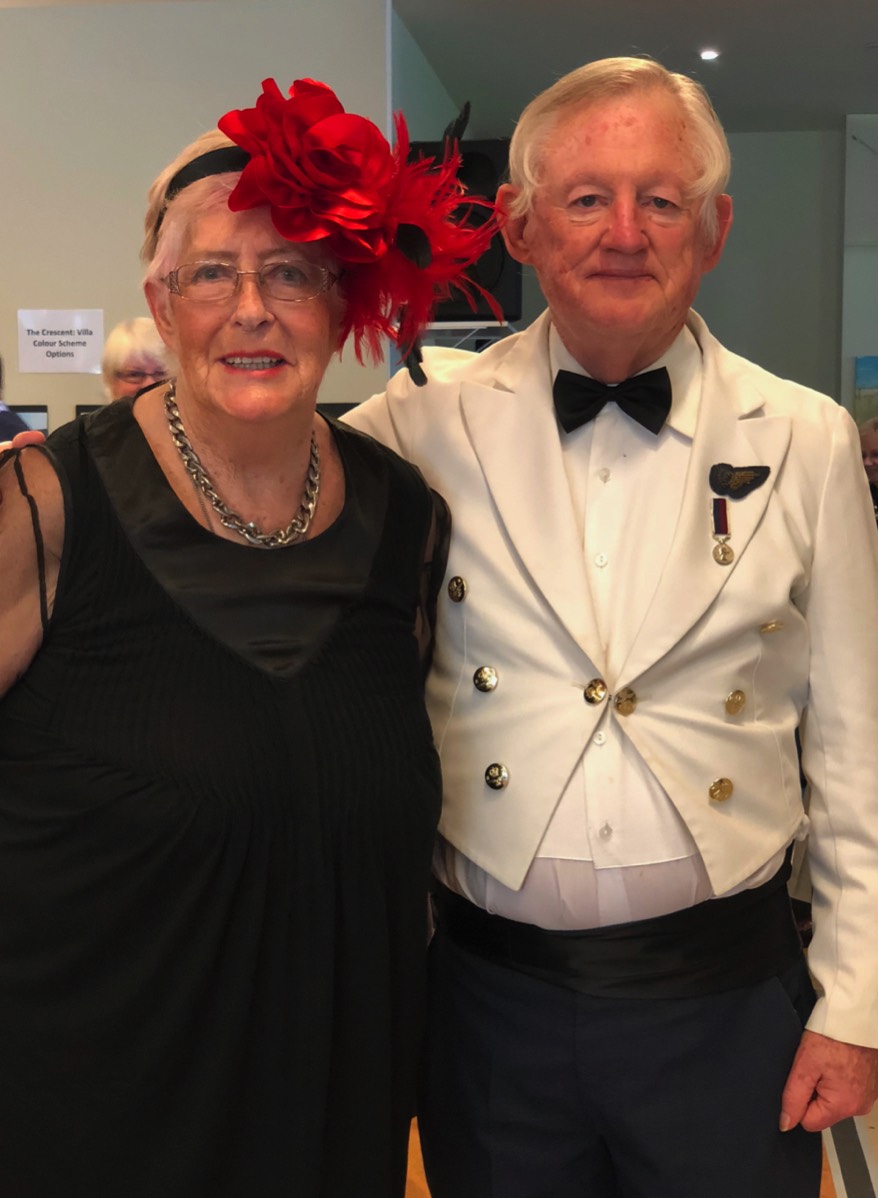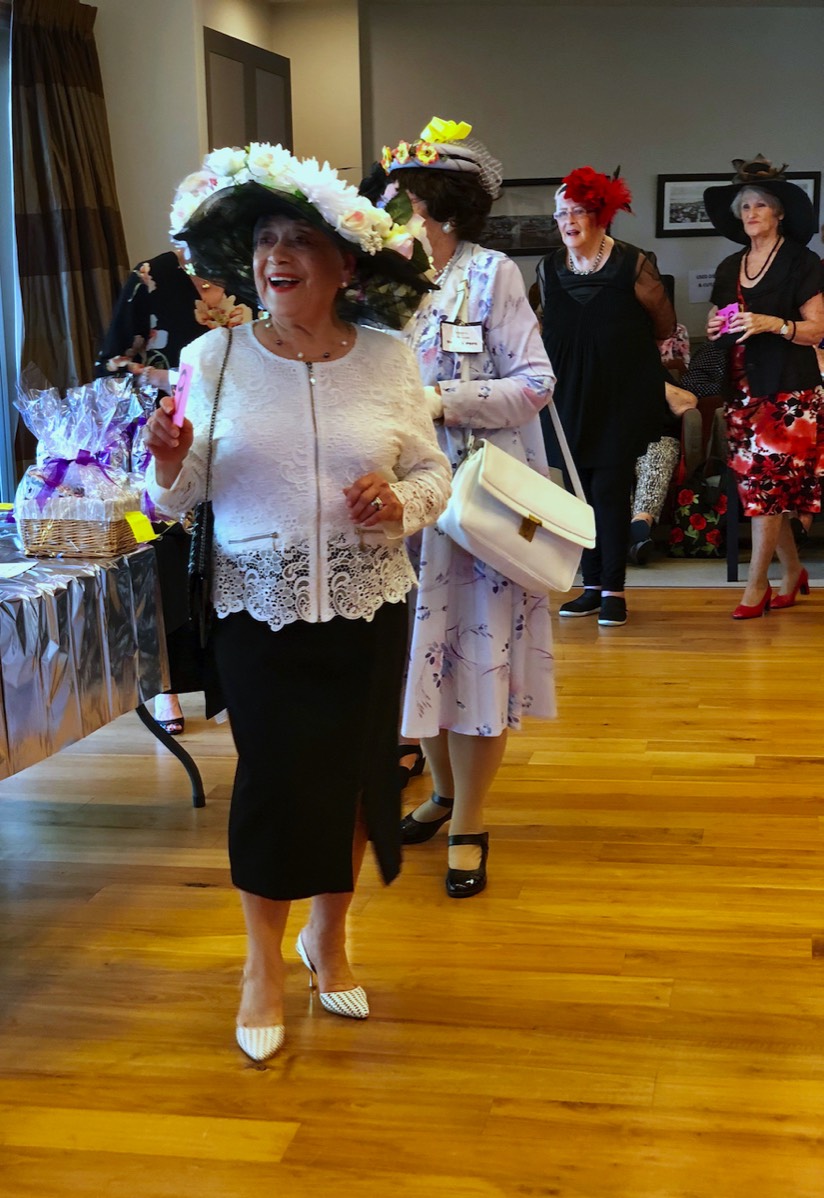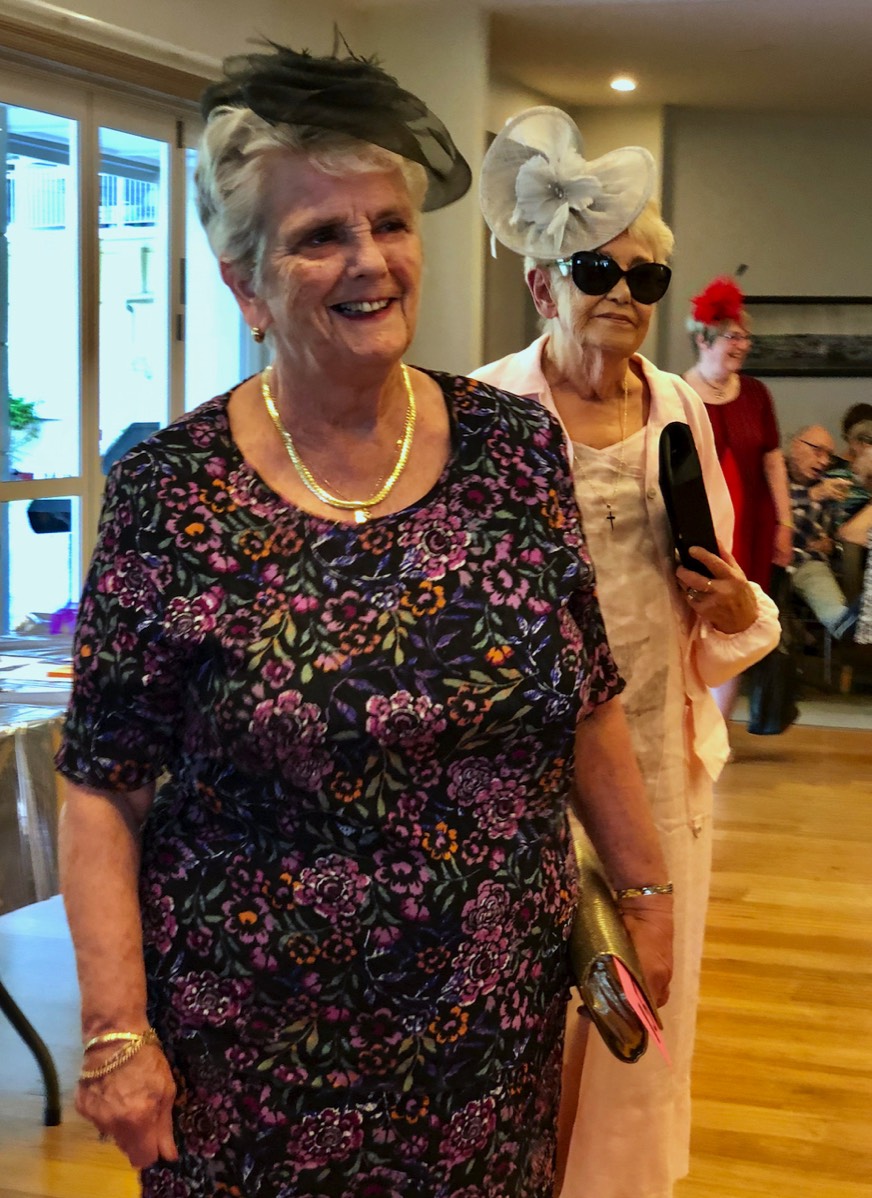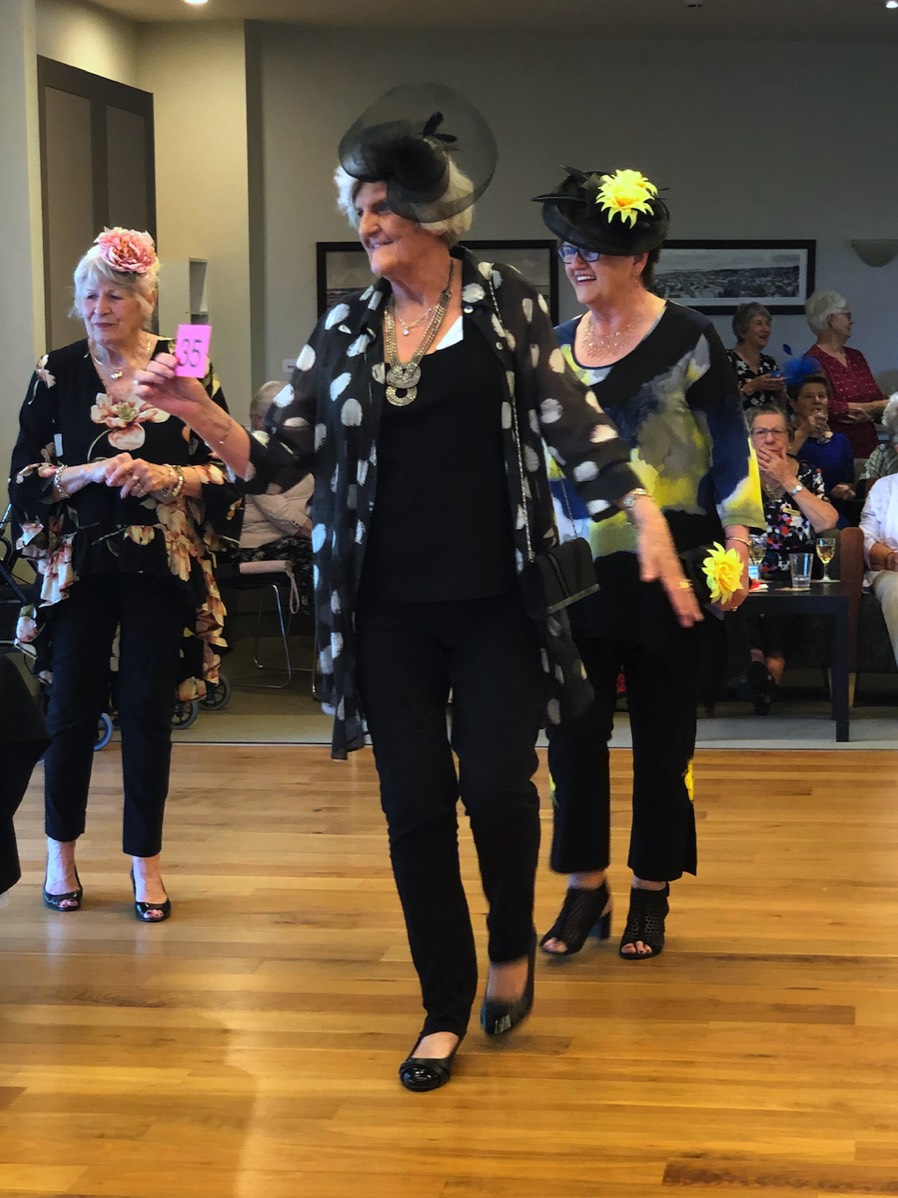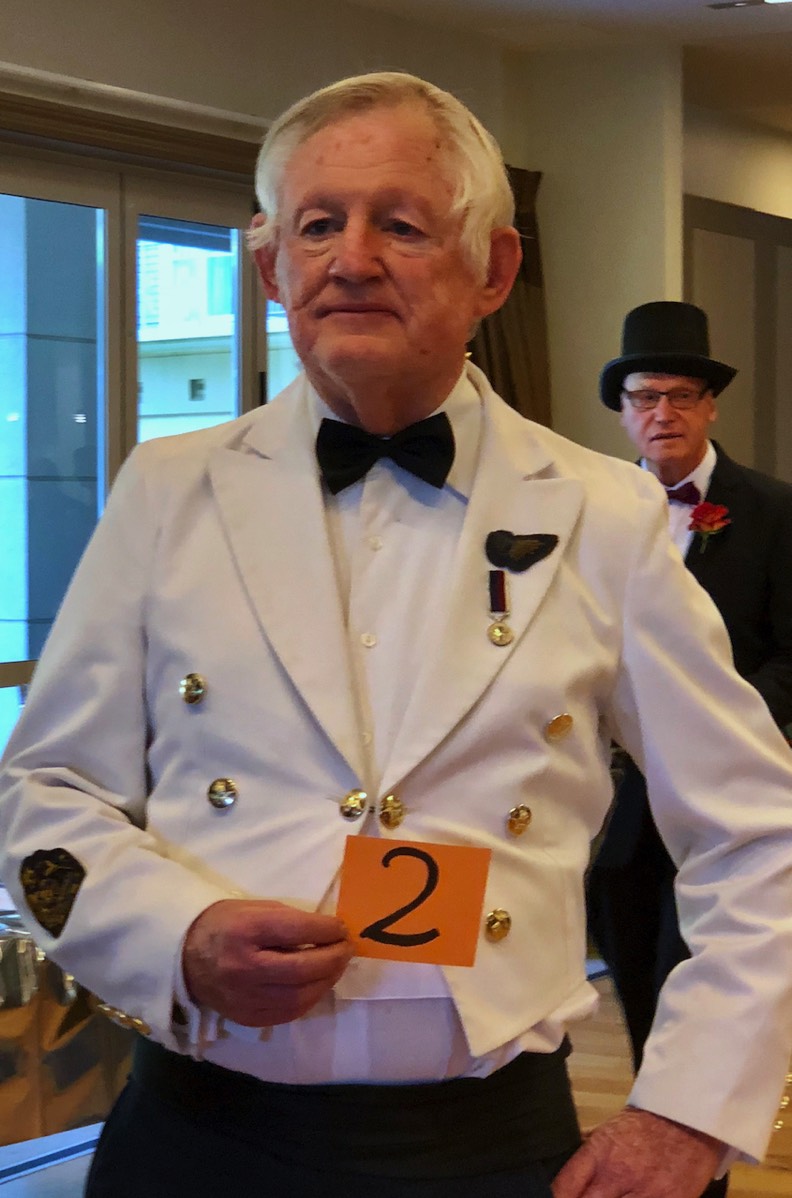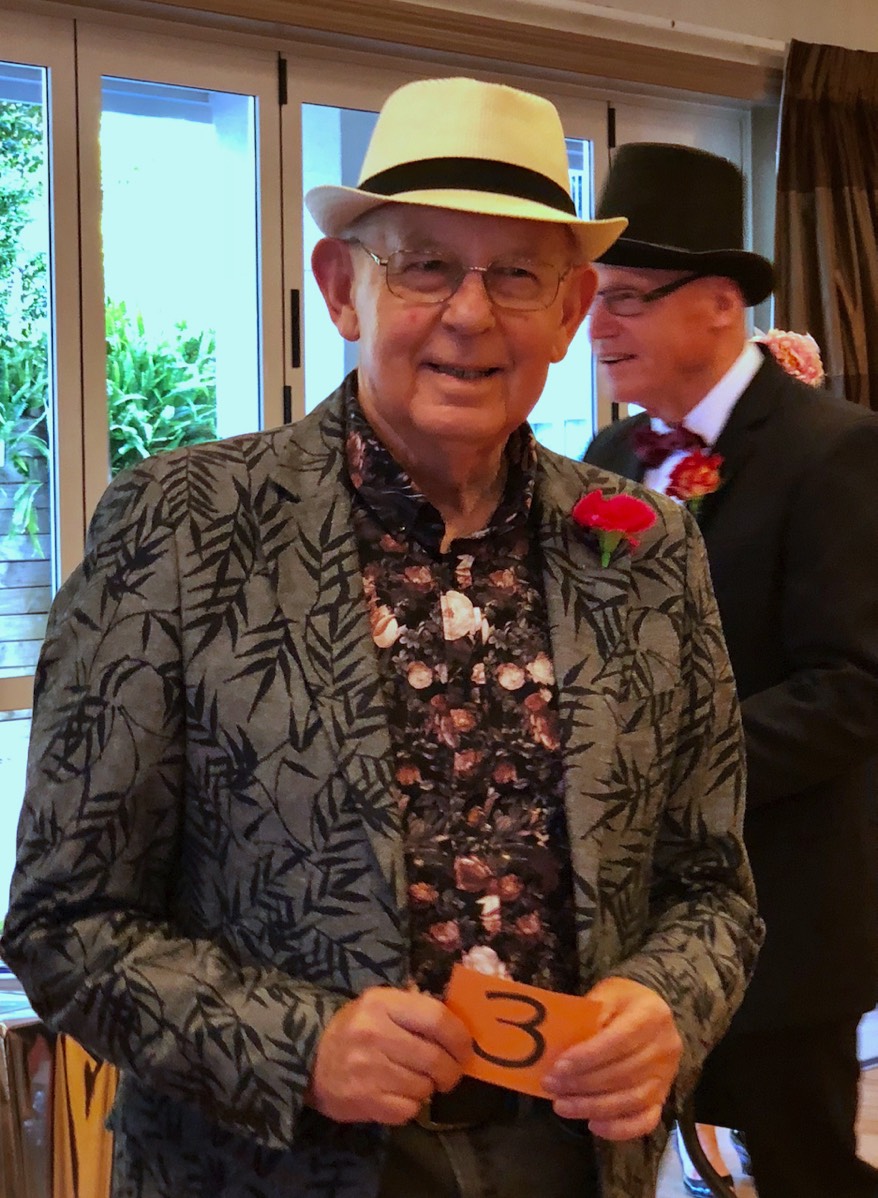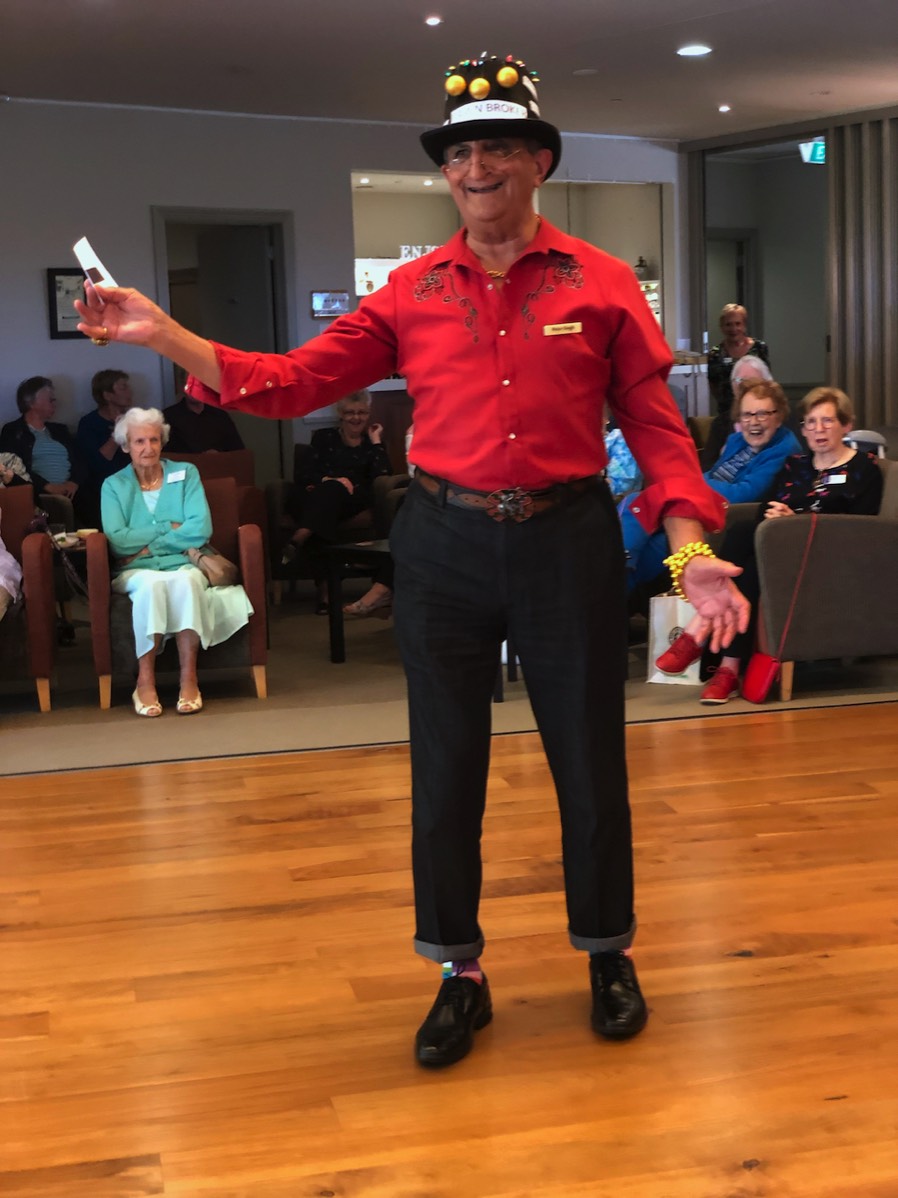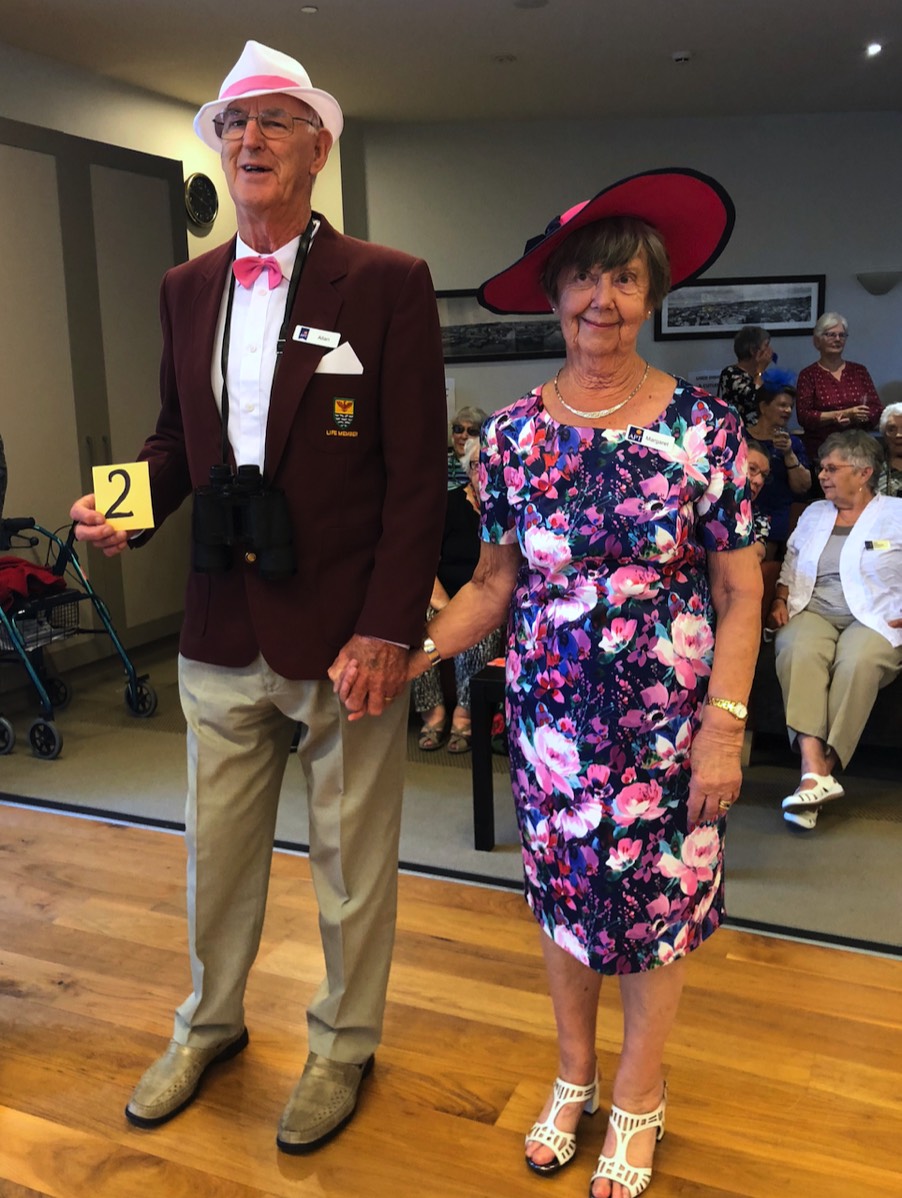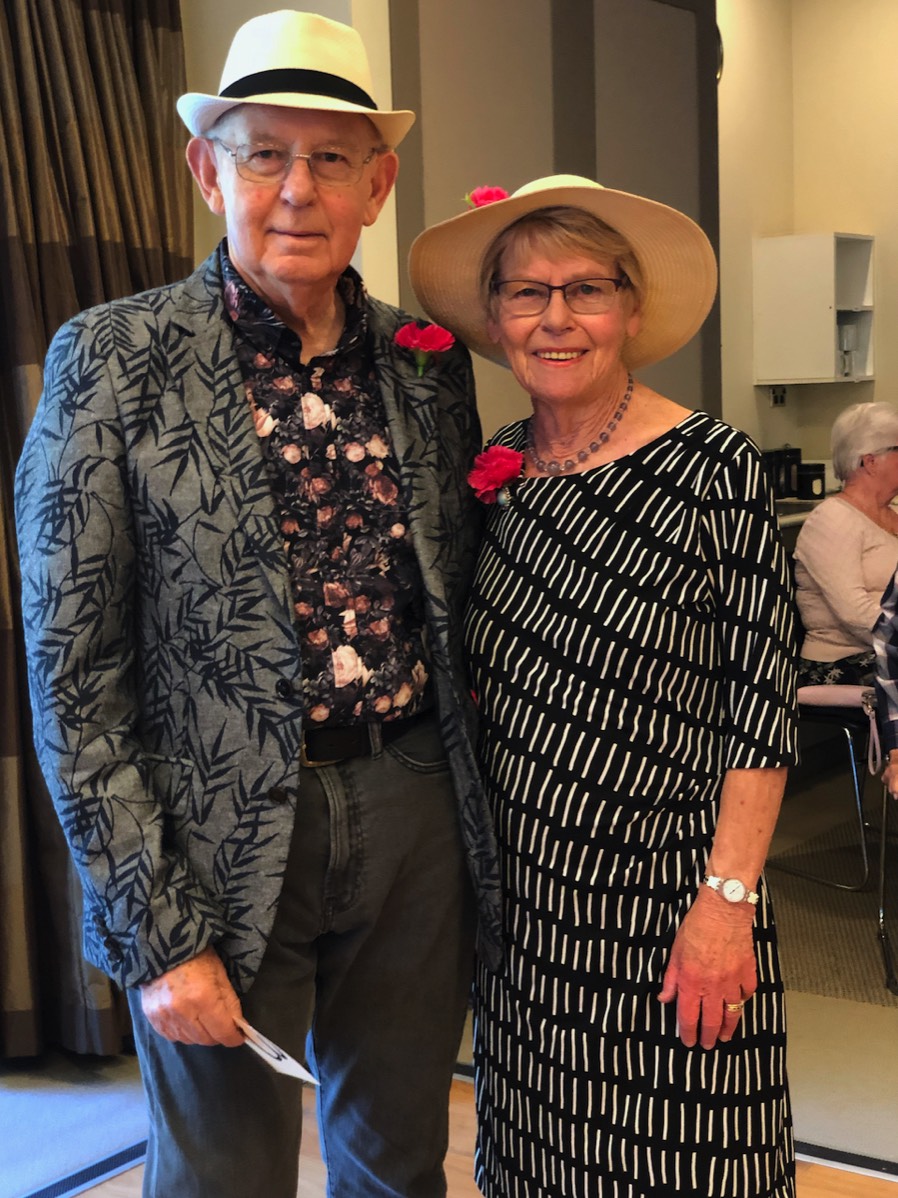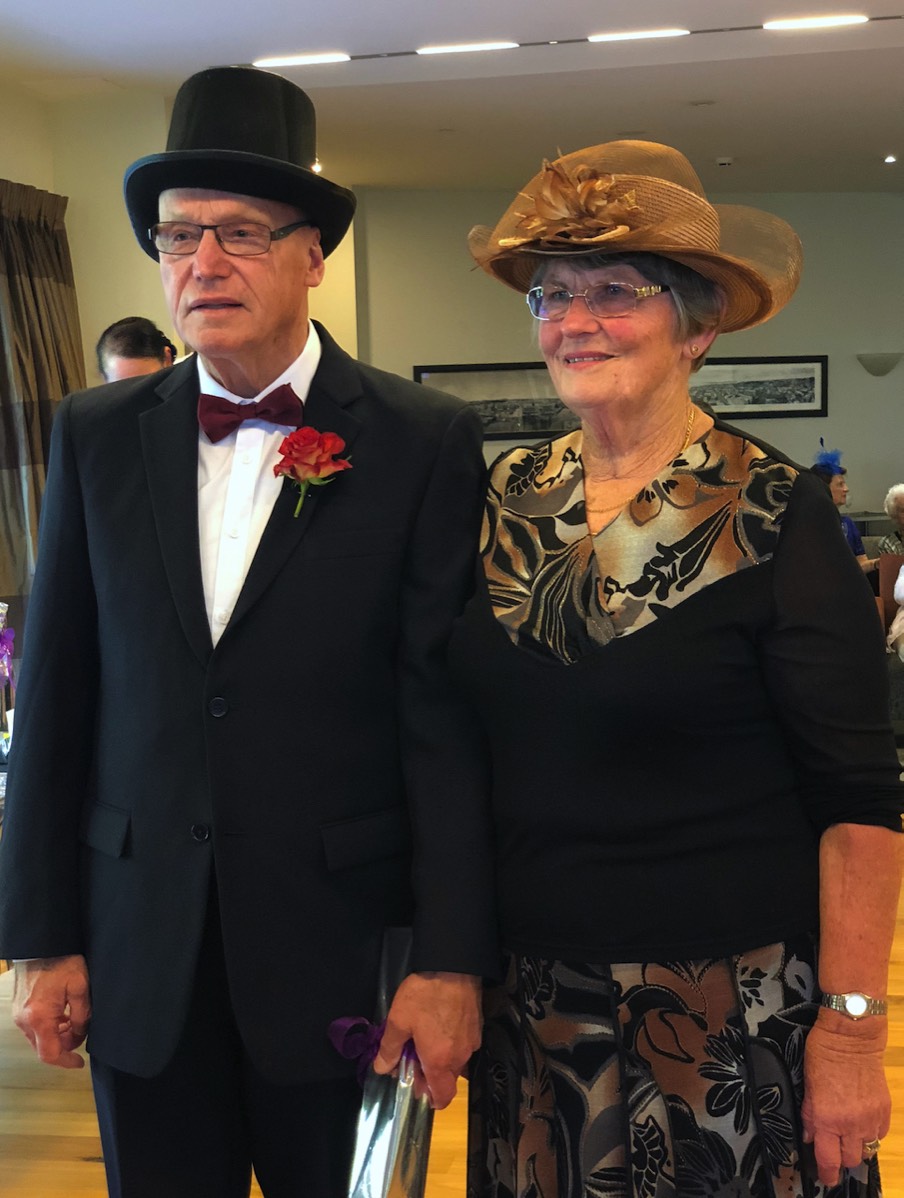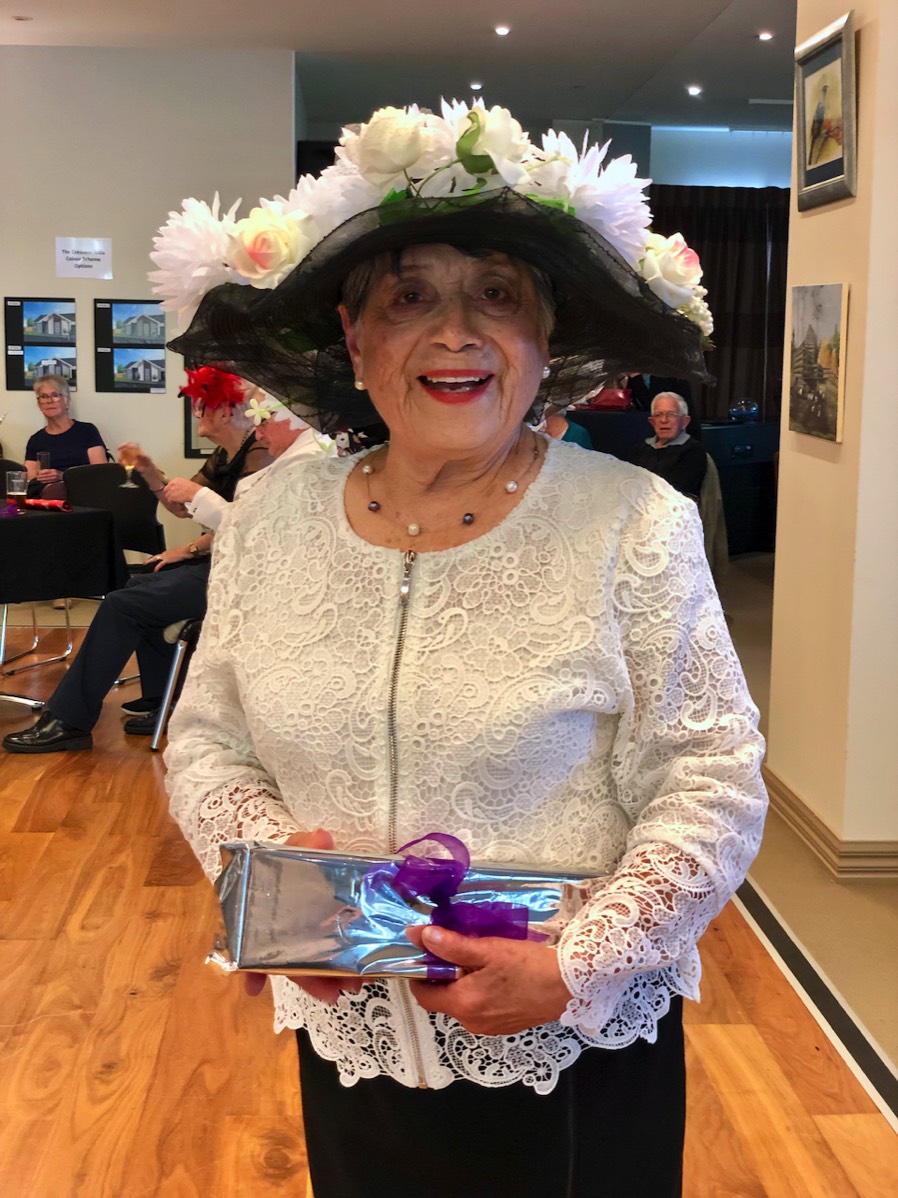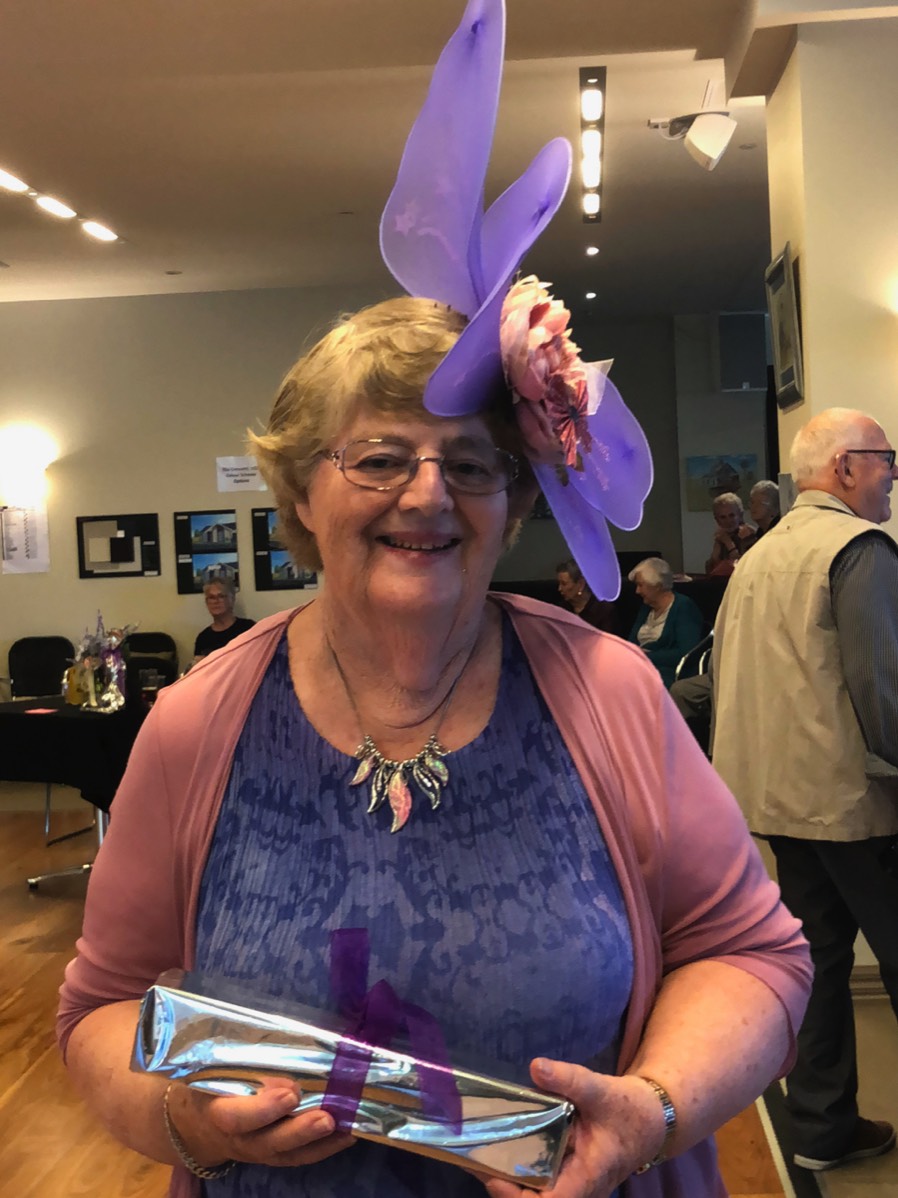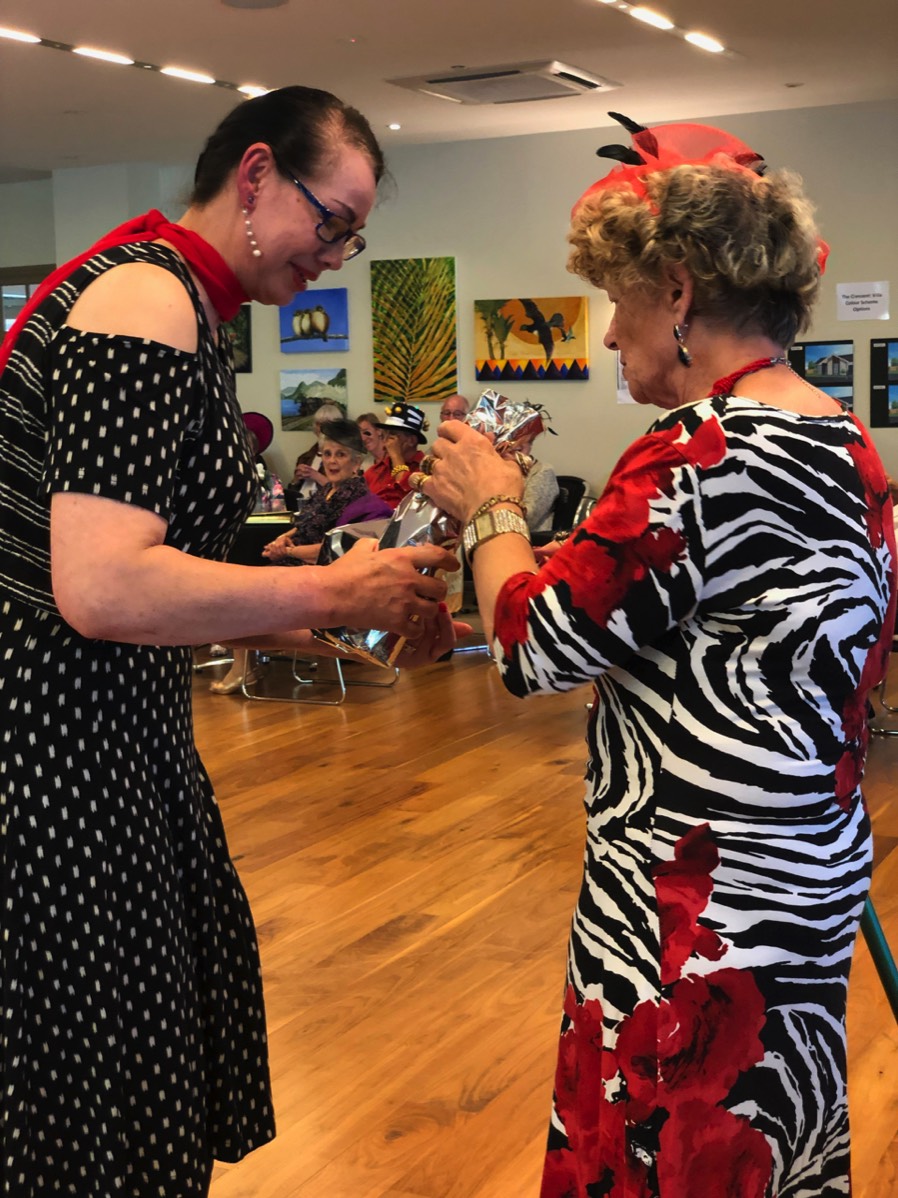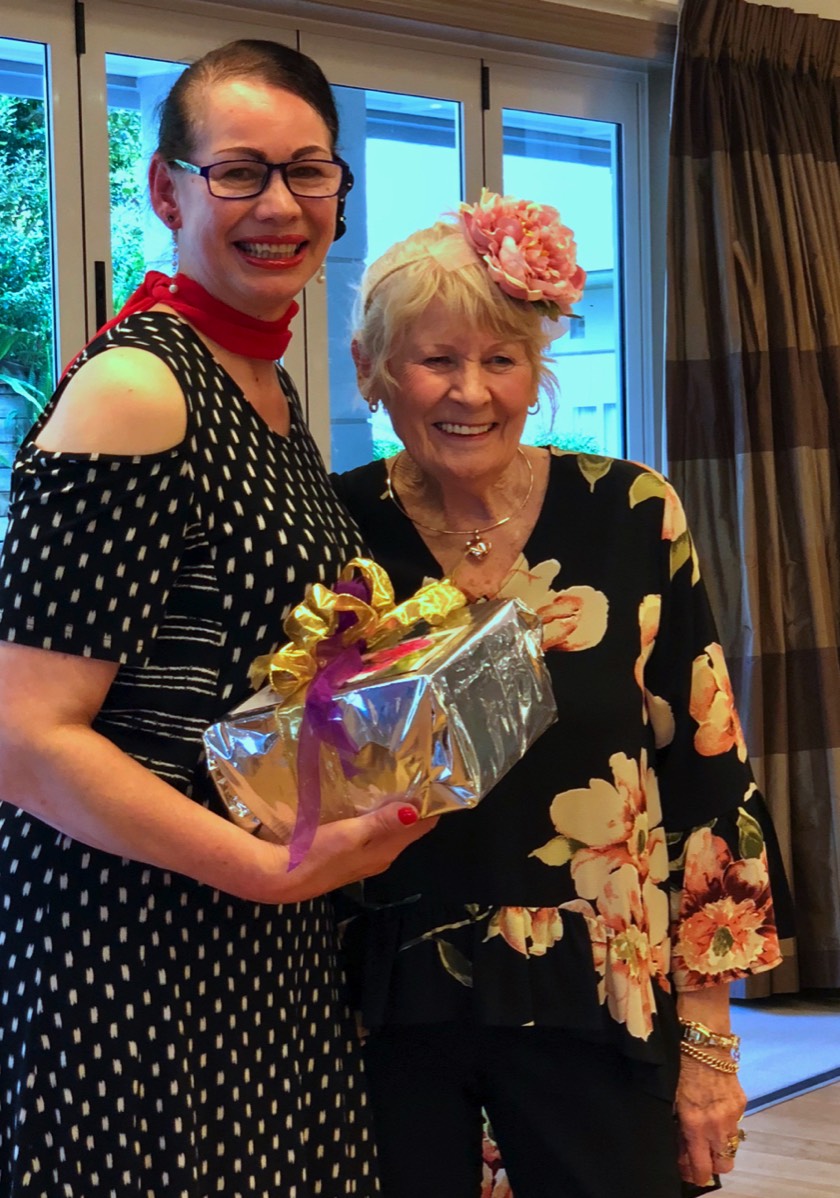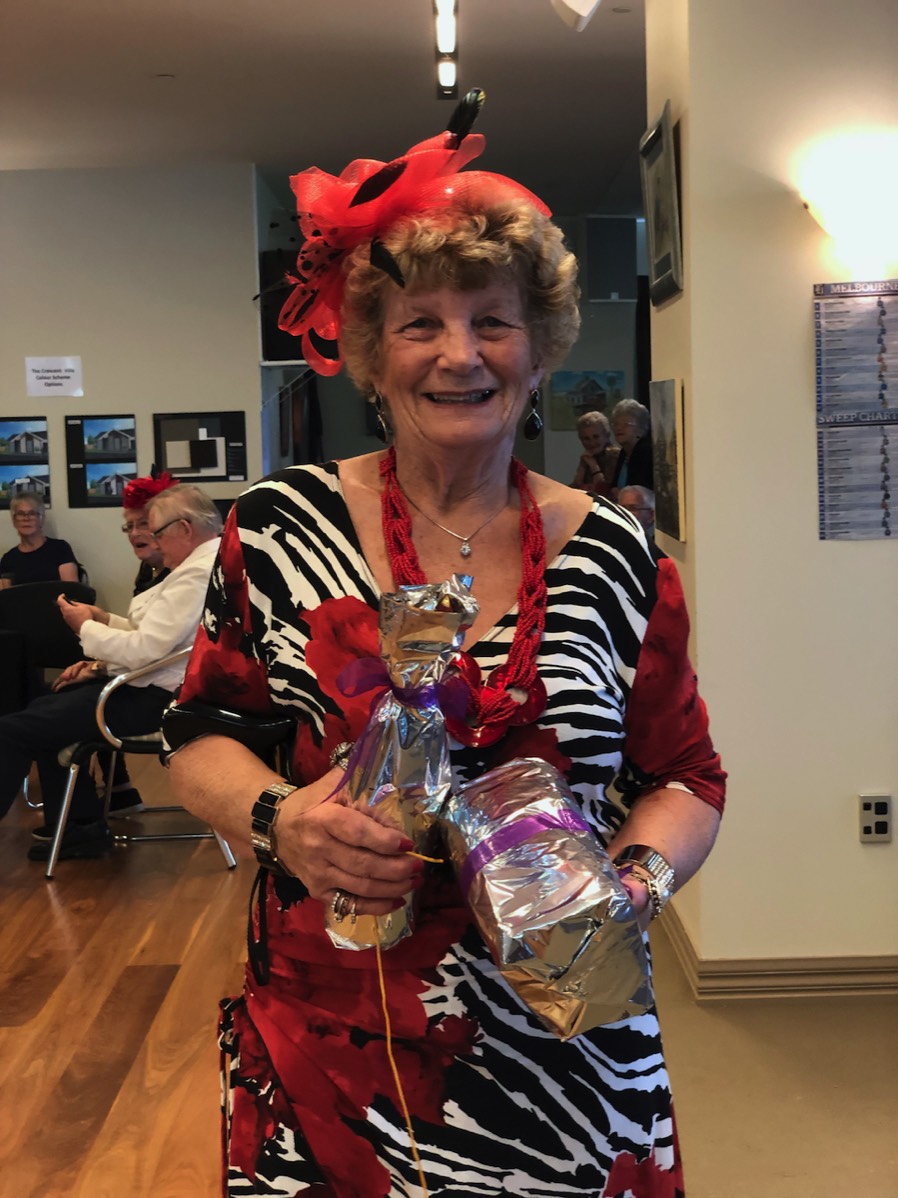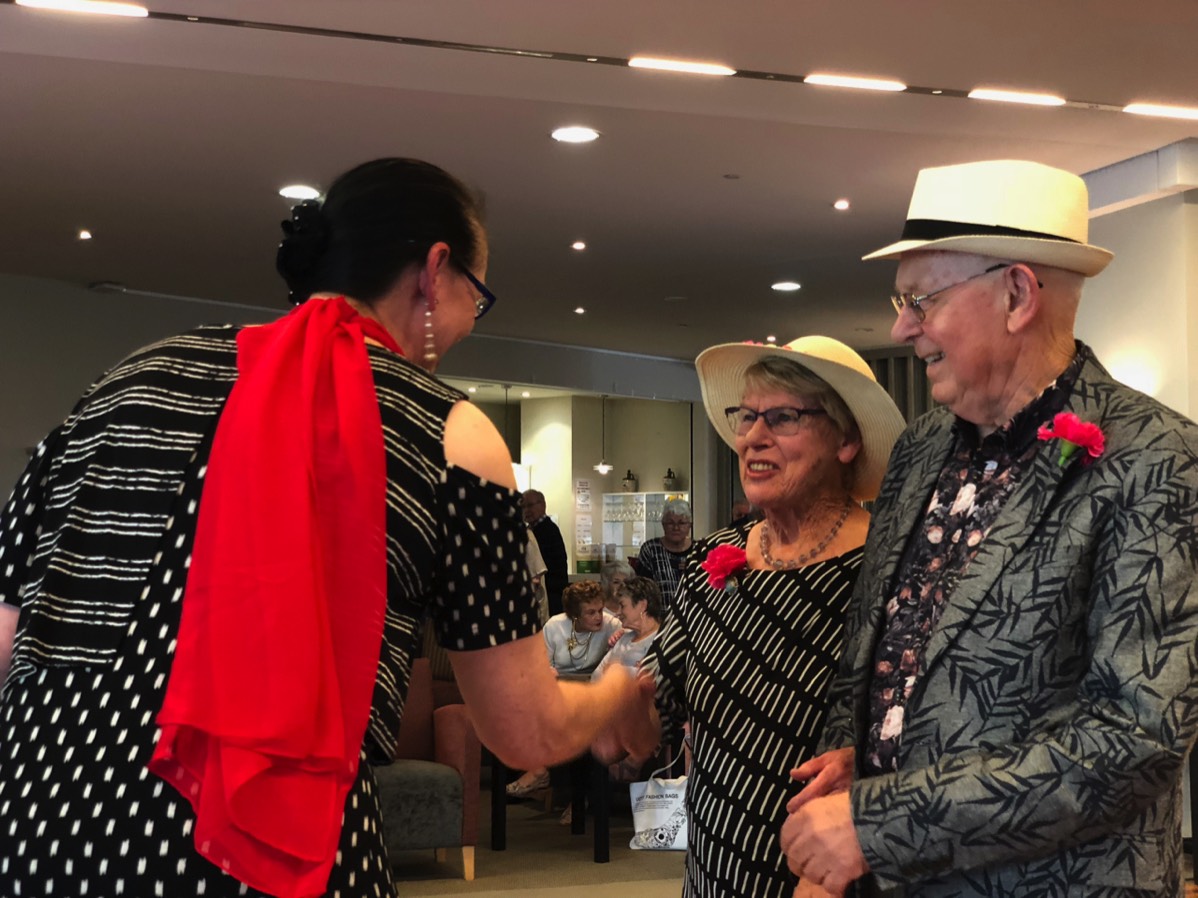 Pink Ribbon Day at Pinesong


We wanted to turn Pinesong Pink with the Breast Cancer Morning High Tea fundraiser and we well and truly achieved it. What a wonderful event for Pinesong. Thank you to all of our residents, friends and families who came along to support it and our amazing staff who all supported the day.
Your efforts raised a total of $5200.00.

Peter Singh, you are Auctioneer Extraordinaire – thank you.

Special thanks to our wonderful organisers Delwyn Battersby and Heather Kearns for their passion, enthusiasm and commitment to making it the event it was.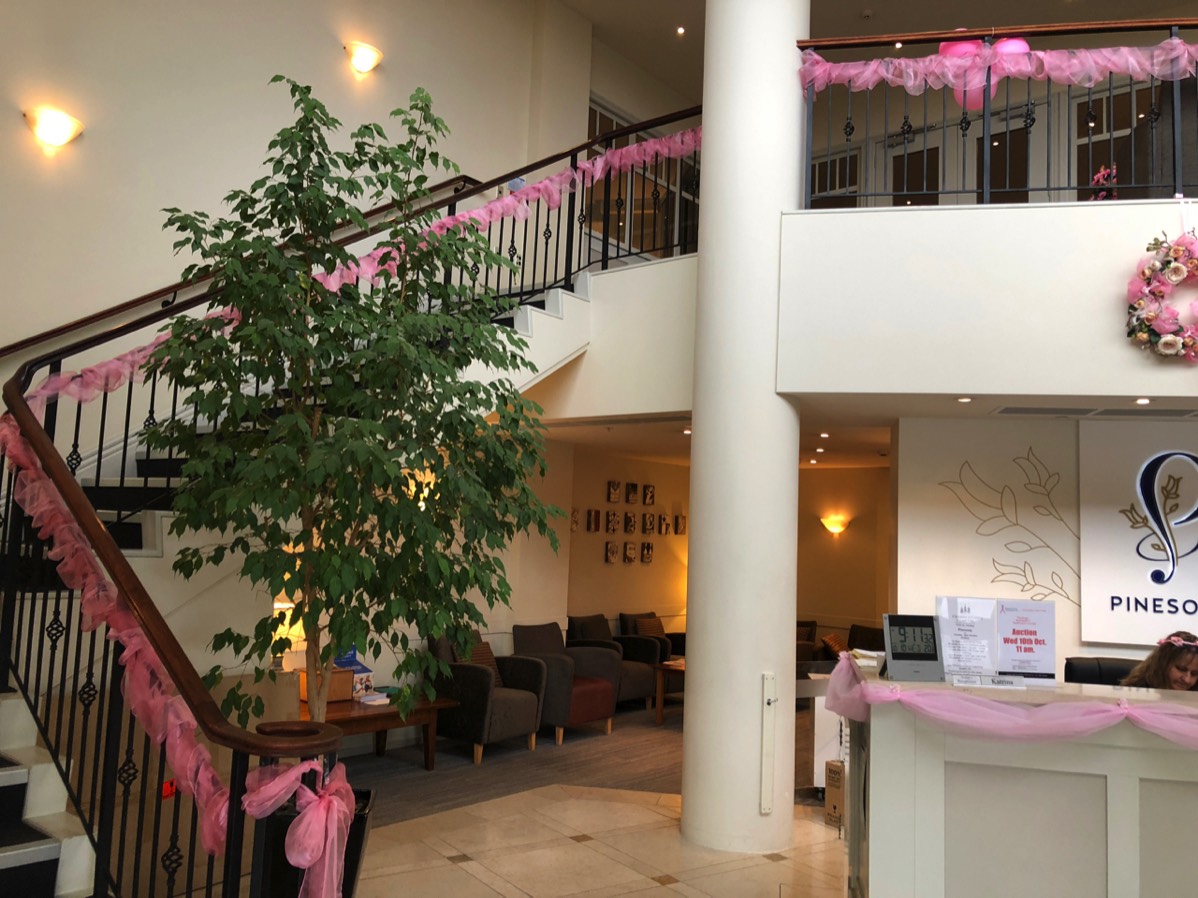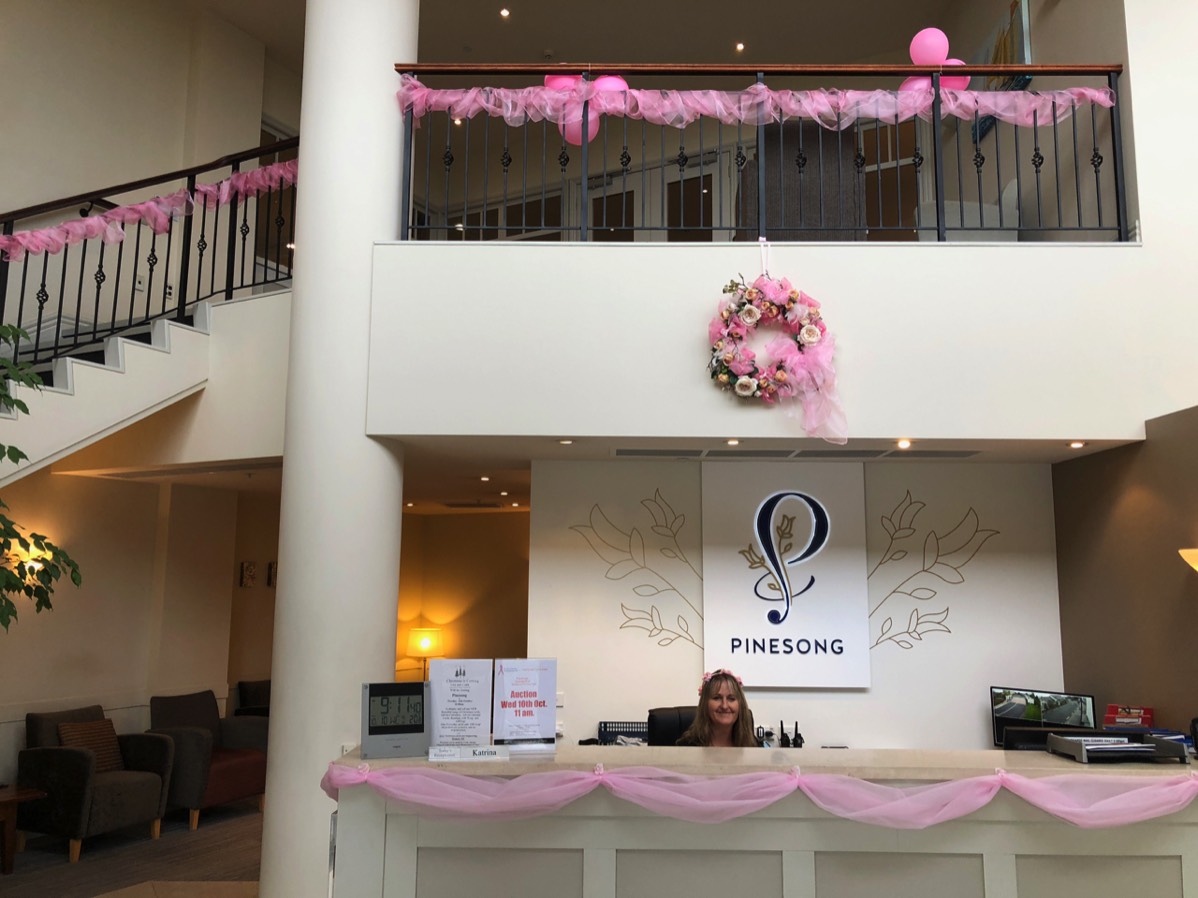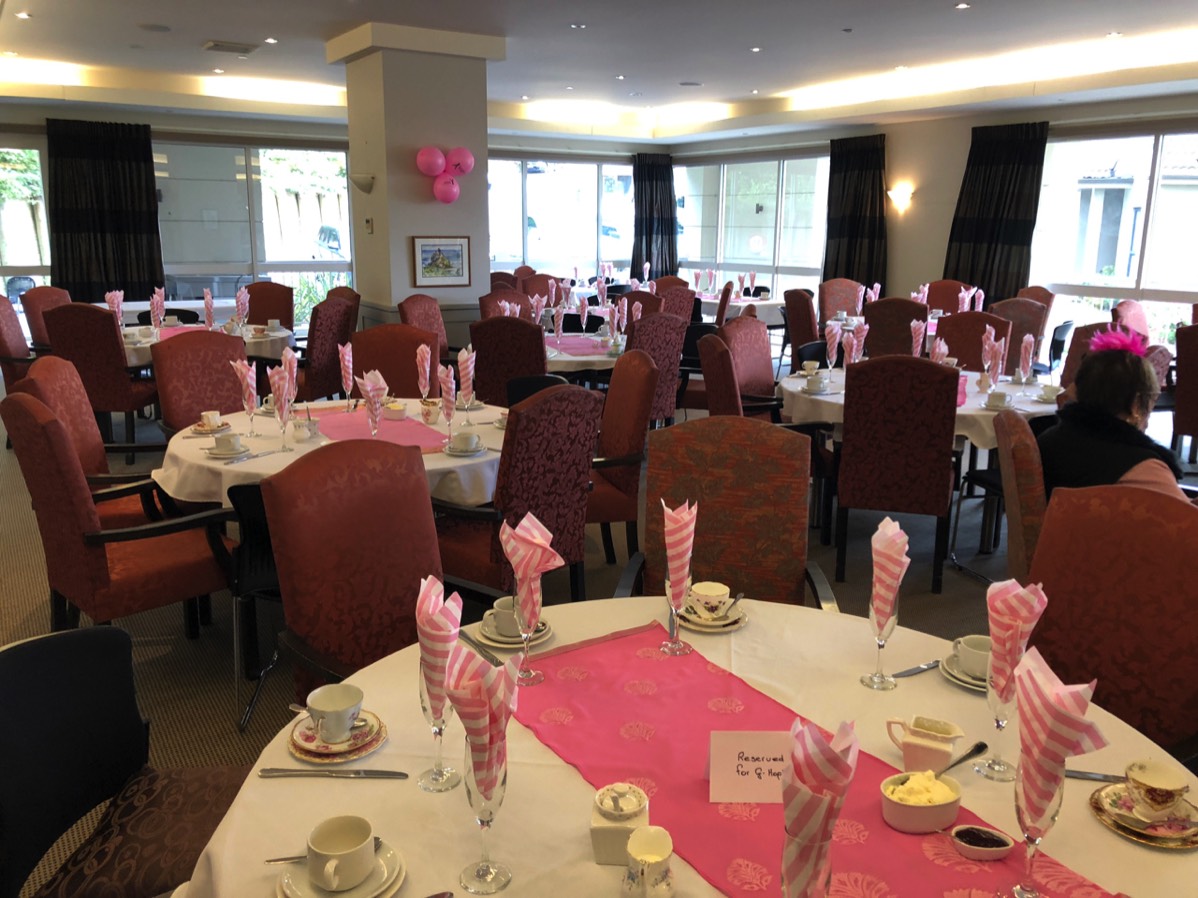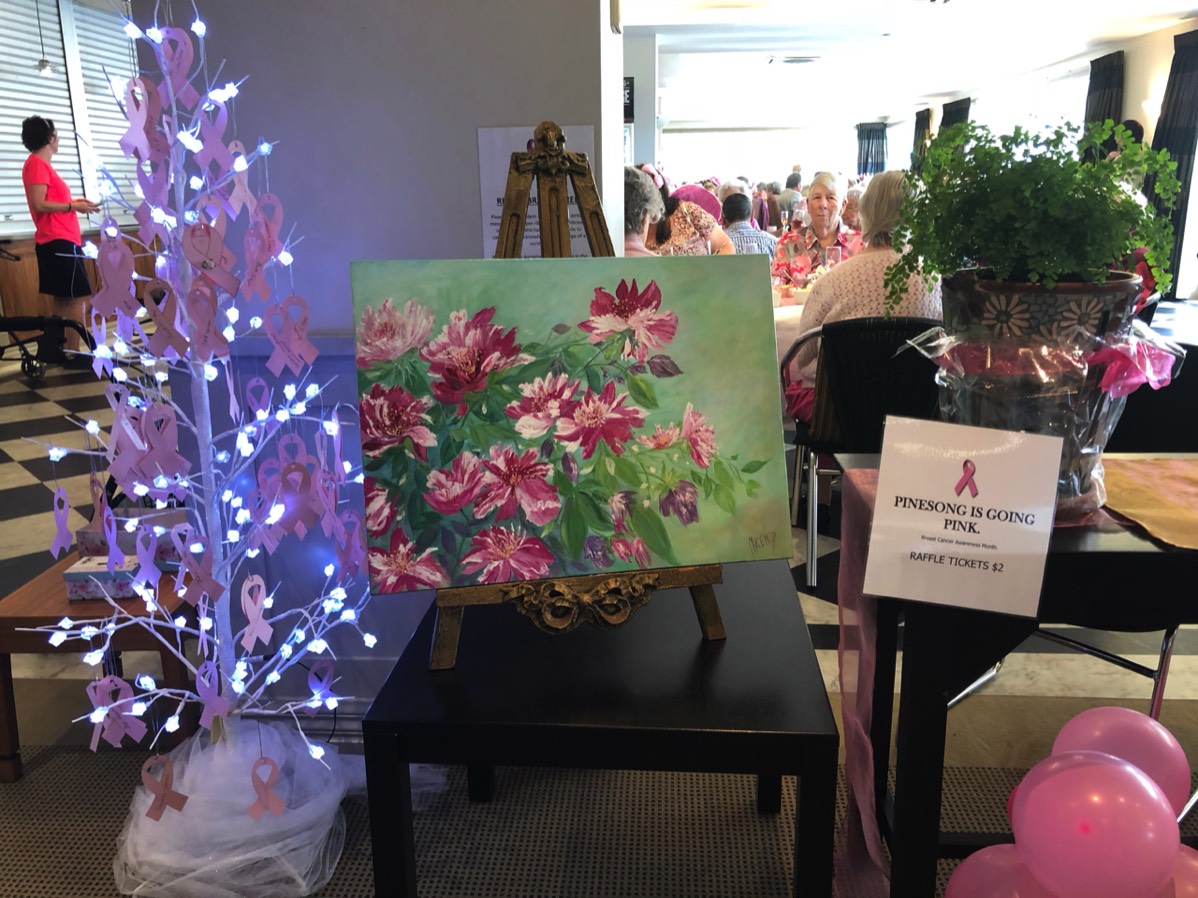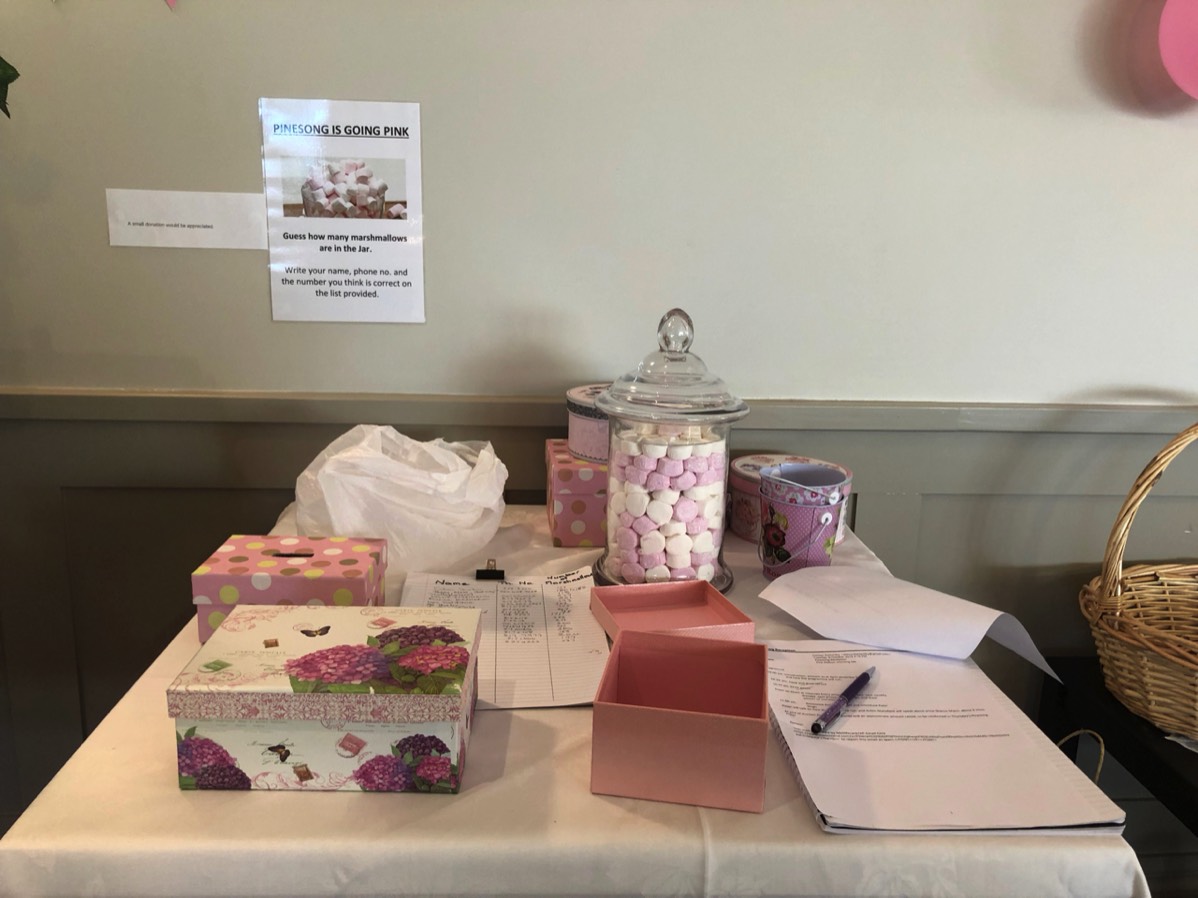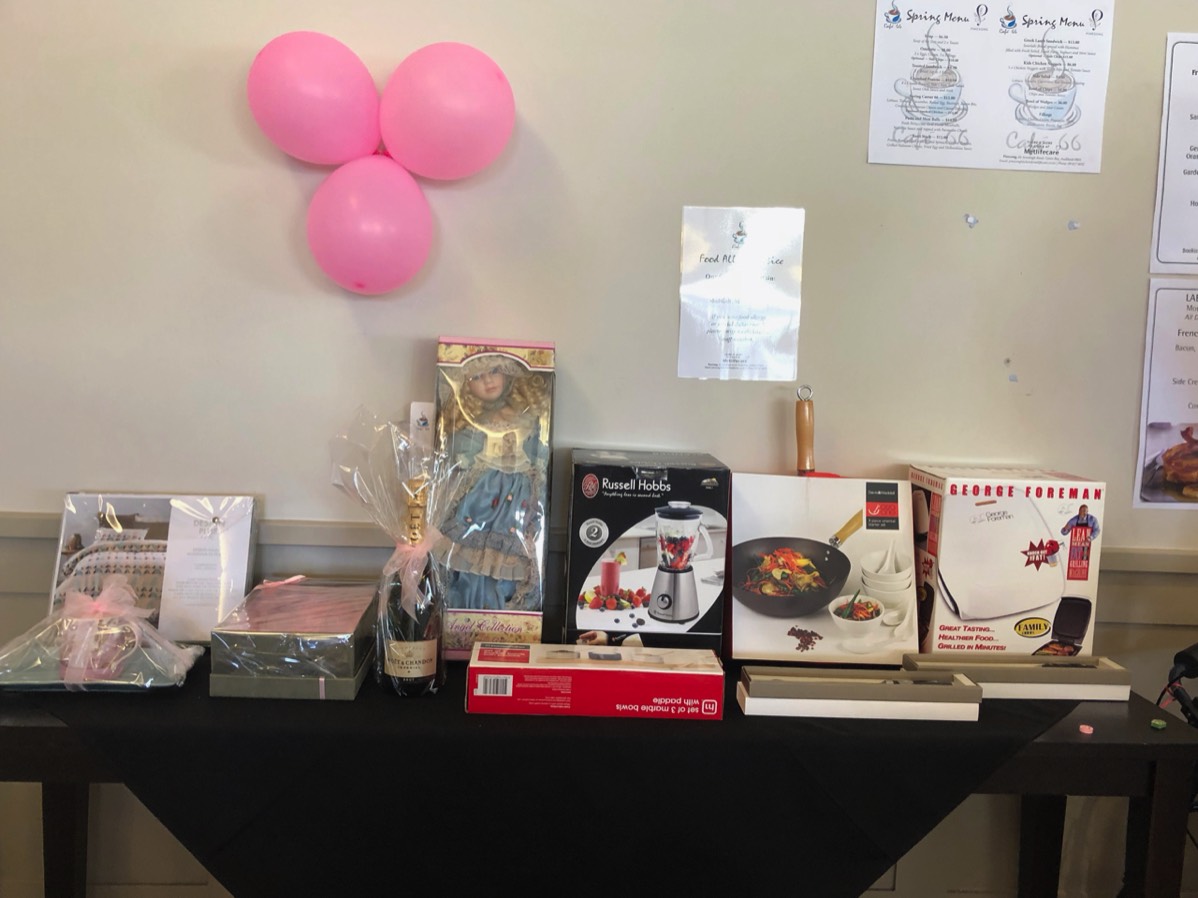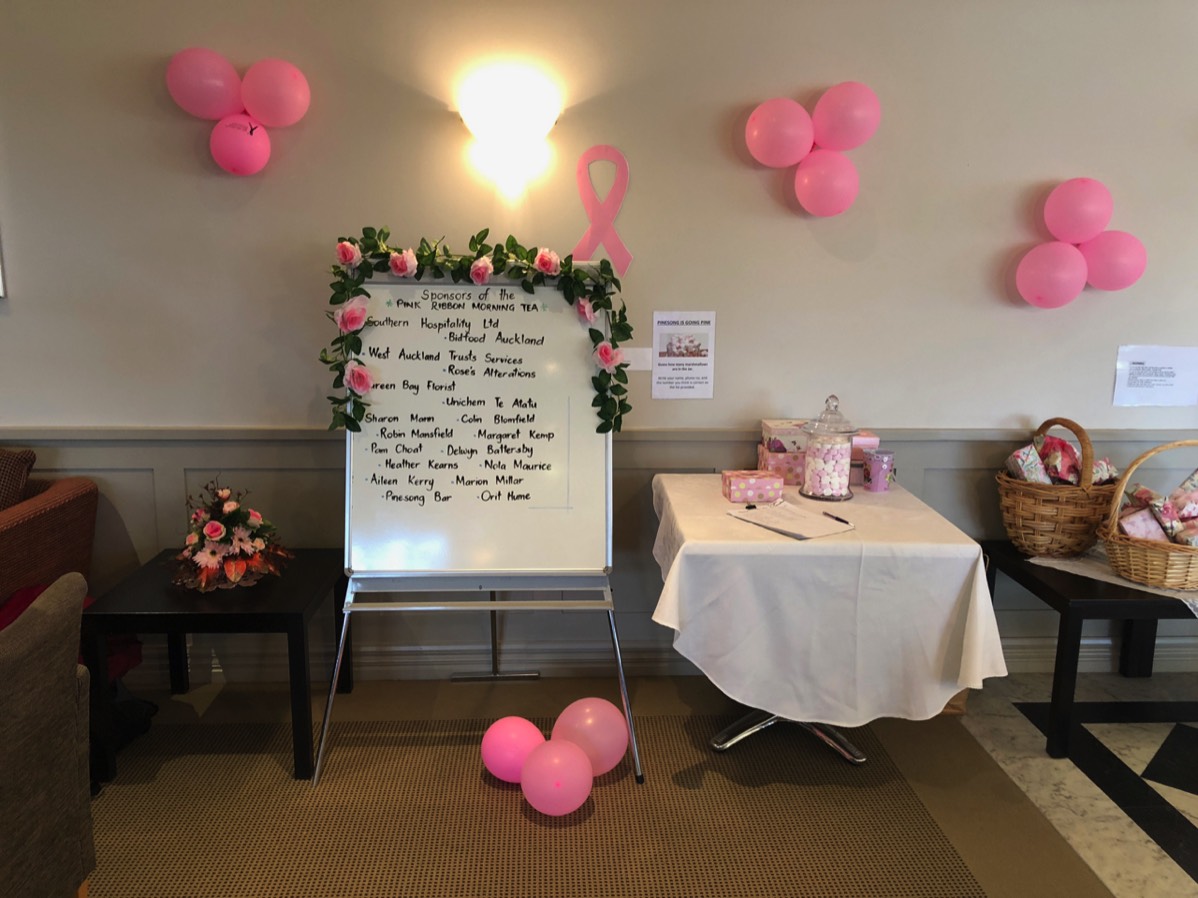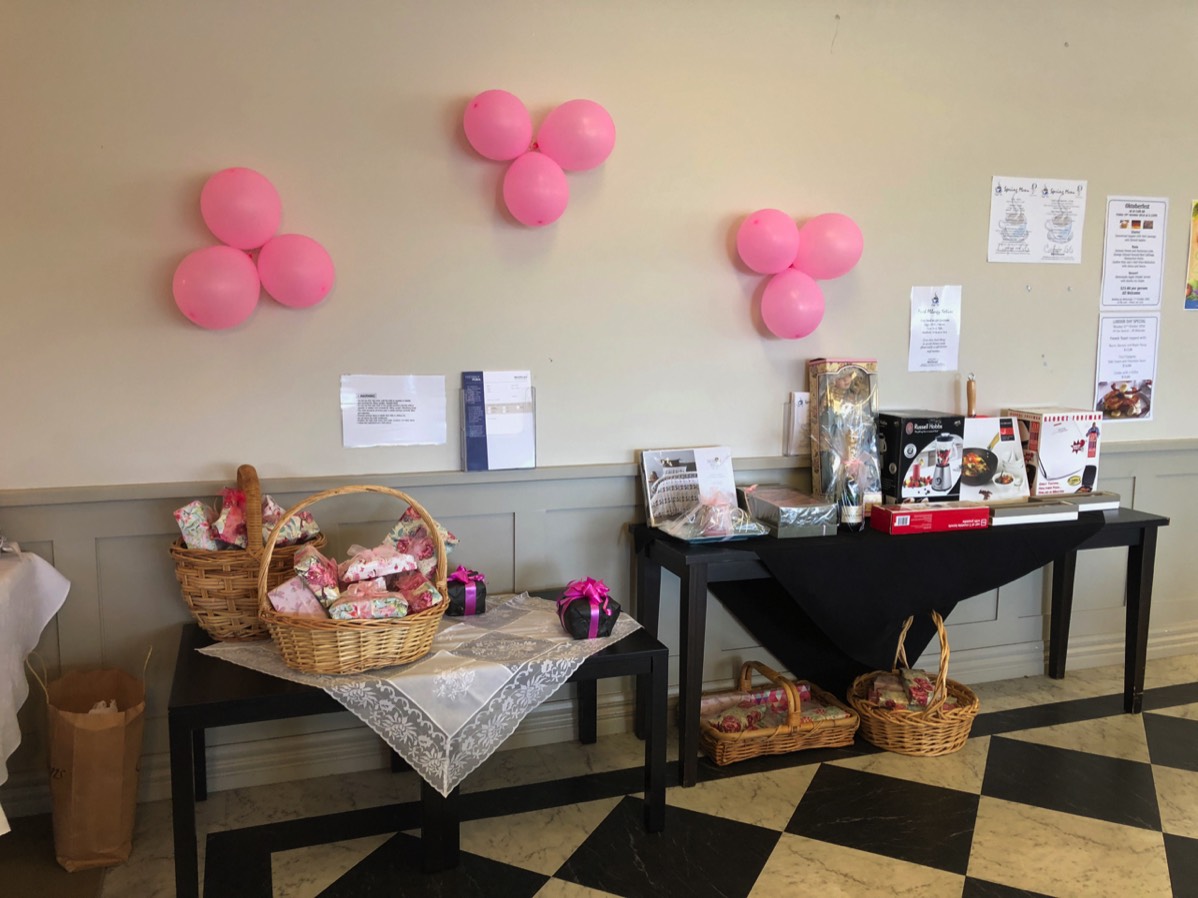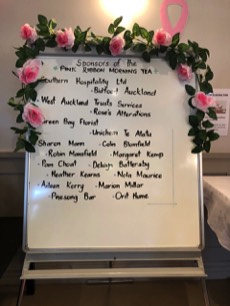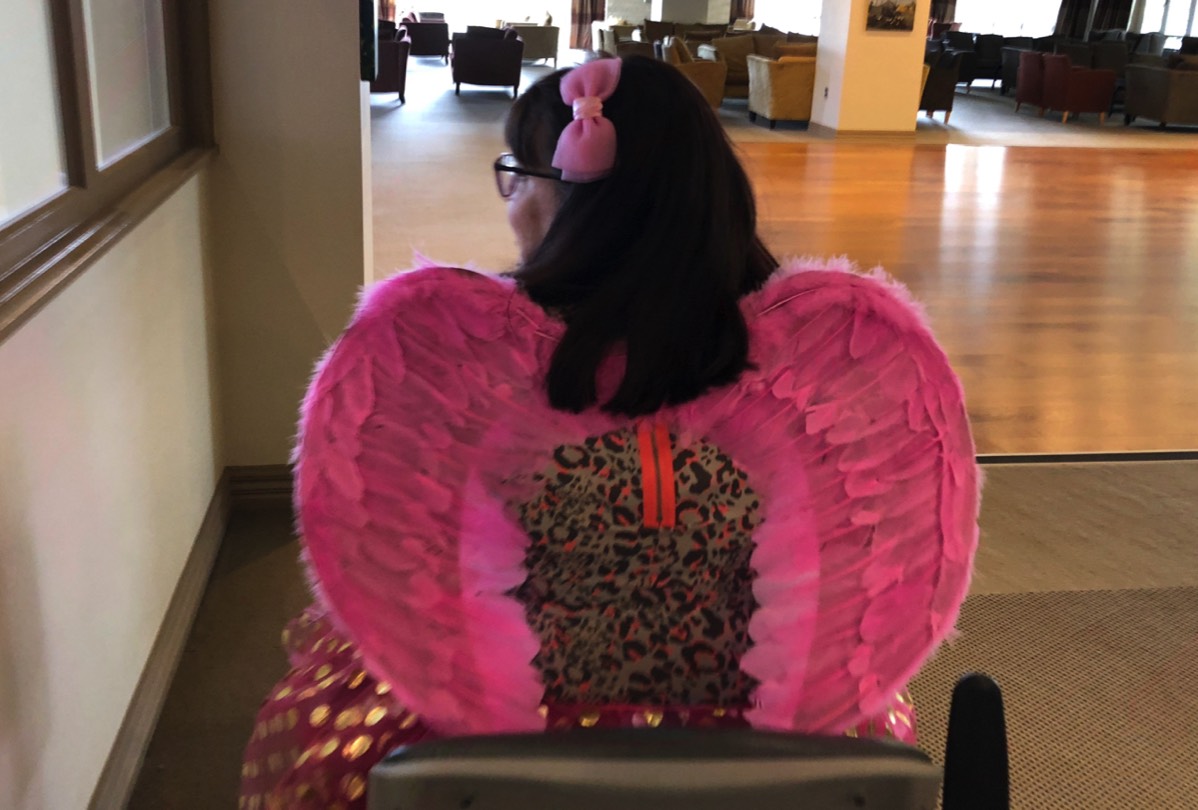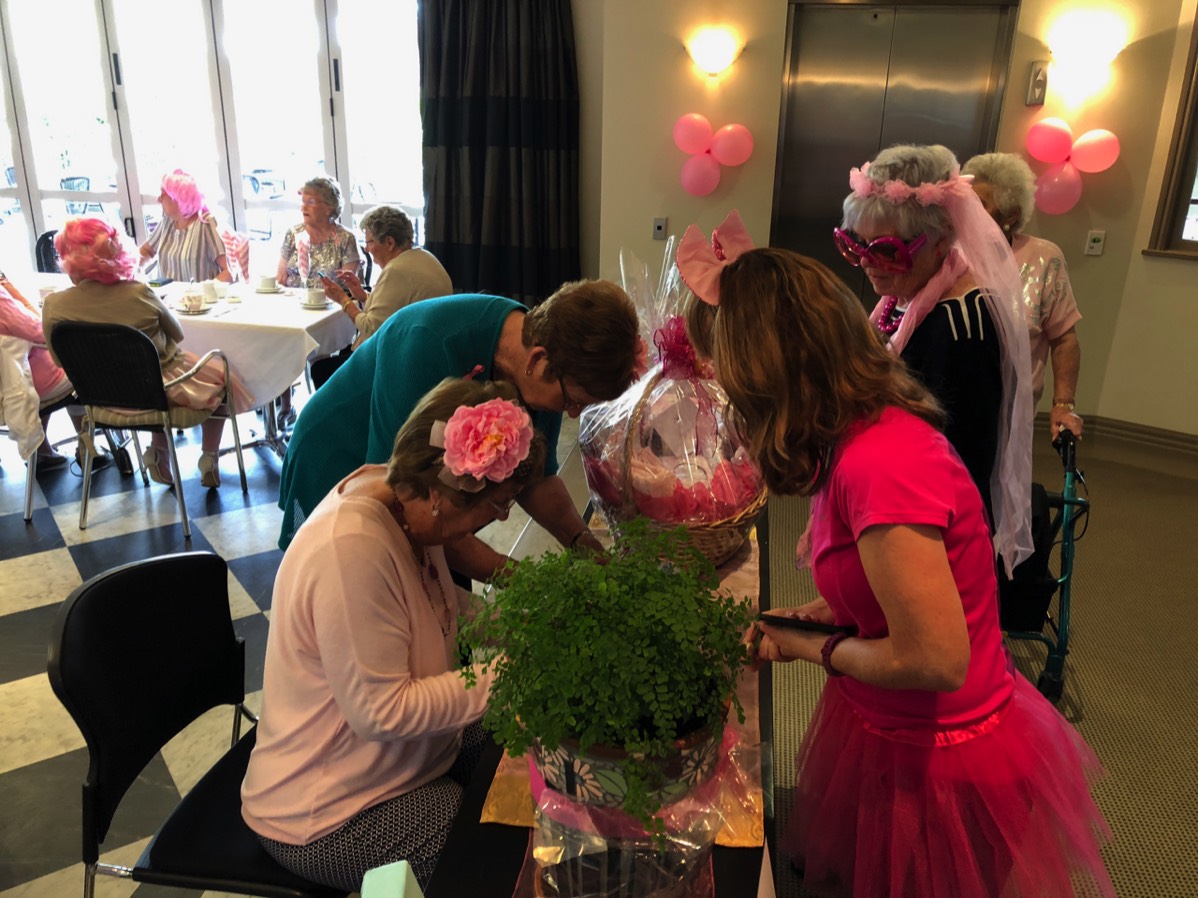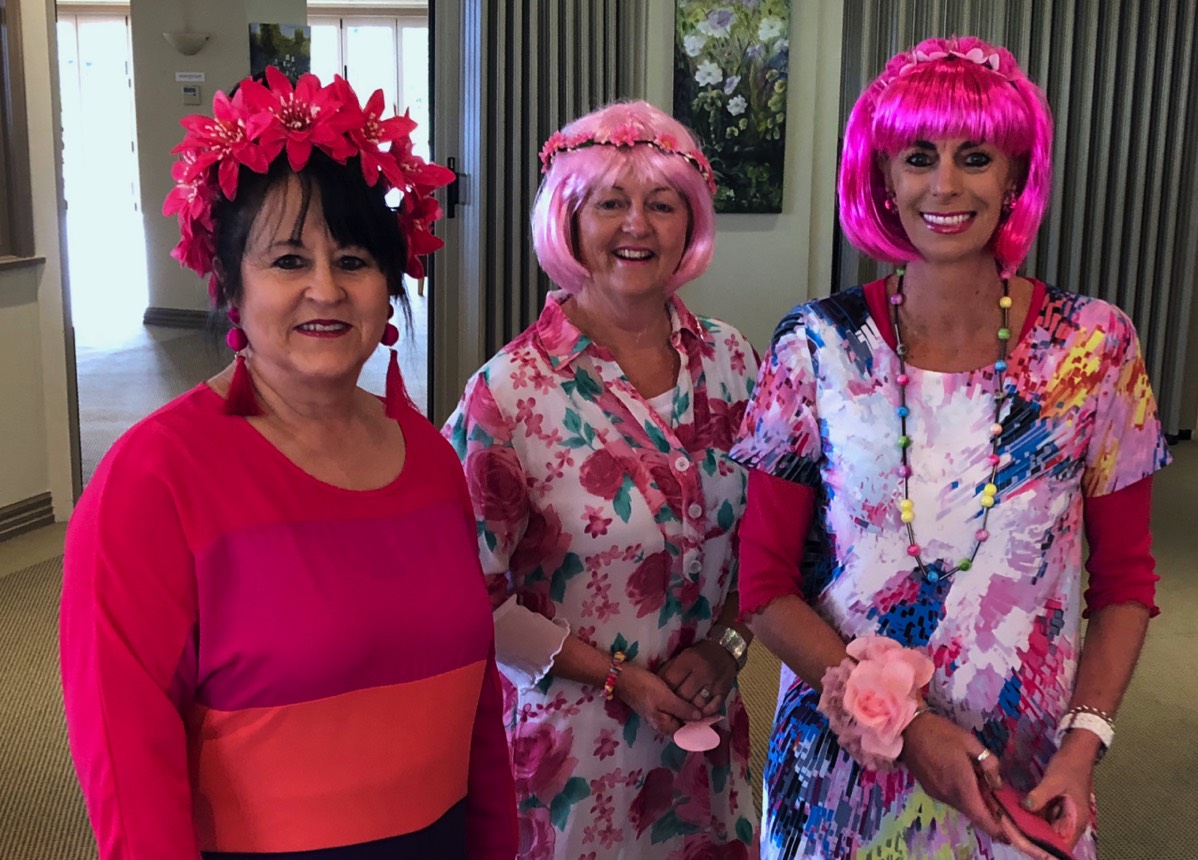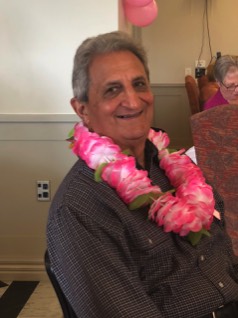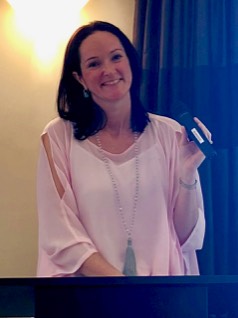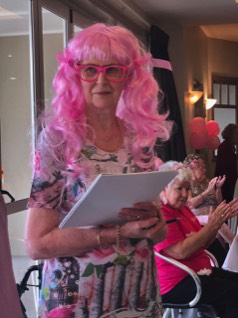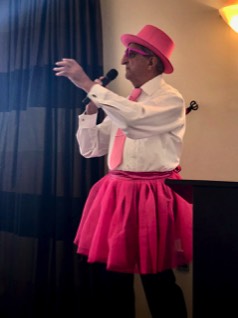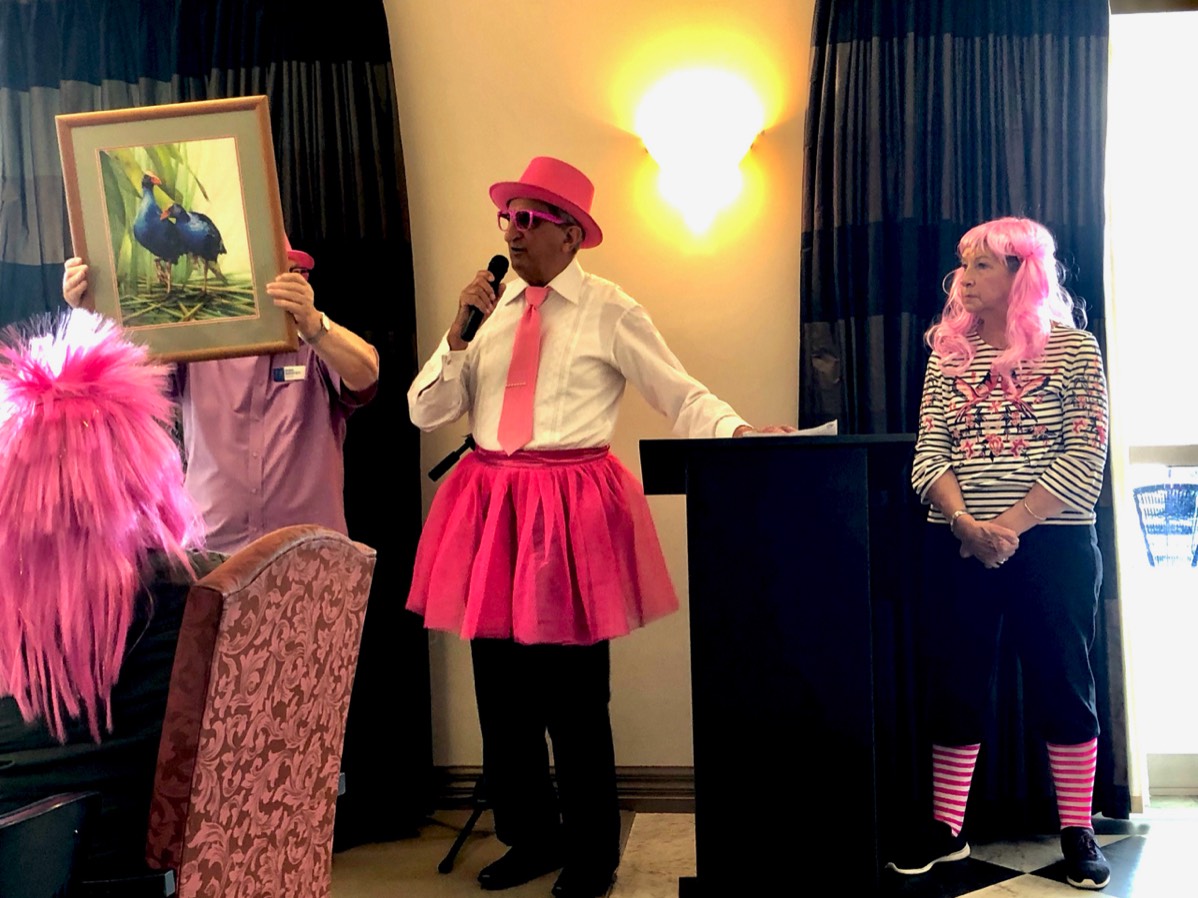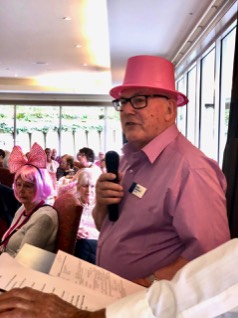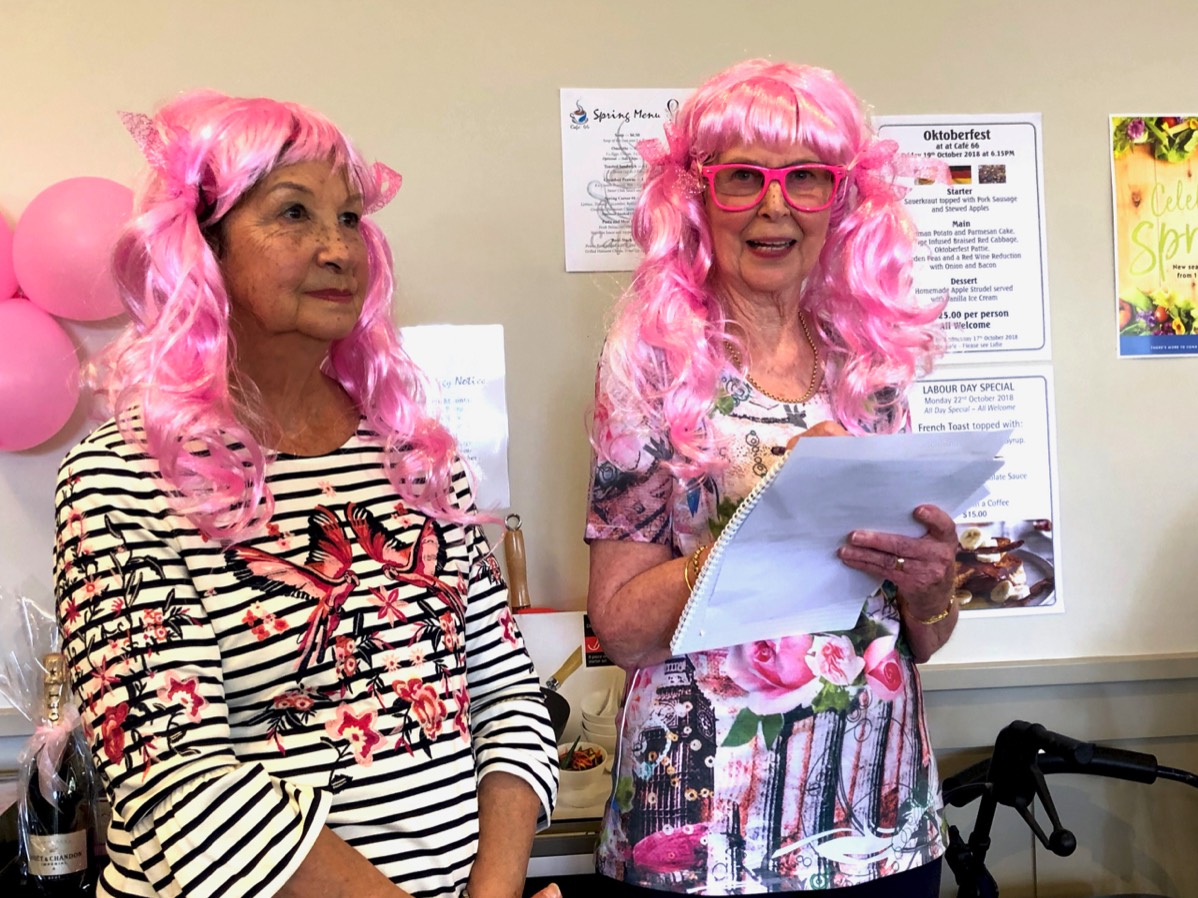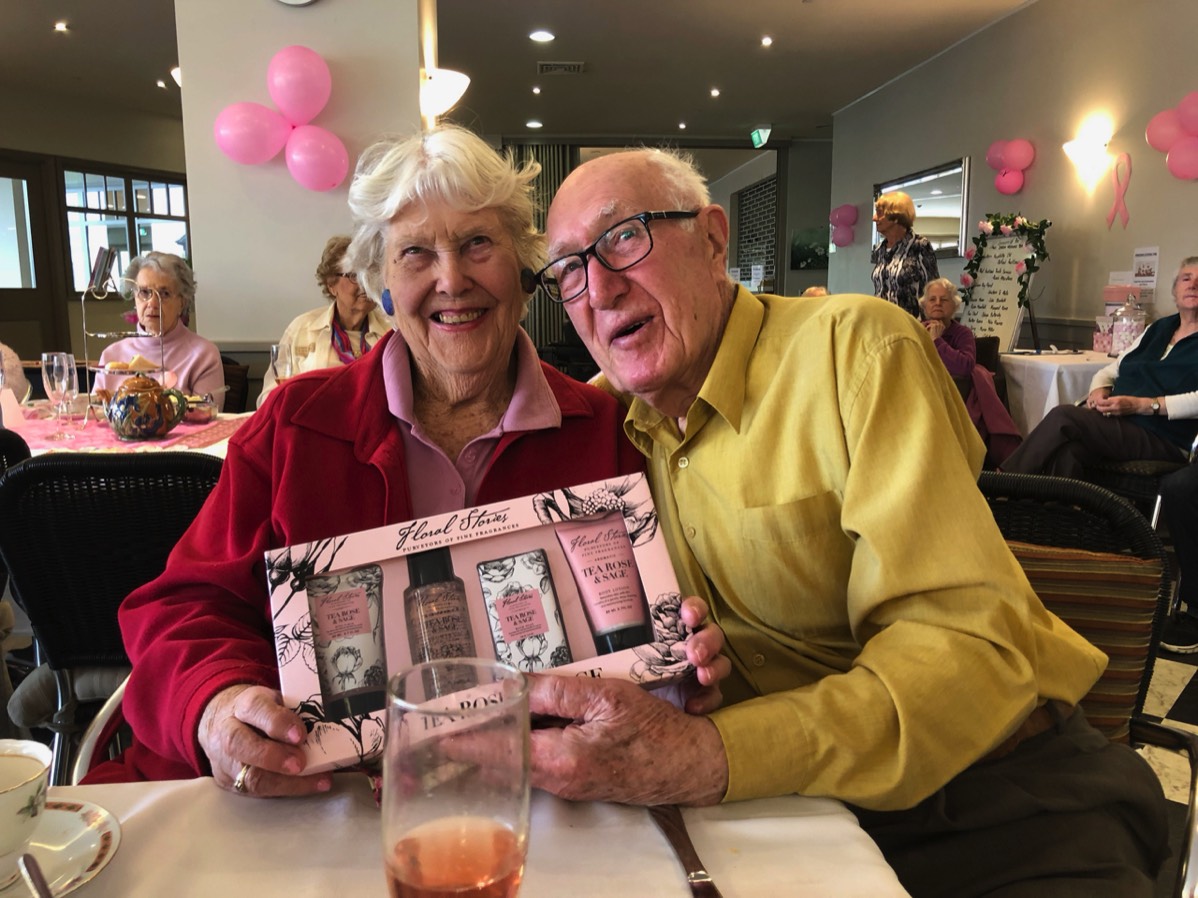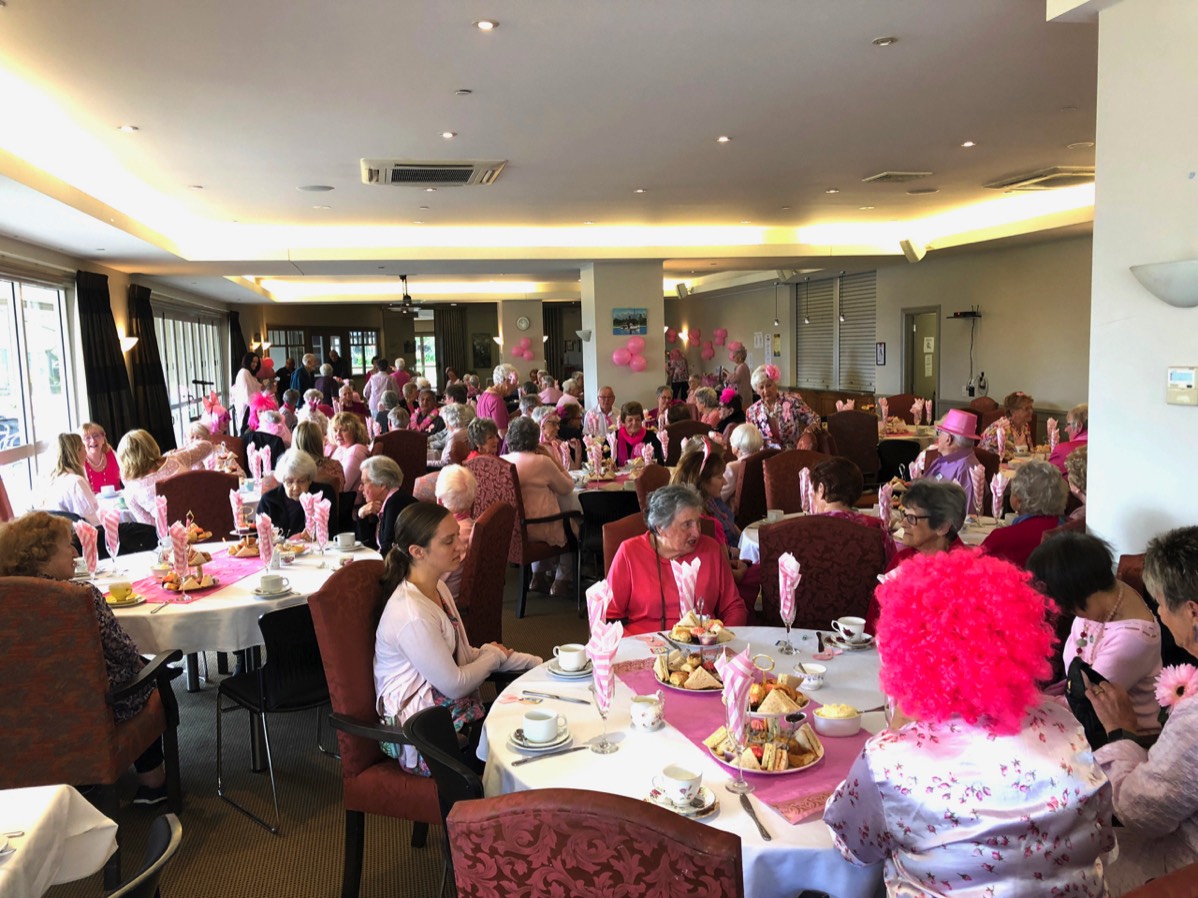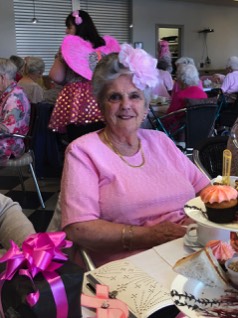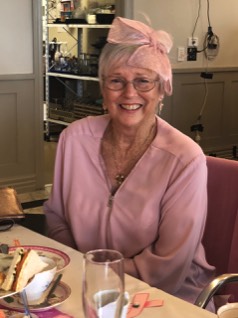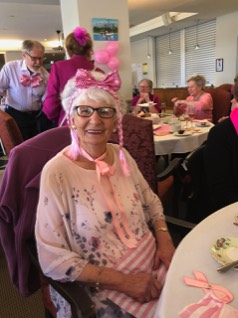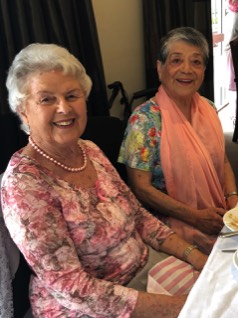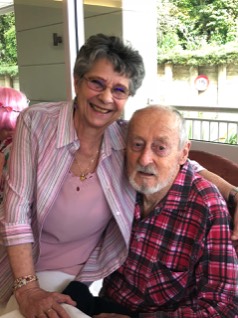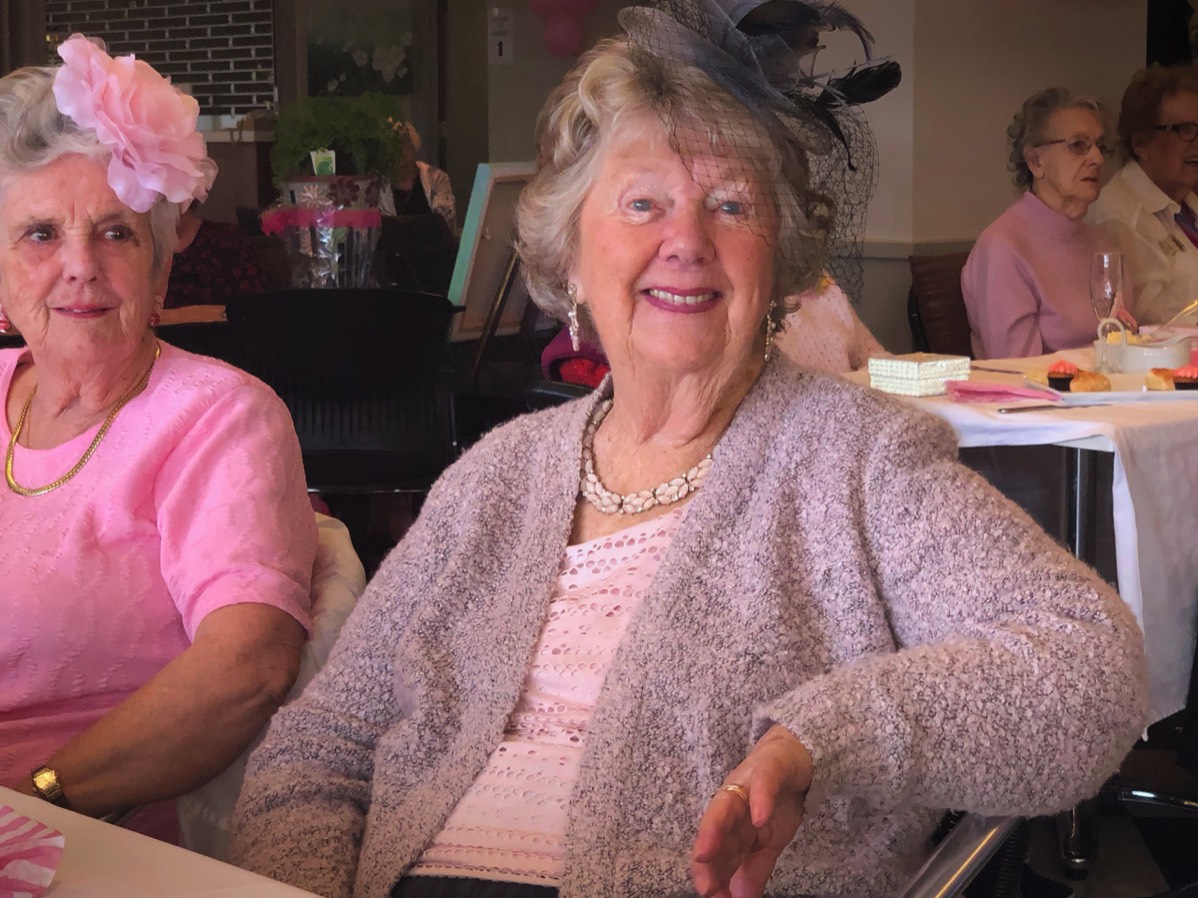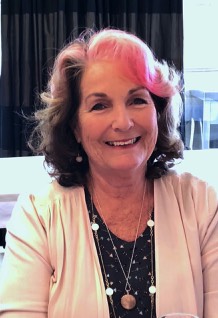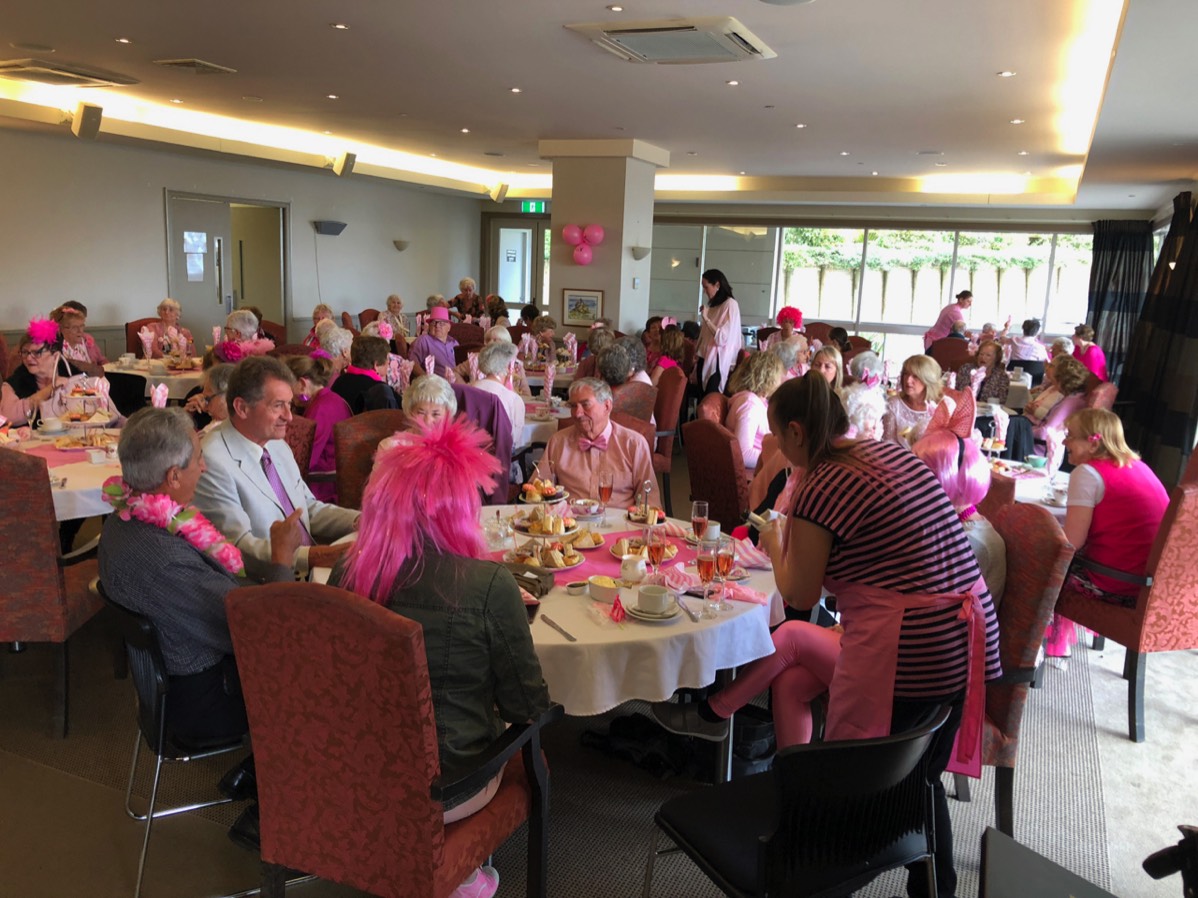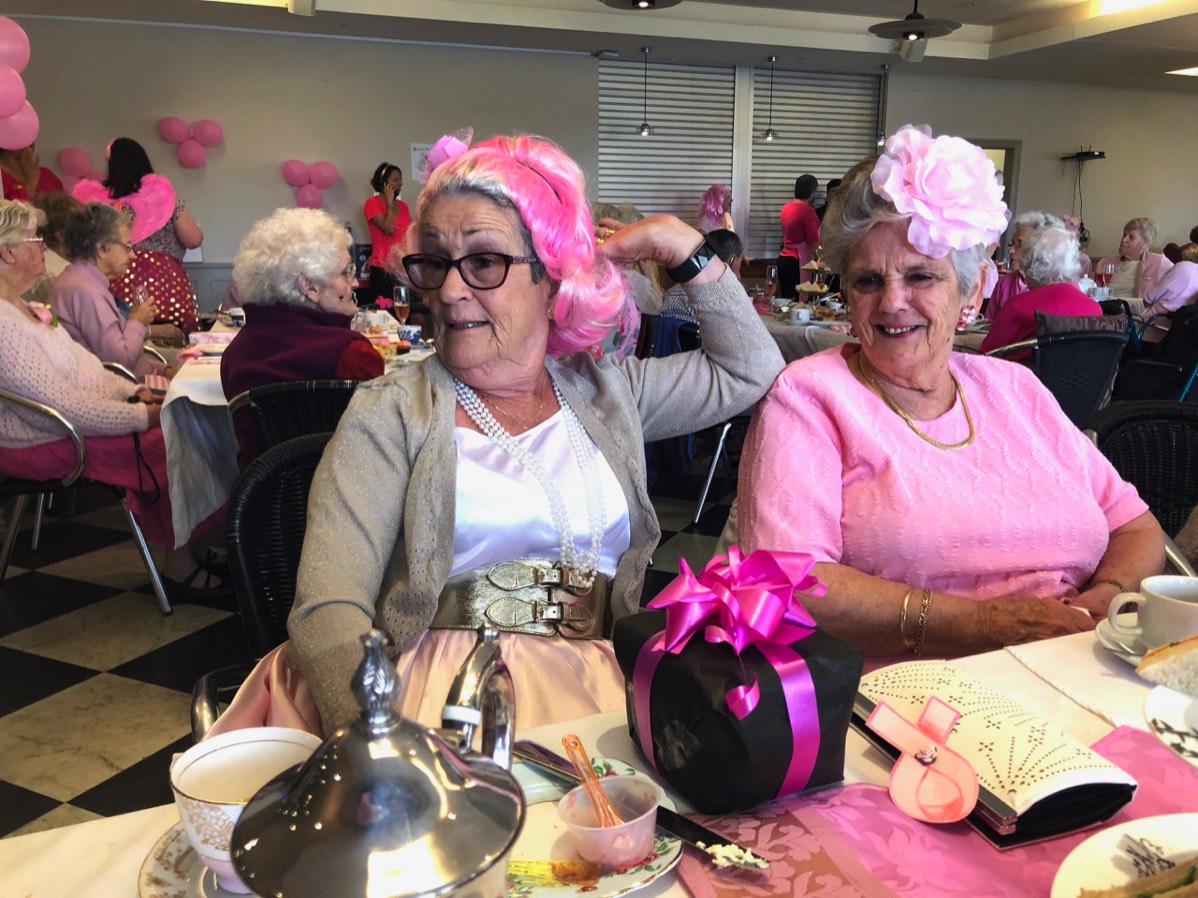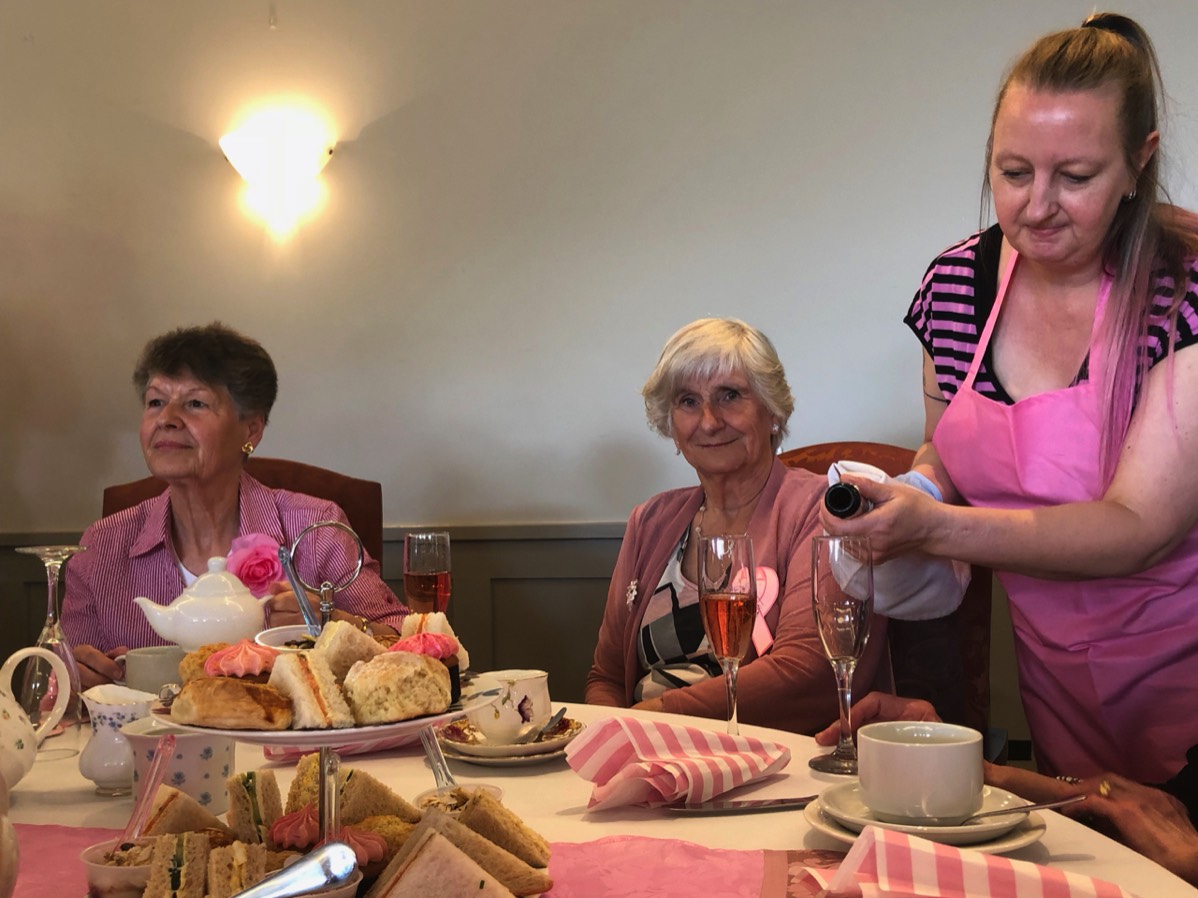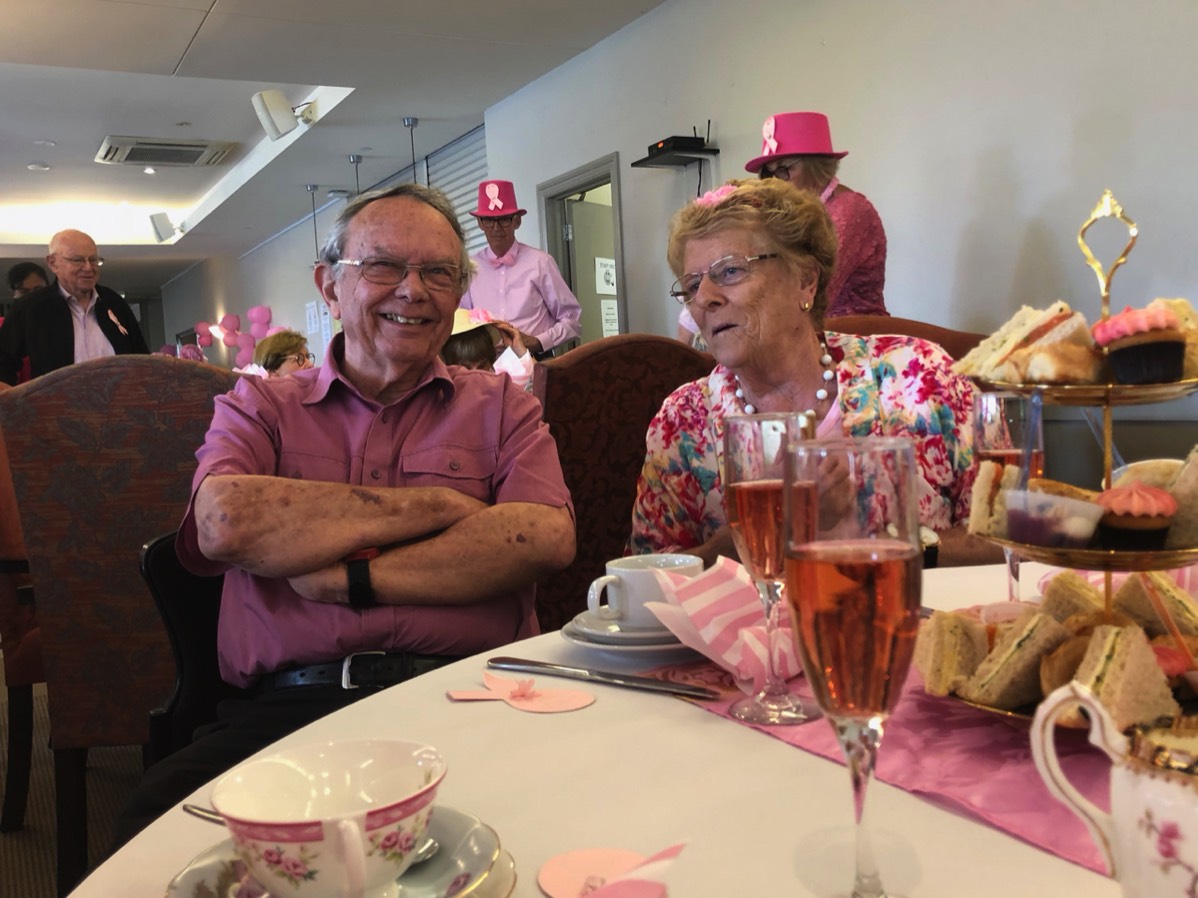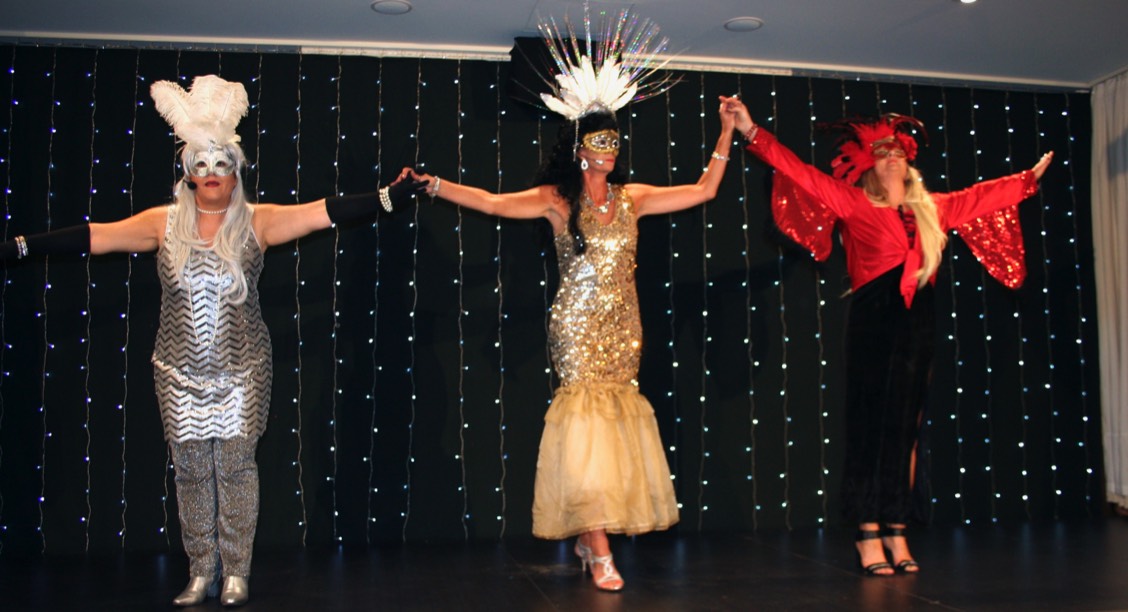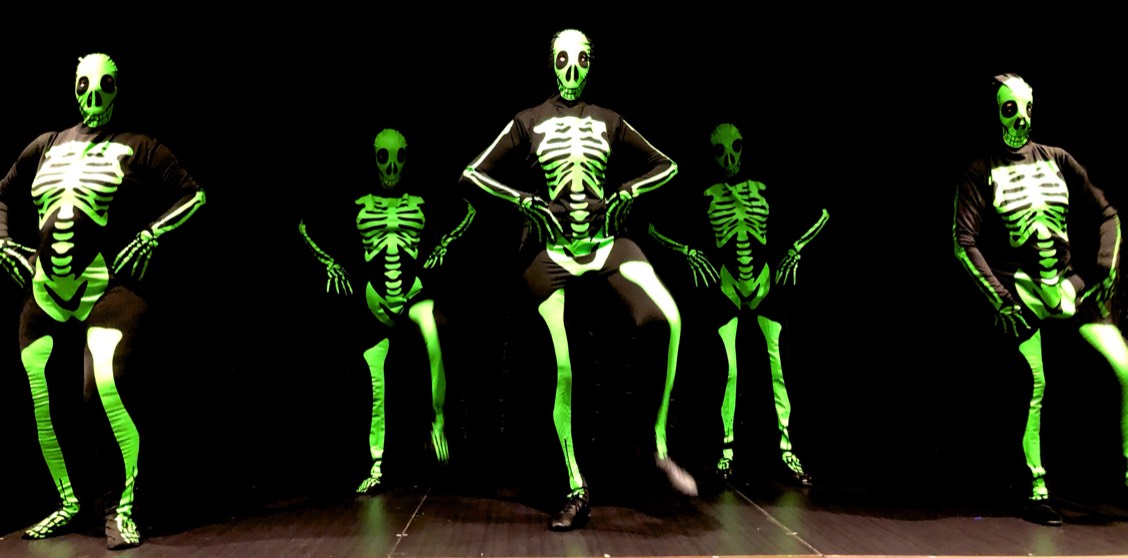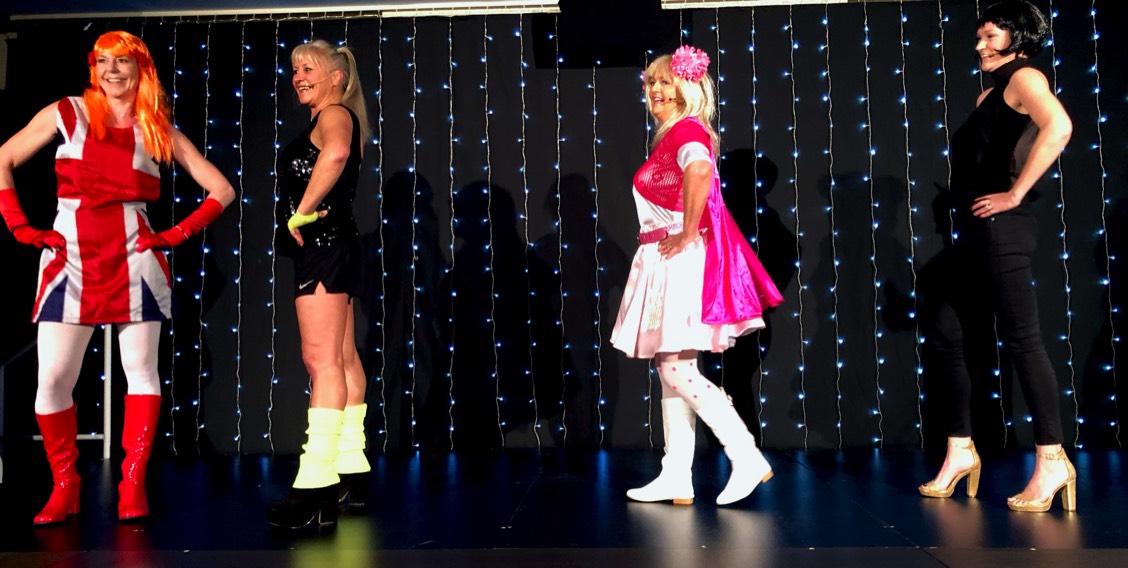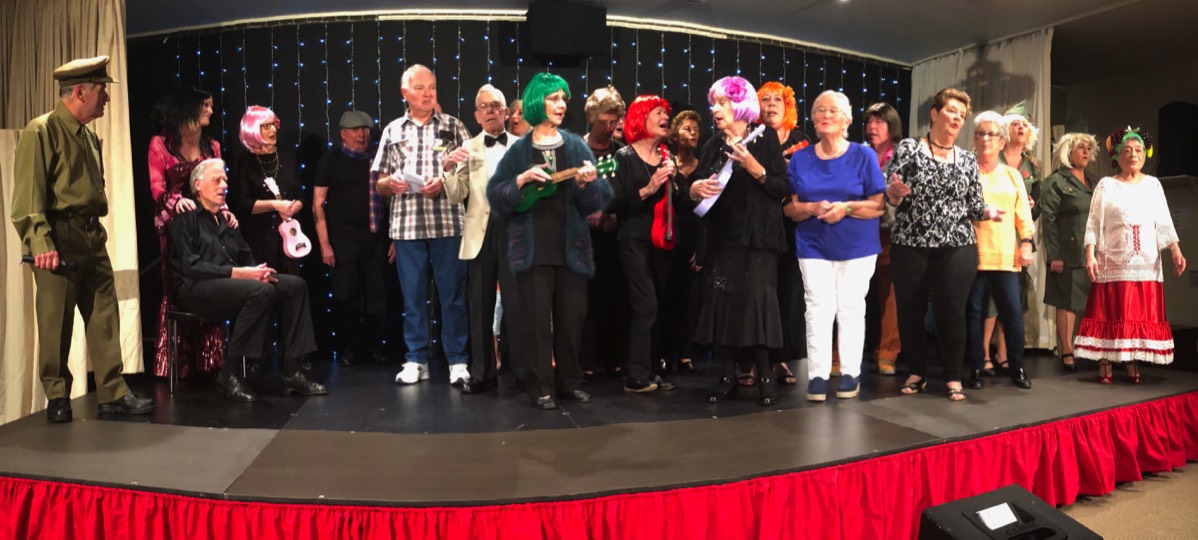 On Saturday and Sunday evenings the 11th & 12th of August the "Nostalgia" cast produced an entirely new show for us. Once again it really was an amazing production - and yes, can you believe it, yet again another step up from last year. With the pre selling of tickets again this year - they sold out in just two days! With 160 people attending on each night, it worked really well. Bob Helleur was the producer along with the help of a very enthusiastic cast and crew. Diana Smith kept us all in place as she performed a superb job as floor manager and kept everyone up to the mark enabling the programme to flow smoothly. Many hours were spent in rehearsals with great results. Once again this year there was a good balance between dance, chorus and solo items. The mix of staff and resident performers blended well, the staff helping to really keep us young!. All in all, a wonderful couple of nights and a huge thank you to everyone involved. For those who missed the show, and all who would like to have another look, we will be screening the video of the production in the next few weeks in the Seabreeze Lounge. The date and time will be announced in the Pinesong Press.

Deryck Hunt - for the Nostalgia Team

To view some more photographs go to the page
'Nostalgia Show 2018'

Saturday Walkers

Some Saturday pics. Walking from Castor Bay to Murrays Bay on a lovely sunny morning.

Janet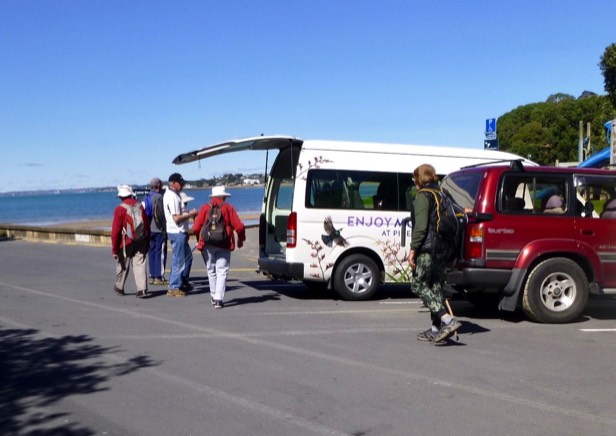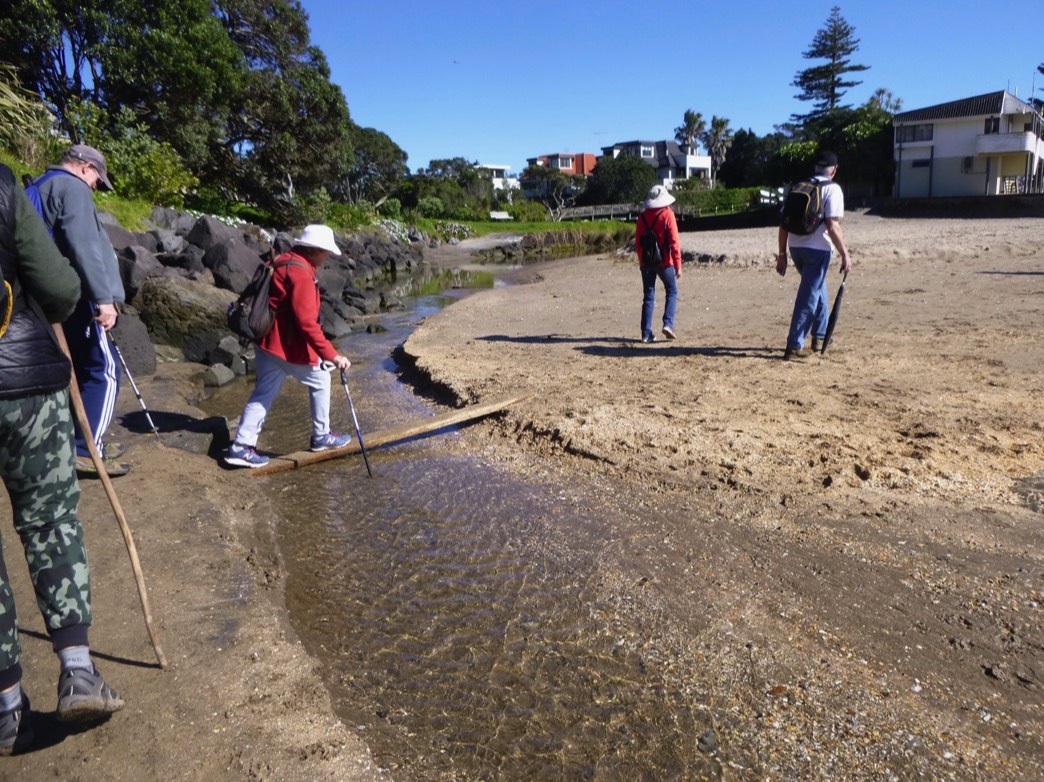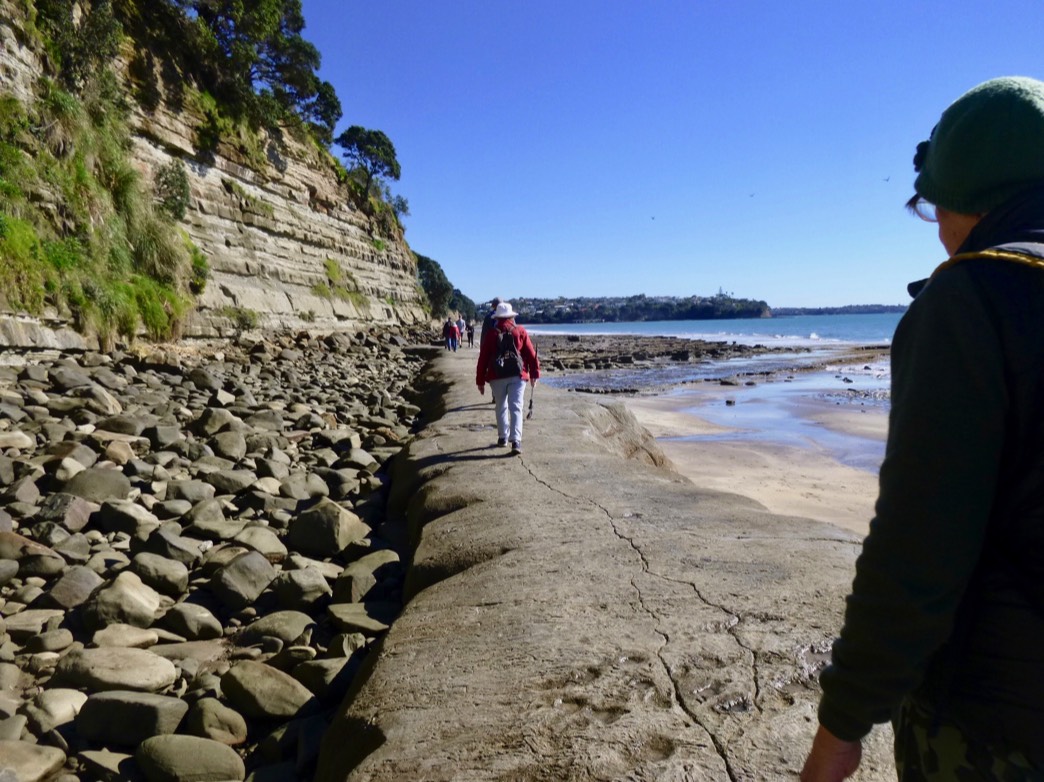 Daffodil Ramble

A lovely walk through our bush and garden areas to get a fresh glimpse of the great work our resident members of the Garden Circle do. Special thanks to Aileen, Pam and the Garden Circle Team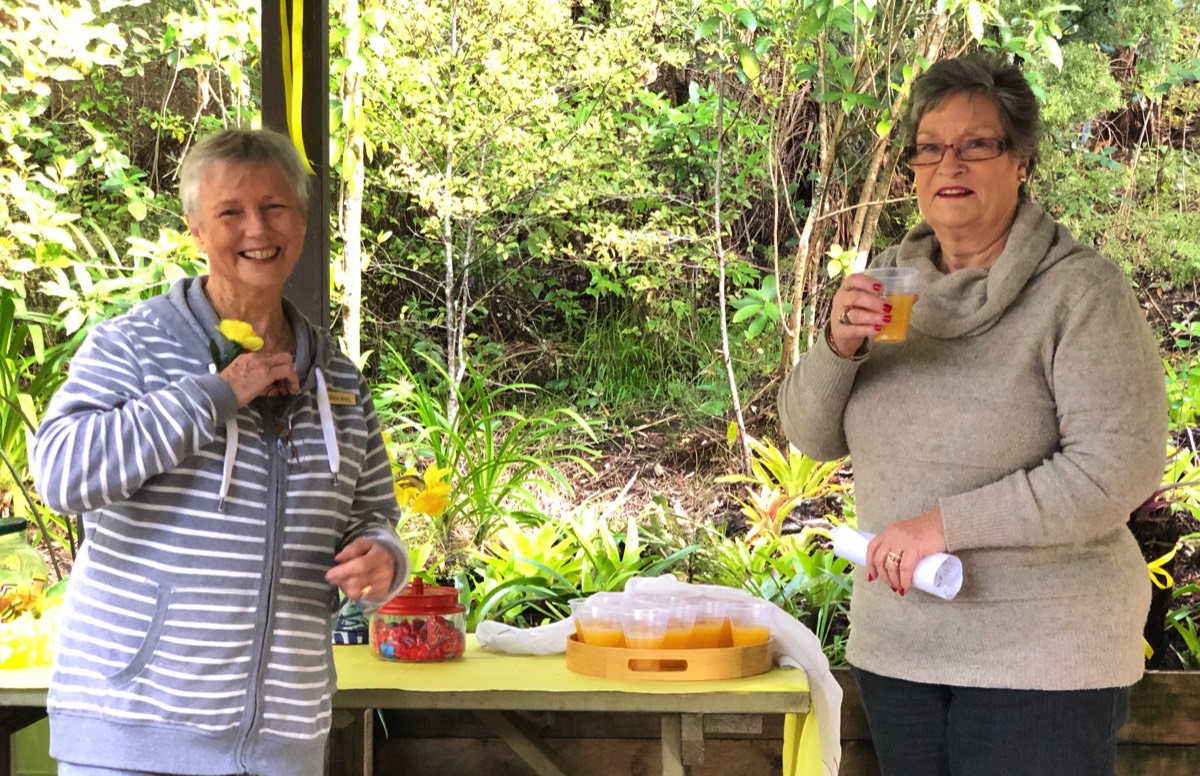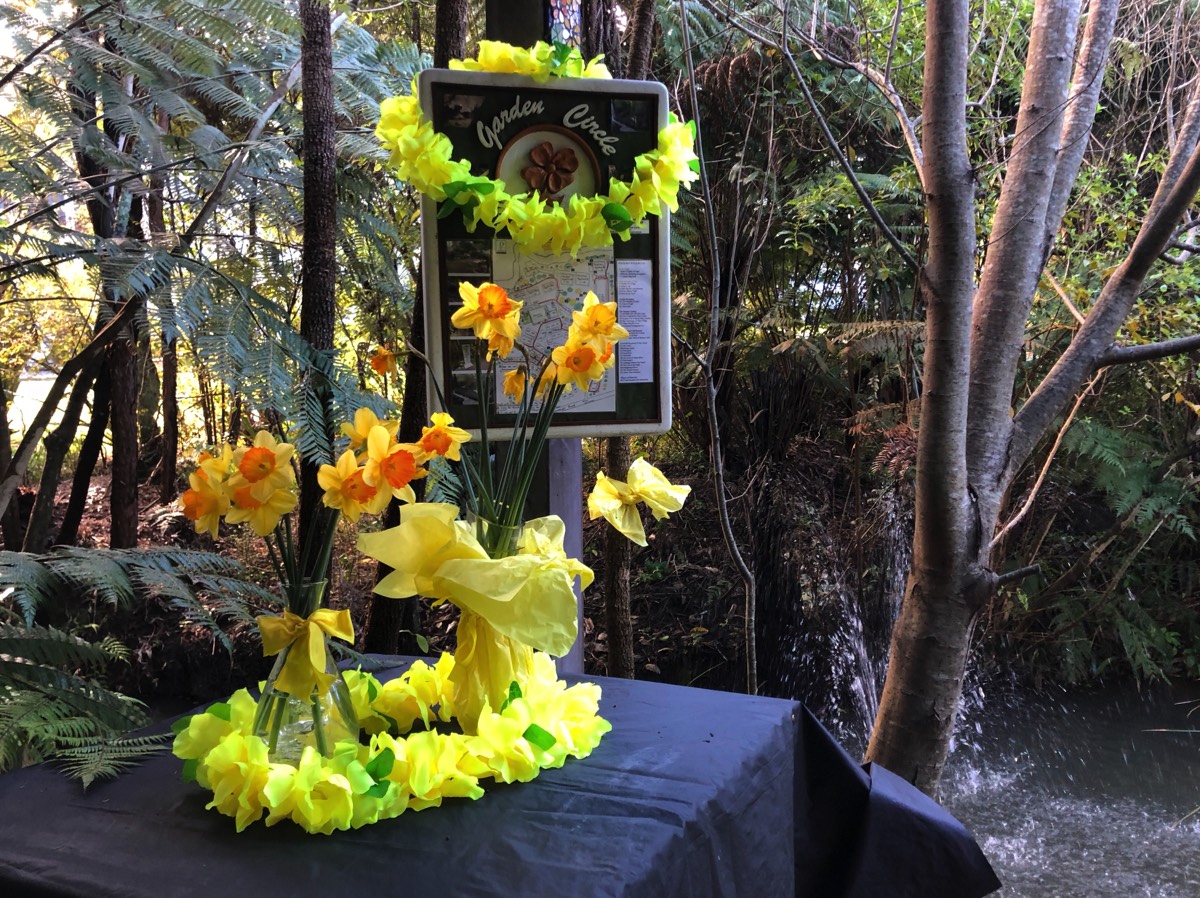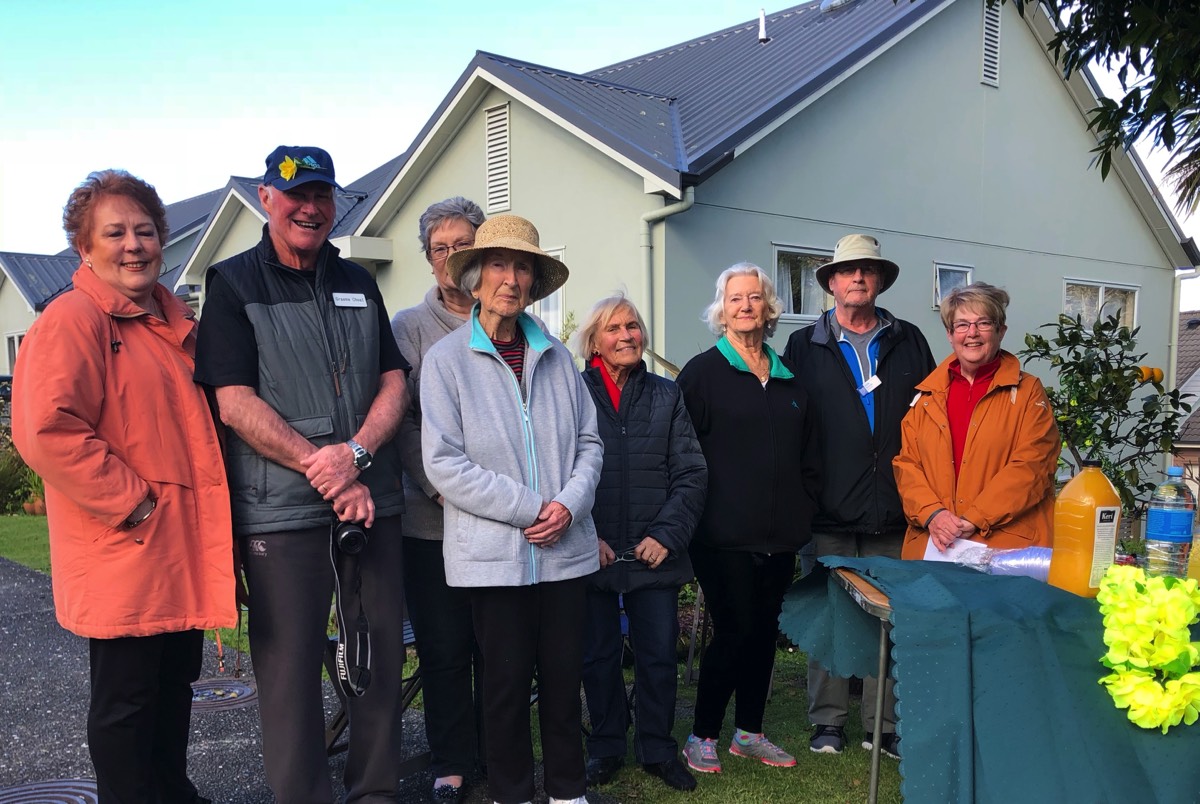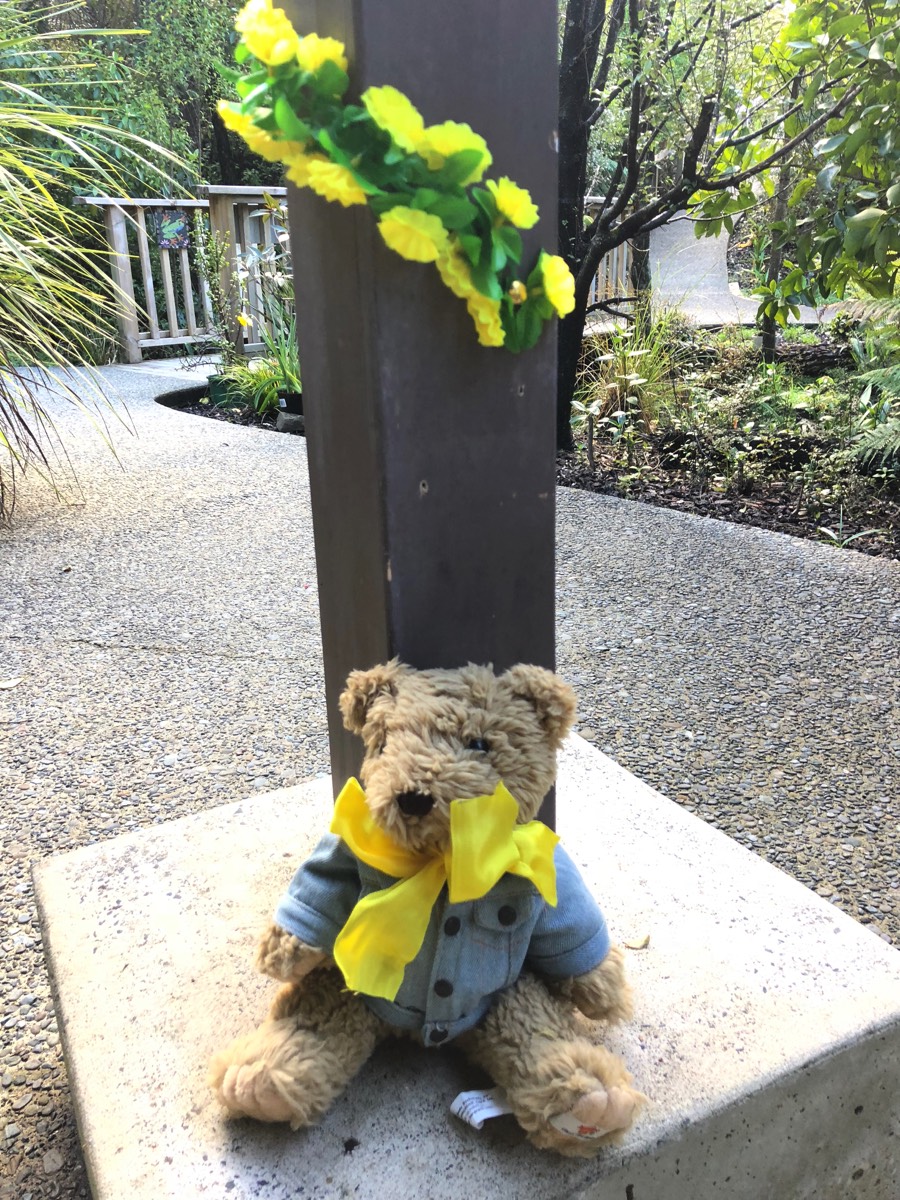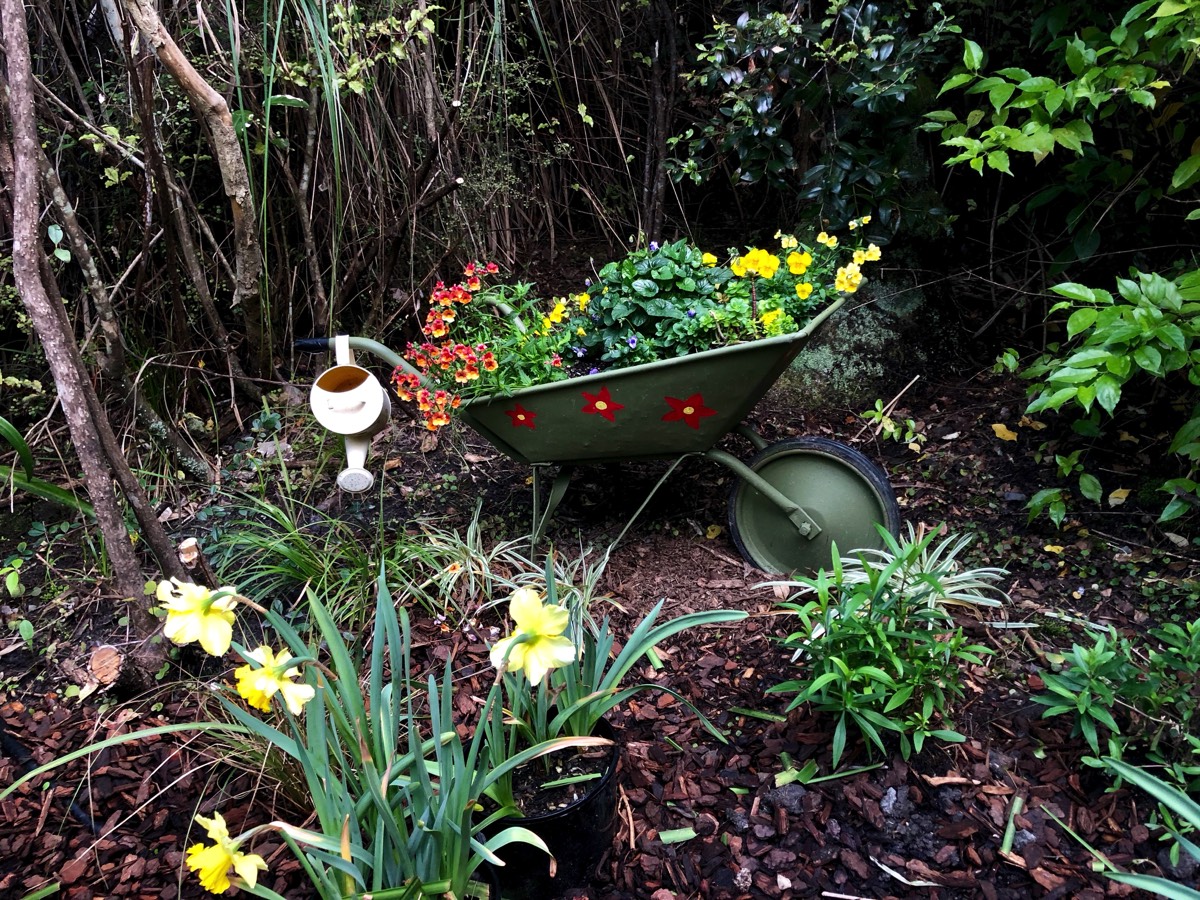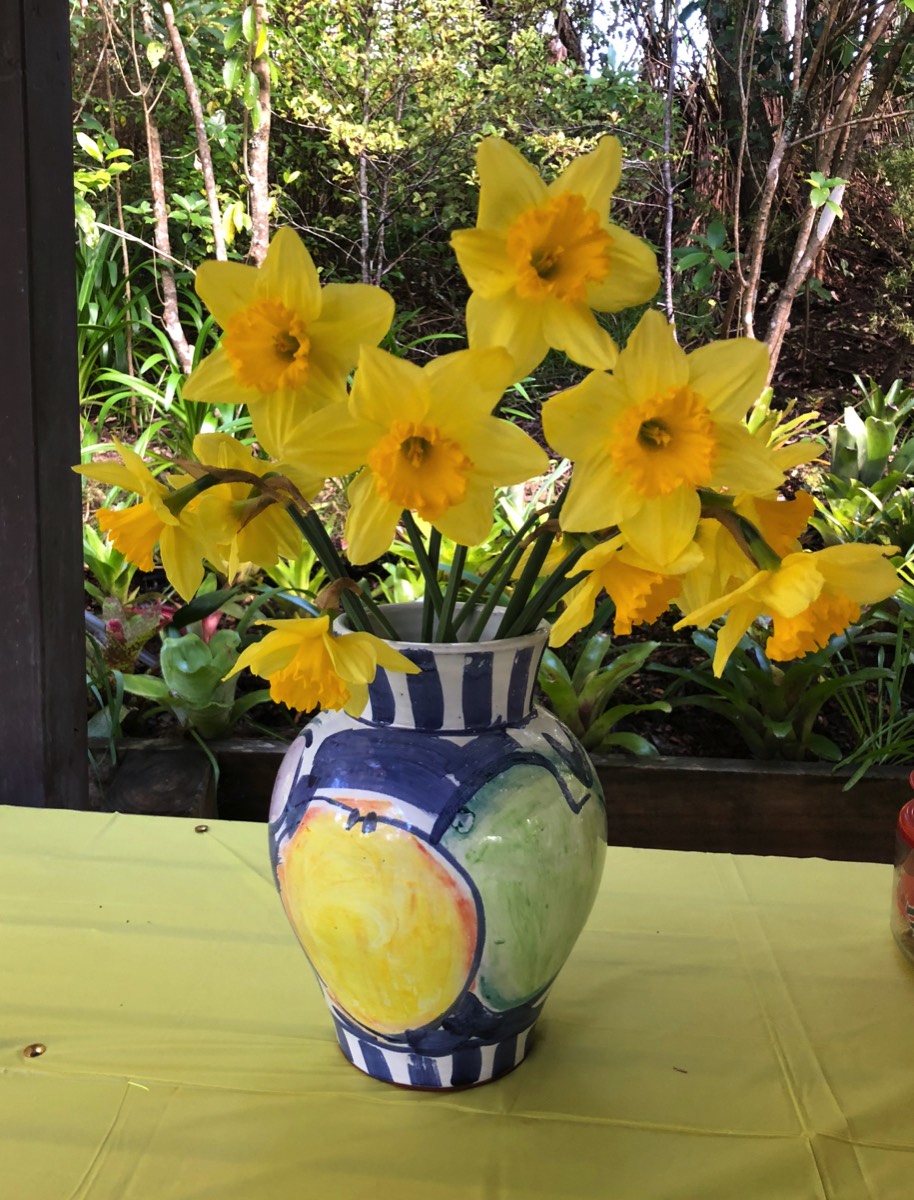 Nursery Rhyme Character Mid Year Social

Another excellent dance evening in our Seabreeze lounge. Our residents excelled in their portrayal of Nursery Rhyme Characters. Many thanks to Mary, Jean, Judith, Anna and Margaret for making this evening such a memorable event.





Pinesong's Retired Registered Nurses Luncheon

Saturday 21st July, Pinesong's Retired Registered Nurses enjoyed a time of sharing over a "Luncheon Get Together" that Lois Lilly and Judy Horder blessed us with - thanks to those two! We had such a lovely time! Guest Speaker - Margaret Kamphuis shared about "Caring for the Carer!"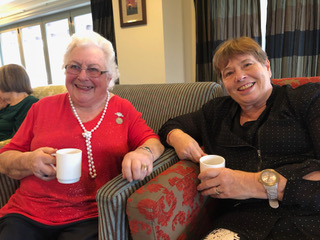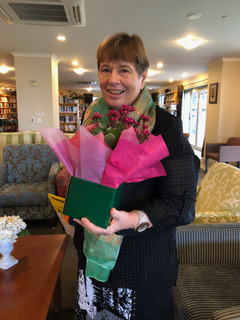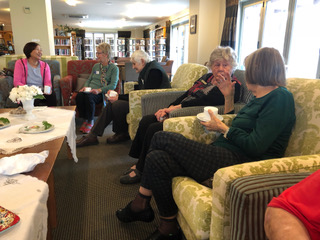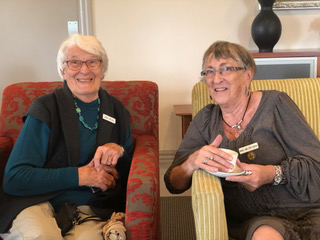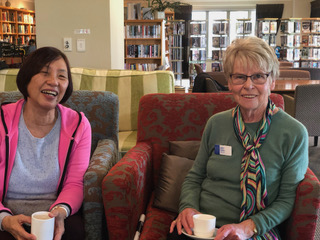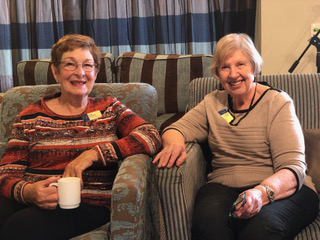 Table Tennis Singles Tournament

Jeff Prior was the winner of the singles competition, runner up Ken Jarvis.being presented by Sue Harris on behalf of the Residents Committee.
Shirley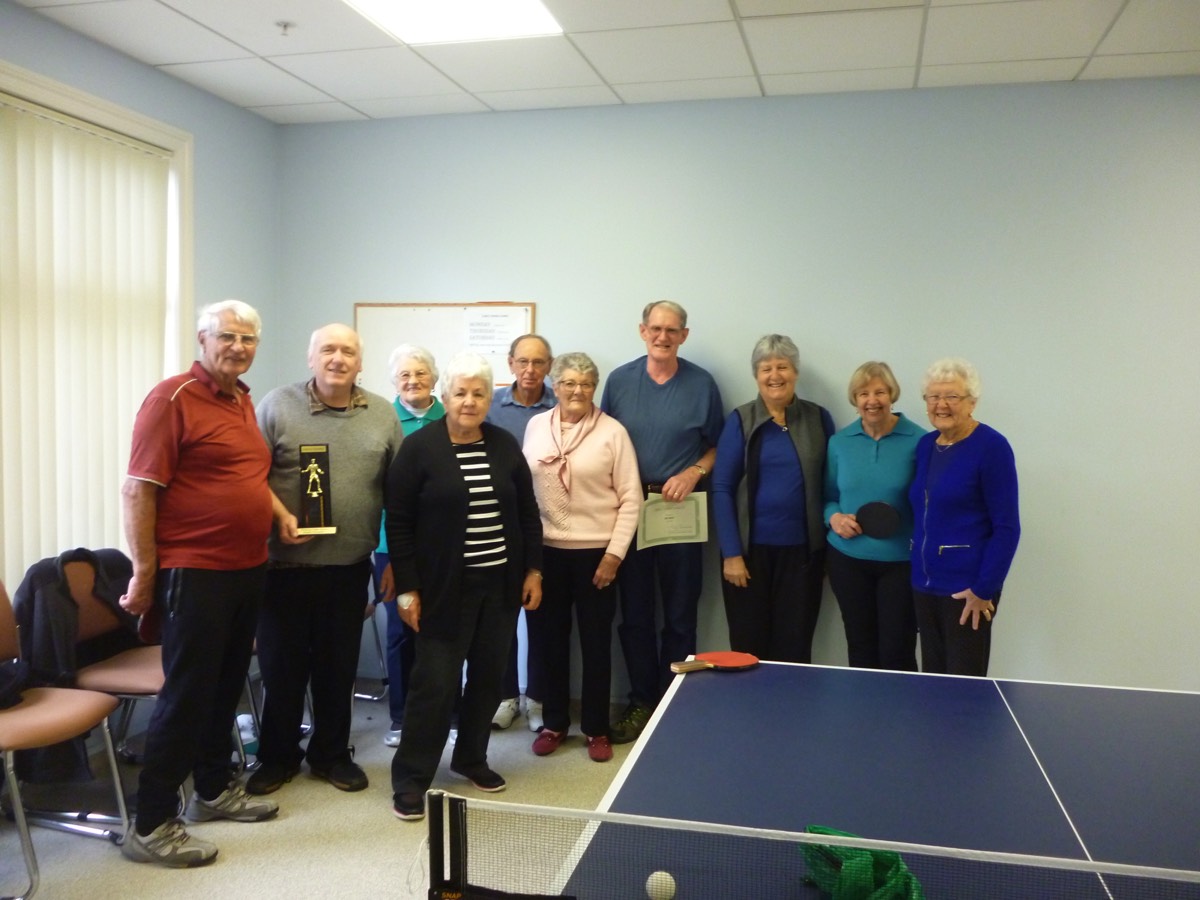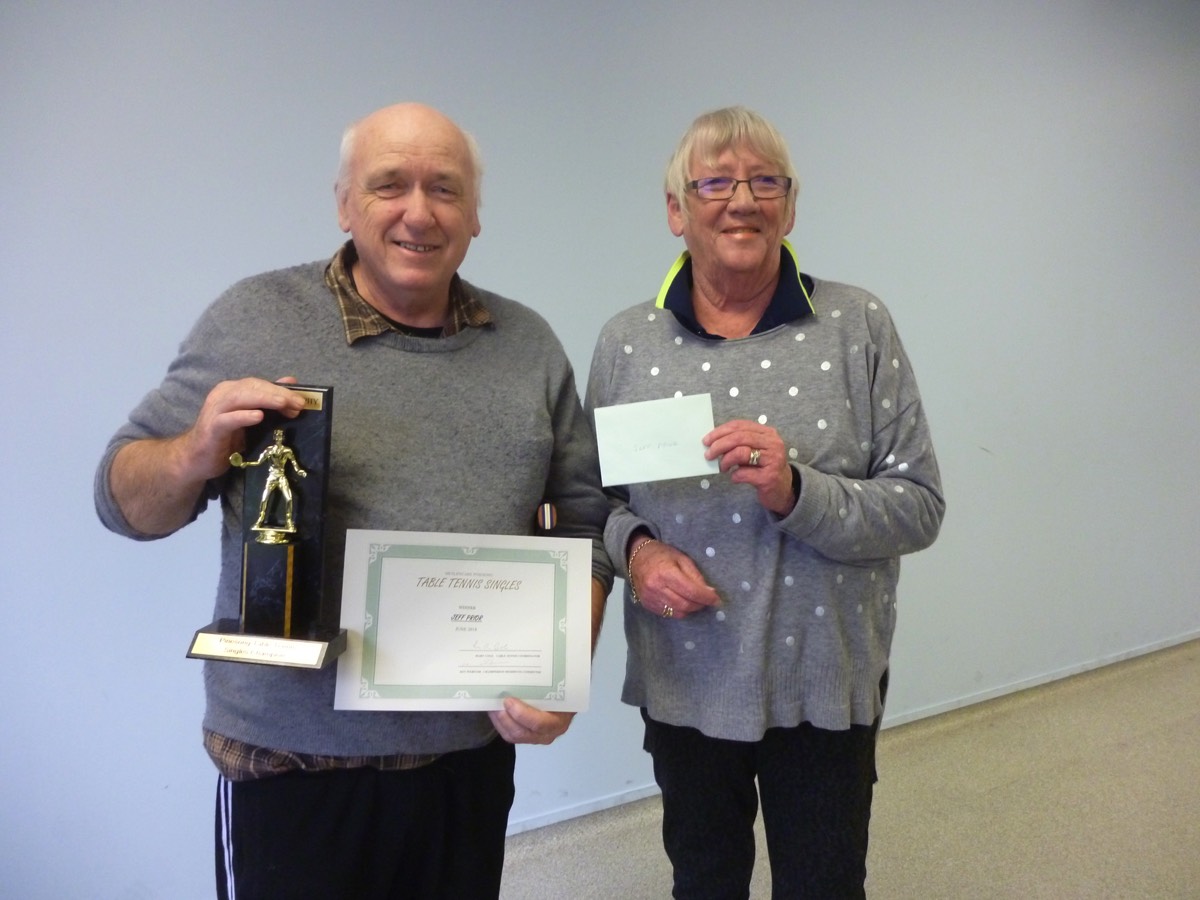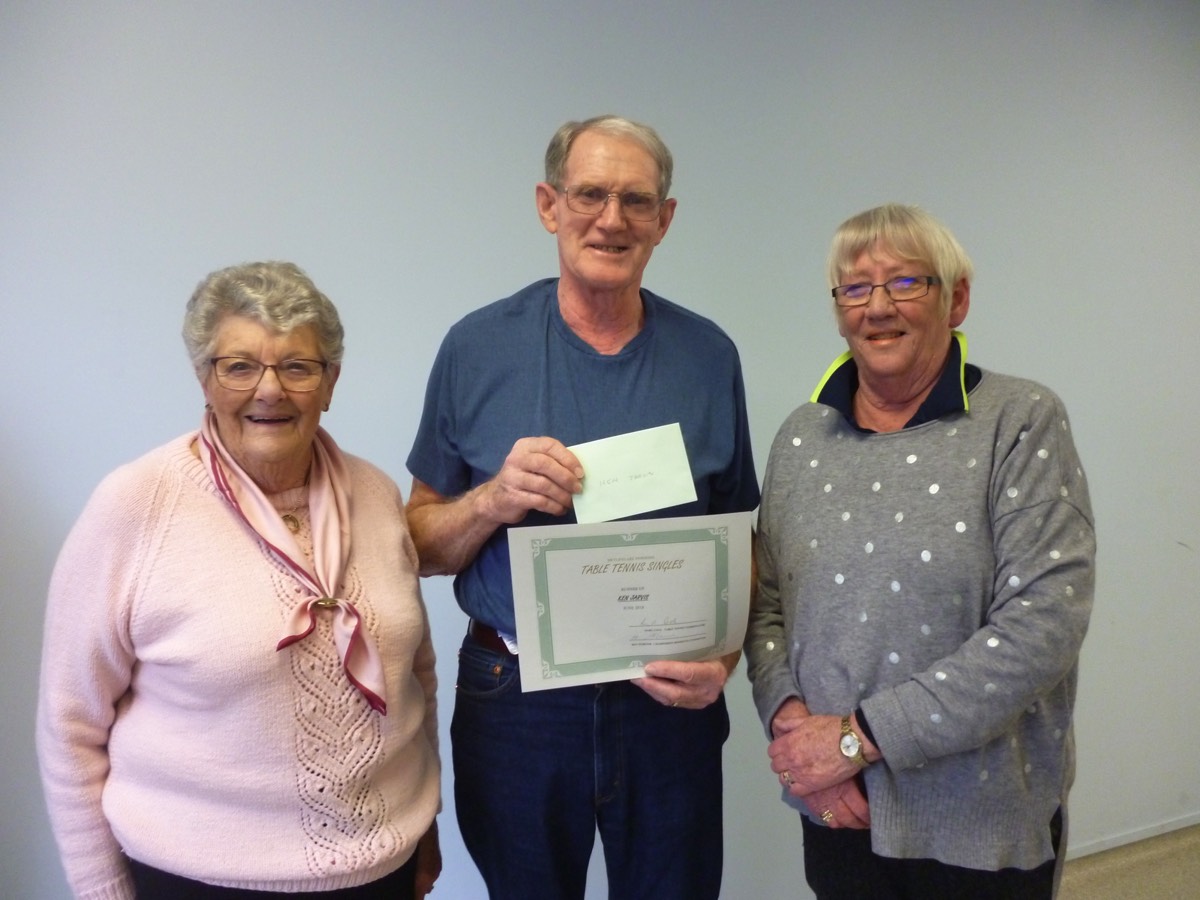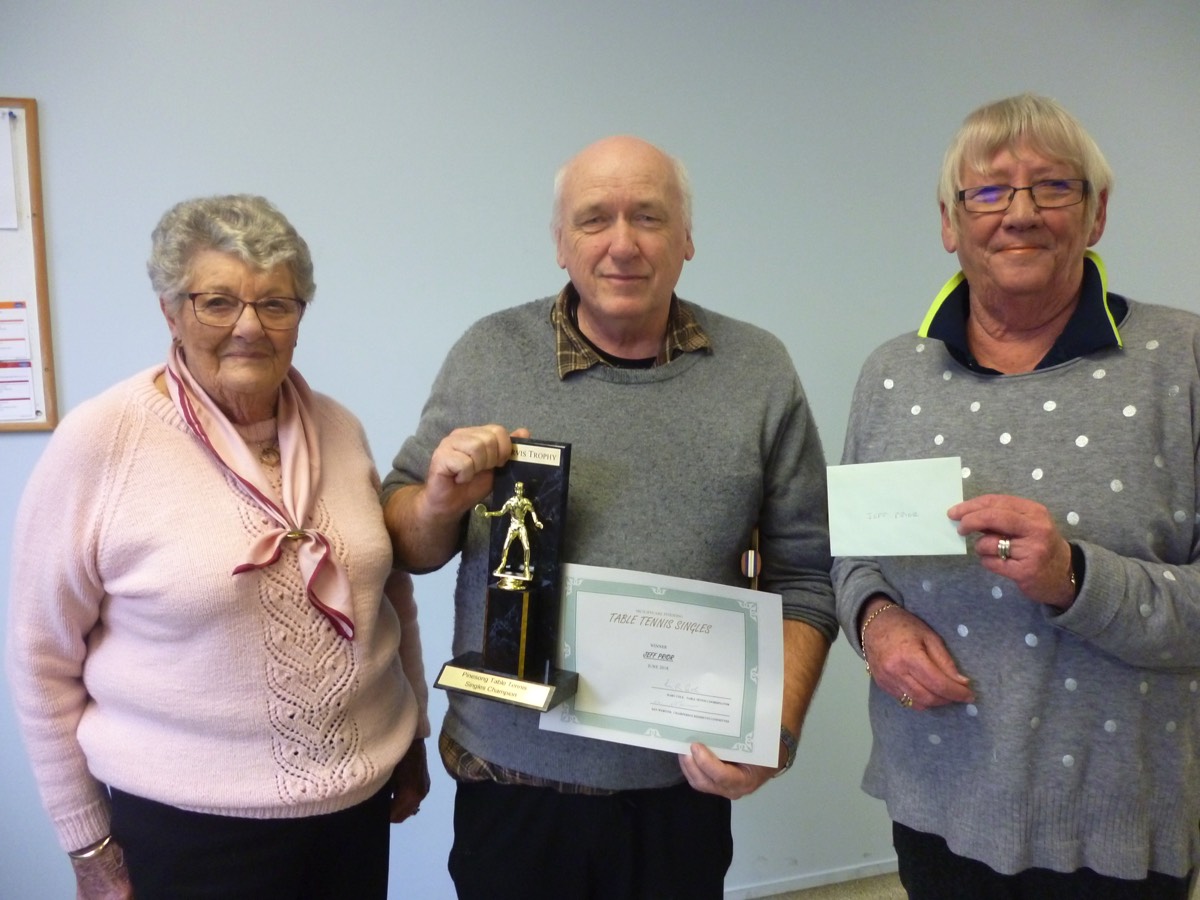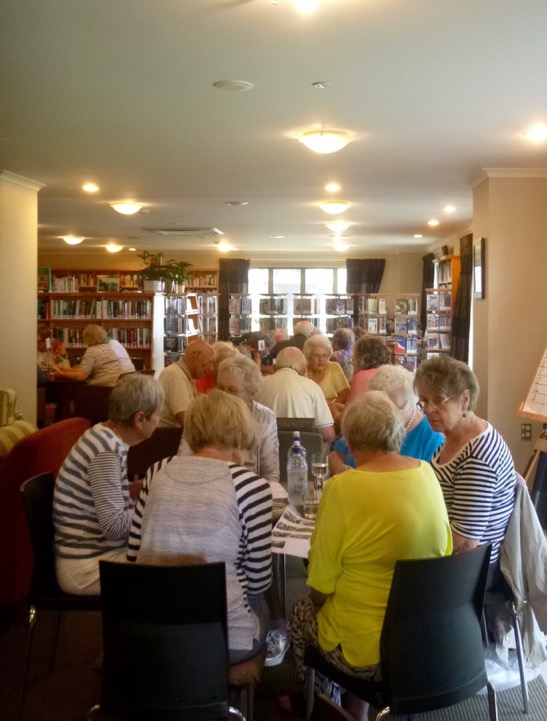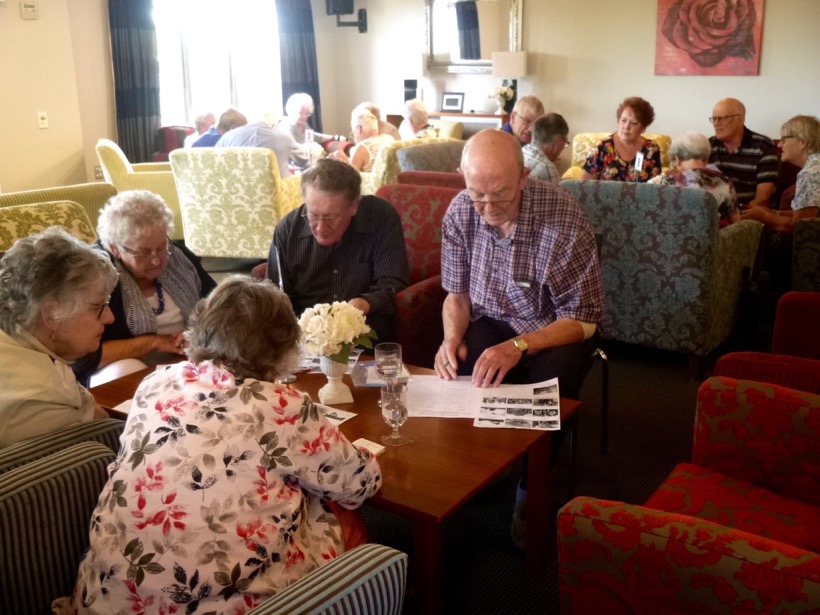 Table Tennis Doubles Tournament

Winners: June Hooper & Pat Crowe
Runners Up: Patricia Carr and Bob Helleur (Bob not able to be there for the photo)
along with Mary Cole Convenor and Ken Webster Residents Committee Chairperson
Shirley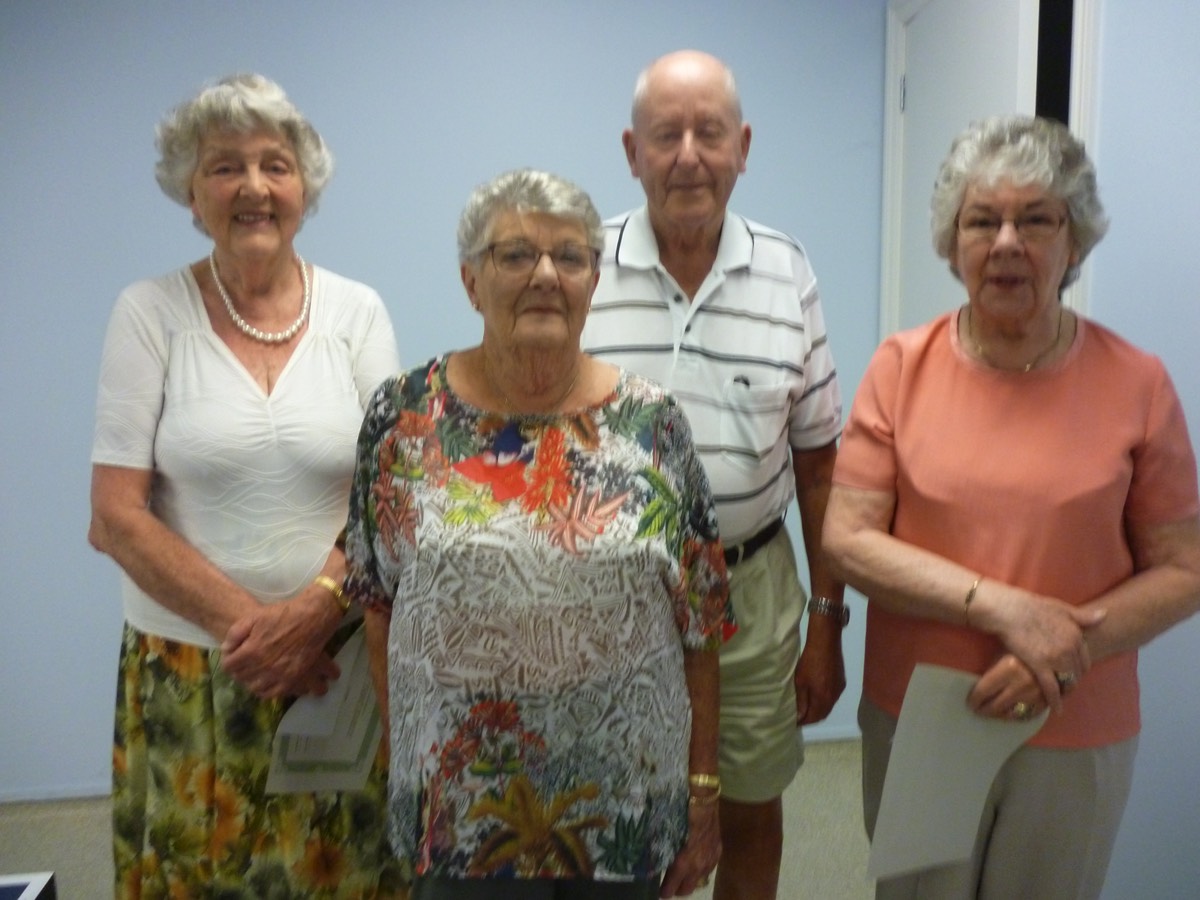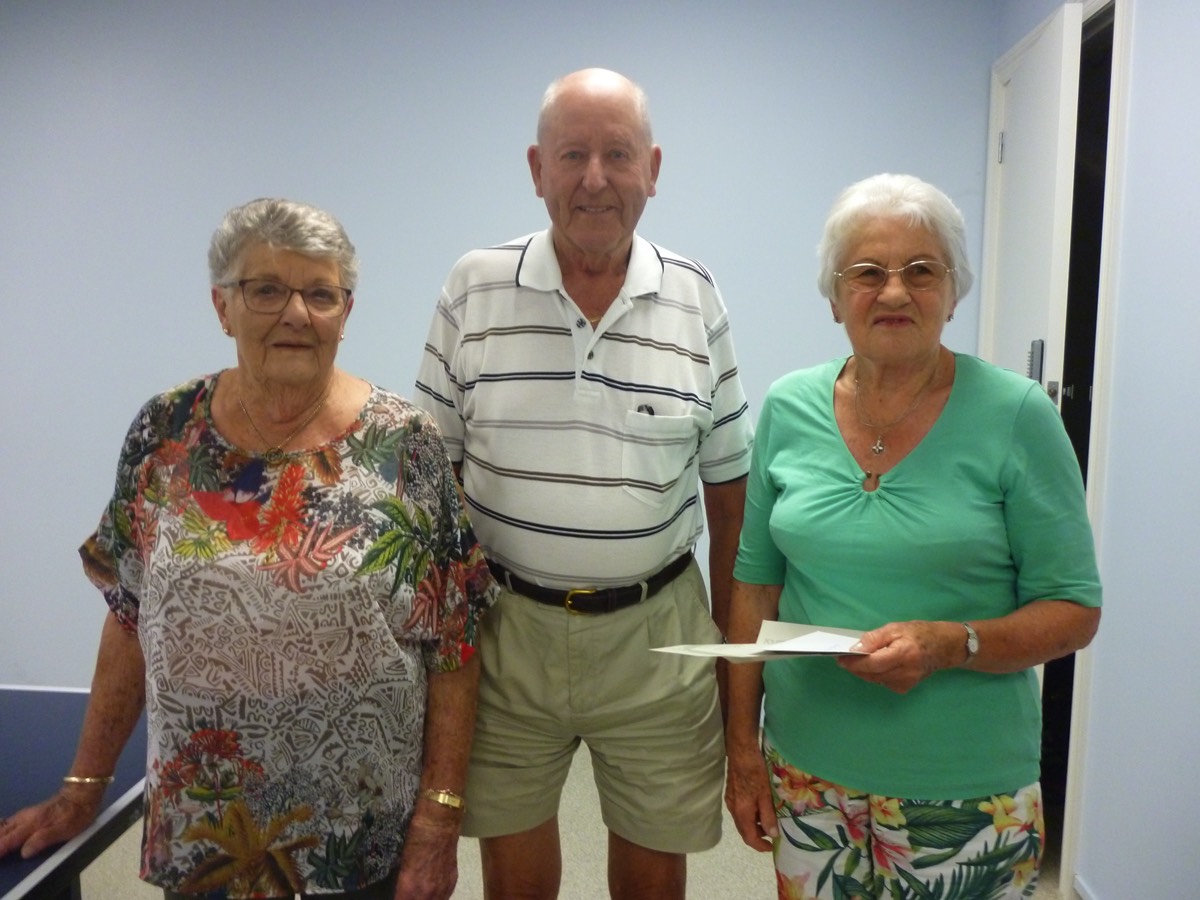 Croquet
The Lorna Stewart Triples Trophy

The Lorna Stewart Trophy for the Triples competition was won by Marie Dempster in a long, long match. Audrey Crowe and Ian Crum were the other finalists. Ken Jarvis refereed
Janet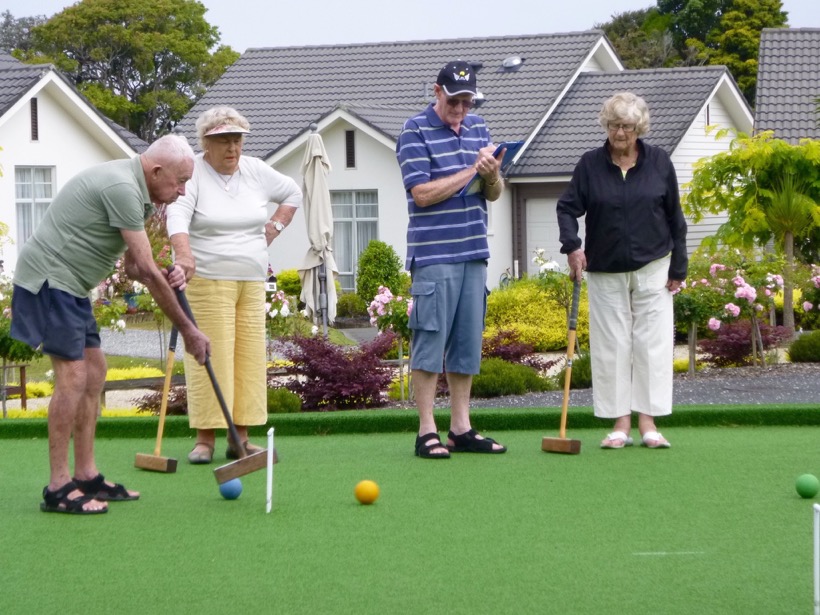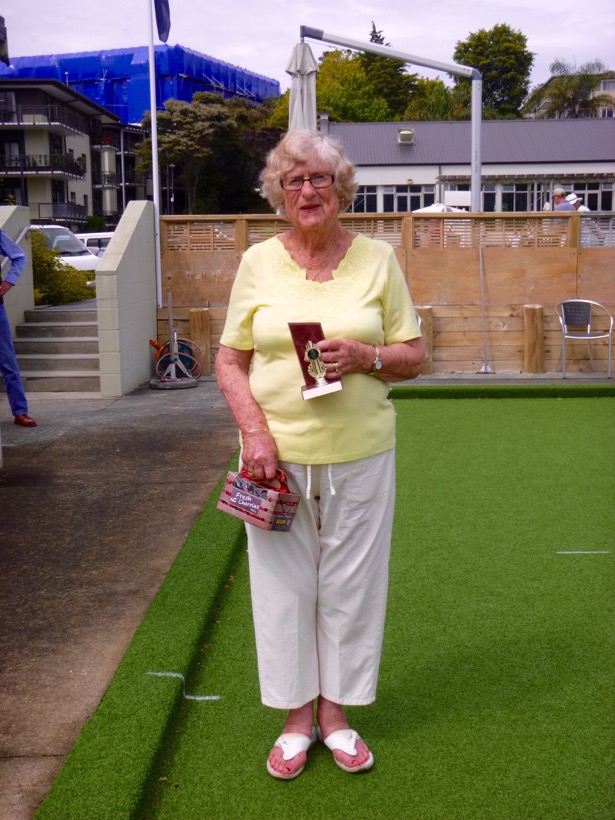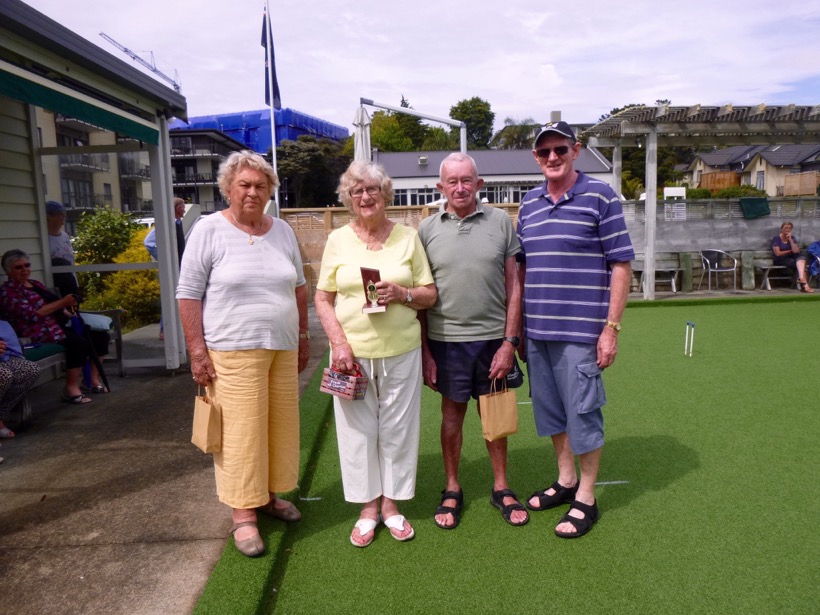 The Eileen Malim Drawn Pairs Trophy


The Eileen Malim Drawn Pairs Trophy was won by Ken Jarvis and Eileen herself. The runners-up were John White and Bill Mules. Marie Dempster was the referee.

Janet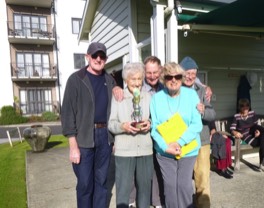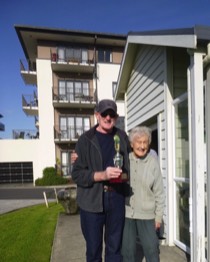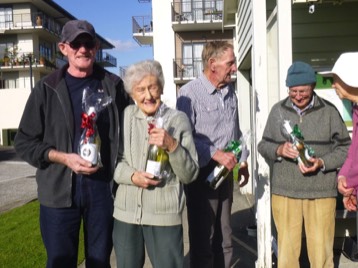 Outdoor Bowls Triple Final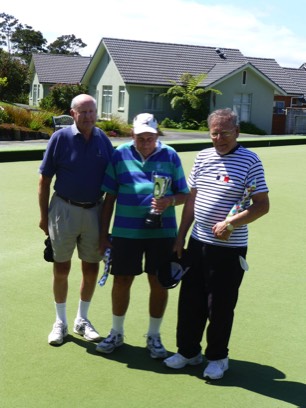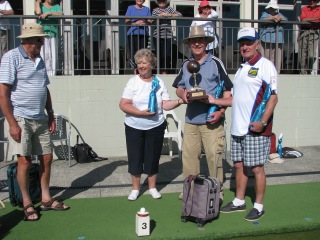 FEBRUARY THURSDAY WALKERS
Where has February gone? I cannot believe it is March.
To commence the month we drove to Orpheus Loop Rd which is off Seacliffe Rd Hillsborough. Ass Geoff Long was away Arthur Hammond was our driver. We walked the steep bush track up to Queenstown Rd, back down to the park and Onehunga Lagoon. Crossing the bridge and back to the board walk at Onehunga Bay.
Rob Perry drove us to Woodlands Park where we walked the old Exhibition Dr walkway. Stopping at Mackies Rest we continued on to the Beveridge track. This track has recently re-opened after the Kauri Die Back scare. We met again at Arataki. The last part of the walk was very steep but all survived fortunately.
Geoff Long returned from his trip away and drove us to Margaret Griffen Park. We walked across Hillsborough Rd to a track taking us to Lynfield Reserve. From there we walked across `The Avenue` past the Tennis Club to Canberra and down a very steep path part way to Wattle Bay and back up to Sylvania. Returning to Margaret Griffen Park via Halsey and Commodore Drives. A hard walk for some.
Our last walk for February was to Meola Rd. We parked at Seddon fields. Crossing Meola Rd we walked Lexington walkway around the Meola Creek to Westmere. Returning via a shorter route to Jaggers Bush and Seddon fields. A big surprise awaited us. Rob Perry led us to Motat – air craft area where we climbed on to an old Wellington Cuba St Tram. Rob drives these trams regularly so he drove the return trip with 17 happy Pinesong walkers aboard.
Thank you to our car and bus drivers this month.

Jocelyn Cartwright 816 8312

SATURDAY WALKING GROUP
November 19th. We drove to Glenfield and followed the Kaipatiki Stream down to the Eskdale Bush Reserve for our morning tea break - a new area for most of us.
December 3. We drove to the highest pointing in the Waitakere Ranges, Pukematekeo Trig with its 360 degree view before walking down to the Waitakere Dam, along the Tram Line Track with glimpses of the Waitakere Falls (which gave their name to the whole of our area) to have morning tea at the 'station'. We then climbed a challenging section of the Anderson Track, looked at the cool store with its cave wetas and followed the Scenic Drive to transport. Anyone know who the Andersons were?
December 14th. An old favourite - the Slip Track from Arataki down to the Pipeline Track, Exhibition Drive and back past Mackies Rest on the Beveridge Track.
December 31st was the cool, fresh bush of the Rangemore Track to the Kauri knoll.
January 14th. A hot sunny day following the Mercer Bay Loop with its magnificent sea views right down the West Coast to Whatipu, white breakers showing up the Manukau Bar clearly against the blue of the sea.
JOHN WHITE 817 8382
OUTDOOR BOWLS

Summary of meeting held on Monday 21
st
January 2018

Attended by 30 members, apologies from Ron & Jocelyn Cartwright.
Dave Annan welcomed all and invited John Crow, retiring convenor to report on 2018 finances and briefly on activities. He has a balance of $164.00 in hand, this will be returned to Residents Committee. Any funds needed during 2019 will be requested or raised from members.
A vote of thanks was passed to John for his 4 years of outstanding service.
Nomination was called for Convenor, none forthcoming.

Monday, Wednesday and Saturday
Roll up's organisation, draws to be done by Dave Annan, John Horder, and other to be co-opted.

Grading and Notice Board
, no volunteers so Dave Annan was confirmed to continue this responsibility. The current grading's will be reviewed and members no longer playing will be removed.
The board currently contains 52 names, 34 are regular players, (attend at least one roll up a week.) 5 casual and 13 haven't played for some time.

Trophy Competitions: -
volunteer was called for to run the 5 competitions, no volunteer.
Query, what's involved: produce entry form, complete draw, and conduct competition. Show of hands those wishing to participate, result, 9 members.
John Crow volunteered to convene the competitions with fellow villages, accerpted with acclamation.
Moved to put competitions into abeyance, trophies to be collected, look at locating a trophy cabinet for safe keeping.

Social Committee: -
Ann Stankovich, Daphne Freeman and Iona Manaton volunteered, confirmed and thanked, to appoint their convenor.

Shed management,
Rob Carr offered and appointed.

General Business:
- Umbrella raising and lowering – teams on rinks closest to drop them on completion of session. John Horder suggested session be held to address Bowls etiquette, John Crow drew attention to rules on notice board
Some general discussion followed, then meeting closed at 9.55am

David Annan Phone 8179154, Email –
davidann86@gmail.com

PETANQUE SINGLES COMPETITION

The competition's final matches were held on Monday and a large group were together and enjoyed the fun atmosphere and to cheer on the players. The winner after some very close games was Terry Batt who beat Lil Gosling in a very close encounter. An afternoon tea was held at the finish of play to wish Keith and Esme Burge a happy retirement from running Pétanque after so many years. The new organiser will be Jacqui Batt who takes over the reins from Monday. Our heartfelt thanks to Keith and Esme for all the hard work they have put into making this such a happy group of residents who enjoy each other's company. The time has come for Keith and Esme to relinquish the helm; eight years they have held the Pétanque realm.
Each Monday at Three come rain or shine,
Down in the Oval it was always fine.
So the time has come for us to farewell our two leaders. We all hope you enjoy new found hours of leisure with no worry about the weather.
Lil Gosling

What a lovely surprise it was to be treated to afternoon nibbles and drinks on Monday by our fellow pétanque players. We had announced that after eight years of organising the group it was time to have a rest and allow new people with enthusiasm and new ideas to have a go.

Thank you for the function and the most generous gift we really did appreciate your efforts. The time we have spent with the group has been a absolute pleasure and we hope who ever takes over will have as much fun as we did.
Esme and Keith Burge


CROQUET@PINESONG
The Eileen Malim Drawn Pairs trophy was won by Val Eade and John Crow.
Runners-up were Maryann Spackman and Althea Morley. The next competition is the Lorna Stewart Triples that will start in late January at which time we will have a Season Opening afternoon tea and a discussion about a have-a-go day for residents interested in playing golf croquet.

In the meantime, present players are only too willing to introduce new players to the game. It is a good idea to come down to watch general play on Monday and Friday afternoons at 1pm as a start

The croquet green is available to all residents and their visitors at any other time and we have a shortened mallet for children to use. Balls and mallets are in the croquet shed so please use them and have fun!

Janet Cross. M4 817 6066